Barbeque Pork and Beans Recipe
A warm and smokey Barbeque Pork and Beans recipe with roasted Sweet Potatoes, mixed beans and succulent pork pieces. It is a rich addition to any American BBQ feast.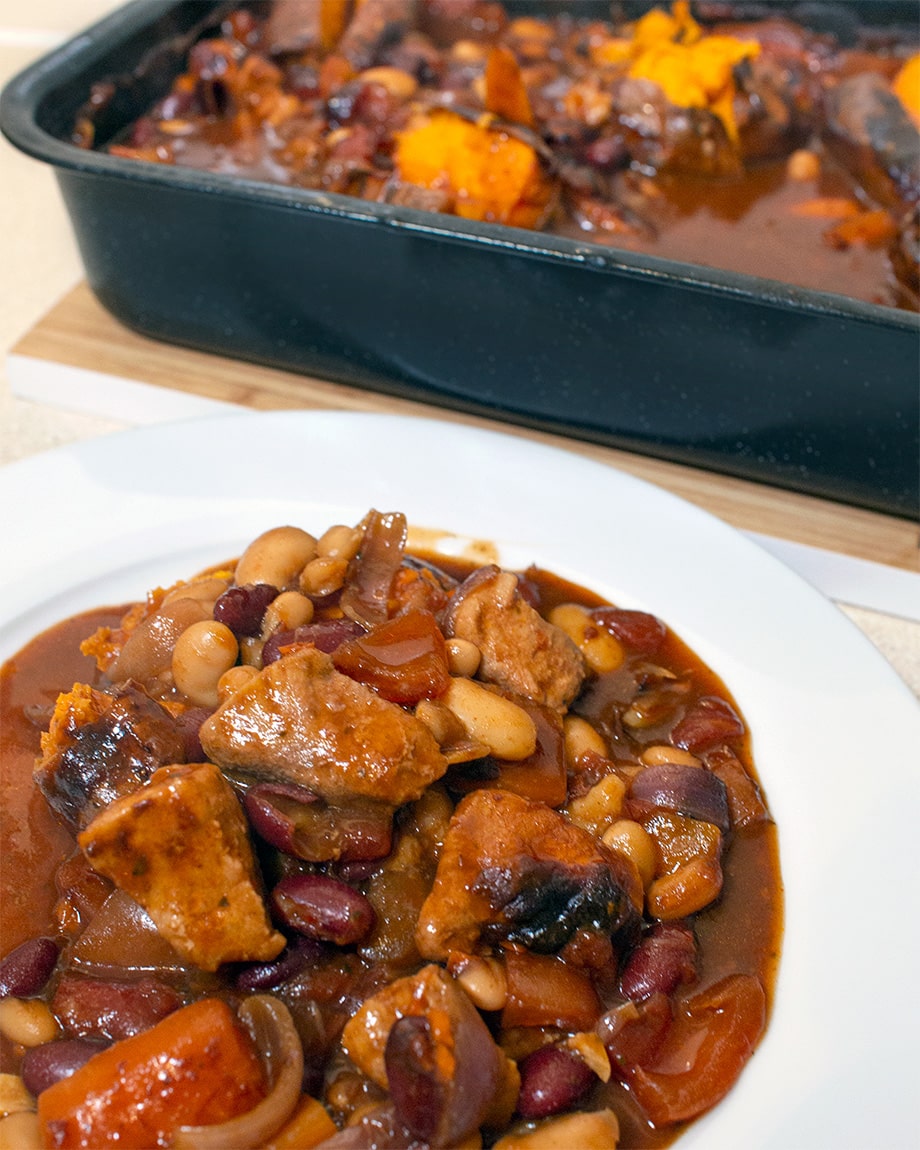 Barbeque Pork and Beans Recipe
Barbeque Pork and Beans Recipe
Difficulty: Medium Serves: 6 Total Time: 95 Minutes
Preparation:
Preparation Time: 35 Minutes
Cooking Time: 60 Minutes
Ingredients:
500g Diced Pork Leg
250ml Jack Daniel's Barbeque Sauce
6 Sweet Potatoes
4 Fresh Tomatoes
3 Carrots
3 Red Onions
880g of Mixed Beans (we're using Canellini Beans, Butter Beans and Kidney Beans)
400g Chopped Tomatoes
1tsp Cumin
1tsp Smoked Paprkia
Crushed Chilli Flakes
1 Red Chilli
2 Garlic Cloves
Salt and Pepper
Olive Oil
Method:
Preheat the oven to 190°C fan. To make our Smoky Barbeque Beans Recipe you will need a large roasting tin. Add a generous amount of Olive Oil to the bottom of the roasting tin and add slices of Red Onion, crushed Garlic and Red Chilli as well as your Carrots. We have cut them into 2cm thick batons to keep the texture of the dish interesting.
Mix these vegetables around in the Olive Oil and add the Cumin, Paprika, Dried Chilli, Salt and Pepper. Give it a good mix around so everything is coated and roast in the oven at 190°C fan for 15 minutes.
Clean the outside of your Sweet Potatoes in water, chop the two end pieces off and rub them in Olive Oil, Salt and Pepper. Place these on a foil lined baking tray and put them in the oven at 190°C fan for one hour.
After your Carrots and Onions have been in the oven for 15 minutes bring the tray back out and add your fresh Tomatoes, mixture of Beans and chopped Tinned Tomatoes. Give everything a good mix before adding the Barbeque sauce.
Now add the chunks of Pork into the sauce and vegetable mixture. Placed the chunks in randomly and separated and make sure they are submerged to really soak up the Barbeque flavour.
Carefully placed the full roasting tin back into the oven for one hour at 190°C fan.
After 45 minutes has passed, add your whole roasted Sweet Potatoes into the baking tray partially submerged. Then place the full roasting tin back into the oven for the last 15 minutes. You may want to check on the thickness of the sauce after the full hour to see whether it is to your liking. If it isn't, you can leave the roasting tin in for a further 15 minutes.
Before serving we have sliced our Sweet Potatoes open (much like a Baked Potato) so the Barbeque sauce really goes throughout the dish. We have served ours with crusty Bread which goes nicely with the leftover sauce.
Watch our Barbeque Pork and Beans Video on YouTube.
---