Broccoli and Bacon Mac and Cheese Recipe
Try one of our favourite comforting mid-week meals with our Broccoli and Bacon Mac and Cheese recipe. This comforting pasta has a gooey Cheese sauce, smokey Bacon lardons and fresh Broccoli pieces.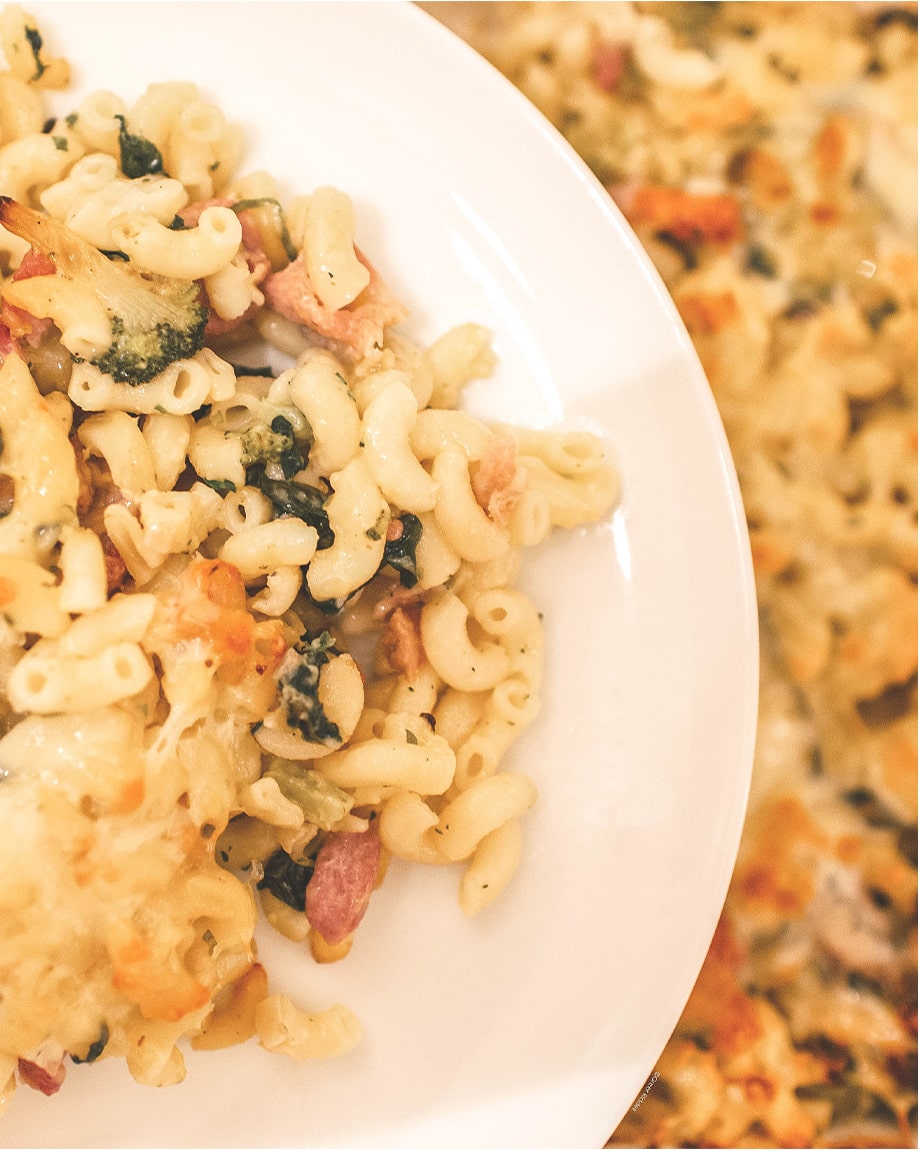 Broccoli and Bacon Mac and Cheese Recipe
Broccoli and Bacon Mac and Cheese Recipe
Difficulty: Easy Serves: 4 Total Time: 50 Minutes
Preparation:
Preparation Time: 30 Minutes
Cooking Time: 30 Minutes
Ingredients:
250g Macaroni
250g Bacon Lardons
1 Whole Broccoli
1 Medium White Onion
A Handful Of Spinach
Olive Oil
For the Cheese Sauce
3 tbsp Plain Flour
300ml Milk
30g Unsalted Butter
Cheddar Cheese (include to taste)
Red Leicester Cheese (include to taste)
Black Pepper
Method:
Preheat the oven to 180°C fan.
To make our Bacon and Broccoli Mac and Cheese recipe, add a tablespoon of Olive Oil into a griddle pan before adding the sliced Broccoli.
While the Broccoli is browning add your Macaroni to a large saucepan of boiling water on another hob.
Next, add your 1 cm thick chopped White Onion into the griddle pan with the Broccoli. Leave it to sweat for a few minutes before adding in the Bacon Lardons.
Once the Bacon is cooked and the Onion is now translucent, add in the Spinach and mix together until the Spinach has wilted. Take it off the hob.
When your Macaroni is cooked, drain the water and add to a large casserole dish. Add the Bacon and Broccoli mixture to the Macaroni.
We now want to create the thick Cheesy sauce so in a smaller saucepan on a low heat, add the Butter. Once the Butter is melted, add the Plain Flour and mix until it becomes a thick paste. Now gradually pour in the Milk and stir until the sauce becomes a thick liquid. Add a pinch of Black Pepper and a generous handful of both Cheddar and Red Leicester cheese.
Once the Cheese has fully melted into the sauce, take it off the heat and pour it over the Macaroni and Broccoli mixture. Give it a good stir to make sure that everything is completely covered with the Cheese sauce.
Put the casserole dish into the oven to bake at 180°C for 30 minutes.
---