Butterscotch and Salted Caramel Cookies Recipe
Our Butterscotch and Salted Caramel Cookies recipe creates six thick and gooey cookies oozing with Salted Caramel sauce and chewy Butterscotch pieces mixing sweet and salty in the best way.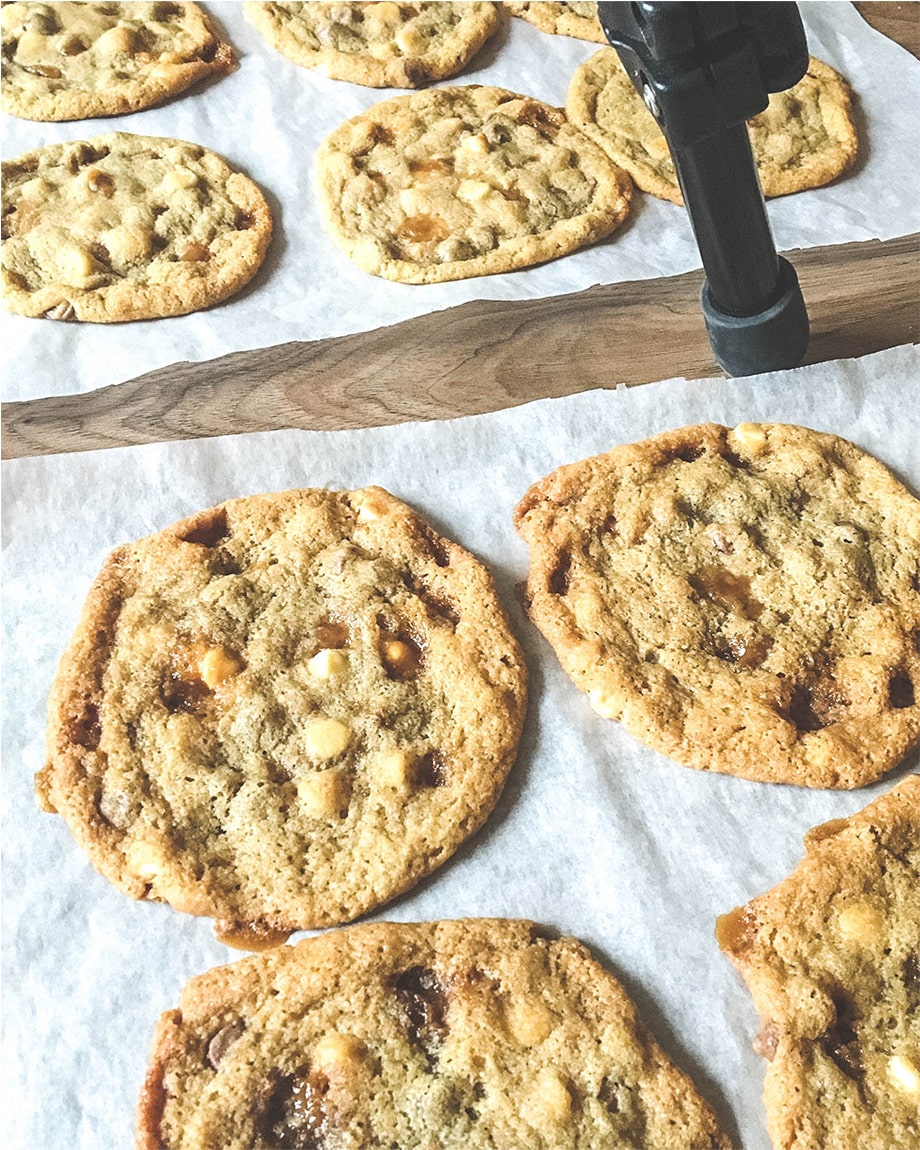 Butterscotch and Salted Caramel Cookies Recipe
Butterscotch and Salted Caramel Cookies Recipe
Difficulty: Easy Serves: 6 Total Time: 23 Minutes
Preparation:
Preparation Time: 15 Minutes
Cooking Time: 8 Minutes
Ingredients:
270g Plain Flour
160g Margarine
150g Light Brown Sugar
100g Granulated Sugar
1tsp Vanilla Essense
1 Egg
50g Butterscotch Chips (to taste)
50g Milk Chocolate Chips (to taste)
50g White Chocolate Chips (to taste)
For the Salted Caramel:
200g Granulated Sugar
90g Unsalted Butter
120ml Double Cream
1tsp Salt (to taste)
Method:
Preheat the oven at 170°C fan. For our Butterscotch and Salted Caramel Cookies recipe, place the Margarine, Granulated Sugar, Light  Brown Sugar,  Vanilla Essense and Egg into a bowl and whisk until combined.
When it has formed a thick paste, gradually pour in the Plain Flour and mix it together in stages until you have a thick Cookie Dough. 
Carefully fold in your Butterscotch, Milk Chocolate and White Chocolate chips into the Cookie Dough making sure they are evenly distributed throughout.
Line a baking tray with Greaseproof Paper and put a dessert spoon size of the Cookie Dough about 3cm apart from the next.
Bake the cookies in the oven for 8 minutes at 170°C fan. You will need to bake the cookies in batches depending how many you can fit onto your baking tray at once. 
Leave the cookies on the baking tray to cool slightly before moving onto a wire rack to cool fully before serving. 
To make the Salted Caramel Sauce...
Put the Granulated Sugar into a small saucepan on a medium heat and continue to stir it until it begins to melt and change to a rich, brown colour.
As soon as the sugar has completely turned brown, add in the Salted Butter and keep mixing.
Once the Butter has melted, pour in the Double Cream. Be careful to not touch the Caramel in the pan as it will be extremely hot!
When the Double Cream is mixed fully into the Caramel, add a pinch of salt and take it off the heat. Transfer it into to a glass container to store. Put the Salted Caramel Sauce into the fridge to cool. 
When the Salted Caramel is still warm, you can drizzle over the top of your cooled Cookies or spread it over the top after it has cooled in the fridge. You can reheat the Salted Caramel sauce to use too. 
---