Chicken and Bacon Pie With Puff Pastry Recipe
A warm Chicken and Bacon Pie With Puff Pastry recipe perfect for a Sunday lunch or comforting family meal. It has a rich creamy sauce to coat the moist chicken pieces, smokey bacon pieces in every bite and is packed with hearty root vegetables.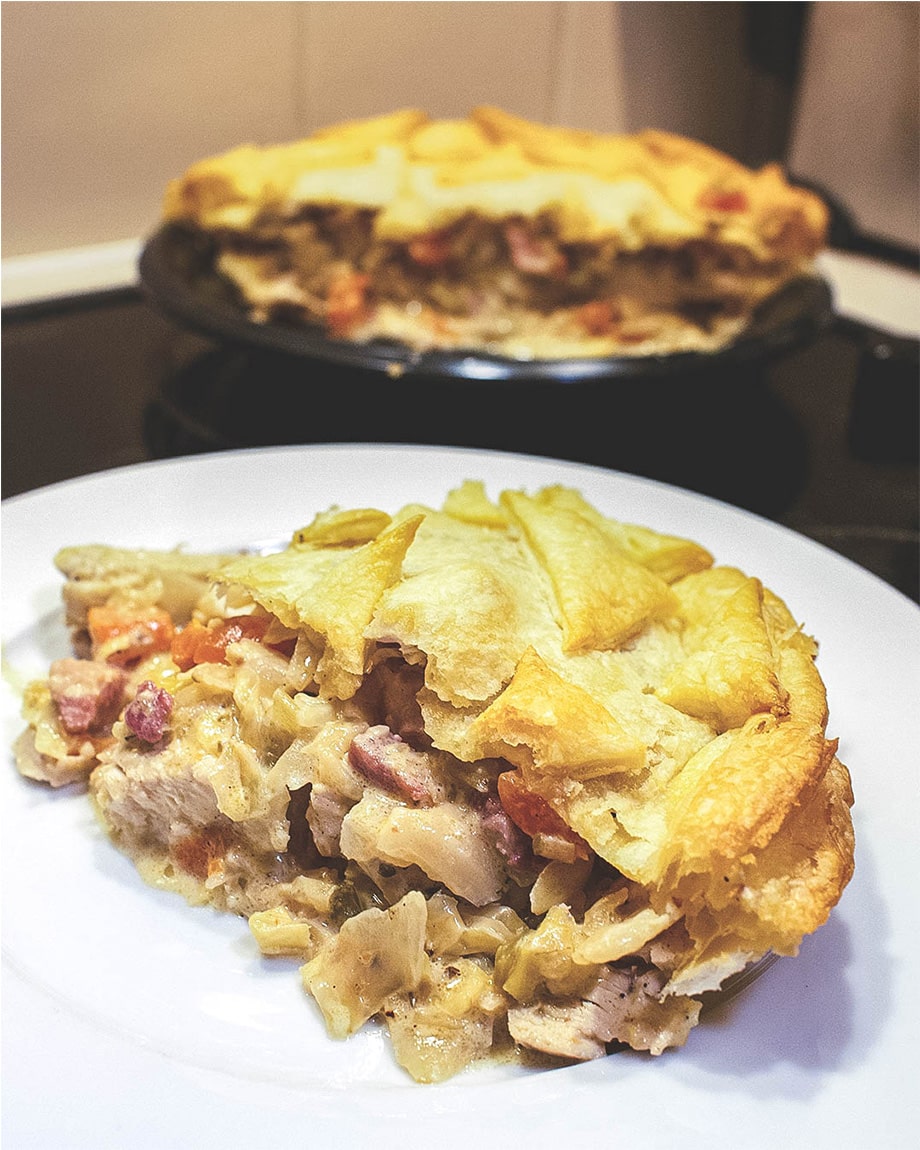 Chicken and Bacon Pie With Puff Pastry Recipe
Chicken and Bacon Pie With Puff Pastry Recipe
Difficulty: Medium Serves: 4 Total Time: 140 Minutes
Preparation:
Preparation Time: 115 Minutes
Cooking Time: 25 Minutes
Ingredients:
3 Chicken Breasts
400g Bacon
250g Puff Pastry
1 White Onion
2 Carrots
2 Sticks of Celery
1/2 a White Cabbage
1 Clove of Garlic
Dried Oregano
250ml Double Cream
A splash of White Wine
A knob of Unsalted Butter
Salt and Pepper
Olive Oil
Method:
Preheat the oven at 180°C fan. To make our Chicken and Bacon Pie With Puff Pastry recipe, place the Chicken breasts in an oven proof dish and season with dried Oregano, Salt and Pepper and cover in Olive Oil. Cover the dish with tin foil and place in the oven to cook for 30 minutes. 
In a medium sized saucepan on a medium heat, melt a knob of butter and add the crushed Garlic and White Onion. Leave to sweat for a few minutes.
Next, add the celery and carrot into the pan and leave again to sweat for 5 minutes.
When the vegetables have softened slightly, add your Bacon Lardons to the pan and stir to combine the Bacon fat with the rest of the ingredients.
When the Bacon has changed colour, add your Cabbage. Add 200ml of water and boil on a medium heat for 25 minutes to reduce the Cabbage.
Once softened, pour in a splash of White Wine and the Double Cream. Stir and leave on a low heat while you prepare the pastry.
Roll your Puff Pastry out on a clean, floured surface wide enough to cover the bottom of your pie dish. Lay it over the bottom of the dish.
When the Chicken is cooked, slice into 2cm thick slices. Now layer the Bacon and Vegetable mixture, then the Chicken up to the top of the pie dish until it is all used.
Brush the edges of your Pastry case with an Egg wash and layer on top your second piece of Puff Pastry. Trim the edges of your pie and you can use the leftover Pastry to create a design on top. It could be shapes, or the initials for who is lucky enough to eat it!
Use the remainder of the Egg wash to cover the top of the pie with a think layer in order to make it crispy in the oven. Put the pie into the oven for 25 minutes until the pastry is golden and has risen.
Serve with Potatoes, Green Vegetables and a Chicken Stock Gravy.
---