Chicken and Cashew Curry Recipe
Try our Chicken and Cashew Curry recipe with a creamy Coconut Milk and Tomato sauce. It has a nutty flavour and great texture with toasted Cashews, tender pieces of Chicken thigh, crunchy Green Beans and juicy Cherry Tomatoes. It'll taste just as good as a takeaway!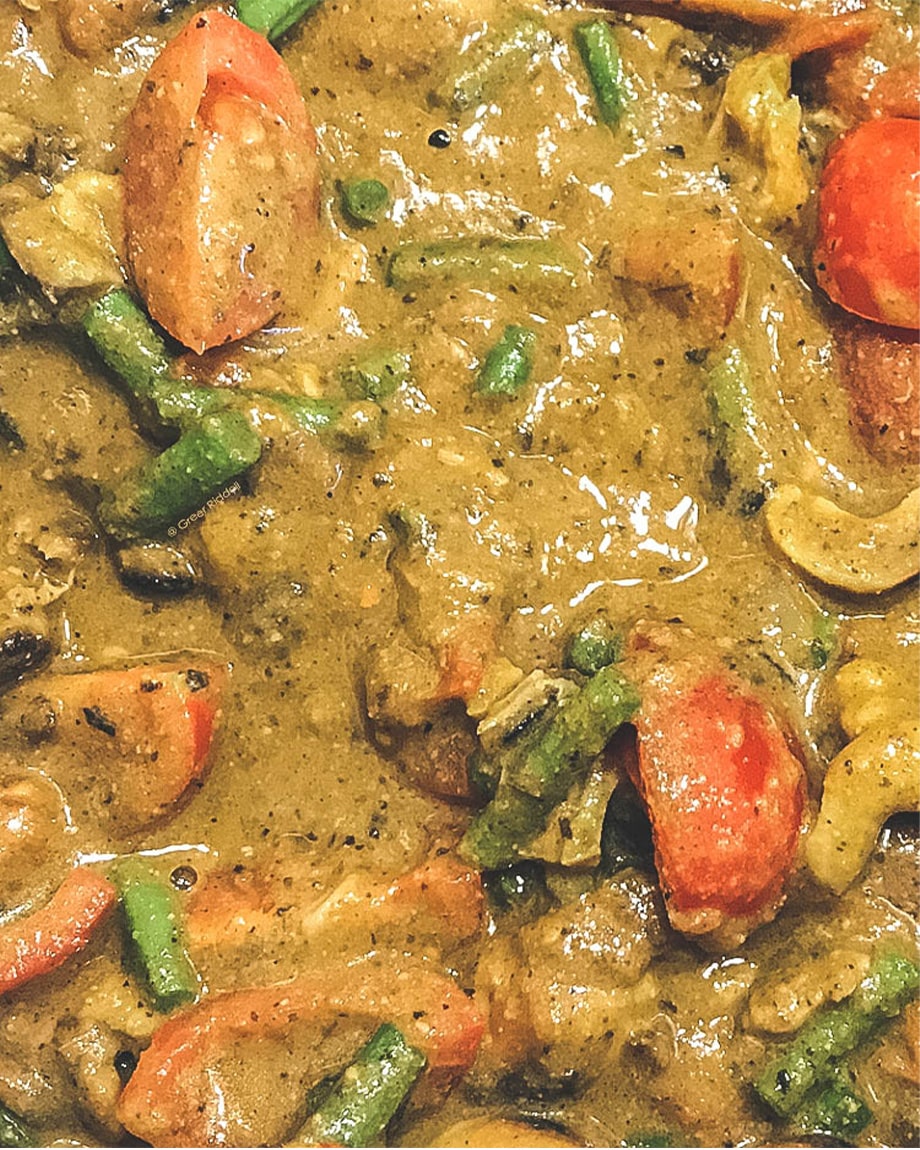 Chicken and Cashew Curry Recipe
Chicken and Cashew Curry Recipe
Difficulty: Hard Serves: 6 Total Time: 70 Minutes
Preparation:
Preparation Time: 20 Minutes
Cooking Time: 50 Minutes
Ingredients:
8 Boneless Chicken Thighs
1 White Onion
250g Green Beans
200g Cherry Tomatoes
200g Cashew Nuts
400ml Coconut Milk
1 inch of Fresh Ginger
4 Garlic Cloves
2 Green Chillis
Fresh Corriander (to taste)
1 Lime
Olive Oil
200ml Water
Spices
1stp Ground Cinnamon
1tsp Ground Cardamom 
1tsp Dried Corriander
2tsp Cumin
1/2 tbsp Black Pepper
You could also use 2tsp of Garam Masala instead of the above spices.
Method:
To make our Chicken and Cashew Nut Curry recipe firstly add a large saucepan to a low heat on the hob and add a tablespoon of Olive Oil.
Add your Cashew Nuts into the pan and toast them until golden brown. You may want to keep the Cashews moving I stand them throughout the toasting process in order to avoid burning them.
Once they are toasted set the Cashews aside for later. In the same pan, add glug more of the oil and add the Chicken chunks. When the Chicken is cooked and still moist, remove them from the pan and set aside for later.
Now add your crushed Garlic cloves, sliced Ginger, finely chopped Green Chilli, fresh Coriander, a White Onion and half the toasted Cashews into a blender. Blend until they create a thick paste.
In the same pan we cooked the Chicken in, add the mixture of spices and cook on a low heat for a few minutes while you continuously stir them. Now add in your blended Cashew paste and mix it in with the warm spices so that the colour is a rich brown.
Turn the pan up to a medium heat and add the cooked Chicken. Give it a mix so the Chicken is fully coated in the spiced paste.
Next add the whole tin of Coconut Milk into the pan in order to loosen up the sauce. Give it a good stir. The mixture should now be a creamy golden colour. Leave on the heat to cook for a few minutes.
Next we want to add 200 ml of water and our chopped Green Beans into the saucepan. We want to leave our curry on a medium heat to simmer for 20 minutes until the sauce thickens.
When the curry sauce has thickened sufficiently, add in our halved Cherry Tomatoes and squeezing the juice of half a Lime. Stir the Curry and leave on the heat for 30 minutes.
Keep checking to see whether the Curry sauce is at your desired consistency and serve with your favourite type of Rice and Indian accompaniments. We've gone with Naan this time.

Watch our Chicken and Cashew Curry Recipe Video on YouTube.
---