Chocolate and Raspberry Thumbprint Biscuits Recipe
Have a go at our easy Chocolate and Raspberry Thumbprint Biscuit Recipe, perfect with a cup of tea and better than a Jammie Dodger.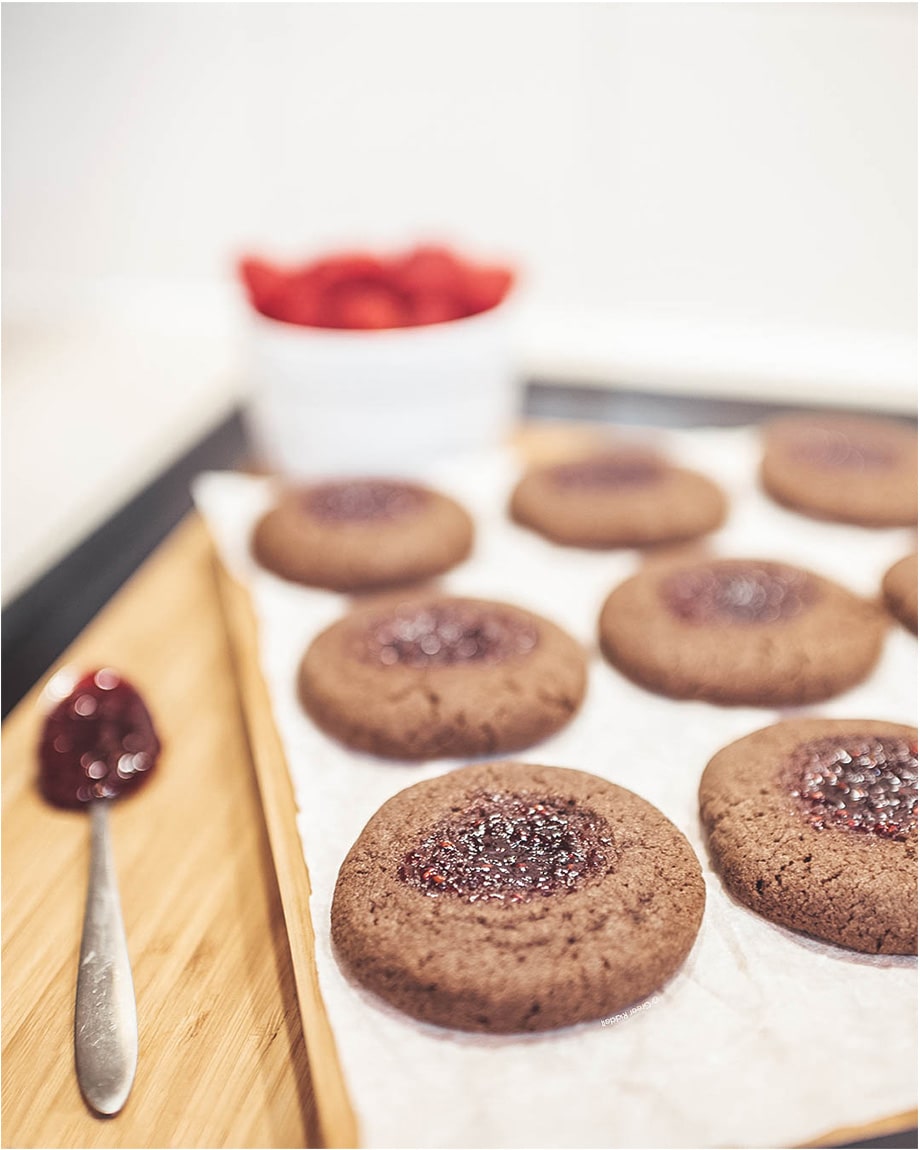 Chocolate and Raspberry Thumbprint Biscuits Recipe
Chocolate and Raspberry Thumbprint Biscuits Recipe
Difficulty: Easy Serves: 12 Total Time: 35 Minutes
Preparation:
Preparation Time: 25 Minutes
Cooking Time: 10 Minutes
Ingredients:
50g Cocoa Powder
50g Raspberry Jam
100g Unsalted Butter
50g Caster Sugar
125g Self Raising Flour
Method:
To make our Chocolate and Raspberry Thumbprint Biscuits recipe, combine Unsalted Butter and Caster Sugar into a large mixing bowl. Stir together until there are no lumps.
Then into the same bowl, add the Self Raising Flour and Cocoa Powder. Then mix together into a crumbly Chocolate dough. Transfer the Chocolate dough from the bowl onto a piece of Clingfilm. Squeeze the dough together until it forms a ball and cover with the Clingfilm . Put into the fridge for one hour.
Preheat the oven to 160°C fan. Once the Chocolate biscuit dough has cooled, remove it from the fridge and using your hands, roll it into a cylinder. Using a knife, cut from one end of the cylinder 2cm thick circles so you are left with the shape of your biscuits. You may want to round them more my hand.
Line a baking tray with Greaseproof paper and space the Chocolate biscuits 3cm apart. Using your index finger create a partial indent in each biscuit but not so much that you press through to the other side. Now, using a teaspoon, put a dollop of Raspberry Jam into the holes you have just made so that the top of the Jam and the biscuit dough are at the same level.
Put the Biscuits into the oven to bake at 160°C fan for 10 minutes. You may need to repeat this process several times depending on how many biscuits you have on your baking tray. Once cooked, place the Biscuits on a wire rack to cool.

Watch our Chocolate Thumbprint Biscuits Video on YouTube.
---