Chocolate Chip and Banana Loaf Cake Recipe
Try out our foolproof Chocolate Chip and Banana loaf cake recipe, a moist banana sponge with pockets of melted chocolate. This banana cake is the best way to use up ripened bananas.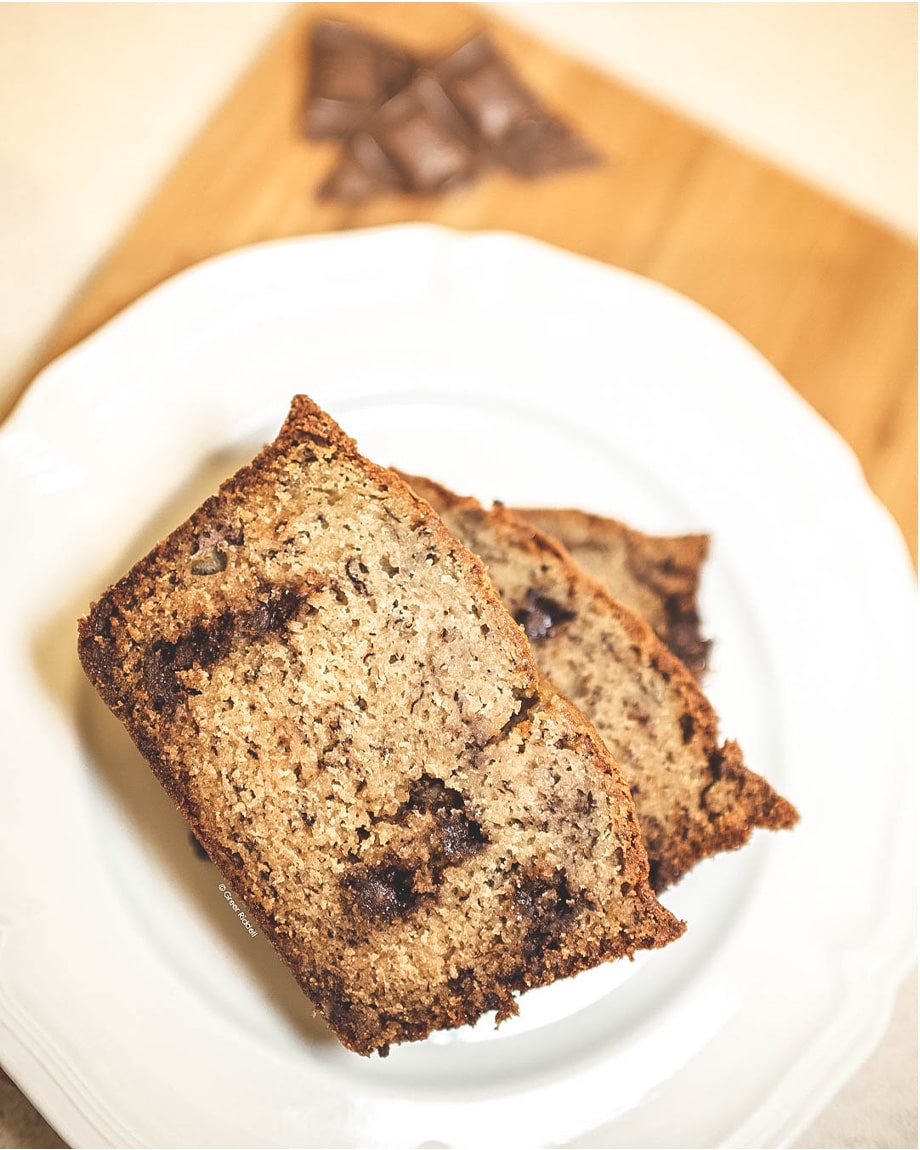 Chocolate Chip and Banana Loaf Cake Recipe
Chocolate Chip and Banana Loaf Cake Recipe
Difficulty: Medium Serves: 8 Total Time: 85 Minutes
Preparation:
Preparation Time: 15 Minutes
Cooking Time: 70 Minutes
Ingredients:
2 Ripe Bananas
250g Plain Flour
110g Unsalted Butter (plus enough to grease the tin)
200g Caster Sugar
2 Eggs
1 tbsp Milk
1 tsp Cinnamon
1 tsp Bicarbonate Of Soda
1/2 tsp Salt
170g Chocolate Chips
Method:
Preheat the oven to 150°C fan. To make our Chocolate Chip and Banana Loaf cake recipe, first combine the Plain Flour, Salt and Bicarbonate of Soda in one bowl.
In another, add the Bananas and mash with a fork until they form a paste. Add the Cinnamon and Milk to the Bananas and stir.
In a separate and larger bowl, add the Unsalted Butter and Caster Sugar. Mix the Butter and Sugar together until blended.
Now add two Eggs to the Butter and Sugar mixture, combine and add the Bananas to the bowl.
Mix all of the wet ingredients together and then gradually pour in the dry ingredients so it forms a cake batter.
Next we want to add the Chocolate Chips to the batter, fold them in so they are evenly distributed. Do not mix thoroughly as we want some air left in the cake batter.
Grease a 2lb loaf tin and pour the cake batter into it, smoothing the top down with the back of a spoon. Put the cake in the oven to bake for 1 hour and 10 minutes at 150°C fan. It is worth taking the cake out at one hour and putting a skewer or clean knife into the centre to see whether the cake has cooked. Cook for a further 10 minutes until you present a clean knife. If the top of your cake is browning but the middle is not yet cooked, cover it with either tinfoil or Greaseproof paper as this will keep the top of your cake from burning.
Leave the cake in the tin until cool before serving or transferring to a cake tin.
Watch our Chocolate and Banana Cake Video on YouTube.
---