Chocolate Orange Cupcakes Recipe
Our Chocolate Orange Cupcakes have a rich, indulgent flavour and a light sponge that is recognisably Chocolate Orange. They are just as good as tucking into a whole Terry's Chocolate Orange, yes even as good as the bit in the middle that we all wait for. These Chocolate Orange Cupcakes are completed with a two-toned Chocolate Orange and White Chocolate Orange Ganache and will definitely impress your friends and family. That's if you haven't eaten them all before you see them next.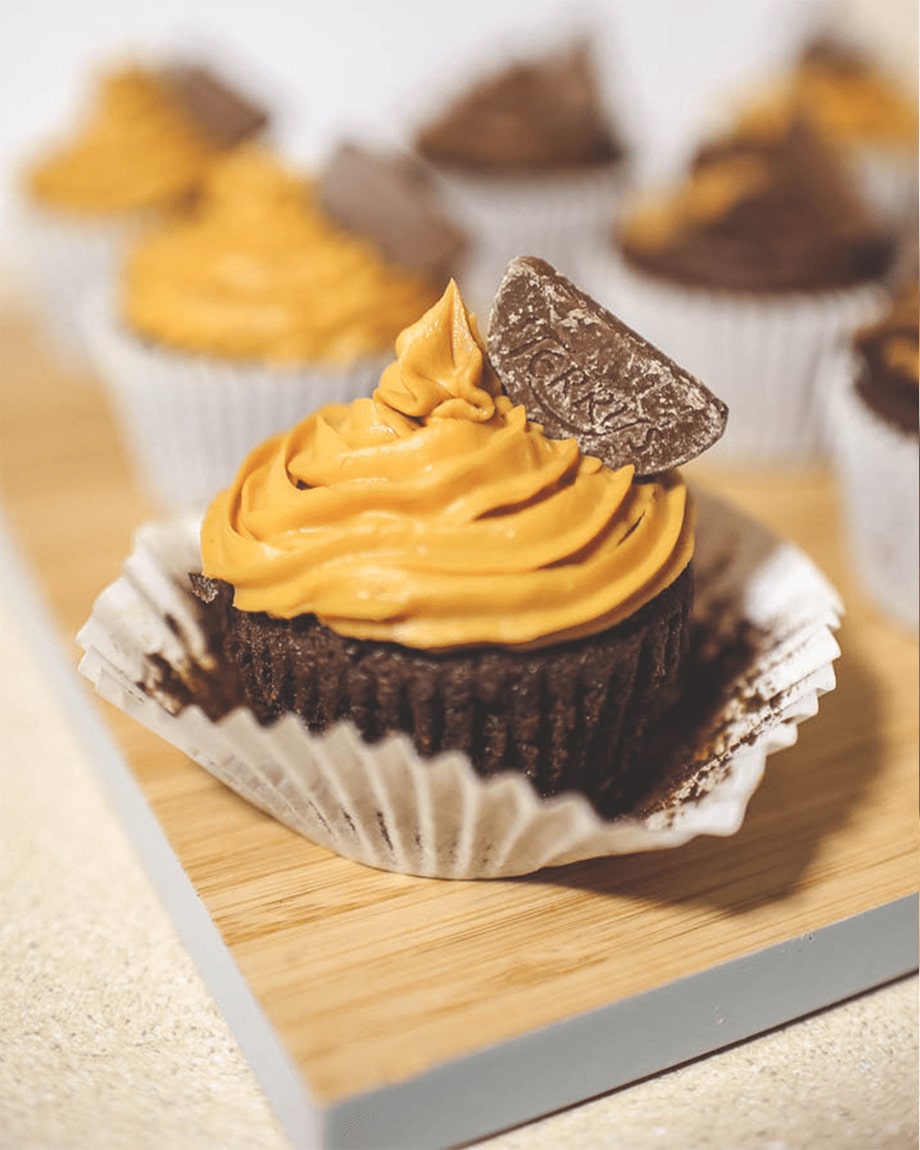 Chocolate Orange Cupcakes Recipe
Chocolate Orange Cupcakes Recipe
Difficulty: Medium Serves: 12 Total Time: 40 Minutes
Preparation:
Preparation Time: 20 Minutes
Cooking Time: 20 Minutes
Ingredients:
175g Unsalted Butter (softened)
150g Self Raising Flour
150g Caster Sugar
2 tsp Sicilian Orange Extract
2 tsp Grated Orange Rind
50g Cocoa Powder
3 Large Eggs
1 tsp Baking Powder
For the Chocolate Orange Ganache:
230ml of Double Cream
125g of Dark Chocolate Orange
125g White Chocolate
1tsp Orange Food Colouring
1/2 tsp Orange Extract
Method:
Preheat the oven to 160°C fan.
To make our Chocolate Orange Cupcakes recipe, cream together the Unsalted Butter and Caster Sugar into a large mixing bowl.
Then into the same bowl, add the three large Eggs, the Orange Extract and the Orange Rind and mix together using preferably an electric mixer. You can mix by hand but this will take longer to make sure there are no lumps.
Now add the Self Raising Flour, Baking Powder and Cocoa Powder into the bowl and mix thoroughly again. This will create a thick, creamy mixture.
Place 12 cupcake papers into your cupcake baking tray. Put an equal amount of the mixture into each cupcake paper making sure it covers the bottom of each.
Put the Chocolate and Orange Cupcakes into the oven to bake at 160°C fan for 20 minutes. At 20 minutes stick a skewer into one of the cupcakes right to the bottom, if it is clean when you take it out the cupcakes are ready. If not, keep in the oven for a maximum of 25 minutes but repeat this process after every minute has passed just to make sure.
Once the cupcakes have been baked, place them on a wire rack to cool before icing.
Making the Chocolate Orange Ganache
You may decide to use traditional buttercream on your Chocolate Orange Cupcakes however we wanted to make these extra Chocolatey so we went for an indulgent Chocolate Orange Ganache icing instead. 
Take two bowls. In one place 125g of your Dark Chocolate Orange (you can use Milk Chocolate also i.e. Terry's Chocolate Orange* but we're using the Cadbury Bournville Orange Dark Chocolate Bar) and in the other place 125g of your milk chocolate. 
Pour your Double Cream into a small saucepan on a low heat and stir the cream until it starts to boil. Immediately pour half of the heated cream over bowl with the Chocolate Orange in and the other half over the White Chocolate. Stir each bowl until the chocolate has fully combined with the cream. 
In the White Chocolate bowl, add the Orange Extract and the Orange Food Colouring and mix until combined.
Cover both of these bowls with Cling Film and put in the fridge to thicken. We usually leave ours for a minimum of two hours.
Once the Ganache has thickened and your cakes have cooled completely, take your electric mixer or hand whisk and beat the separate Ganaches until they look whipped.
Take a Piping bag and attach your preferred nozzle. Using a spoon or silicone spatula, scoop the Chocolate Orange Ganache from the bowl and place it on one side of the piping bag. 
Next scoop the White Chocolate Orange Ganache and place on the other half of the piping bag. Push the Ganache down through the nozzle and squeeze a test onto some Kitchen towel to make sure the two colours are coming through.
You are now ready to ice your Chocolate Orange Cupcakes in your preferred style creating an eye-catching two tone effect. We have finished the decorating of our Chocolate Orange Cupcakes with small Terry's Chocolate Orange segments but you could also use Chocolate shavings or sprinkles if you wish.
Our Chocolate Orange Cupcakes will go down well with friends and family alike! We hope you enjoy them.
*This recipe is not a sponsored advertisement.
What is the best Chocolate Orange you can use to make our Chocolate Orange Cupcakes?
Here in the UK, Terry's is usually the market leading Chocolate Orange brand (again we're not being paid to say this!) so we would usually plump for that. However their portions aren't generous enough when it comes to baking so you will end up buying more Chocolate Oranges or bars if buying exclusively Terry's. If you're baking on a budget too, we recommend using a mix of Cocoa Powder, Orange Extract and Orange Rind to create a delicious flavour actually in your cupcakes. Then for your decoration you can choose to melt something from the Terry's Chocolate Orange brand. Here we need 125g of Chocolate Orange as we are splitting the Ganache with two different colours. A Terry's Chocolate Orange is 157g so if following our recipe you could use a Milk Chocolate and a White Chocolate one which will cost around £4.00 in total.
We however have gone for a Cadbury's Bournville Orange Bar which is a Dark Chocolate with orange pieces as it was more cost effective plus it will add some texture to the Ganache. Dark Chocolate also will create a richer Ganache and be a stronger contrast in colour with the White Chocolate Orange Ganache in the piping bag. A supermarket own brand of Chocolate Orange is perfectly good to use too.
We would advise against using Cooking Chocolate unless specified in any of our recipes, it has a different and bitter taste in comparison to the one that we are all used to eating. Using your favourite bars instead guarantees a bake that you and your friends will love. 
---
What is Chocolate Orange Ganache?
Ganache is just an indulgent French Chocolate sauce. It was first documented in Journal des Demoiselles in 1869 as Crème Ganache, an iteration of a Chocolate truffle. It is made by heating up equal parts of Heavy Cream and Chocolate and the heat from warm cream melts the Chocolate and is stirred until smooth. 
When making a Ganache dessert, you may choose to use a Heavy Whipping Cream or Extra Thick Double Cream to make it as creamy and thick as possible alongside a high Cocoa percentage Dark Chocolate usually 60% +. 
In our Chocolate Orange Cupcakes Recipe we have gone for Double Cream to make it easier to pipe through the piping bag. Ganache becomes thicker as it is cooled and it increases in volume making if perfect to use as a cake icing replacing the more commonly used Buttercream. 
---
Additional Equipment For Our Chocolate Orange Cupcakes Recipe
At January Media Production we are all about cooking and baking on a budget however if you want to save time or make some of our bakes easier, here are some suggestions that will make replicating our Chocolate Orange Cupcakes Recipe easier.
An Electric Mixer - While you can still achieve perfect Chocolate Orange Cupcakes mixing with a wooden spoon you will save time and your Biceps by using either an electric hand mixer or a standing mixer. These will both also effectively add air into your cupcake mixture making the overall texture of your sponge lighter when baked.
Silicone Cupcake Papers - Whilst the good old fashioned paper cupcake papers will work fine, we love using silicone cupcake papers for our bakes. They come in a range of bright colours, and may not be the look your going for on Instagram but they are reusable, washable and will save your money in the long run. Plus, they are much more environmentally friendly than disposable papers.
---