Christmas Dinner Burger Recipe
A full Christmas Dinner in a burger? Yes please. Try out our festive Christmas Dinner Burger recipe complete with a juicy turkey, sausage meat and stuffing patty, a dollop of signature cranberry sauce, crispy bacon rashers and roasted red cabbage.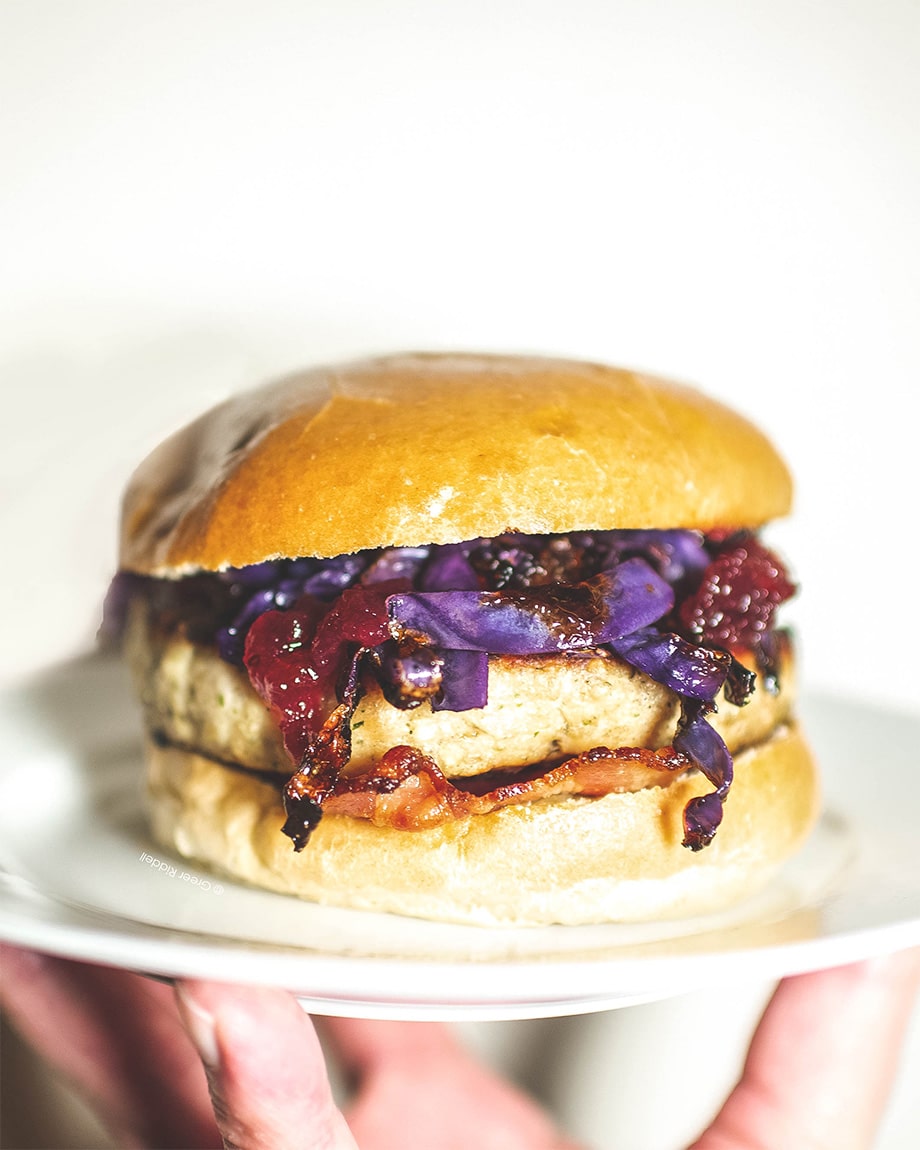 Christmas Dinner Burger Recipe
Christmas Dinner Burger Recipe
Difficulty: Medium Serves: 4 Total Time: 40 Minutes
Preparation:
Preparation Time: 20 Minutes
Cooking Time: 20 Minutes
Ingredients:
200g Turkey Mince
100g Sausage Meat
30g Sage and Onion Stuffing Mix
4 Streaky Bacon Rashers
1 Egg
1/2 a Red Cabbage
Brioche Buns
Cranberry Sauce
Olive Oil
Method:
To make our amazing Christmas Dinner Burgers, combine the Turkey Mince, one Egg, Sage and Onion Stuffing mix, Olive Oil and Sausage Meat into a large bowl. Then, using your hands, combine the meat mixture together and separate it into four equal parts. You can then manually shape your burgers or use a burger press as a guide. You want the patties to be about 2cm thick.
Heat a glug of Olive Oil in a griddle pan on a high heat and once the Oil is warm add the Turkey Burgers. You want them to have the marks of the griddle pan on each side to add a crispy element.
Cut the red cabbage into thin strips and add next to the Burgers in the griddle pan. Add your Bacon rashers to the pan also, or to the grill if you prefer your Bacon extra crispy.
The Burgers are done when the outside is crispy and the middle is cooked fully – that should take about 10 minutes.
Once all the elements are cooked, toast a Brioche Bun and spread with Butter. Layer onto the bottom of the pan your crispy Bacon, followed by your Turkey Burger, and a good helping of Cranberry sauce (to taste). Next add your Red Cabbage, which will be infused with the fat from your Burger and Bacon, onto the top of the Burger Patty before putting the buttered top of the Brioche Bun on to finish.
Serve with Roast Potatoes or Chips and Gravy!

Watch our Christmas Dinner Burger Recipe Video on YouTube.
---