Classic Beef Lasagne Recipe
Try our Classic Beef Lasagne recipe with every element homemade including, freshly prepared pasta sheets, a rich beef ragu and an indulgent Cheddar and Red Leicester Cheese sauce.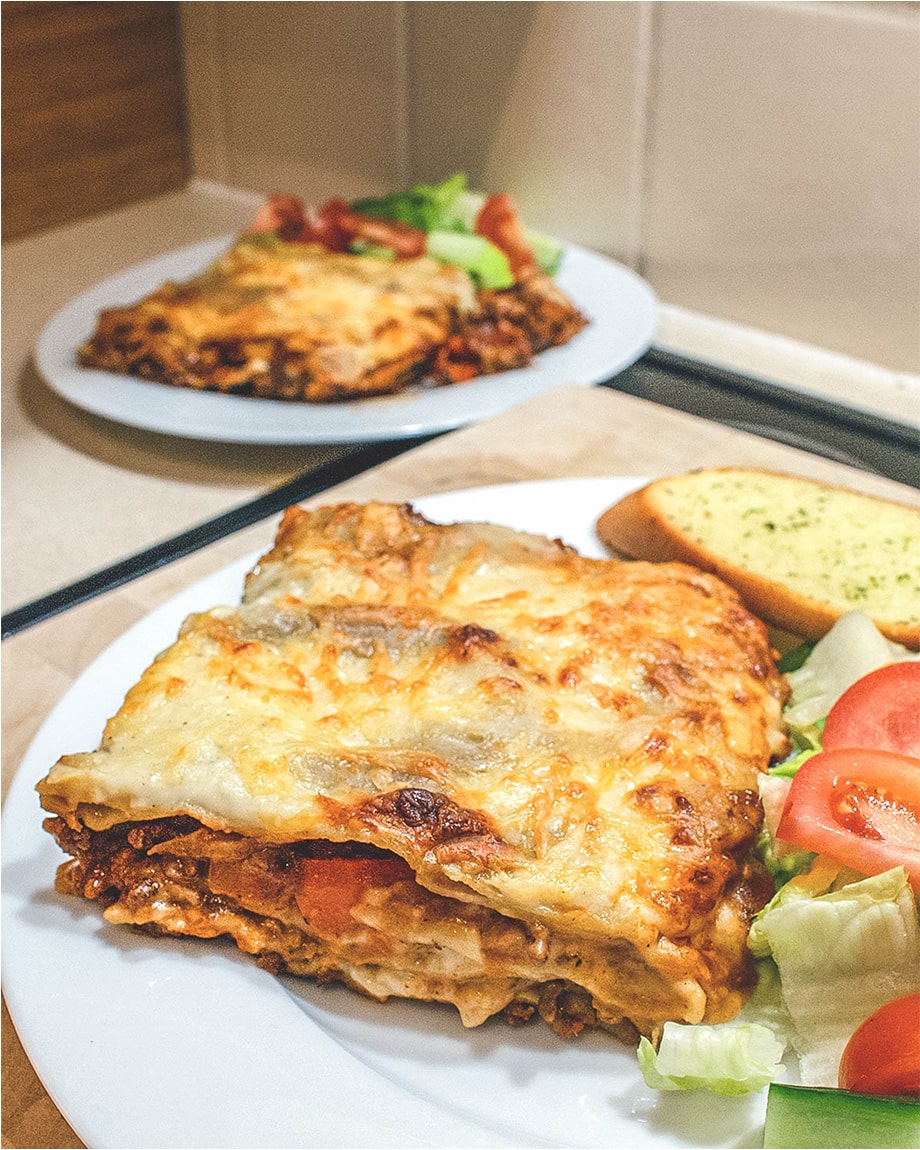 Classic Beef Lasagne Recipe
Classic Beef Lasagne Recipe
Difficulty: Hard Serves: 6 Total Time: 100 Minutes
Preparation:
Preparation Time: 65 Minutes
Cooking Time: 35 Minutes
Ingredients:
For the Beef Mince
500g Beef Mince
400g Chopped Tomatoes (we're using a carton that has basil and oregano included)
1 White Onion
2 Garlic Cloves
4 Fresh Tomatoes
2 Carrots
300ml Beef Stock
1/2tsp Ground Nutmeg
A Splash of Worcestershire Sauce
Salt and Pepper
Olive Oil
For the Cheese Sauce
Cheddar (to taste)
300ml Semi-Skimmed Milk
3tbsp Plain Flour
Unsalted Butter 40g
1/2 tsp Dried Oregano
For the Pasta
200G 00 Grade Pasta Flour
2 Eggs
Method:
Preheat the oven to 180°C fan. To make our Classic Beef Lasagne recipe, you will need to firstly place a large saucepan onto the hob at a medium heat. Pour in 2 tablespoons of Olive Oil and add the chopped Onions and crushed Garlic into the pan. Leave the Onions to sweat for a few minutes before adding 1cm chunks of Carrot. Let the vegetables sweat until the Onions become translucent.
Next, we want to add in the Beef mince, breaking up the chunks and stirring until it changes to a brown colour.
Add the chopped Tomatoes into the Beef and Vegetable mixture, stirring so everything is covered. Season the pan with Salt, Pepper, Oregano and a tablespoon of Worcestershire sauce. Combine on a medium to high heat.
Add in the Beef Stock and a teaspoon of ground Nutmeg for sweetness. Cover the Beef with the pan lid and simmer on a medium heat for 30 minutes.
While the Beef is simmering we want to make our fresh Pasta so, add the 00 Grade Pasta Flour into a bowl with two Eggs and mix together before kneading into a stiff dough.
Remove the dough from the bowl and place on a gently floured surface and knead for five minutes until the dough is thick and you can see no dry Flour.
Separate the pasta dough into 6 sections. Take one section and put it through the wider setting on your pasta machine to start making it into Lasagne sheets. Lower the thickness setting and put your sheet of Pasta through - repeat until you are on the thinnest setting. Remove the Pasta sheet and cut into sections, the same length your Lasagne dish will be. To store before assembling your Lasagne, put each Pasta sheet in between cling film to stop them sticking together. Repeat until all your Pasta dough has been made into Lasagne sheets.
Now for the third part of our Classic Beef Lasagne recipe, the Cheese sauce. In a smaller saucepan, on a low heat, add the Unsalted Butter and melt it.
Once melted, add your Plain Flour and mix until it forms a thick paste. Gradually add in your Milk and whisk until the paste becomes more fluid and sauce-like. Season with a pinch of Black Pepper and Oregano before adding a generous handful of Cheddar Cheese. Whisk until the Cheese has melted.
It is now time to start layering up your Lasagne in a large casserole dish. Start by spreading some of the thick Beef mixture onto the bottom of the dish.
You then want to fully cover the Beef with some of your homemade Lasagne sheets. Then you want to pour a generous helping of the white, Cheese Sauce on top of the Lasagne sheets. You can sprinkle more Cheddar Cheese over at this point. Then repeat by adding more of the Beef mixture on top.
You want to repeat this process until all of your ingredients have been used up and you have created a tall, layered Lasagne. You will want the top of your Lasagne to be the white Cheese Sauce layer. You can then add more Cheddar Cheese on top so when your Lasagne is in the oven the Cheese will brown and give you a classic crispy topping.
Put your Lasagne into the oven for 35 minutes at 180°C fan. You want the cheese on top to crisp and brown.
Serve with garlic bread, salad or vegetables.
Watch our Classic Beef Lasagne Recipe Video on YouTube.
---