Creamy Chicken and Dumplings Recipe
Our Creamy Chicken and Dumplings recipe is the perfect warm dinner for cosy nights in. The comforting cream and white wine sauce gets soaked into the gooey dumplings which are a great accompaniment to the tender pieces of chicken and root vegetables.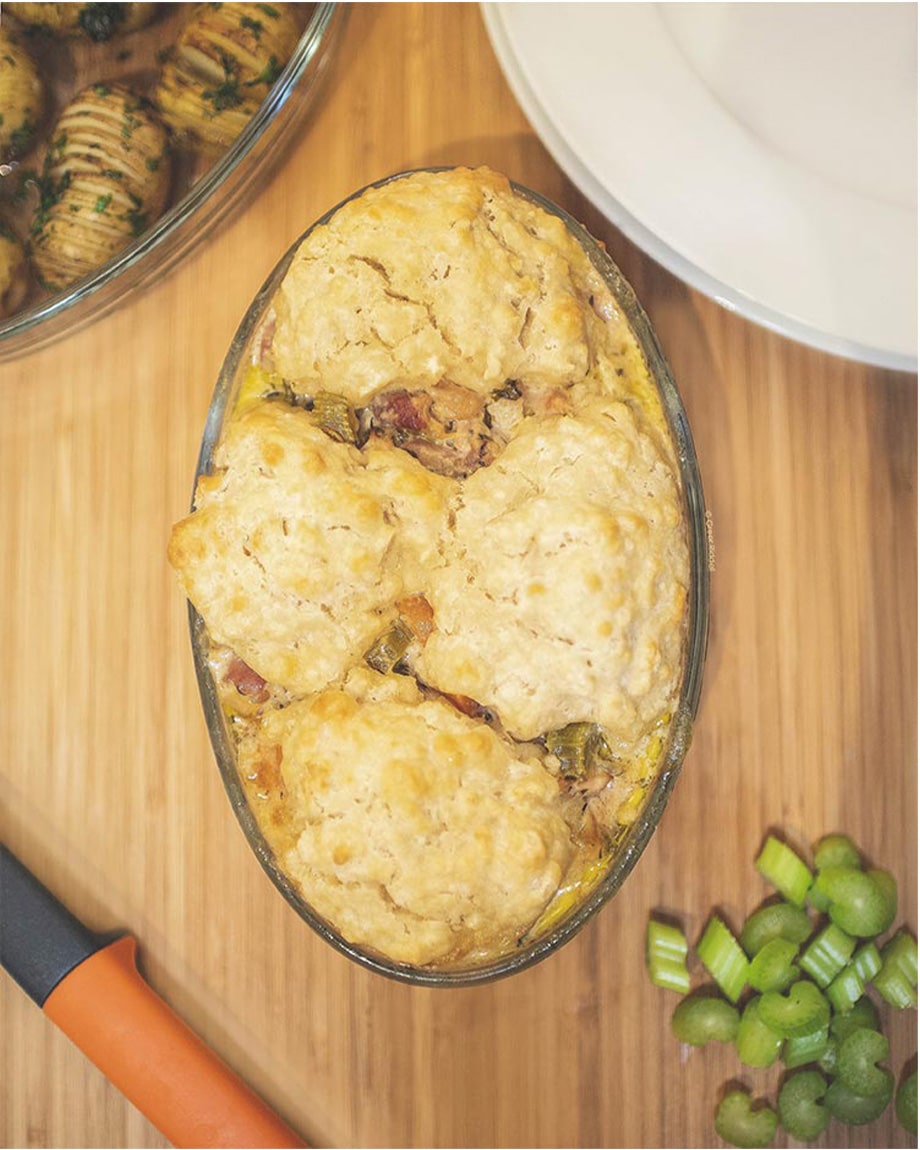 Creamy Chicken and Dumplings Recipe
Creamy Chicken and Dumplings Recipe
Difficulty: Medium Serves: 2 Total Time: 70 Minutes
Preparation:
Preparation Time: 20 Minutes
Cooking Time: 50 Minutes
Ingredients:
4 Boneless Chicken Thighs
250g Bacon Lardons
1 White Onion
2 Sticks of Celery
2 Carrot
2 Cloves of Garlic
Fresh Corriander (to taste)
Salt and Pepper
Dried Thyme
Olive Oil
100ml Double Cream
30ml Chicken Stock
Splash of White Wine
For The Dumplings (makes four large dumplings)
250g Self-Raising Flour
100g Unsalted Butter
Method:
To make our Creamy Chicken and Dumplings recipe, firstly put a large saucepan on the hob at a medium heat. Add a glug of Olive Oil to the pan and once warmed add the crushed Garlic and Onion. Leave the Onion to sweat until translucent.
Then season with Salt, Pepper and Oregano. Mix the Onion and the seasoning together and then add your Carrots in 2cm chunks into the pan. When the Carrot begins to soften add the Celery in 1cm chunks. Put the lid on the pan and sweat vegetables until they have all softened.
Now add your Bacon lardons, mix together and cook until the bacon changes colour.
It is time to add our Chicken cut into bite-size chunks. Stir the Chicken around in the mixture and put the lid on until the Chicken begins to change colour. Now add your Chicken Stock into the pan along with fresh Parsley and a splash of White Wine. Simmer for 10 minutes.
Add the Double Cream to the Chicken and simmer for a further 15 minutes.
Preheat the oven to 180°C fan.
While the Chicken mixture is simmering on the hob, it is time to make the Dumplings. Put the Plain Flour into the bowl, add a sprinkling of Salt and add 3 tablespoons of cold Water. Mix the dough and add further tablespoons of Water as needed to combine into a firm dough. Divide the dough into eight equal pieces and roll in the palm of your hand into eight individual spheres.
Transfer your Chicken mixture from the saucepan into a ovenproof casserole dish and evenly spaced your Dumplings on the top. They should be partially submerged in order to soak up some of the creamy sauce.
Bake in the oven for 25 minutes at 180°C fan or until the sauce is at your desired consistency.
Serve with potatoes and vegetables.

Watch our Chicken and Dumplings Recipe Video on YouTube.
---