Homemade Five Guys Burger Recipe
Remake a takeaway classic at home with our homemade Five Guys Burger recipe with two patties of beef, lettuce, tomato and burger cheese all inside a signature Five Guys sesame bun.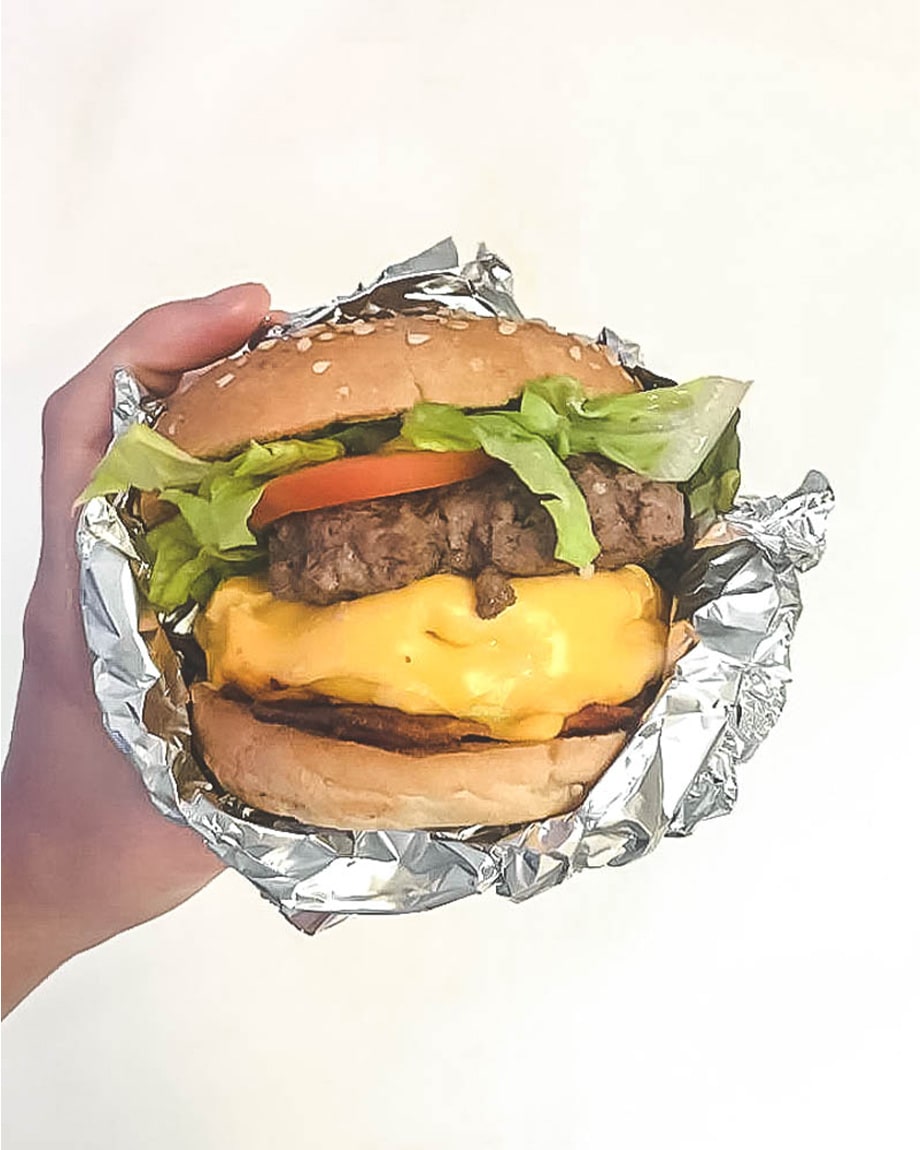 Homemade Five Guys Burger Recipe
Homemade Five Guys Burger Recipe
Difficulty: Medium Serves: 2 Total Time: 45 Minutes
Preparation:
Preparation Time: 25 Minutes
Cooking Time: 15 Minutes
Ingredients:
250g of Beef Mince (20% Fat)
4 Rasher of Streaky Bacon
4 Cheese Single Slices
Seasame Burger Bun
Romaine Lettuce
1 Tomato
Mayonnaise (to taste)
Ketchup (to taste)
Method:
To make our Homemade Five Guys Burger recipe, place the Bacon rashers into a griddle pan with a splash of Olive Oil and leave to crisp.
At the same time, separate the Beef Mince into four equal pieces and mold into a thin patty. You can either do this manually or using a Burger press. 
Lay the four burger patties in the same griddle pan. You may need to remove the Bacon now and set aside for when you want to assemble the burger later. Cook the burgers until each size is a dark brown, this should take 10 minutes. 
Now add on two slices of Cheese singles on top of two of the burger patties still in the griddle pan and place the other two plain burger patties on top. One on teach. This will now melt around the burger. 
In the meantime, slice your two Brioche buns and place in the toaster to lightly toast. Butter each side.
Now layer on Mayonnaise, Bacon, the double Burger patties, sliced Tomato, Romaine Lettuce and Ketchup. Place the whole Buger in clingfilm to reproduce that Five Guys feel. This will make all the elements fuse together more before eating!
---