Lemon And Blueberry Loaf Cake Recipe
Our soft Lemon and Blueberry loaf cake recipe combines a classic zingy flavour combination with a gorgeously moist sponge. Blueberries can sometimes be quite tarte on their own but once you add them to this traditional sponge they become super sweet. Throw in the zest of one Lemon and a good dose of sugar and you'll see why our Lemon and Blueberry Loaf Cake recipe is one of the most flavoursome loaf cakes we've baked.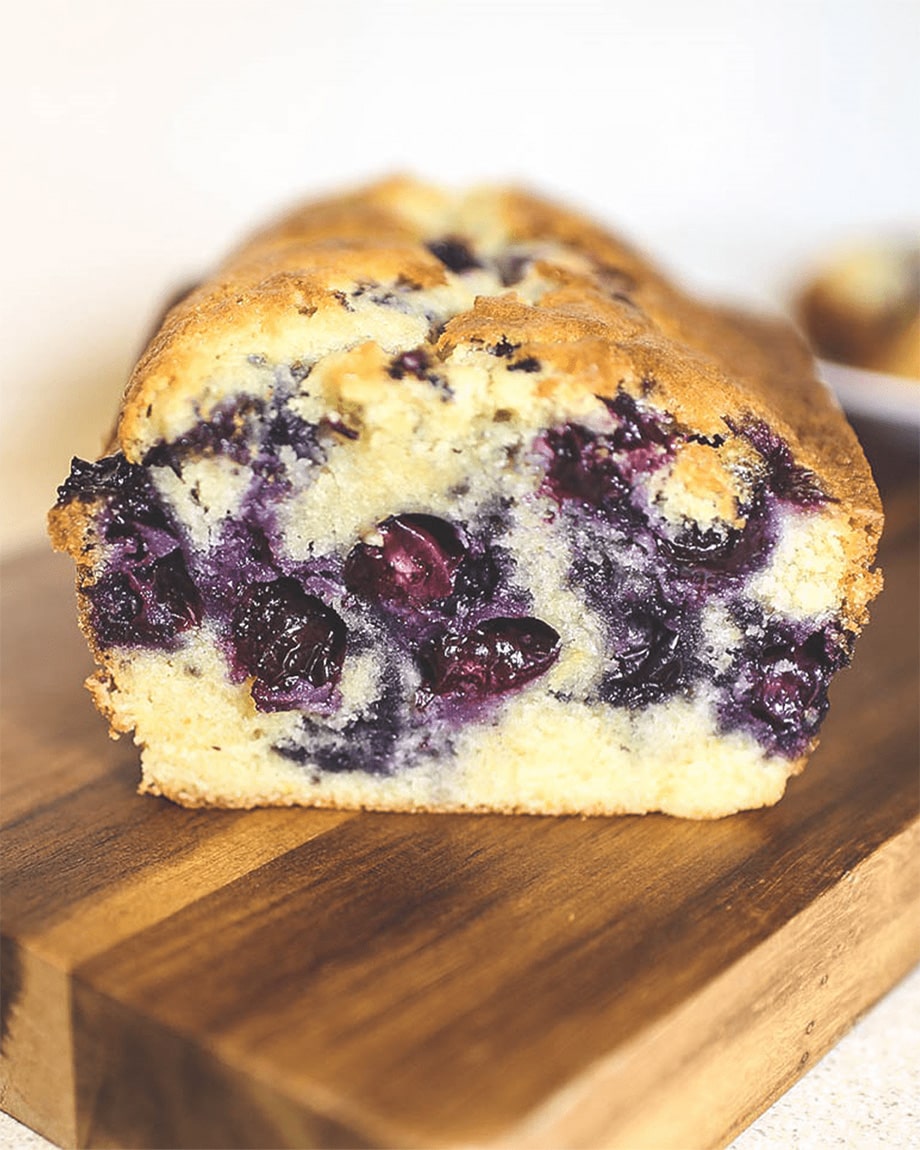 Lemon And Blueberry Loaf Cake Recipe
Lemon And Blueberry Loaf Cake Recipe
Difficulty: Medium Serves: 8 Total Time: 65 Minutes
Preparation:
Preparation Time: 20 Minutes
Cooking Time: 45 Minutes
Ingredients:
114g Unsalted Butter (softened)
200g Plain Flour
180g Caster Sugar
1 1/2 tsp Baking Powder
120ml Milk
1 Lemon Zest
200g Blueberries
2 Large Eggs
1/2 tsp Salt
Method:
Preheat the oven to 160°C fan.
To make our Lemon and Blueberry Loaf Cake recipe, cream together the Unsalted Butter and Caster Sugar into a large mixing bowl.
Then into the same bowl, add the two large Eggs and the grated zest of one Lemon and mix together using preferably an electric mixer. You can mix by hand but this will take longer to make sure there are no lumps.
Now add the Plain Flour, Baking Powder and Salt into the bowl and mix thoroughly again. This will create a thick batter.
In a separate and smaller bowl, mix the Blueberries with a tbsp of Plain Flour and roll them around in it until they have been coated. This will help stop your Blueberries sinking to the bottom of your cake.
Keep a few Blueberries to once side and pour the rest into the large bowl with your batter mixture. Do not include any of the remaining flour. Fold them together with the batter slowly, refraining from mixing fast otherwise they will sink to the bottom of your cake in the oven. Make sure they are distributed well across the batter.
Line the bottom on a 1Lb loaf tin with Greaseproof Paper. Pour your cake batter into the tin, making sure it is an even layer. 
Place on top of your loaf tin the remaining Blueberries kept behind. This is a nice bit of decoration for the top and it makes sure you have Blueberries throughout your bake. 
Put the Lemon and Blueberry Loaf Cake into the oven to bake at 160°C fan for 45 minutes. At 45 minutes stick a skewer into it right to the bottom, if it is clean when you take it out the cake is ready. If not, keep in the oven for a maximum of 15 minutes more but repeat this process after every 5 minutes has passed just to make sure. If you find the top of your cake is browning and the middle still needs to cook, cover the top with some tin foil at the 45 minute mark.
Once the loaf cake has been baked, leave it to cool in the tin for 15 minutes and then transfer to a wire rack to completely cool.
Our Lemon and Blueberry Loaf Cake is great bake for a family get together or Afternoon tea. We hope you love it!
How do you get the Blueberries to spread evenly through the loaf cake?
One of the main concerns for bakers using fresh fruit in their bakes is how to make the fruit spread evenly throughout the cake. As the fruit is usually heavier than the batter mixture surrounding it, it can often sink to the bottom. Your cake will then have a mushy layer at the bottom which doesn't look great, and it also makes it harder to remove it from the tin and slice.
To make sure the Blueberries in our Lemon and Blueberry Loaf Cake Recipe stay evenly distributed throughout the cake like Chocolate Chips, we have rolled them in a tablespoon of Plain Flour before adding them into the batter. The flour allows any moisture on the outside of the Blueberry to be removed and it acts like a glue when folded into the main batter mixture allowing the Blueberry to be suspended in its place when cooked and not to fall. 
Some recipes suggest that you use part of the flour going in to the original cake and deduct it from the total. However we found that this isn't necessary and you aren't harming the consistency of the cake by rolling the Blueberries in surplus flour instead. Just make sure you do not add any left over flour when you are combining the fruit with the batter. 
It is also advised that once you have poured your batter into your loaf tin and added Blueberries on the top, put it straight in the oven to bake. This will stop your Blueberries settling to the bottom over time. 
---
What icing would you recommend for the Lemon and Blueberry Loaf Cake?
For our Lemon And Blueberry Loaf Cake Recipe, we have chosen not to include icing because we enjoy the cake's flavour on its own and think it is incredibly moist without it. However, if you would like to add an icing we recommend either a Lemon Drizzle or a Lemon Sugar icing. Both of these suggestions aren't thick and buttery which would take away from the light and delicate flavour of the cake and instead they would add a top up of the lemon flavour.
---
Additional Equipment For Our Lemon and Blueberry Loaf Cake
At January Media Production we are all about cooking and baking on a budget however if you want to save time or make some of our bakes easier, here are some suggestions that will make replicating our Lemon And Blueberry Loaf Cake Recipe easier.
An Electric Mixer - While you can still achieve perfect the Lemon And Blueberry Loaf Cake Recipe mixing with a wooden spoon you will save time and your Biceps by using either an electric hand mixer or a standing mixer. These will both also effectively add air into your mixture making the overall texture of your sponge lighter when baked. Make sure to only whisk your batter before the Blueberries have been added.
Tin Foil - Sometimes with loaf cakes the top tends to cook faster than the inside and so one way to combat this in our Lemon And Blueberry Loaf Cake Recipe is to add some Tin Foil/ Aluminum foil over the top of it at the 45 minute mark. By this time the loaf cake will have risen to it's full potential but may need extra cooking time inside. You are then able to stick your skewer into the foil itself or underneath when checking to see if it is fully baked.
1Lb Loaf Tin - For our Lemon And Blueberry Loaf Cake Recipe, we have used a 1Lb loaf tin. You can get 2Lb tins and you are still able to use this recipe, it will just be a shallower bake. In a 1Lb loaf tin, the bake will rise to a good height so when you're ready to cut slices for your friends and family, everyone has a good sized portion. 
---