Peanut Butter and Oat Cookies Recipe
A super simple Peanut Butter and Oat Cookies recipe that will not last for long in the cupboard. It makes 10 large cookies with a crumbly texture and a flavour mixed between sweet and salty.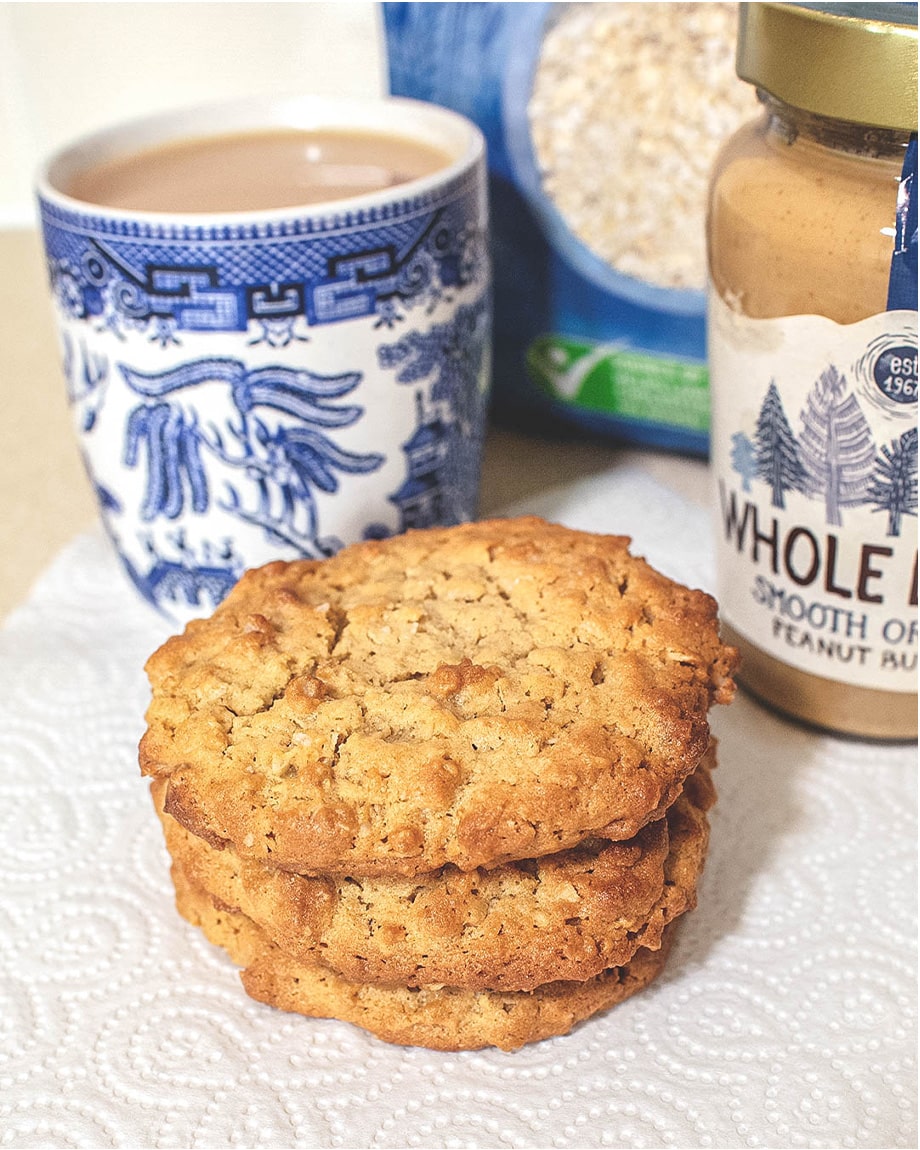 Peanut Butter and Oat Cookies Recipe
Peanut Butter and Oat Cookies Recipe
Difficulty: Medium Serves: 10 Total Time: 35 Minutes
Preparation:
Preparation Time: 25 Minutes
Cooking Time: 10 Minutes
Ingredients:
90g Plain Flour
90g Rolled Oats
180g Smooth Peanut Butter
1 Egg
120g Unsalted Butter
100g Light Brown Sugar
1tsp Baking Powder
1tsp Bicarbonate of Soda
1tsp Vanilla Essence 
A Pinch of Salt
Method:
Preheat the oven to 170°C fan.
To make our Peanut Butter and Oat Cookies, firstly add the Plain Flour, Rolled Oats, Baking Powder and Bicarbonate of Soda to a bowl.
In a separate and large bowl add the Unsalted Butter and Brown Sugar. Combine the two using either a wooden spoon or an electric mixer. Once combined into a paste, add one Egg and continue to mix.
Next add the Peanut Butter and Vanilla Essence to the wet ingredients and mix until combined.
We now want to gradually add the dry ingredients into the wet ingredients and mix all together. This will create a thick Cookie Dough.
Line a large baking tray with Greaseproof paper and add a tablespoon of the Cookie Dough onto the tray leaving about 4 cm in between each Cookie. You will want to cook these in batches.
Mould your Cookies into a 4 cm wide and 2.5 cm thick cookie shape on the baking tray and sprinkle a pinch of Sea Salt on the top of each one.
Put your tray of Cookies into the oven to bake for 10 minutes at 170°C fan. Take them out of the oven when they are golden brown.
They will need to cool for a few minutes before you are able to take them off the baking tray without breaking.

Watch our Peanut Butter Cookies Recipe Video on YouTube.
---