Spicy Sausage Chilli Recipe
A tasty Spicy Sausage Chilli recipe with a sauce made up of smokey paprika, rich tomatoes and green peppers. A great one to make in bulk to store in the freezer for busier days.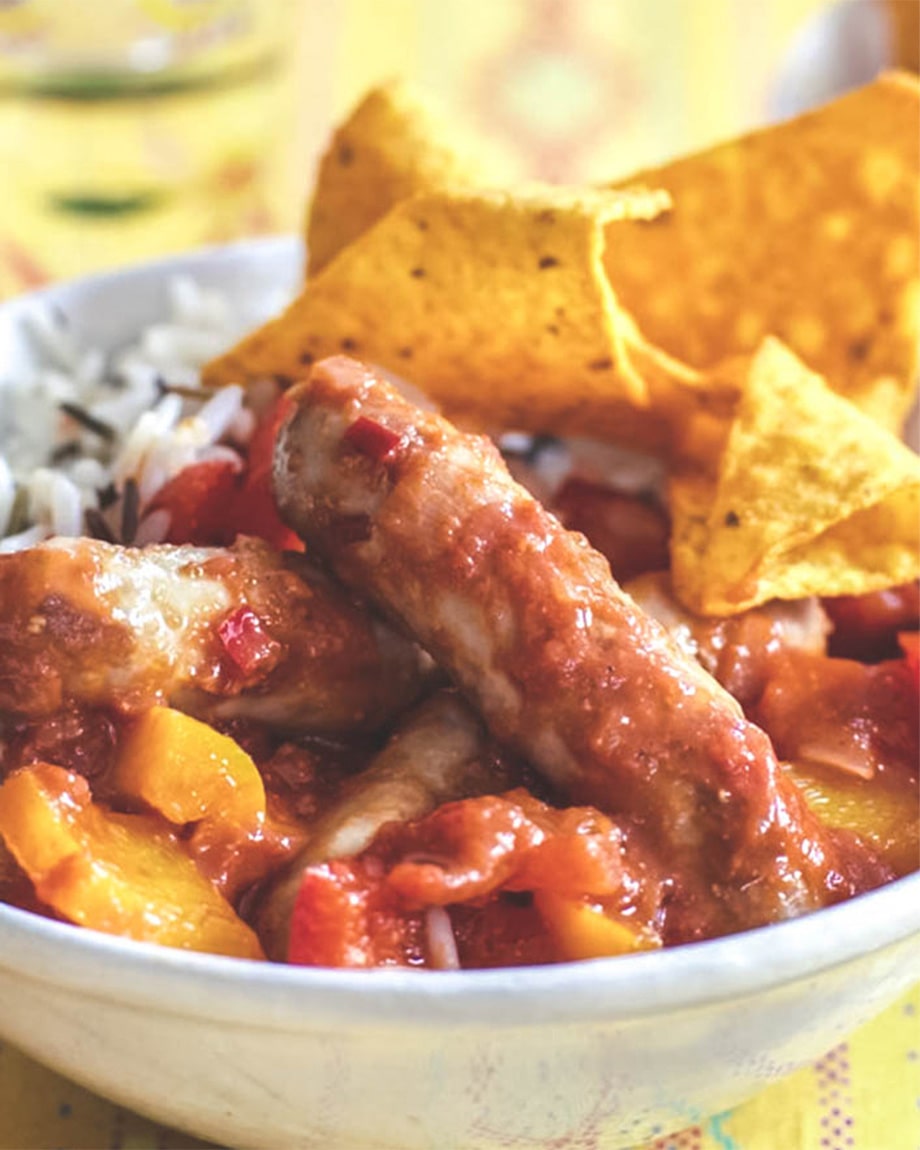 Spicy Sausage Chilli Recipe
Spicy Sausage Chilli Recipe
Difficulty: Medium Serves: 6 Total Time: 50 Minutes
Preparation:
Preparation Time: 20 Minutes
Cooking Time: 30 Minutes
Ingredients:
8 Pork Sausages
2 Green Peppers
2 Spring Onions
2 Garlic Cloves
1 Green Chilli
1 White Onion
2 Sticks of Celery
400g Chopped Tomatoes
300ml Vegetable Stock
1tsp Smoked Paprika
Salt and Pepper
Olive Oil
Method:
To make our Sausage Chilli recipe, first place a large saucepan onto a hob at a medium heat and add a good glug of Olive Oil.
Now add the Sausages and brown them on all sides. Once they are brown remove them from the saucepan and set them on the side to use again later.
To start our Chilli base we are going to use the same saucepan and the oil from the Sausages so do not throw that away. Firstly add the chopped Onion, crushed Garlic and Green Chilli into the pan. Stir until they are nicely coated with the Sausage fat. Leave the Onions to sweat for a few minutes.
Next we are going to add our Green Pepper which we have chopped into 2 cm chunks. Mix it around with the Onions, add the Paprika, Salt and Pepper before mixing thoroughly leaving it to sweat for a further few minutes.
Next we want to add our 1.5 cm chunks of Celery into the saucepan which we will again mix around to get a good coating of the spices. You will then want to leave the vegetables sweating on a low to medium heat for 10 minutes until the Onion becomes translucent and the Peppers and Celery have become a darker green.
Add a tin of chopped Tomatoes to mixture and add your 300 mL of Vegetable Stock. Give it a good stir and put a lid on the saucepan now leaving it to simmer for 20 minutes.
After 20 minutes is up, add your previously brown Sausages to the saucepan and re-cover with a lid. Simmer the Chilli on a medium to low heat until the sauce is at your desired thickness.
Serve with rice or crusty bread.

Watch our Spicy Sausage Chilli Recipe Video on YouTube.
---