Turkey and Sweet Potato Enchiladas Recipe
Try this tasty Turkey and Sweet Potato Enchiladas recipe, packed full of flavour, smokey sweet potato and gooey melted cheese. These are a healthier alternative to traditional Mexican enchiladas.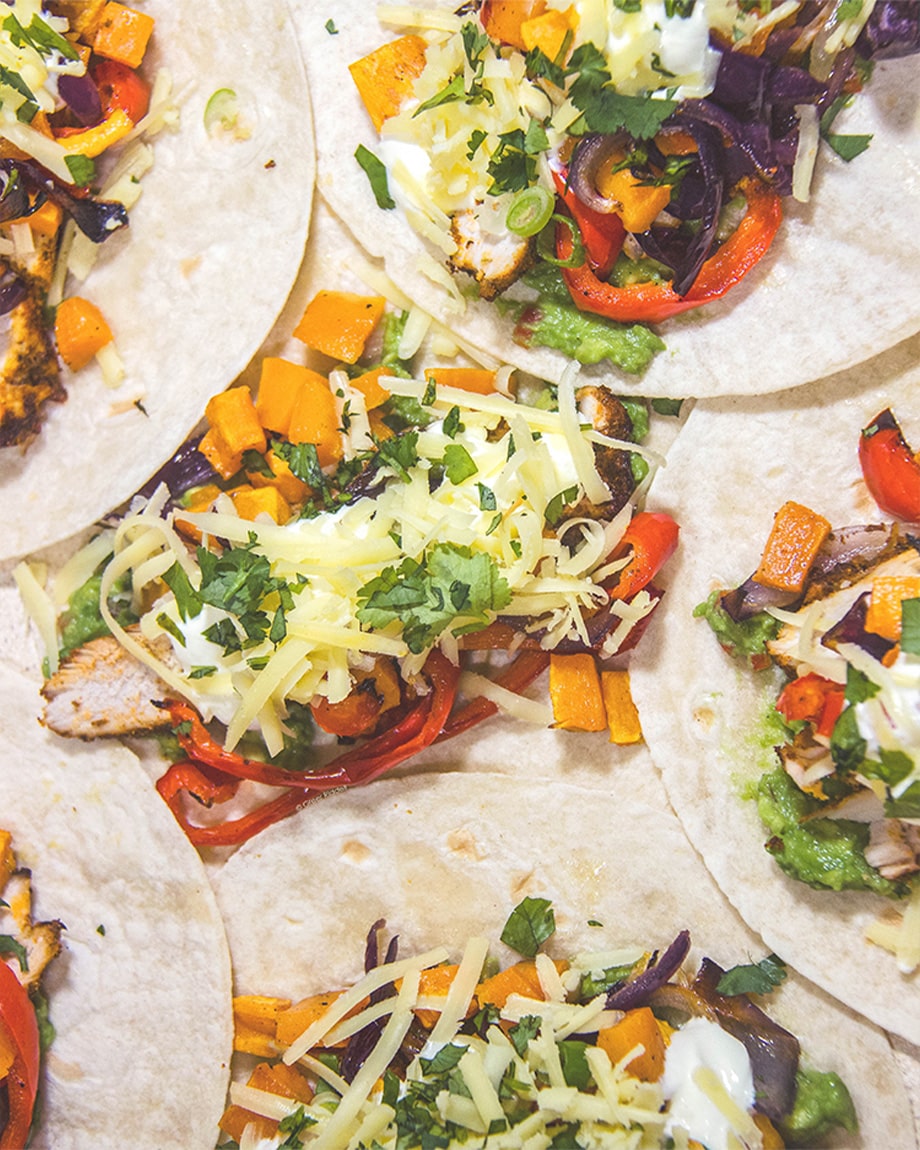 Turkey and Sweet Potato Enchiladas Recipe
Turkey and Sweet Potato Enchiladas Recipe
Difficulty: Medium Serves: 2 Total Time: 60 Minutes
Preparation:
Preparation Time: 40 Minutes
Cooking Time: 20 Minutes
Ingredients:
2 Turkey Breast Fillets
1 Large Sweet Potato
1 Red Pepper
1 Red Onion
1 Avocado
2 Spring Onions
Grated Cheddar Cheese
Soured Cream
6 Small Tortilla Wraps (either corn or flour)
1 Fresh Red Chilli
Fresh Corriander (to taste)
1tsp Smoked Paprika
1 tsp Cumin
1tsp Mild Chilli Powder
1 tsp Dried Corriander
A Glug of Lemon Juice
Olive Oil
Method:
Preheat the oven to 180°C fan. To make our Turkey and Sweet Potato Enchiladas recipe, cut the Pepper and Onion into strips and place on a tinfoil lined baking tray. Cut the Sweet Potato into cubes and add to the baking tray too. Cover the vegetables with Olive Oil, Salt and Pepper.
Next, take the Turkey breasts and put them in an oven proof dish. Cover them with the Paprika, Cumin, Dried Coriander, Chilli Powder and Olive Oil and massage the spices into each breast.
Put both the Turkey breasts and tray of vegetables into the oven for 30 minutes at 180°C fan.
While the vegetables and Turkey cook in the oven, we will make our Guacamole. Cut your Avocado and take out the stone. Scoop it into a bowl and mash with a fork to form a paste. Add the chopped Spring Onions, diced fresh Red Chilli and fresh Coriander. Drizzle on some Lemon Juice to taste and season with Salt and Pepper.
Once the Turkey has cooked, cut it into thin slices to be layered in the Tortillas.
To prepare an Enchilada, take a Tortilla and add a generous helping of the Guacamole to the middle. Next layer on a few slices of the Turkey breast and cover with the Sweet Potato, Onion and Pepper mixture. Next add a spoonful of Soured Cream to taste and sprinkle grated Cheese over the top.
Then we are going to wrap our Enchilada up. So take the two sides closest to the filling and fold them over on top of the filling. Use the other sides to fold the other way until the filling is completely covered. Take a look at our video below for a good tortilla rolling technique!
Place your Enchilada into a large oven proof dish. Repeat with the others until all your fillings have been used.
Grate Cheese over the top of the wrapped Enchiladas in the dish before putting them into the oven for 15- 20 minutes at 180°C or until the Cheese has melted and started to turn golden.
Serve with more Soured Cream or a Tomato Salsa.
Watch our Turkey Enchiladas Recipe Video on YouTube.
---