Vegetable Chilli Recipe
A packed Vegetable Chilli recipe which is great for batch cooking and storing in the freezer. It is a mixture of smokey vegetables, a rich and sweet sauce and is perfect with rice and soured cream.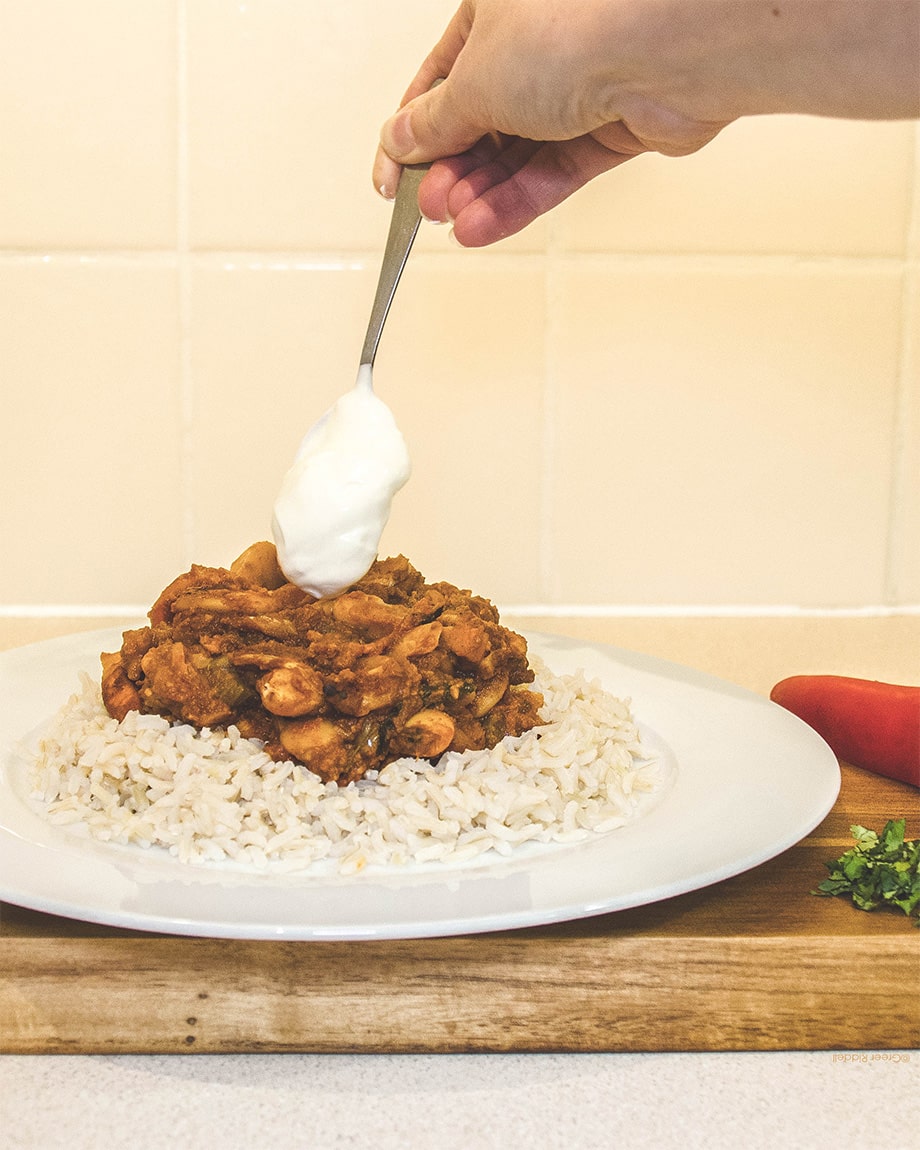 Vegetable Chilli Recipe
Vegetable Chilli Recipe
Difficulty: Medium Serves: 6 Total Time: 75 Minutes
Preparation:
Preparation Time: 35 Minutes
Cooking Time: 40 Minutes
Ingredients:
2 Yellow Peppers
1 Red Chilli
3 Sticks of Celery
2 Carrots
2 Medium Sweet Potatoes
1 White Onion
400g Butter Beans
400g Chopped Tomatoes
2 Garlic Cloves
Fresh Corriander (to taste)
1tsp Cumin
2tsp Smoked Paprika
1tsp Dark Cocoa Powder (we used Bourneville)
1tbsp Peanut Butter
Olive Oil
Basmati Rice and Soured Cream to serve
Method:
To make our easy Vegetable Chilli recipe, you can use a selection of the vegetables that you have left in the fridge.
Put a large pan onto the hob at a medium heat and add a good glug of Olive Oil. Chop your Onion into small cubes and add it to the oil once warmed. After mixing, add your Garlic crushed and your chilli finely chopped.
Leave the Onion, Garlic and Chilli to sweat for a few minutes. Now we are going to add the spices to make the rich Chilli sauce. Add the Cumin, Paprika, Cocoa Powder and Peanut Butter and mix so that the Onions are thickly coated. Leave this on the hob to sweat while you prep the rest of the vegetables.
On another hob, you want to add a small amount of oil to a frying/griddle pan on a medium heat. Here we are going to brown some of our other vegetables before adding them to the larger pot to create a smoky flavour.
We like to add the Peppers first so here we have chopped our Yellow Pepper into large chunks to keep the overall texture of our Chilli interesting. Place the Peppers into the hot saucepan and allow them to brown for a few minutes.
Now add the Peppers to the larger pot of Onions and make sure you give them a good mix around in order to coat all the vegetables with the spices.
You will repeat this process with your other vegetables including the Carrots (which we have cut into rounds), Sweet Potatoes (large 2cm wide chunks) and Celery (1cm arcs).
Once all vegetables have been added to the pot and have been coated with a thick layer of the spices, it is time to add the chopped fresh Coriander and tinned ingredients. Do not drain your tin of Butter Beans as the water will add to your Chilli's rich sauce.
Once all of the ingredients have been added, keep your saucepan on a medium to low heat and simmer on the hob for 35 to 40 minutes. You may want to alternate keeping a lid on and taking it off. The Chilli is ready when the sauce is to your desired thickness.
Our vegetable Chilli is a great meal to batch cook and freeze for a day when you are busy. We like to serve with Basmati rice and a good helping of Soured cream.

Watch our Vegetable Chilli Recipe Video on YouTube.
---