White Chocolate and Apricot Flapjacks Recipe
If you want a quick bake to go alongside a cup of tea, try our White Chocolate and Apricot flapjack recipe complete with syrupy oats, sweet dried Apricot pieces drizzled with lots of White Chocolate.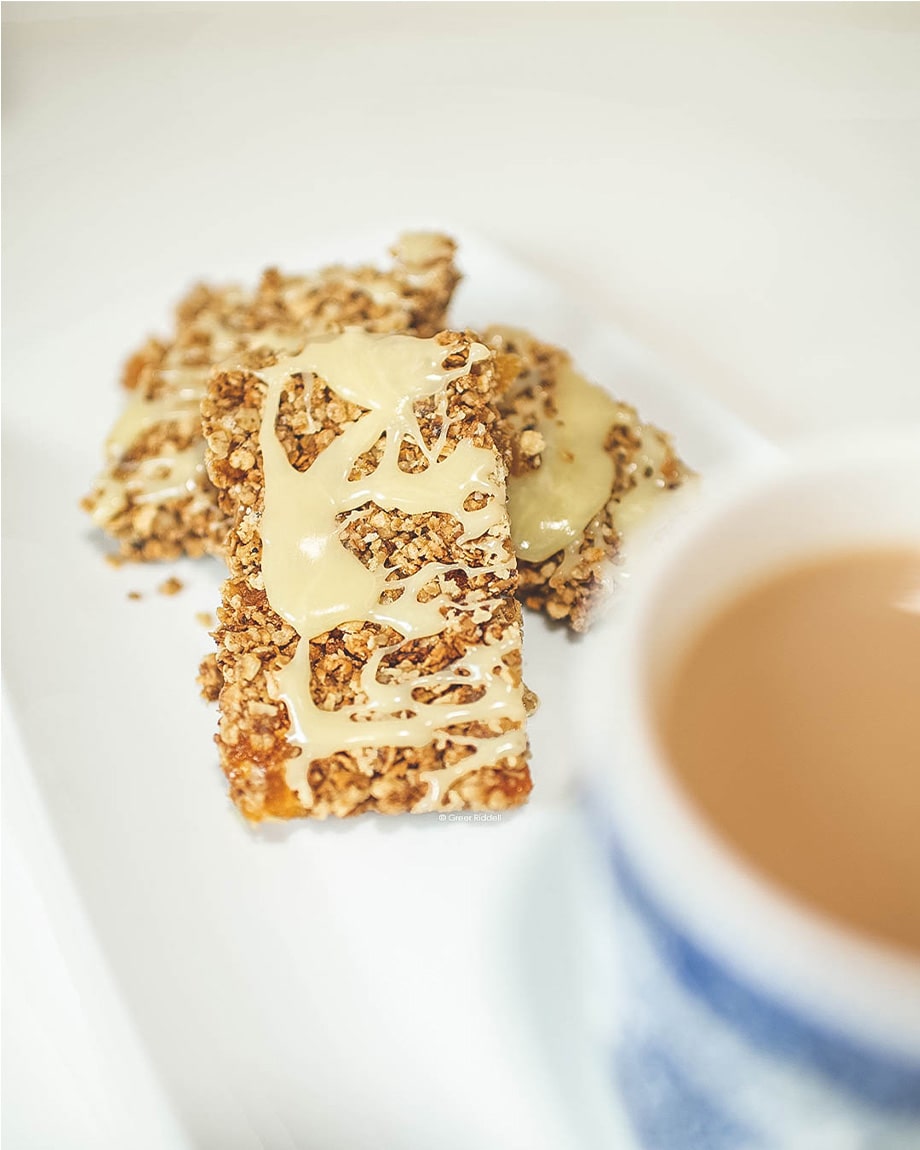 White Chocolate and Apricot Flapjacks Recipe
White Chocolate and Apricot Flapjacks Recipe
Difficulty: Easy Serves: 8 Total Time: 20 Minutes
Preparation:
Preparation Time: 10 Minutes
Cooking Time: 10 Minutes
Ingredients:
75g White Chocolate
30g Dried Apricots
30g Unsalted Butter
100g Oats
3 tbsp Golden Syrup
Method:
Preheat the oven to 160°C fan. To make our Apricot and White Chocolate Flapjacks recipe, melt the Unsalted Butter in a medium-size saucepan on a low heat.
Once melted add the Porridge Oats to the pan and stir until all the oats are coated with melted Butter. Next add in the Golden Syrup and, again. stir so that all the Oats are coated. Keep mixing the Oats until they start to become golden.
Next, add in the chunks of White Chocolate and stir into the Oats until melted. Now add the pieces of dried Apricots and stir in the oat mixture.
Line a deep dish or casserole dish with Greaseproof paper. Pour the Oat, Chocolate, and Apricot mixture into the deep dish. Use the back of a dessert spoon to push the mixture into all of the corners and to flatten it so that the Flapjacks will be equally spread. Put the dish in the oven to bake at 160°C fan for 10 minutes until golden.
Once cooled, put your leftover White Chocolate into a bowl that will easily sit on the top of a small saucepan. Put a small saucepan of boiling water onto a low heat and add the ball of White Chocolate on top making sure that the water is not touching the bottom of the bowl. We will now use the heat rising from the water in the pan to melt the Chocolate in the bowl.
Once the Chocolate is melted, remove the large slab of Flapjack onto a clean chopping board. Use a spoon to scoop the White Chocolate and drizzle it over the top of the Flapjack slab in whatever pattern you would like. Leave the Chocolate to cool on the Flapjack before cutting it into slices.

---