Complete These 30 Everybody Loves Raymond Quotes Quiz
Test your Raymond knowledge in our 30 question Everybody Loves Raymond Quotes quiz. How many of these iconic Raymond lines can you remember? We've included quotes from across the seasons of Everybody Loves Raymond written by Ray Romano and Phil Rosenthal.

Watch our Everybody Loves Raymond Quotes Video on YouTube.
Everybody Loves Raymond Quotes Quiz Questions
Our Everybody Loves Raymond quotes quiz is made up of 30 questions from across all 9 seasons of Phil Rosenthal and Ray Romano's popular sitcom. These include everything from Ray Barone quotes (Ray Romano), Debra Barone quotes (Patricia Heaton), Marie and Frank Barone quotes (Doris Roberts and Peter Boyle) and lastly Robert Barone quotes (Brad Garrett). Let us know what score you get!
You can play via our interactive quiz game below which will score you at the end, or print out the following questions. Best of luck, and let us know how you do in the comments at the bottom of this page!
Play The Everybody Loves Raymond Quotes Quiz Online
---
1. Frank: "You were born, you go to ______, you work and you die."
2. Ray: "You are the ____ on the backside of my success"
3. Debra: "I had all the kids, and I was expecting him home at two and he didn't show up until five o' clock and his explanation for why it took so long was that his friend Gianni wanted to __ __ __ ."
4. Marie: "I can't talk, there's too much ____ in the house!"
5. Marie: "Try the ____." Frank: "Mmm oh wow that's good" Marie: "No it isn't, that's Debras!"
6. Ray: "How about we golf for it? Today? 18 holes, loser gets ____."
7. Amy: "I couldn't even finish reading it because some woman was _____ , and then I realised it was me!"
8. Marie: "My own son, an ____?!"
9. Ray: "This coming from the guy who once threw _____ ." Frank: "It's called protecting your sandwich."
10. Frank: "You are what you eat." Marie: "Robbie, give your Father his order of ___ ___."
11. Marie: "Who keeps ____ for 29 years?" Frank: "Anybody married to you."
12. Marie: "I remember it from the ___ ."
13. Frank: "You're even ____ than I tell people."
14. Ray: "You're an idiot wrapped in a ____ ."
15. Debra: "Gianni, while you're out getting a stove, could you pick up a ____ for my husband?"
16. Robert: "I'm a cop and I live with my parents. I'm on a constant diet of ___ ___"
17. Ray: "I had to fall asleep to the sound of my brother naming his toes. There was 'Fat Tony', 'Danny the Weasel' and 'Billy Stretch' and ___ ___."
18. Marie: "Look, Frank, your sons are hugging!" Frank: "Want me to get the ____?"
19. Marie: "You are not getting a TV in the bathroom!" Frank: "Then I'm bringing the ____ into the living room."
20. Debra: "I keep forgetting what a _____ this family is until someone new comes in and looks at us like that."
21. Robert: "When we were kids, we had a cockatiel named ____ . I trained him so when I opened his cage he'd fly right up onto my shoulder. He thought I was a tree."
22. Robert: "I once went to a ____ with my ex-wife." Ray: "Was it good?" Robert: "Did you miss the end of that sentence?"
23. Debra: "I can't compete with your Mother's turkey Ray, the woman has ____ in her blood!"
24. Marie: "Robbie, I found a place that can make you a tuxedo. They do the ____!"
25. Frank: "I tried ___ once, I didn't care for it."
26. Ray: "Did you just have ____ because my Mother told you to?"
27. Frank: "I've got the complete works of Arnold Schwarzenegger, except the one where he gets ____ ."
28. Frank: "I could have eaten a box of _____ and crapped a better interview."
29. Amy: "It's black tie optional! Attire optional means maybe naked.They're going to be nude people. At a church. On a _____ !"
30. Marie: "What is a DVD player? Is it for _____?"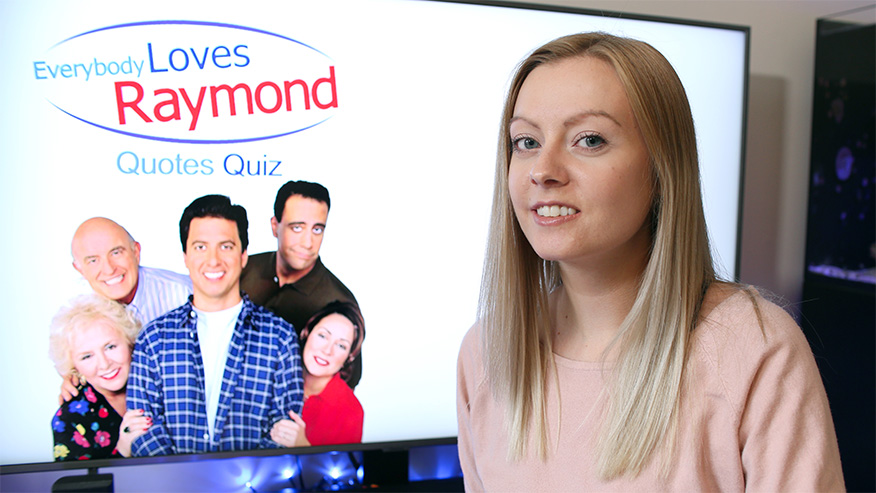 Complete These 30 Everybody Loves Raymond Quotes Quiz
What is your favourite Everybody Loves Raymond quote? Let us know in the comments below.