Ultimate Parks and Recreation Quiz: 140 Difficult Questions
Test your knowledge of Leslie Knope and the rest of the Pawnee gang in our ultimate Parks and Recreation Quiz with 140 difficult questions. Parks and Recreation began in 2009 and had an impressive 6.77 Million viewers tune in for its pilot episode but how much do you remember about the series?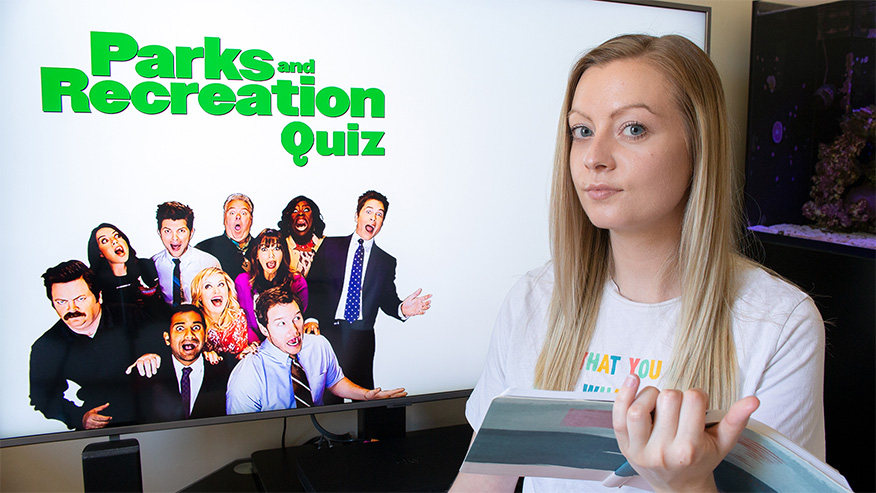 Parks and Recreation Quiz Questions
Our Parks and Recreation quiz is made up for 9 rounds and there are questions relating to many episodes in each season per corresponding round. The first 7 rounds are made up of questions relating to the corresponding series of Parks and Recreation 1-7, and then the final two rounds are about Parks and Recreation General Knowledge and Trivia and lastly, round 9 is a picture round where you need to guess the names of the lesser known Parks and Recreation characters shown. Each round features questions in a range of difficulties, two easy questions, two medium and two hard.

You can play via our interactive quiz game below which will score you at the end, watch along with our video or print out the following questions. Best of luck, and let us know how you do in the comments at the bottom of this page!
Play The Parks and Recreation Quiz Online
---
Round 1: Season 1 Of Parks and Recreation
Round 1 includes 6 questions of varying difficulty all about the episodes released in Season 1 of Parks and Recreation.
1. Which street in Pawnee is "the pit" and Ann's house on?
2. In "Canvassing", who forgot to hide chocolate eggs at Pawnee's Annual Easter Egg Hunt?
3. Why did the Park's Department have to change the name of their 'Teen Nature Hike' run by Jerry Gergich to the 'Pre-teen Nature Hike'?
4. Which board game do Ron and Tom play together online in Season 1?
5. What is the name of the hairdresser who gives Leslie the "Mayor" haircut for the Tellenson Awards?
6. Which lost possession did Ann find inside Andy's cast when it was being removed from his leg?
7. Which of these does Leslie say is the worst thing a politician can be? Flakey, Disoranised, Negative.
---
Round 2: Season 2 Of Parks and Recreation
Round 2 includes questions of varying difficulty all about the episodes released in Season 2 of Parks and Recreation.
1. What were the names of the two South African Black Footed Penguins that got married in Season 2 Episode 1, "Pawnee Zoo"?
2.Which Fresh Prince and DJ Jazzy Jeff song did Leslie sing in full at the beginning of Episode 1 Season 2?
3. What does Tom Haverford call "Soulja Boy Tell 'Ems"?
4. What does Leslie bring to snack on at the Community Garden stakeout with Tom during Season 2 Episode 3, "The Steakout"?
5. How much did Leslie ask each of the Parks and Recreation team to chip in for Ron's post-hernia surgery flowers?
6.Who wins the Pawnee Beauty Pageant 2009?
7. Councilman Dexhart claimed to be building houses for the underprivileged in Season 2 Episode 4, but we later find out via television press conference that he was doing what?
8. On Ron Swanson's 10 Point Scale for Human Beauty, where does Tom Haverford rank?
9. What is the name of Pawnee's sister city?
10. Which one of these is not listed as a recent transaction of Leslie Knope's credit card in the sixth episode of the second season "Kaboom"? Man Pillow, Megan Fox Hair Straightening, Bucket Of Cake.
11. Who was Pioneer Hall's Show Shine Guy before Andy Dwyer?
12. Who does Donna use as the face of Jesus in her Celebrity Last Supper idea for the new "Spirit of Pawnee Mural" in Episode 9 of Season 2?
13. Who shoots Ron Swanson on "The Hunting Trip" Season 2 Episode 10?
14. Which of these is on the Fourth Floor of the Pawnee Government Building? Choose all that apply. The DMV, Divorce Filings, Probation Offices.
15. Where does Louis CK's character Dave get shipped out to in his Army Reserve Unit?
16. Will Arnett plays Ann's colleague Chris who is set up on a date with Leslie Knope at the end of Season 2 - can you remember what his job role was?
17. In Episode 14 of Season 2 "Leslie's House", we find out that Leslie's home is like 'a crazy person's garage', which teacher from the Pawnee Recreational Centre does she call on in order to help her clean it up?
18. What was the name of Sweetums' new 'Healthy' Energy Bar?
19. Number three on the Pawnee Parks Department Wanted Pests list is Fairway Frank, a possum that lives on the Pawnee public Golf Course, but can you remember which hole he lived on?
20. What is the prize for winning the Pawnee Parks Department "Hummingbird Lottery"?
21. Which one of the following names is not a former director of the Pawnee Parks Department as featured in the episode, "The Summer Catalogue"? David Mozer, Michael Tansley, Dennis Lerpiss.
22. What item does Ron get April for her 21st birthday?


---
Round 3: Season 3 Of Parks and Recreation
Round 3 includes questions of varying difficulty all about the episodes released in Season 3 of Parks and Recreation.
1. When the Government was shut down at the end of Season 2, Tom started working in a sporting goods store. What did he say he had been giving away free to the women working at 'Hot Dog on a Stick'?
2.In Season 3 Episode 1, Ann Perkins and Chris Traegar go out on a date. What 'sexy food' did Leslie suggest they get for their dinner?
3. In Season 3 Episode 3, what did Jerry put in the time capsule?
4. Which book did Ron Swanson supposedly have late fees on from the Pawnee Public Library in Season 3 Episode 4 "Ron And Tammy Part II"?
5. Whose radio show on 'The Groove Of Pawnee 93.7' does Leslie Knope and Tom Haverford guest on to promote the Harvest Festival in Season 3?
6. Which of these is not one of the words Ron Swason typed out on his new Typewriter in Episode 5 of Season 3? Monday, Rectangle, Butthole, Cheese Steak.
7. Ron's favourite steakhouse in Indiana shuts down in Season 3, Episode 5 but can you remember it's name?
8. What is the name of Tom Haverford's own fragrance?
9. Which of these two statements are true about Lil Sebastian? He has an honorary degree, he is on diabetes medication and his parents were full sized horses.
10. During the Pawnee Parks Department Camping Trip in Episode 8 of Season 3, the Parks gang stay overnight in a Bed and Breakfast owned by Elsa Clack called 'The Quiet Corn'. Can you remember which creepy item lined the bedroom walls of Ben and Tom's room?
11. In Season 3 Episode 9 "The Fancy Party" Andy and April get married, can you remember each of their middle names which we find out during the service?
12. What is the name of Ron's favourite place to go shopping?
13. In Season 3 Episode 11 "Jerry's Painting", Jerry accidentally paints a centaur goddess named Diaphena with the likeness of Leslie. He also paints a character that looks like Tom in the same picture - what looked like Tom?
14. In Season 3 Episode 12 "Eagleton", Leslie gets arrested for punching rival Lindsay Carlisle Shay and ends up in an Eagleton holding cell overnight which turns out to be pretty fancy. They offer her herbal tea and which flavour scone?
15. In Episode 13 Season 3 "The Fight", Ron confronts the Parks and Recreation staff to find out who had broken the office's coffee machine. Who did break it?
16. During the Season 3 episode "Road Trip", Ron teaches a fourth grader all about local government on her field trip to Pawnee City Hall. He then gives her a landmine as a gift, and she turns in her paper on "Why Government Matters" with the words 'it doesn't' on the top. Can you remember her name?
17. Who is Ann's office mate during her part time job at Pawnee City Hall in Season 3?
18. Ann Perkins' diagnoses mumps by looking at a dick pic sent by which member of Pawnee City Hall?
---
Round 4: Season 4 Of Parks and Recreation
Round 4 includes questions of varying difficulty all about the episodes released in Season 4 of Parks and Recreation.
1. During Operation Soaring Falcon in the episode "Ron and Tammys" in Season 4, Ron's ex-wife Tammy 1, Leslie and his Mother Tammy get into an old fashioned prairie drink off with Swanson Family Mash Liquor. What is the substance's only legal use?
2. What does the non profit organisation Sweetum cares do to homeless people when it rains?
3. In Season 4 Episode 5 we find out where Leslie Knope was really born, where was it?
4. It is Wilderness Weekend in Season 4 Episode 4 and Ron is taking his all-boy group of Pawnee Rangers out into the wild. Can you remember their one rule?
5. Leslie hosts a rival group to the Pawnee Rangers called the Pawnee Goddesses for the girl's of Pawnee. They earn badges for doing good. What badge does Leslie give to Ann Perkins?
6. Which vegetable does Ann dress up as to attend Andy and April's Halloween party in Season 4?
7. When there is 'rumour' that the world is ending in Season 4, which famous American landmark does April drive Andy to?
8. What is the name of Jerry's daughter who goes out with Chris Traegar?
9. Which college course does Andy wish to enrol on with Professor Linda Lonegan in the Season 4 Episode 8 "Smallest Park"?
10. What is the name of the Pawnee Court Stenographer?
11. In Season 4 Episode 10 "Citizen Knope", the Parks and Recreation gang want to make Leslie an unforgettable Christmas Present because she always buys them thoughtful gifts. What did they make her?
12. Complete this famous Parks and Recreation line… "Get on your feet"
13. What is the name of Bobby Newport's Persian Greyhound as featured in his City Council Election Campaign ad in Episode 4, Season 12?
14. In the Season 4 Episode Bowling for Votes, Ben Wyatt injures his hand by punching a rude voter in the face. Tom also has hurt his hand at the bowling alley - how?
15. In Season 4, Leslie makes needlepoint pillows for her girl friends with their faces on and a newspaper headline from the day they were born. Can you remember the headline that was embroidered on Marlene's (her Mother's) cushion?
16. During Episode 14 of Season 4 "Operation Ann", Leslie sets Ben a Valentines Day treasure hunt with the last location being their meeting place. Where was it that they ended up meeting?
17. When Dave returns to Pawnee in Episode 15 of Season 4, what does he end up handcuffing Ben to?
18. Leslie forgets to invite Jerry to his own surprise 'Sweet Sixteen' birthday party, her and Ron drive to pick him up from his house. What is Jerry doing when they get there?
19. Jennifer Barclay is hired as Bobby Newport's campaign manager in the race for Pawnee City Council. Leslie and Ben scope out her work history online and find a picture of her and Conan Powell doing what?
20. Ann gives Leslie a tour of Tom's home when he is out and she calls it "girl heaven" from the amount of amenities that are around. Which of these items was not discovered in Tom's bathroom?
21. How many votes did Leslie Knope win in the Pawnee City Council election by the end of Season 4?
---
Round 5: Season 5 Of Parks and Recreation
Round 5 includes questions of varying difficulty all about the episodes released in Season 5 of Parks and Recreation.
1. In the first episode of Season 5, Ron is hosting a park BBQ and brings along a pig to "cook, chew and swallow", what is the name of the pig?
2. Andy and Leslie sent Ben and April care packages to Washington in Season 5 Episode 2 "Soda Tax". April receives Andy's laundry because he had been wearing what accessory as underwear for 3 days?
3. In Episode 3 of Season 5 "How A Bill Becomes A Law", Ron meets Diane after fixing a pothole outside her house. Can you remember what Diane's job is?
4. After Leslie gets a backlash for teaching seniors about safe sex, the Pawnee Sun write a typical tabloid headline about her - can you remember what it was?
5. Why did Jerry go to hospital in Season 5?
6. In Episode 6 of Season 5 "Ben's Parents", Leslie makes the Knope/Wyatt Unity Quilt to bring together both families at their engagement party. Which TV show was depicted on Ben's square?
7. What is Councilman Jeremy Jamm's catchphrase?
8. In Episode 10 of Season 5 "Two Parties", Ben and Leslie are having their bachelor and bachelorette parties. Ben has got all the Parks and Recreation men together to play which board game?
9.To commemorate Leslie's "feminist victory" in successfully completing a day as a garbage collector in Season 5 Episode 11 "Women In Garbage", April bought her a box full of what as a present?
10. In Season 5 Episode 12, what has caused Chris, Ben and Ron to get food poisoning and "void more than Tom's body weight in the last 24 hours alone"?
11. Whilst accidentally hosting Pawnee Today in the Season 5 episode "Emergency Response", Ron Swanson mentions to a caller that he has only ever seen 3 films. They are Bridge Over The River Kwai, Patton and what?
12. Before Ben and Leslie's planned wedding ceremony at the Gala, Ron plans to make their rings from which feature of Ann Perkins' house?
13. In the episode "Correspondents' Lunch", Leslie suspects that her email has been hacked when a journalist steals her speech for the lunch. Donna helps catch the hacker by sending a fake email which included which Star Wars reference?
14. What was meant to be the first film played at the Pawnee Community Centre Movie Night before it was accidentally replaced by a Brandi Maxxx film instead in Season 5 Episode 16 "Bail Out"?
15. Why is Ted dumped into Ramsett Park Lake on Ted Party Day in Season 5 Episode 19 "Article Two"?
16. Why don't you start your day the Gergich way with eggs, bacon and....?
17. How many ounces is Paunch Burger's new Child Size soda in Season 5 that Leslie and Ann aim to ban?
---
Round 6: Season 6 Of Parks and Recreation
Round 6 includes questions of varying difficulty all about the episodes released in Season 6 of Parks and Recreation.
1. Ben and Andy visit London for a meeting with Lord Edgar Darby Covington, a rich and potential investor. When Ben tries to pitch their music programme, Andy and Eddy end up playing with what?
2. After the Pawnee/Eagleton merger, what was the name of April's spinning loving, Xanax taking counterpart from Eagleton?
3. What did the tweet Donna accidentally sent on the Parks and Recreation Twitter account say in Episode 5 of Season 6 "Gin It Up!"?
4. What is Ben Wyatt's dream themed birthday party in Season 6?
5. In Episode 7 of Season 6, Ron gets accepted into a popular lifestyle newsletter written by Pawnee Influencer Annabel Porter putting his chair alongside trending items such as red quinoa, wind therapy and buying an island but can you remember the name of the newsletter?
6. In Season 6 Episode 8 "Fluoride", April matches each Parks and Recreation employee with a dog that represents each of them. Donna is originally unhappy with her choice - what do they end up settling on?
7. Which player in Ben Wyatt's complicated fantasy game The Cones of Dunshire gets to wear a hat?
8. Chris and Ann spend too long choosing an engagement ring in a jewellery store in Season 6 Episode 11 "New Beginnings", instead they go with another unconventional item - what do they buy instead?
9.A new vegetable business opens in the Pawnee Farmer's Market in Season 6 Episode 12 called Chardbodies and they come with an adult themed marketing strategy! Can you remember their slogan?
10. On their one year wedding anniversary, Ben plans a series of romantic gestures for Leslie. However she is too busy with the Pawnee and Eagleton merger and ends up missing them. Who does Ben spend his anniversary experiences with instead?
11. Whilst accidentally hosting Pawnee Today in the Season 5 episode "Emergency Response", Ron Swanson mentions to a caller that he has only ever seen 3 films. They are Bridge Over The River Kwai, Patton and what?
12. In Episode 15 of Season 6 "The Wall", we meet Ron Swanson's son for the first time. What is his name?
13. What happens when you click on the bamboo next to the panda mascot on the Pawnee City Council website in Season 6?
14. When Leslie was missing Ann in Episode 17 of Season 6, what stuffed talking animal did April and Donna buy for her as a replacement?
15. What is the "April Ludgate Summer Solstice Druid Festival and Buffalo Wings Eating Contest" another name for in the Parks and Recreation department?
16. Which famous First Lady did Leslie Knope meet on her trip to San Francisco in Episode 21 of Season 6 "Moving Up, Part 1"?
---
Round 7: Season 7 Of Parks and Recreation
Round 7 includes questions of varying difficulty all about Parks and Recreation Trivia and General Knowledge.
1. What are the names of Ben and Leslie's triplets?
2. What is "Morning Star", Leslie and Ron's forbidden phrase in Season 7?
3. What is the name of the Silicon Valley style company who are found to be data-mining and competing with the National Park's Service for the Newport land in Season 7?
4. After leaving the Pawnee Parks Department before Season 7, Ron Swanson starts a building company, what is it called?
5. Pawnee has a museum all about the 9th President of the United States and "embarrassing footnote" William Henry Harrison. How long was he president for?
6. Whilst locked in the Parks and Recreation Department office together to fix their feud in Episode 4 of Season 7, Leslie forces Ron to listen to Larry's choice of song on the Summer Park's BBQ 2007 mixtape. Which song was it?
7. What are the special names that Donna Meagle and her boyfriend Joe call each other in Season 7?
8. For Treat Yourself In 2017 and Season 7, Donna and Tom go big and head to Beverly Hills! Which two of these beauty treatments did they end up treating themselves to?
9. In Season 7 Episode 7 "Donna and Joe", what is the name of Donna Meagle's estranged brother who brought some drama to her wedding and threw a microwave onto the dance floor?
10. In the Pawnee Pie-Mary, a Pie Baking Contest for the partners of those running for Congress, what unconventional dish did Ben make?
---
Round 8: Parks and Recreation General Knowledge
Round 8 includes questions of varying difficulty all about Parks and Recreation Trivia and General Knowledge.
1. What is the name of Leslie Knope's Mum?
2. What is the name of the Pawnee newspaper?
3. Who does Shauna Malwae-Tweep marry?
4. Which of these were the names of Andy Dwyer's band before it was called Mouse Rat? Choose all that apply. Three Skin, Angel Snack, Department of Homeland Obscurity or The Andy Andy Andys.
5. What is Tom Haverford's real name?
6. What is the name of Mayor Gunderson's dog?
7. What is 13th February?
8. Which two basketball players made cameo appearances on the show Parks and Recreation?
9. Which of these breakfast foods is not pictured on the photograph on Ron's office wall? Scrambled Eggs, Bacon or Sausage.
10. Talking of Breakfast, how many eggs are scrambled to make one portion of Ron Swanson's favourite order from JJ's Diner, 'The Four Horse Meals Of The EggPorkalypse'?
11. What is the name of April Ludgate's alter-ego?
12. What did the Wamapoke people used to use as currency?
13. When was Pawnee founded?
14. What does Leslie Knope call the bathroom?
15. What does Pawnee newscaster Perd Hapley call fans of his show?
16. In which town in Minnesota was Ben Wyatt an 18 year old Mayor before spending on all of the town's money on a Winter Sports Centre called Ice Town?
17. What is the name of Chris Traeger's therapist?
---
Round 10: Parks and Recreation Picture Round
Lastly, Round 10 includes 10 photographs of lesser known Parks and Recreation Characters for you to name.
1. Can you name these lesser known Parks and Recreation characters?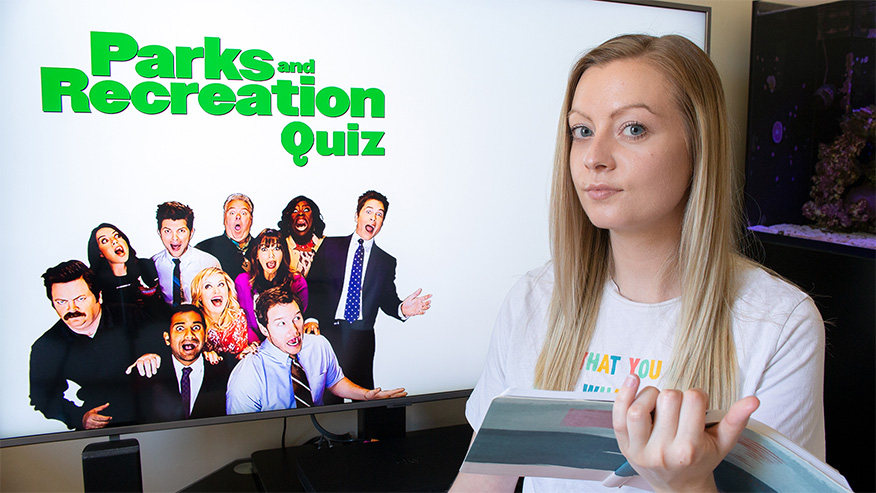 Ultimate Parks and Recreation Quiz: 140 Difficult Questions
What is your favourite Parks and Recreation episode? Let us know in the comments below.