35 Matilda (1996) Movie Facts You Haven't Read Before
Behind the scenes facts about Matilda (1996) directed and starring Danny DeVito. It is the film adaptation of Roald Dahl's book of the same name and stars Mara Wilson in the leading role. Matilda movie facts include which Harry Potter actor nearly landed the role of Miss Trunchbull before Pam Ferris, how Liccy Doll given her name and why Schwarzenegger couldn't appear in a cameo role.

Watch our Matilda Movie Video on YouTube.
Matilda is one of the most nostalgic films for children born in the 1990s. It is a Hollywood adaptation of the Roald Dahl 1988 novel starring Mara Wilson as Matilda herself, Rhea Perlman as Mrs Zinnia Wormwood, Embeth Davidtz as Miss Honey, and Pam Ferris as Agatha Trunchbull. Actor Danny DeVito played Matilda's Father Harry Wormwood but he also served as the narrator and directed the entire film. Matilda was released in US cinemas on the 2nd of August 1996 and released on VHS on December 17th.
1. Matilda Was A Commercial Loss
While the film adaptation of Matilda was a critical success, it was commercially unsuccessful and operated at a loss of US$2.5 million. The budget for Matilda was US$36 million and it grossed US$33.5 million in United States cinemas.
2. Eight People Played Matilda In The Film
Mara Wilson is the main actor who played Matilda in Danny DeVito's film however she was also played by five younger children during her growing up scenes.
• Newborn Matilda was played by Alissa and Amanda Graham, and James Gallagher.
• Nine month old Matilda was played by Kayla Fredericks.
• Two year old Matilda was played by Amanda Fein.
• Four year old Matilda was played by Sara Magdalin.
3. Miriam Margolyes Auditioned For Agatha Trunchbull
The British-Australian actor Miriam Margolyes auditioned for the role of Agatha Trunchbull before the part went to Pam Ferris. Margolyes discussed her audition during a television special about Roald Dahl in the UK hosted by Jo Brand and Richard E. Grant. Miriam Margolyes did play a Roald Dahl character on screen however, she starred as Aunt Sponge in James and The Giant Peach which was also released in 1996.
As well as Miriam Margolyes, Maggie Kirkpatrick was considered for the role of Miss Trunchbull however she did not have the right to work in the United States at the time. Cathy Bates and Magda Szubanski were also considered for Miss Trunchball.
4. Pam Ferris Lost Part Of Her Finger Filming Matilda
Pam Ferris who plays Agatha Trunchbull in Matilda sustained several injuries during the production of the film. For example, during the ending scene in which Trunchbull is hit with blackboard rubbers, Ferris was instructed to keep her eyes open and she ended up having to go to hospital to get them washed out.
During the scene in which Agatha Trunchbull whirls around Amanda Thripp by her pigtails before throwing her over the school fence, Pam Ferris injured her finger. There were wires threaded through the pigtails and looped around Pam Ferris' fingertips to give her grip. As she swung Jacqueline Steiger (Thripp) around, the force became too great and she tore the top part of her finger off. She required about seven or eight stitches in hospital.
5. Miss Trunchball's House Is The Hocus Pocus House
The building used for Miss Trunchbull's home Fair Oaks Rank or "Crank House" in Altadena, California. It was placed on the National Register of Historic Places in 1997 for it's association with early settlers in Altadena. The house has been used by many film production companies including Matilda as well as Hocus Pocus (Allison's House), Scream 2 (Omega Beta Zeta's Sorority House), and in Catch Me If You Can (Roger's House).
The exterior of Matilda's house can be found on Youngwood Drive in Whittier, Los Angeles County, California.
The public library which Matilda walks to daily in her childhood was filmed at the Pasadena Public Library on East Walnut Street, Pasadena.
6. Mara Wilson's Mother Passed Away Before Matilda Was Released
Mara Wilson's mother, Suzie Wilson, sadly passed away four months before Matilda was released in cinemas. She had been diagnosed with breast cancer during the filming of the movie and the film was dedicated to her memory. Danny DeVito has revealed in interviews that prior to her passing, he played for her the final edit of the movie so that she was able to see her daughter, Mara Wilson's performance.
7. Danny DeVito And Rhea Perlman Are Married In Real Life
DeVito and Perlman met in 1971 when Rhea went to watch a play that he was starring in at the theatre. The pair moved in together two weeks later and married in 1982. They now have three children.
During the production of Matilda, DeVito and Perlman became very close with Mara Wilson. Wilson has said in interviews that the pair would often let her stay at their home and keep her entertained while her Mother was receiving treatment for Cancer in hospital and her Father was at work.
8. Matilda Has Just Two Songs On It's Soundtrack
There are two songs featured in the film Matilda and are both still to this day associated with the film. The first is "Send Me On My Way" by Rusted Root, which is played twice. Once when Matilda is left alone at four years old making pancakes at her house. Another at the end of the film played over the montage of Matilda and Miss Honey playing together at Miss Trunchbull's former home.
The second recognisable song associated with Matilda is "Little Bitty Pretty One" by Thurston Harris. It is played when Matilda is learning to control her powers.
David Newman, composed the film's original score.
9. There Could Be A Matilda Sequel
In an interview in November 2019, Danny DeVito said that he had always wanted to develop a sequel to Matilda. He said that a potential sequel could focus on Matilda's own child instead of continuing her own story.
10. A New Matilda Film Is Set To Be Released In 2022
The story of Matilda has been immortalised on Broadway and on the West End with an award winning musical. In December 2022, there is set to be a film version of Matilda The Musical directed by Matthew Warchus and starring Stephen Graham, Emma Thompson and Andrea Riseborough.
11. The Magnus Portrait Is Actually Roald Dahl
The portrait that used to hang above Agatha Trunchbull's fireplace before she replaced it with one of herself, was a portrait of Miss Honey's father Magnus. The portrait used as Magnus in the film was actually a portrait of the author Roald Dahl.
12. The Matilda Cast and Crew Danced To Help Mara Wilson In A Scene
Danny DeVito has said in interviews that the young actor Mara Wilson was embarrassed when filming the dancing scene in which Matilda tries to harness her powers. She dances on the living room table with cards and poker chips flying around her. In order to make her feel more comfortable, DeVito encouraged the rest of the cast and crew members to dance along with her so she felt less self-conscious.
The song playing over this iconic scene is Thurston Harris' "Little Bitty Pretty One" but on set the song that the crew and cast were dancing to was Harry Belafonte's "Matilda".
13. Pam Ferris Would Be Miss Trunchbull On Set
Pam Ferris, who played Agatha Trunchbull, stayed in character even when the cameras weren't rolling. She wanted to make their fear of Miss Trunchbull look as genuine as possible when the cameras were rolling.
14. Mara Wilson Has Shared Her Battle With OCD and Anxiety
Actor Wilson has shared that she suffered from severe OCD and Anxiety during her teenage years. She realised this while reading a book called "Kissing Doorknobs" and noted how similar she was with the lead character. Years later she found out that the book was actually written by the Mother of her Matilda co-star Kira Spencer Hesser who played another Crunchem Hall student Hortensia.
15. Here's How The Chalk Wrote By Itself In Miss Honey's Classroom
You may remember the scene in which the chalk was writing by itself on the blackboard in Miss Honey's classroom. Danny DeVito has revealed in interviews exactly how they created this illusion on set. They put a magnet on the end of the chalk and a crewmember had to stand behind the back of the whiteboard and write the words backwards with another magnet!
16. The Matilda Cast Reunited In 2013
There was a Matilda cast reunion on the 2nd of July 2013 where the members got together and had a tea party while they ran their famous lines from the film.
17. "Darles Chickens" Was Another Roald Dahl Reference
You may remember that Matilda accidentally mispronounces Charles Dickens as "Darles Chickens" when describing her love for him to Miss Honey. Interestingly this itself is a line from another famous Roald Dahl book, "The BFG" where Sophie, the lead character, used the spoonerism.
18. Liccy Doll Is Named After Roald Dahl's Wife
Miss Honey's precious childhood doll in the film Matilda, Liccy Doll is named after Roald Dahl's widow Felicity d'Abreu Crosland. Felicity was a Producer on Matilda and has been involved in many Roald Dahl film productions including as Executive Producer of Charlie and The Chocolate Factory (Burton 2005). Interestingly her main choices for the role of Willy Wonka in the 2005 remake were Eddie Izzard, David Walliams and Dustin Hoffman.
Mara Wilson in fact, designed the homemade Liccy Doll in the film and named her Wanda.
19. Bruce's Cake Eating Scene Took The Longest To Film
The scene in which the greedy Crunchem Hall Student Bruce Bogtrotter is forced to eat an entire chocolate cake after school in assembly took so long to film that the call sheet had an infinity symbol written under the start and end times section.
20. Miss Trunchball Is Based On Roald Dahl's Wife's Headteacher
As mentioned above, Roald Dahl's wife was Felicity d'Abreu Crosland and the character of Miss Trunchbull was based on her very own school headmistress. Crosland and her friend were reportedly caught by the headmistress smuggling ice cream into the room so she made them wait up until dawn until the ice cream had melted!
21. There Is A Pee-Wee Herman Connection
While the FBI agents are waiting in the car outside of Matilda's house, there is a song playing in the car. The song was also featured in Pee-Wee's Big Adventure (1985). Paul Reubens stars in this scene as one of the FBI Agents and he is also Pee-Wee Herman.
22. The Name Wormwood Features In A C.S.Lewis Novel
The surname Wormwood was chosen as it is a poisonous plant akin to the poisonous personalities of Matilda's parents. It is also the name of the apprentice devil in "The Screwtape Letters" by C.S.Lewis. Matilda herself mentions in the book version that she has read C.S.Lewis' book The Lion, The Witch and The Wardrobe.
23. Bette Midler Was Nearly Cast As Zinna Wormwood
Bette Midler was considered for the role of Matilda's ditsy Mother, Zinnia Wormwood before the role went to Rhea Perlman. Interestingly, Bette Midler starred as Winifred in the 1993 film Hocus Pocus, the film in which Miss Trunchball's house was also used as a location!
Catherine O'Hara was also approached for the role of Zinna Wormwood.
24. Mariska Hargitay Turned Down The Role Of Miss Honey
Before the role went to Embeth Davidtz, Mariska Hargitay turned down the role of Miss Honey. Mariska Hargity is the daughter of acting power couple Mickey Hargitay and Jayne Mansfield. Hargitay went on to star in TV series including Law & Order as Olivia Benson, Prince Street as Nina Echeverria, ER as Cynthia Hooper and Can't Hurry Love as Didi Edelstein.
25. Winona Ryder Turned Down The Role Of Miss Honey
As well as Mariska Hargitay, Winona Ryder was originally considered for the role of Miss Honey in Matilda however she turned it down due to scheduling conflicts with the film The Crucible (Hytner 1996). Danny DeVito had worked with her previously on Reality Bites (Stiller 1994).
26. Rosie O'Donnell Also Turned Down The Role Of Miss Honey
Rosie O'Donnell was originally considered to play the role of Miss Honey in Matilda however she turned it down also to film Harriet the Spy (Hughes 1996) with Michelle Trachtenberg. Coincidentally, Michelle Trachtenberg auditioned for the role of Matilda. Helen Hunt and Tori Amos were also considered for the role of Miss Honey.
27. Mary Kate and Ashley Olsen Were Favourites To Play Matilda
Before Mara Wilson landed the role of Matilda, Danny DeVito had his eyes set on Mary Kate and Ashley Olsen for the title role of Matilda. This was because his own children were big fans of them from Full House and his wife Rhea Perlman worked with them in To Grandmother's House We Go (Franklin 1992). They were unavailable however due to filming It Takes Two (Tennant 1995).
28. Robert De Niro Was Considered For The Role Of Harry Wormwood
Before the role went to the director Danny DeVito himself, many well-known Hollywood actors were considered to play Harry Wormwood. They included Bob Hoskins, Tim Allen, Joe Pesci, John Goodman, Chevy Chase, Richard Dreyfuss, Bill Murray, and Robert De Niro.
29. These Are The Wormwood's Cars…
The Wormwood's Cars are a 1982 Ford LTD Wagon, and a 1987 Chrysler LeBaron Convertible. The car Harry Wormwood sells to Miss Trunchbull is a 1970 Buick Electra 225 Sedan.
30. Arnold Schwarzenegger Was Meant To Have A Cameo Role
Arnold Schwarzenegger was meant to star as one of the FBI agents in Matilda. He is a long time collaborator and friend of Danny DeVito and thepair have started together in Twins (Reitman 1988), Last Action Hero (McTiernan 1993) and Junior (Reitman 1994). However he was unable to commit to the cameo due to working on Eraser (Russell 1996).
31. Richard Donner And Robert Zemeckis Were Considered As Director
Before securing Danny DeVito as the Director of Matilda in 1996, both Richard Donner and Robert Zemeckis were considered as Directors. Robert Zemeckis is well known for directing the Back To The Future (1985) trilogy and Richard Donner is well known for Superman (1978) and Lethal Weapon (1987).
Matilda Was Danny DeVito's first experience with filming and directing in the super 35 format.
32. The Three Newts Are Named In The Credits
The newts used on set of Matilda to scare Miss Trunchbull are actually named in the credits as Mr. Speaker (after the Speaker of the US House of Representatives, Newt Gingrich), Sir Isaac (named after the English discoverer of Gravity Sir Isaac Newton) and Wayne (after Wayne Newton the actor from Licence to Kill 1989).
33. Matilda Loses Her Powers In The Book
In this film version, Matilda manages to keep her powers in the end however in the book she loses them and is moved to a much older class where she is more intellectually challenged. Miss Honey puts it down to Matilda being happier now and focusing on her academic abilities.
34. Pam Ferris Also Starred In Harry Potter
The iconic Miss Trunchbull actor Pam Ferris also stars in the Harry Potter franchise as Harry's Muggle Aunt Marge. He ends up accidentally blowing her up in size and she floats away out of the Dursley's Surrey home.
35. There Is A Bruce Springsteen Connection in Matilda
At the end of the climactic food fight scene in Matilda, one lunchbox can be seen flying onto the floor with the slogan "Greetings From Asbury Park" written on it. That is also the same name of Bruce Springsteen's debut studio album. Both Danny DeVito and Bruce Springsteen drop in Asbury Park, New Jersey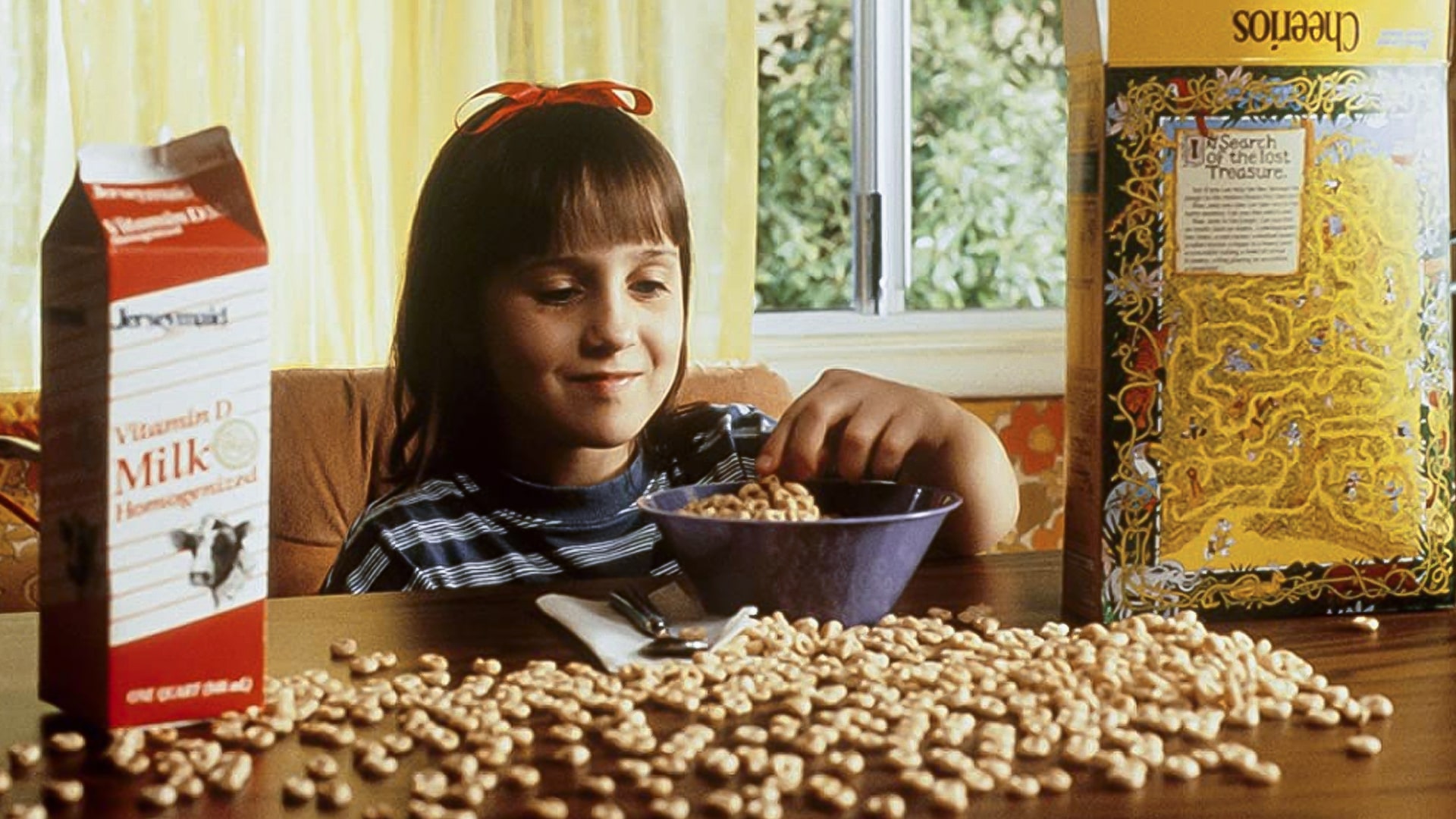 35 Matilda (1996) Movie Facts You Haven't Read Before
What is your favourite moment from the Matilda (1996) movie? Let us know in the comments below.