Taylor Swift & Jake Gyllenhaal Easter Eggs In "All Too Well: The Short Film"
A comprehensive look at the alleged Jake Gyllenhaal easter eggs hidden in Taylor Swift's "All Too Well: The Short Film" that accompanied the new 10 minute long version of Taylor Swift's song "All Too Well" on the album Red (Taylor's Version) released in November 2021.
Watch our Jake Gyllenhaal Easter Eggs All Too Well Video on YouTube.
A comprehensive look at the alleged Jake Gyllenhaal easter eggs hidden in Taylor Swift's "All Too Well: The Short Film" that accompanied the new 10 minute long version of Taylor Swift's song "All Too Well" on the album Red (Taylor's Version) released in November 2021.
When did Taylor Swift and Jake Gyllenhaal date?
According to US Weekly, Taylor Swift and Jake Gyllenhaal were spotted spending time together in October 2010 when Taylor was 20 and Gyllenhaal was 29. Rumours about their potential romance began to circulate in the press after they both attended the taping of Saturday Night Live to support their mutual friend Emma Stone.
One month later, Taylor was spotted alongside Jake Gyllenhaal in New York City while visiting his sister Maggie Gyllenhaal's home for Thanksgiving. In December 2010, he told US Weekly that having Taylor Swift spend time with his family was "great". However by January of 2011 the pair were broken up. US Weekly shared information from a 'source' at the time stating that Gyllenhaal had ended things as it "wasn't working out" and that he was uncomfortable with all the attention that they were getting. Taylor however was reportedly "really upset and hurt" by the break up. She told Vogue's Jonathan Van Meter in January 2012 that being with a man "threatened" by her need for security is "a bad sign". She followed up by saying that she doesn't have security to make her look "cool" but instead it's a necessity because "there's a file of stalkers who want to take me home and chain me to a pipe in their basement."
Is Taylor Swift's Red Album About Jake Gyllenhaal?
It was also in 2012 that Taylor Swift released her hugely popular album Red which includes memorable hits such as "I Knew You Were Trouble" and "We Are Never Ever Getting Back Together". Many Taylor Swift fans drew paralells between the lyrics on the Red Album with moments of the Taylor/Jake relationship that were reported in the press.
At the time Taylor Swift didn't specify which relationship or ex-boyfriend the lyrics were about but she did reveal in an interview with New York Magazine in 2013 that the ex-boyfriend in question had connected the dots himself. She stated that whoever it was had actually got in contact with her to say, "I just listened to the album, and that was a really bittersweet experience for me. It was like going through a photo album." She quipped in the same interview, "Nicer than, like, the ranting, crazy e-mails I got from this one dude."
Why Is Taylor Swift Rerecording Her Albums?
Many unknown artists have signed contracts, like Swift in 2008, that swap promotion for copyright ownership. Songs have two types of copyright associated with them; The first being the composition, musical arrangement and lyrics and the second is the master recording itself. As Taylor Swift writes her own songs, she is the copyright holder to the first type but she does not own the physical master recording or the right to use that recording.
In 2019, Taylor Swift found out that all of her master recordings were sold for US$300M at the same time the rest of the world did in the press. Her former label Big Machine Records was acquired by talent manager Scooter Braun and his company Ithaca Holdings. This meant that Scooter Braun would profit off the master recordings any time they were used by a TV Show, Film or Streaming Service. He also could choose who was allowed to use the recordings.
After learning about the sale, Swift accused Braun and his clients Kanye West and Justin Bieber of "incessant, manipulative bullying" in a Tumblr post. She also said that the situation was her "worst case scenario". Artists including Ed Sheeran, Cher, Kelly Clarkson and Halsey all publicly showed their support for Taylor Swift during this time. Her Tumblr post continued… "Never in my worst nightmares did I imagine the buyer would be Scooter. Any time Scott Borchetta [from Big Machine Records] has heard the words 'Scooter Braun' escape my lips, it was when I was either crying or trying not to… He knew what he was doing; they both did. Controlling a woman who didn't want to be associated with them. In perpetuity. That means forever."
Taylor Swift later spoke publicly again about Scooter Braun and the Big Machine Records executive Scott Borchetta after they allegedly tried to stop her performing her old hits at the American Music Awards in 2019. She also claimed they declined the use of her older music and performance footage for a Netflix documentary that she was making.
Scott Borchetta claims on the label's website that he informed Taylor prior to the sale of Big Machine Records to Scooter Braun and that she had "every chance in the world" to own her master recordings, videos, photographs and "everything associated with her career". Taylor Swift moved away from the label to Republic Records, part of the Universal Music Group before Braun's acquisition.
Taylor confirmed on Twitter that she had been actively trying to regain ownership of her master recordings from Scooter Braun and Big Machine Records. Her team had been attempting to open negotiations with Braun however she was asked to sign an "ironclad NDA" before even getting the "chance to bid on [her] own work." Taylor Swift also stated that her legal team had "never seen an NDA like this presented unless it was to silence an assault accuser by paying them off". Swift wrote on social media that what Scooter Braun's team wanted her to sign would involve her never saying "another word about Scooter Braun unless it was positive" before her team could even look at the necessary financial records to open negotiations. She went on to say that Scooter Braun never quoted a price to her team and ultimately the master recordings were not on sale for her.
Does Scooter Braun Make Money From Taylor Swift?
Her music, videos and album art were then bought in 2020 by private equity company, Shamrock Holdings with Taylor noting online that this was "the second time [her] music had been sold without [her] knowledge." Shamrock Holdings claimed that conditions of the sale meant that they were required to make no contact with Swift or her team. Taylor's team later found out that this sale meant that Scooter Braun would continue to profit off her back catalogue.
Taylor's contract with Big Machine Records stated that she would be able to start re-recording her albums numbered 1-5 after November 2020. This would allow her to record a cover of her own songs and own new master recordings because of her new contract with Universal Music Group. She will also be able to make a profit from royalties off these new master recordings and get back control over who can use them.
For transparency reasons, Taylor Swift shared her letter in response to Shamrock Holdings in which she clarified that she intended to re-record her back catalogue.
"I will be going forward with my original re-recording schedule and will be embarking on that effort soon. I know this will diminish the value of my old masters, but I hope you will understand that this is my only way of regaining the sense of pride I once had when hearing songs from my first six albums and also allowing my fans to listen to those albums without feelings of guilt for benefiting Scooter." She also added on Instagram that, "the artist is the only one who really knows that body of work."
She began re-recording her albums made between 2006 and 2017. These include Taylor Swift (2006), Fearless(2008), Speak Now (2010), Red (2012), 1989 (2014), and Reputation (2017). She already owns the mast recordings on her three most recent studio albums, Lover (2019), Folklore (2020), and Evermore (2020).
How Many Songs Are On Red (Taylor's Version)?
In April 2021, she rereleased her album Fearless now with the added (Taylor's Version) in the title which expanded her 2008 record by featuring collaborations with Keith Urban and Maren Morris. The next album to be re-recorded was Red (Taylor's Version) which was released on the 12th November 2021. It included an updated tracklist with 30 songs including previously unreleased collaborations with Ed Sheeran, Phoebe Bridgers and Chris Stapleton. Taylor wrote on Instagram in June 2021 ahead of the Red release that, "This will be the first time you hear all 30 songs that were meant to go on Red. And hey, one of them is even 10 minutes long." She also warned that the updated tracks may be emotional for her fans to hear as her "new/old autumn heartbreak album… musically and lyrically" resembles "a heartbroken person" and is "a fractured mosaic of feelings that somehow all fit together in the end."
To promote the release of Red (Taylor's Version), Swift appeared on both The Tonight Show Starring Jimmy Fallon and Late Night With Seth Meyers on the 11th of November. Fallon referenced the soon to be talked about 10 Minute song in his interview, "I know all too well what you mean, buddy."
When asked about the re-recording of Red by Seth Meyers the day before the Taylor's version release (11th November 2021), Taylor Swift said that it was nice to be able to put the album out this time and "not be sad". She revealed that during the initial recording she would "be taking breaks in between interviews to cry".
Then on the 13th, Taylor Swift appeared as the musical guest on Saturday Night Live marking her fifth appearance ever on the show. Taylor performed the full 10 minute version of "All Too Well" on Saturday Night Live as the stage mimicked the seasons listed in the song. Sadie Sink, Selena Gomez, Cara Delevingne, Anya Taylor Joy, Blake Lively and Ryan Reynolds all came to watch Taylor's performance and some attended the official show after party.
Taylor discussed in an interview with Rolling Stone Magazine about how the song "All Too Well" originally came to be. She described walking into rehearsal "like a broken human… Feeling terrible about what was going on" in her personal life. She picked up her guitar and played four chords over and over again until her band joined in, "I think they could tell I was really going through it." The riffing and ad-libbing ultimately led to "All To Well" but she didn't think it would be possible to release on Red back in 2012. However, according to Rolling Stone Magazine, she later took home the recording from the rehearsal and decided to cut it down in length for the original release of Red.
Is Jake Gyllenhaal Wearing Taylor Swift's Scarf?
This is where we get back to her 2010 relationship whirlwind relationship with Jake Gyllenhaal.
In the new 10 minute version of "All Too Well", Taylor references a trip to upstate New York where she lost a scarf; "Left my scarf there at your sister's house / And you've still got it in your drawer even now". Fans connected the dots between this lyric and the trip to visit Jake Gyllenhaal's sister in New York for Thanksgiving in 2010. She later sings that her other possessions had been mailed back to her by this ex-boyfriend but he still keeps this scarf to remind him "of innocence and it smells like [her]". Taylor's analytical fanbase have since spotted Jake Gyllenhaal in press photographs wearing an identical scarf to one Taylor was seen wearing while they were out walking together in New York.
Both Jake Gyllenhaal and his sister Maggie Gyllenhaal have been asked in interviews about the song "All Too Well" and the connection to the scarf. Jake Gyllenhaal seemed surprised by the idea that Taylor had referenced their relationship in a song on The Howard Stern Show in 2015 stating "Do I have a song? I don't know".
However ever since Taylor's Version of Red was released, fans have been commenting the red scarf emoji on Jake Gyllenhaal and Maggie Gyllenhaal's Instagram posts with comments such as "GIVE TAYLOR HER SCARF BACK". This should probably clear up any doubts!
Jake Gyllenhaal Easter Eggs In Taylor Swift's "All Too Well: The Short Film"
When Taylor Swift confirmed that the next album of hers to be rereleased would be Red on Instagram in June 2021. She also announced that the full 10 minute version of "All Too Well" would be accompanied by a 15 minute short film starring Stranger Things actor Sadie Sink as 'Her' and Dylan O'Brien (known for Teen Wolf) as 'Him'.
The teaser trailer for the short film "All Too Well" was released on the 5th November 2021 and focussed on a car driving down a quiet autumnal road with fallen leaves on the ground. A poster that subtley depicts Sadie Sink starring into Dylan O'Brien's eyes while he looks down at the floor was also released ahead of the short film. Many fans have also made the link between Sadie's pose on this poster to Taylor's pose on the original album artwork of Red (2012).
Cinematographer Rina Yang filmed "All Too Well: The Short Film" on 35mm film and it opened with a quote by the Chilean Poet and Diplomat Pablo Neruda, "Love Is So Short, Forgetting Is So Long". Something fans found fitting considering Taylor Swift's relationship with Jake Gyllenhaal began 11 years previous.
Fans were also quick to notice that the age difference between the two actors matched up with the ages Taylor Swift (20) and Jake Gyllenhaal (29) were when they dated in 2010. Sadie was 19 in 2021 and Dylan was 30. One Taylor Swift fan, @CatQuinn shared on TikTok how the casting was genius. He noted Sadie Sink was a great choice to play the young and naive Her as she debuted on our screens as a child actor. Many audience members will still associate Sadie with her much younger characters including Max on Stranger Things. So to have her be a love interest to someone 11 years older is very jarring to audiences and fits the Taylor's theme about "losing innocence" in All Too Well the song. Dylan O'Brien, who is 30 years old in 2021, had his heightened moment of fame and "relevancy" pass even before Sadie Sink made her debut. This makes the pair's age gap seem even larger in the eyes of the audience and gives a good visual representation to the story being told in the song version of "All Too Well".
Unsurprisingly this wasn't the only parallel drawn by fans between "Him and Her" and Taylor and Jake. In the film, Sadie Sink and Dylan O'Brien are filmed singing in the car on a drive upstate which could be referencing the well documented Thanksgiving dinner trip to upstate New York. The pair are also seen walking through the woods surrounded by autumn leaves which look very similar to press photographs taken of Taylor Swift and Jake Gyllenhaal during this New York trip back in 2010.
Taylor Swift makes a cameo appearance as the grown up version of Sink's character Her while she attending a singing for her book also named All Too Well. She is seen inspiring women in the audience at the signing with her break up story much like Taylor's album has done for many fans. Meanwhile, we see her ex-boyfriend standing in the snow wearing - you've guessed it - her famous red scarf. The lyrics of "All Too Well" also mention snow, "I still remember the first fall of snow / And how it glistened as it fell". It also can be noted that the character of Her doesn't share her heartbreak to the world via a song like Taylor but through writing a story, a similar creative catharsis.
Fans were also quick to notice details in the actor's costumes that paralleled Taylor and Gyllenhaal's press photos in 2010 including Dylan O'Brien's beard and beanie hat combo and Sadie Sink's Red lipstick. Both visuals stand up when compared with paparazzi shots of Swift and Gyllenhaal at the time of their relationship.
TikTok creator @ClassicLaur compares the scene in "All Too Well: The Short Film" where Dylan O'Brien kisses Sadie Sink upside down to Kirsten Dunst's famous upside down kiss in Spider-Man in 2002. Kirsten Dunst and Jake Gyllenhaal were dating and living together at the time of the film's release. Another Easter Egg perhaps?
Another online video creator @MeganAshly_ connects the dots between Sadie Sink's line "you dropped my F*ing hand" in the short film to the lyric in Taylor Swift's song Champagne Problems, "you dropped my hand while dancing".
Many Taylor Swift fans have suggested that the pair's relationship was very heated by looking at paparazzi photographs that appear show a frustrated-looking Jake Gyllenhaal with Taylor in a car. Fans have shared online these photos as evidence for their tumultuous relationship and have put them side by side with clips from the short film where O'Brien and Sink are loudly arguing together.
A much more tenuous parallel between Gyllenhaal and the on-screen Him in "All Too Well: The Short Film" is that the older version of the character is played by Jake Lyon. So the more grown up versions of Him and Her are played by Taylor and Jake i.e. Taylor Swift and Jake Gyllenhaal.
While there are so many proposed parallels and convenient Easter Eggs connecting Jake Gyllenhaal with the song and film "All Too Well", we must remember that Taylor Swift hasn't explicitly revealed that he is the ex-boyfriend in question. When asked by a reporter for Extra Television whether her work was explicitly about Gyllenhaal, Taylor Swift responded, "I think every person out there might have someone they think of when they hear the song, and that's what I want."
However some people have just run with the theory including The Vermont Hollywood in Los Angeles who hosted a Taylor Swift Night celebrating the release of the new Red album and projected clips of Jack Gyllenhaal's famous acting roles up onto the wall. As well as a clip showing a photo of Gyllenhaal added into Regina George's "Burn Book" from the 2004 film Mean Girls.
Who Did Taylor Swift Write All Too Well About?
Since the release of Taylor's Version of Red on 12th November 2021, fans have been analysing the lyrics to the track "All Too Well", the promised new 10 minute long song. The new version on Red (Taylor's Version) does include more details from her break up. Fans have been recording their reactions to hearing the new lyrics for the first time and posting their shock on TikTok. Many fans were left open mouthed at the blunt lyric, "You said if we had been closer in age maybe it would have been fine / And that made me want to die".
Taylor also added some more detail about this relationship in "All Too Well' referencing that it only lasted for a few months, "After three months in the grave". Swift and Gyllenhaal did only date for a few months. The press have been critical towards Taylor's whirlwind relationships in the past and have been especially quick to invalidate her feelings when she has expressed them musically.
Another lyric which had fans screaming on TikTok was the line, "And I was never good at telling jokes/ But the punchline goes: "I'll get older, but your lovers stay my age." According to the press, Jake Gyllenhaal has been repeatedly dating younger women in their 20s since the his breakup with Swift. In 2021 he is 40 years old and dating the model Jeanne Cadieu who is 25 years old.
Who Is The Actress Mentioned In All Too Well?
In Taylor's 10 minute version of "All Too Well", she references a female actor who found her crying at a party. Some fans believe this actress to be Jennifer Aniston who, according to US Weekly, gave Taylor dating advice back in 2011 which would again match up with the timeline of hers and Gyllenhaal's relationship. The Daily News reported in January 2011 that Jennifer Aniston had offered Taylor relationship advice specifically at the People's Choice Awards.
Less obvious connections with Jake Gyllenhaal have also been made about lyrics in "All Too Well" including the line "twin flame" which The Independent reports as linked to the couple's shared December star sign (and fire sign) Sagittarius.
Coincidentally in March 2021, the Taylor Swift Version of the hit Wildest Dreams was used in the trailer for the animated film Spirit Untamed which actually stars Jake Gyllenhaal!
Many critics have joked about Taylor Swift's personal life making it's way into her songwriting. Some have issued warnings on social media to her future partners stating that you could possibly end up with a song! Taylor Swift dismissed these 'jokes' in her New York Magazine cover story saying, "If I go on two dates with a guy and we don't click, I'm not writing a song about that… [I write] songs about crazy love." In reference to the Red album and her break up with Jake Gyllenhaal in particular, Taylor told New York Magazine that when they were together it "was wonderful until it was terrible, and both people got hurt from it—but one of those people happened to be a songwriter."
In her Instagram post previewing Red (Taylor's Version) in 2021, Swift wrote regarding her heartbreak, "Sometimes you need to talk it over (over and over and over) for it to ever really be … over,"
What happened at Taylor Swift's 21st Birthday Party With Jake Gyllenhaal?
One of the most emotional stories reported from Taylor Swift's relationship with Jake Gyllenhaal is about her 21st Birthday Party. The press reported that she was left crying in a locked bathroom on the night of her 21st birthday party because Jake Gyllenhaal did not show up. According to The Independent newspaper, Taylor had expected Gyllenhaal to fly to her home in Nashville for her birthday party with a source confirming that the day before he had said he was coming yet he did not text or call on the actual day. The source went on to say that "Taylor thought maybe he was planning some sort of surprise" but when he didn't show "she locked herself in the bathroom and cried the entire night".
In the layered song "All Too Well", Taylor sings the line "You, who charmed my dad with self-effacing jokes" referencing how her Father trusted her ex-boyfriend only to be upset seeing his daughter wait for his arrival on the night of her 21st birthday party. "But then he watched me watch the front door all night, willing you to come/ And he said, "it's supposed to be fun… Turning 21"
Her song "The Moment I Knew", also from the Red album, details explicitly her feelings about that night with lyrics such as, "You should've been there, Should've burst through the door / With that 'baby I'm right here' smile / And it would've felt like / A million little shining stars had just aligned / And I would've been so happy." Swift confirmed in an interview with Yahoo! Music that "The Moment I Knew' was a song about my 21st birthday party, which was the worst experience ever" making it almost impossible to claim that this song wasn't about Gyllenhaal. At time of writing, Taylor Swift has never performed "The Moment I Knew" live.
What Is The Red (Taylor's Version) Tracklist?
The 10 minute version of "All Too Well" is the last song on the re-recorded Red Album (Taylor's Version). The large updated tracklist of 30 songs goes as follows.
1. State of Grace (Taylor's Version)
2. Red (Taylor's Version)
3. Treacherous (Taylor's Version)
4. I Knew You Were Trouble (Taylor's Version)
5. All Too Well (Taylor's Version)
6. 22 (Taylor's Version)
7. I Almost Do (Taylor's Version)
8. We Are Never Ever Getting Back Together (Taylor's Version)
9. Stay Stay Stay (Taylor's Version)
10. The Last Time (Taylor's Version)
11. Holy Ground (Taylor's Version)
12. Sad Beautiful Tragic (Taylor's Version)
13. The Lucky One (Taylor's Version)
14. Everything Has Changed (feat. Ed Sheeran) (Taylor's Version)
15. Starlight (Taylor's Version)
16. Begin Again (Taylor's Version)
17. The Moment I Knew (Taylor's Version)
18. Come Back…Be Here (Taylor's Version)
19. Girl at Home (Taylor's Version)
20. State of Grace (Acoustic Version) (Taylor's Version)
21. Ronan (Taylor's Version)
22. Better Man (Taylor's Version) (From the Vault)
23. Nothing New (feat. Phoebe Bridgers) (Taylor's Version) (From the Vault)
24. Babe (Taylor's Version) (From the Vault)
25. Message In a Bottle (Taylor's Version) (From the Vault)
26. I Bet You Think About Me (feat. Chris Stapleton) (Taylor's Version) (From the Vault)
27. Forever Winter (Taylor's Version) (From the Vault)
28. Run (feat. Ed Sheeran) (Taylor's Version) (From the Vault)
29. The Very First Night (Taylor's Version) (From the Vault)
30. All Too Well (10 Minute Version) (Taylor's Version) (From the Vault)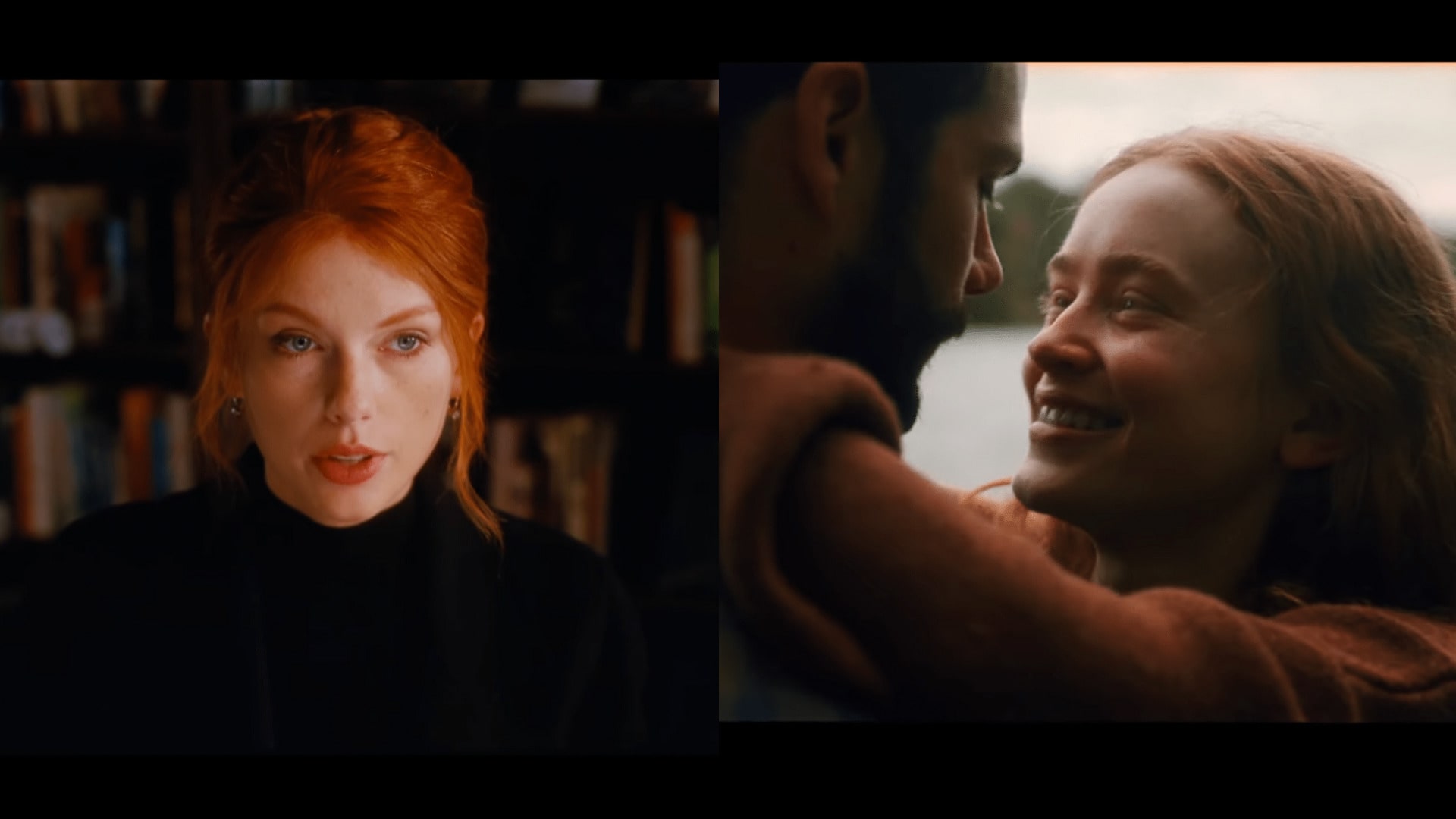 Taylor Swift & Jake Gyllenhaal Easter Eggs In "All Too Well: The Short Film"
Do you think that All Too Well is about Jake Gyllenhaal and Taylor Swift's Relationship? Let us know in the comments below.