33 Things You Never Knew About The Cast Of Peaky Blinders
The Peaky Blinders cast is made up by many talented actors. Some have been in the spotlight for years like Helen McCrory and Tom Hardy while others found their fame from their involvement in the show like Cillian Murphy and Paul Anderson. Peaky Blinders cast facts include which actor is related to Richard Harris, which cast members are married in real life and who starred in an Oasis music video.

Watch our Peaky Blinders Cast Facts Video on YouTube.
The Peaky Blinders cast is made up by many talented actors. Some have been in the spotlight for years and others found their fame from their involvement in the show. Here are some little known facts about the Peaky Blinders cast that you may never have heard before.
If you're looking for some more Peaky Blinders facts - take a look here.
1. Cillian Murphy Was In A (Almost Signed) Rock Band
Cillian Murphy started his performing career as the lead singer, songwriter and guitarist of the Irish rock band The Sons of Mr. Green Genes. Murphy played alongside his Brother Páidi in the band and the pair named their group after a Frank Zappa song. They were offered a five-album deal by Acid Jazz Records which they ultimately rejected because Páidi was still in school and they did not agree a fee for their song rights.
2. Iddo Goldberg Is In A Disclosure Music Video
The actor who plays Freddie Thorne in Peaky Blinders, Iddo Goldberg also starred in the music video for 'Magnets' by Disclosure. He stars alongside Lorde.
3. Annabelle Wallis Is Related To Richard Harris
Actor Annabelle Wallis, who plays Grace Shelby, is related to Richard Harris. He is her maternal great Uncle making her first cousins once removed Jared, Jamie and Damian harris - all of whom work in the film industry.
Richard Harris was best known for his role as Frank Machin in This Sporting Life and King Arthur in Camelot in 1967. He was also Dumbledore in the first Harry Potter film, Harry Potter and the Philosopher's Stone.
4. Sam Neill Owns A Winery
Actor Sam Neill lives in Alexandra, New Zealand and owns Two Paddocks, a winery with several vineyard in the Central Otago Wine Region. He also names his farm animals after colleagues in the film industry including naming his pig Taika after Taika Waititi.
5. Joe Cole Wrote A Comedy Series With Matt Lucas
According to an article in Clash Music, Joe Cole who plays John Shelby has written a comedy with Matt Lucas. It is based on a gang of boys he went to school with who stole and sold cars. He worked with pupil referral units and ex-offenders so used his experiences in his script.
6. Helen McCrory Raised £1M For The NHS Before She Died
During the COVID 19 pandemic, Helen McCrory and her husband Damian Lewis, supported Feed NHS - a programme to give food from high street restaurants to NHS staff and had raised £1 Million for charity by the time of her death in 2021.
7. Anya Taylor-Joy Was Raised In Buenos Aires
Gina Gray actor Anya Taylor Joy, was born in Miami, Florida in 1996 while her parents were on holiday. Her Father is a former banker who has an MBE and an OBE with Argentine heritage. Her mother was born in Zambia to English and Spanish parents. She lived in Buenos Aires until she was six until her family moved to London. Taylor-Joy refused to learn English as a child in the hopes her family would move back to Argentina.
8. Cillian Murphy Studied Law At University
After deciding to not become a rock star, Cillian Murphy went off to study Law at University College Cork in 1996 however he did not pass his first year. While he was at the University, he began acting and took part in amateur productions including Little Shop Of Horrors.
9. Sam Neill Is Really Called Nigel
New Zealand actor Sam Neill, who played Inspector Campbell in Series One of Peaky Blinders isn't actually called Sam. His real name is Nigel John Dermot Neill. He started calling himself Sam in school as there were several other Niell's in his class.
10. Benjamin Zephaniah Is A Poet
Actor Benjamin Zephaniah, who plays the Shelby family priest Jeremiah, is first and foremost a poet. His first book is Pen Rhythm and he says it is his mission to fight the dead image of poetry in academia and take it to people who do not read books. He has changed poetry readings to concert-like performances.
11. Charlie Creed-Miles's Daughter Is In Hanna
Charlie Creed-Miles, who plays Peaky Blinders antagonist Bill Kimber, was in a relationship with fellow actor Samantha Morton. The pair had a daughter together Esme Creed-Miles who was born in 2000. Esme too is an actor who is best known for her lead role in the Amazon Prime series Hanna.
12. Tommy Flanagan Was Physically Assaulted Outside A Nightclub
Actor Tommy Flanagan, who plays the Peaky Blinders Patriarch Arthur Senior, was once attacked after he was leaving a nightclub. According to an article for Vulture, he was physically assaulted and stabbed with a knife that left him with facial scaring.
13. Natasha O'Keefe Stars In An Oasis Music Video
The actor Natasha O'Keefe, who plays Lizzie Shelby in Peaky Blinders, rose to fame for playing a member of the British Royal Family in an Oasis music video. The Oasis song Falling Down features O'Keefe as a Princess who enjoys partying, one night stands and drugs. When the Princess meets Noel and Liam Gallagher in the video, they refuse to shake her hand because she hides her party lifestyle.
14. Cillian Murphy Has Two Sons
Cillian Murphy is married to Yvonne McGuinness who is a visual artist also from Ireland. The pair actually met at one of Murphy's gigs in 1996. They have two sons.
15. Iddo Goldberg Is Married To Ashley Madekwe
Goldberg is married to his costar in Secret Diary of a Call Girl, Ashley Madekwe. They have also worked together on the TV series Salem.
16. Annabelle Wallis Is Multi-Lingual
Annabelle Wallis, who plays Grace Shelby, grew up in Cascais in Portugal and as a result speaks English, Portuguese, French and Spanish.
17. Cillian Murphy Stopped Being Vegetarian For Peaky Blinders
Cillian Murphy was a vegetarian for around 15 years but began eating meat again to bulk up for his role in Peaky Blinders.
18. Sam Neill Grew Up With A Stutter
In 2004, Neill spoke with Andrew Denton on the Australian talk show Enough Rope about growing up with a stutter. He said it affected him deeply and for a time hoped people wouldn't talk to him as he wouldn't have the answer.
19. Paul Anderson Used To Re-sell Concert Tickets
Paul Anderson rose to fame as Arthur Shelby in Peaky Blinders but he only got into acting in the mid 2000s. He worked for many years as a ticket scalper and aspired to be a musician.
Since appearing in Peaky Blinders, Arthur has gone on to appear in Ron Howard's In The Heart Of The Sea and The Revenant.
20. Helen McCrory Was Married To Damian Lewis
Helen McCrory married fellow actor Damian Lewis in 2007. He is best knwon for playing Richard Winters in Band of Brothers, Nicholas Brody in Homeland and Bobby Axelrod in Billions. The pair have two children, a daughter named Manon and a son named Gulliver.
21. Anya Taylor Joy Is One Of The Most Influential People
Actor Anya Taylor Joy, who plays Gina Gray in Peaky Blinders, was named as one of the most 100 most influential people in the world by Time magazine in 2021.
22. Sam Neill Found His Long Lost Son
Actor Sam Neill is the proud father of 4 children. He fathered a son named Andrew in his early twenties who was adopted by someone else. In an interview with The Times, he talks of reuniting with this son in 2014.
23. Iddo Goldberg Was Also In Snowpiercer
Actor Iddo Goldberg, who plays Communist Freddie Thorne in Peaky Blinders, is also well known for playing Ben the engineer in the Netflix series Snowpiercer. Snowpiercer is a post apocalyptic thriller series based on a French Graphic Novel and following in the footsteps of Bong Joon-Ho's 2013 film of the same name.
24. Annabelle Wallis Is Related To Marie Lloyd
Marie Lloyd was a English music hall performer in the late 1800s and is an ancestor of Annabelle Wallis. She was known for using innuendo and double entendre in her performances which gathered criticism but ultimately gave Lloyd a long and prosperous career. She was nicknamed 'Queen Of The Music Hall'.
25. Anya Taylor-Joy Is The Voice Of Princess Peach
Since starring in Peaky Blinders as Gina Gray, Anya Taylor Joy has appeared in the popular Netflix original The Queen's Gambit in 2020. She has also been announced as the voice of Princess Peach in the 2022 untitled Super Mario Bros film from Aaron Horvath and Michael Jelenic.
26. Charlotte Riley Is Married To Tom Hardy
Charlotte Riley, who plays Tommy Shelby's racehorse trainer May Carleton in Peaky Blinders, is married to Tom Hardy. Tom Hardy plays the iconic Alfie Solomons in Peaky Blinders too but the pair met when filming ITV's adaptation of Withering Heights. Riley played Cathy Earnshaw and Hardy played Heathcliff.
27. Tom Hardy Is A Brazilian Jiu Jitsu Practitioner
Tom Hardy, who plays Alfie Solomon in Peaky Blinders, became lead ambassador or the "Reorg Brazilian Jiu Jitsu Foundation" which was launched in association with The Royal Marines Charity. They create a space for serving personnel and veterans to learn the martial art as part of their recovery from mental and physical health challenges. Tom Hardy is a Brazilian Jiu Jitsu practitioner himself.
28. Aimee-Ffion Edwards Played Rugby Growing Up
Actor Aimee-Ffion Edwards, who plays Esme Shelby in Peaky Blinders, grew up in Newport in Wales and played for a local rugby team. She was the only girl in an all-boys team until she was 14.
29. Iddo Goldberg Was Born In Isreal
Ada Shelby's husband Freddie was played by Iddo Goldberg. Goldberg was born in Israël in Haifa and moved to London aged 10 with his parents. His Father comes from RIga in Latvia but he emigrated to North Rhodesia which is now known as Zambia in the 1930s. Golderg's Mother has a family in Jeruselum. His parents met when his Father arrived in Israël for a holiday.
30. Finn Cole And Joe Cole Are Brothers
Actors Finn and Joe Cole who play Michael Gray and John Shelby in Peaky Blinders are brothers in real life. They grew up in London and have three other brothers.
31. Noah George Taylor Is Mr Bucket
Noah George Taylor, who plays Darby Sabini in Peaky Blinders, is also known for playing Charlie's Dad Mr Bucket in Charlie and the Chocolate Factory.
32. Aimee-Ffion Edwards Was In Detectorists.
Esme Shelby actor Aimee-Ffion Edwards, also stars in Detectorists as Sophie, an ancient history student at University. Detectorists was written and directed by Mackenzie Crook and he stars alongside Toby Jones.
33. Noah George Taylor Was In A Nick Cave Music Video
The Peaky Blinders theme song "Right Red Hand" was written and performed by Nick Cave and The Bad Seeds. Noah George Taylor has appeared in a Nick Cave and The Bad Seeds music video for their song "Fifteen Feet of Pure White Snow". He also appeared in a video for Blur.
Taylor himself has many musical talents including playing the viola, the french horn, guitar, and piano.
34. Aidan Gillen Is Actually Called Murphy
Actor Aidan Gillen, who plays Abarama Gold in Peaky Blinders, was born Aidan Murphy but chose to use his Mother's maiden name instead as his stage name after "Aidan Murphy" was already registered. Gillen is best known for his TV roles in Queer As Folk, The Wire, and Game Of Thrones.
33. Adrien Brody Is A Record Breaking Oscar Winner
Actor Adrien Brody, who plays Luca Changretta in Peaky Blinders, won an Academy Award for Best Actor at age 29 for his performance in The Pianist in 2002. He was the youngest man to win in the Best Actor category.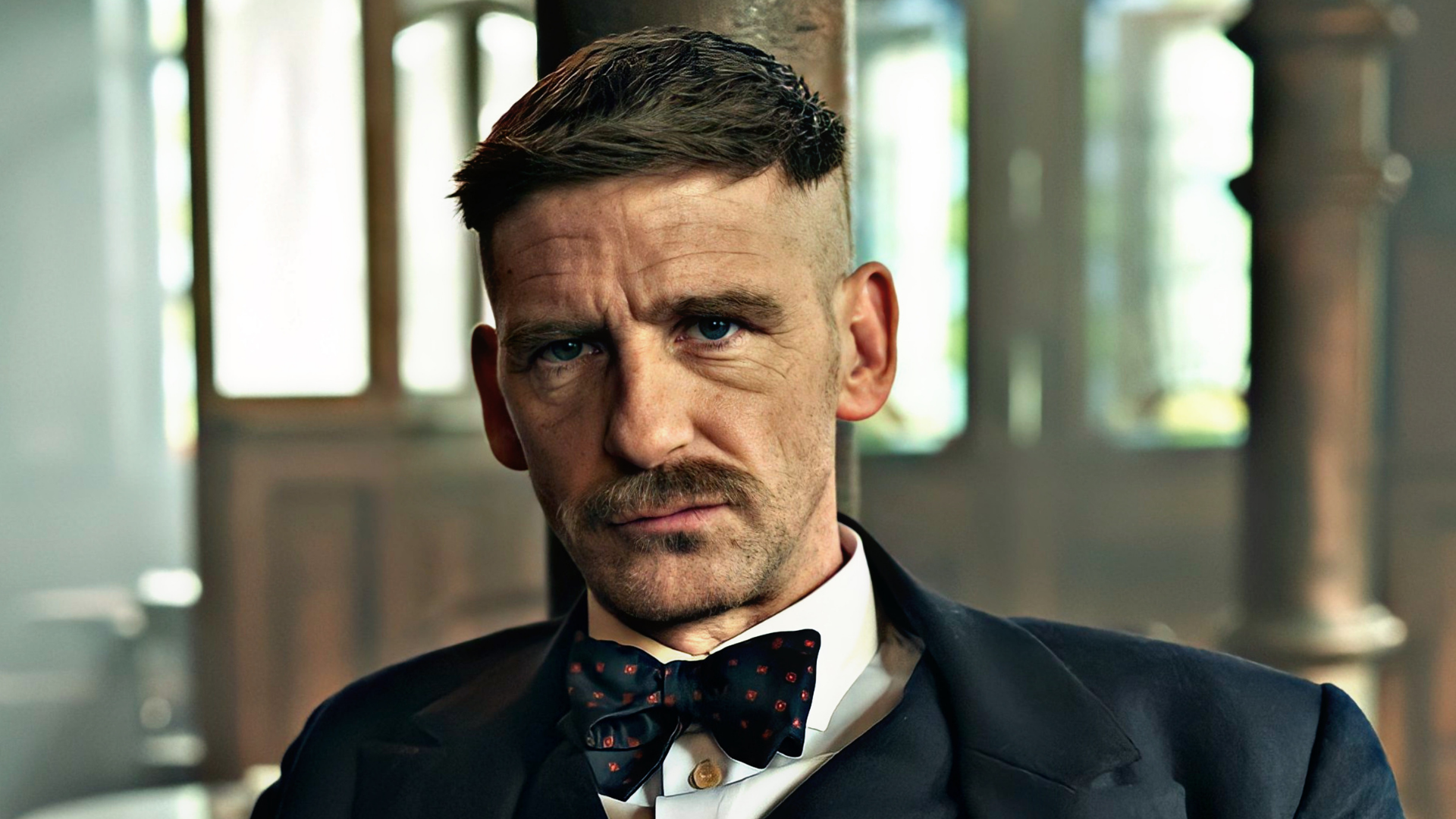 33 Things You Never Knew About The Cast Of Peaky Blinders
Who is your favourite member of the Peaky Blinders cast? Let us know in the comments below.