Sopranos Facts: 30 Things You Never Knew About The Sopranos
Behind the scenes facts about one of the greatest TV Shows of all time, The Sopranos. Written by David Chase, The Sopranos ran for 6 successful seasons from 1999 to 2007 and starred James Gandolfini, Edie Falco and Lorraine Bracco. The Sopranos facts include the unusual way Gandolfini mustered up Tony Soprano's anger, which on screen New Jersey businesses were actually real locations and how many cast members also starred in the Martin Scorsese film, Goodfellas. 

Watch our The Sopranos Facts Video on YouTube.
Often hailed as the television show that started the "Golden Age of Television", The Sopranos is an American crime drama series written by David Chase. It began in 1999 and ended in 2007 amassing 86 episodes and securing a place in every top TV show list ever produced!
The Sopranos follows the main character Tony Soprano, played by the late James Gandolfini, as he tries to juggle family life and life as an Italian-American Mob Boss in New Jersey. Tony's life is full of stressful situations and he begins experiencing debilitating Panic Attacks so he starts seeing a therapist, Dr Jennifer Melfi (Lorraine Bracco) who tries to get him to open up and confront his problems.
Audiences follow the twists and turns of his relationship with his wife Carmella (Edie Falco), the teenage escapades of his two children Meadow (Jamie Lynn Sigler) and Anthony Junior (Robert Iler) and the changing relationships with his nephew Christopher (Michael Imperioli), Mother (Nancy Marchand) and Uncle (Dominic Chianese).
If you're a big fan of The Sopranos then you might think you know everything there is to know about the show however here are 35 extra Sopranos facts for you to enjoy.
1. Sopranos Cast Members Were Often Contacted By Real Members Of The Mafia
James Gandolfini, who played Tony Soprano, said that he was often contacted by real members of Organised Crime groups to compliment his authentic performance or give him advice. Most notably he was given advice after the pilot aired to never wear shorts again. This conversation was incorporated into Season 4 of The Sopranos where Carmine tells Tony that, "a Don doesn't wear shorts."
2. James Gandolfini Put A Stone In His Shoe To Help Portray Tony's Anger
Actor James Gandolfini wanted to portray Tony Soprano with genuine anger and annoyance so he would, in some scenes, insert a small stone into his shoe. This would cause just enough irritation for him to build upon when creating Tony's rage.
It is also said that Gandolfini would stay up all night when he had to play a Breakfast scene in order to look genuinely tired and worn out.
James Gandolfini was also the only cast member to appear in every episode of The Sopranos.
3. Real Organised Crime Members Were Taped Watching The Sopranos
During 1999, the FBI recorded a conversation between two members of the DeCavalcantes in New Jersey discussing the similarities between the factual and fictional crime families. They are quoted to have said, "Is this supposed to be us?"
4. Junior Was Tony Sirico's Real Life Gangster Nickname
Before turning to acting, Tony Sirico was involved in organised crime in his younger days. His nickname among fellow members was, "Junior". The Sopranos creator David Chase used the nickname in the script for Corrado Soprano, Tony Sopranos Uncle.
5. There Are No Camera Movements In Dr. Melfi's Office
The Sopranos showrunner David Chase had a very specific rule for the cinematographers when shooting in Dr Melfi's office and that was do not move the camera. Having the camera angles swap 180 degrees between Tony and Lorraine Bracco's character Dr Melfi made the exchange look like a real therapy session; the camera mimicked a question being asked by Melfi and then Tony's response.
6. Steven Van Zandt Was Nearly Tony Soprano
Steven Van Zandt is first and foremost a musician, regularly performing under the name Little Steven and as a member of Bruce Springsteen's E Street Band. David Chase, the creator of The Sopranos, was a fan of his work and invited him in to audition for the role of Tony Soprano despite never having an acting role at all. Zandt did not want to take the role of Tony away from an established actor so Chase wrote a part for him as right hand man, Silvio Dante.
After The Sopranos, Steven Van Zandt went on to work with Netflix in an Original drama series named Lilyhammer. He played the lead Frank Tagliano who was sent to Lilyhammer in Norway after entering the Witness Protection Programme.
7. David Chase Only Directed Two Episodes
Despite being the creator of The Sopranos, David Chase only directed two episodes on his own. The first was Episode 1, Season One "The Sopranos" which aired on the 10th of January 1999 and the second was the last ever, Episode 21 of Season 6 "Made In America".
8. Lorraine Bracco Was Originally Asked To Play Carmella Soprano
Actor Lorraine Bracco was initially asked to star in The Sopranos as Tony's long-suffering wife Carmella. However she felt that the part might be too similar to her character Karen Hill in Goodfellas and accepted Dr. Melfi to take up a new challenge.
9. Tony Sirico Originally Auditioned For Corrado Soprano
Actor Tony Sirico originally auditioned for the role of Corrado Soprano but was given Paulie instead. He only accepted the role of Paulie "Walnuts" Gualtieri if it was agreed that he would never be an informant/ a rat. Sirico was known to have been involved in organised crime during his younger days and spent time in prison for robbery. He is known to have at least 28 arrests and, he briefly appeared in The Godfather: Part II.
10. The Sopranos Was Nearly Called "Made In New Jersey"
After the network HBO feared that audiences may misconstrue The Sopranos as a music show, the production team added a gun as the show's logo. HBO also considered other titles for the production including, "Made In New Jersey".
11. The Sopranos Scripts Were Followed Verbatim
Writer David Chase did not allow any room for improvisation on the set of The Sopranos and took pride in having the scripts delivered verbatim. The Sopranos was the first cable television show to win an Emmy award for Outstanding Drama Series. It won this accolade six times and every season (except the second) received an Emmy for its writing.
David Chase is said to have replied with the line, "Who said it is your character?" when any actor came to him with a problem.
12. The Sopranos Was Originally Going To Be A Film
Rather than a long-running television series, The Sopranos creator David Chase originally wanted his idea about "a mobster in therapy having problems with his Mother" to be a feature length film. He later changed his mind after a discussion with his agent and adapted the idea into a television series. Chase drew heavily upon his own experiences of growing up in New Jersey and tried to imagine his own family as part of the Mob when writing the pilot script.
13. New Line Cinema Announced A Sopranos Film In March 2018
The American Film Studio New Line Cinema announced in March 2018 that they had acquired the rights to a film about the origins of The Soprano family set during the 1960s. It would be centered around the Newark Riots and is provisionally titled, "The Many Saints Of Newark". The script is written by David Chase and will also star Michael Gandolfini, the son of James Gandolfini as the young Tony Soprano.
14. Dr Melfi Is Based On David Chase's Own Therapy Experiences
Lorraine Bracco's character Dr. Melfi is based upon David Chase's own experience with his therapist. Another similarity between The Sopranos and Chase's own life is Tony's complicated relationship with his Mother.
15. 27 Actors In The Sopranos Also Starred In Goodfellas
The Sopranos has 27 actors in common with the Martin Scorsese gangster film Goodfellas which was released in 1990. These include Lorraine Bracco who played both Dr. Mefli and Karen Hall, Michael Imperioli who played Christopher Moltisanti and Spider and Tony Sirico who played both Paulie Gaultieri and Tony Stacks.
16. James Gandolfini Was Invited To Audition Because Of Tarantino
Actor James Gandolfini would become the face of The Sopranos however during the casting process he was invited to audition by casting director Susan Fitzgerald after she saw a short clip of his performance in the Quentin Tarantino film, True Romance released in 1993.
17. Gabriella Dante Is Steven Van Zandt's Wife
The Sopranos creator David Chase invited Steven Van Zandt's real-life wife Maureen to play his own screen wife Gabriella. Maureen Santoro went on to star alongside her husband again in Lilyhammer. Tony Sirico was also part of the cast. Interestingly Bruce Springsteen officiated Van Zandt and Santoro's wedding.
18. Sopranos Writer Matthew Weiner Created Mad Men
While David Chase co-wrote between two and seven episodes per season of The Sopranos, he also had a dedicated team of writers who he would oversee and consult with. Matthew Weiner served as a staff writer and producer for The Sopranos in Season 5 onwards. He wrote a pilot script for Mad Men in 2000 which was passed on to Chase and the reason that Weiner was hired.
19. David Chase Selected All Of The Music In The Sopranos
The Sopranos Creator selected all of the music featured in The Sopranos with some scenes being filmed to specifically fit around the musical selection.
There are two compilation CDs featuring the Music from The Sopranos released in 1999 and 2001 respectively. It reached number 38 on the USA's Billboard 200. Notable choices on The Sopranos Soundtrack include,"Living On A Thin Line" by The Kinks, and "Evidently Chickentown" by poet John Cooper Clarke.
The Sopranos opening credits are accompanied by the song "Woke Up This Morning" by Alabama 3, a rock band from the UK. David Chase did want to open each episode with a different song before settling on a permanent theme tune.
20. Satriale's Pork Store Has Been Demolished
While most of the interior shots of The Sopranos were filmed on set at Silvercup Studios in New York city, exterior shots were mostly filmed on location in New Jersey. This included the iconic Satriale's Pork Store which was leased by HBO in Kearny, New Jersey. In the pilot episode, Satriale's was called Centanni's Meat Market instead. After filming had ended the building was sadly demolished.
21. Bada Bing! Was A Real Strip Club In New Jersey
The Bada Bing! was a real strip club called Satin Dolls located in Lodi, New Jersey on Route 17. All exterior and interior scenes were shot in this location except the back room which was a set. The club still operated while the production team were using it to film The Sopranos.
22. The Twin Towers Were Removed From The Sopranos Titles After 9/11
Out of respect for the New York City community after September 11th, The Sopranos production team removed the shot of the Twin Towers out of the opening credits. The credits depict Tony Soprano driving from the Lincoln Tunnel to his home in New Jersey passing several well known landmarks. The shot was replaced by a generic New York City scene after the third season.
The Sopranos opening titles have been ranked as number 10 in a list of TV Guide's top TV title sequences selected by their readers.
23. There Is A Sopranos Video Game
In November 2006, a video game named The Sopranos: Road To Respect was released for PlayStation 2.
24. Two Main Cast Members Host A Sopranos Podcast
In April 2020 two main cast members Michael Imperioli and Steve Schirripa began hosting a Sopranos themed podcast called "Talking Sopranos" where they provide insider information to each episode in chronological order.
25. Drea de Matteo Spent 4 Hours In Make Up Before Shooting
In order to achieve the desired mob woman look, actor Drea de Matteo spent four hours in hair and make up in order to transform into Adriana La Cerva. It took two hours to prepare her hair and make up and an hour and a half to cover up her tattoos.
26. Only 5 Characters In The Sopranos Do Not Have Italian Heritage
The only characters that star in The Sopranos that do not have Italian heritage are Jamie-Lynn Sigler who plays Meadow Soprano, Robert Iler who plays Anthony Junior, David Proval who plays Richie Aprile, Nancy Marchand as Livia Soprano and Jerry Adler as Hesh.
27. Tony Soprano Says The F Word 264 Times In Season Two
One avid fan of The Sopranos has worked out that there are 715 instances of the F word in Season Two. Tony Soprano said 264 of them, Paulie 31, Christopher 68, Carmella says it 9 times and others total 309.
28. Tony Soprano Was Nearly Tommy Soprano
In early drafts of The Sopranos scripts, the show's creator David Chase wanted to name the protagonist Tommy Soprano instead of Tony Soprano.
29. Martin Scorsese Didn't Like The Sopranos
When asked in interviews Goodfellas director Martin Scorsese admitted that he tried to watch The Sopranos on several occasions but couldn't get into it. He claims that it is a different generation of gangster culture than what he remembered from his adolescence.
30. The Sopranos Was A Proper Family Production
Alongside Van Zandt and his wife Maureen starring together in The Sopranos, many other cast and crew members brought their family on board. David Chase's daughter Michele DeCesare starred as Meadow Soprano's friend Hunter. Lorraine Bracco's sister Elizabeth Bracco appeared as Marie Spatafore for eight episodes.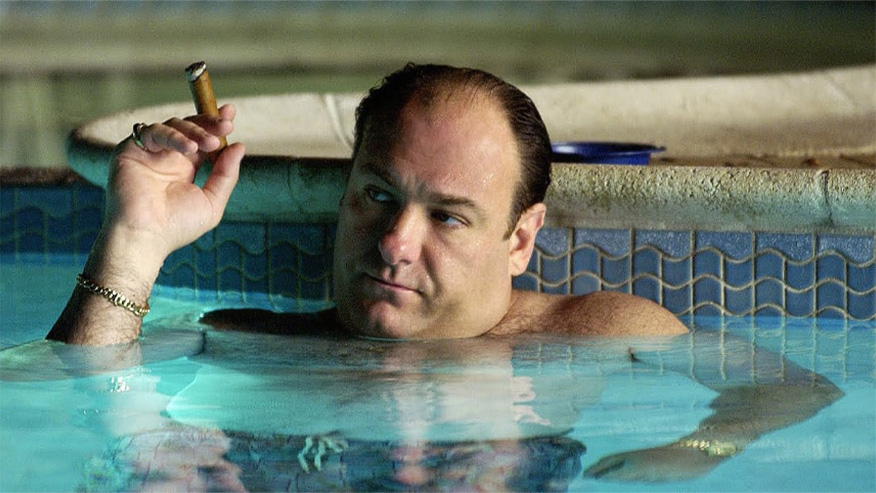 Sopranos Facts: 30 Things You Never Knew About The Sopranos
What is your favourite moment in The Sopranos? Let us know in the comments below.