Virgin Voyages' Scarlet Lady Close Up In Dover
See Virgin Voyages brand new adults-only cruise ship Scarlet Lady up close in the Port of Dover where she docked first on her inaugural call before heading off to Liverpool in 2020.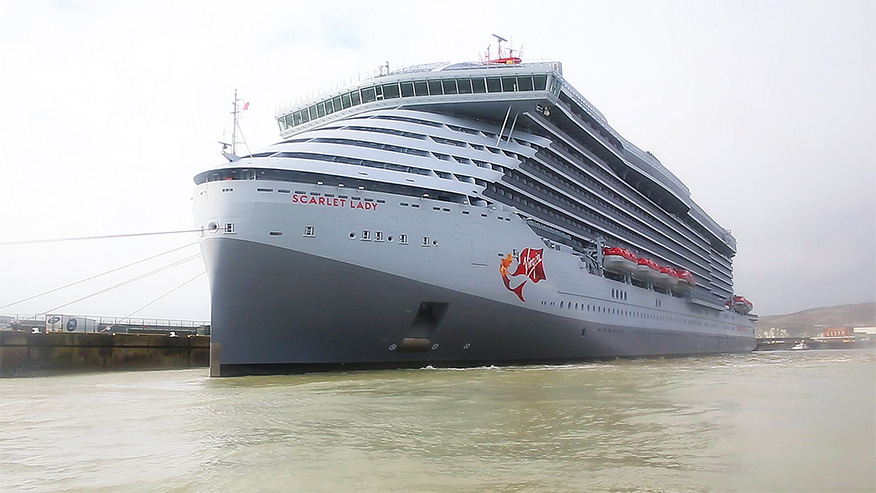 Scarlet Lady is the first ship launched by Virgin Voyages, Sir Richard Branson's latest venture, a fleet of luxury liners boasting 'superyacht design'. Alongside Valiant Lady, she will be one of four adult-only cruise ships that will sail predominantly out of the port of Miami. Scarlet Lady cost £550 million to build and was welcomed in Dover as the first port on her inaugural call before heading off to Liverpool and then crossing the Atlantic.
How is Virgin Voyages different from other cruise lines?
Virgin Voyages hopes to fill a gap in the market for younger audiences looking for a more modern approach to the traditional organised cruise holiday that may put off first-time cruisers.
One of the main features of the Scarlet Lady that differs from many traditional cruise ships is that the formal dining rooms and buffet areas have been replaced with more than 20 venues offering a range of cuisines. Much like a traditional high street or department store, guests can choose from their favourite dishes at all hours from an American Diner, Steakhouses, Noodle Bars and Korean Barbeque etc... The Virgin team have collaborated with Michelin starred chefs including Brad Farmerie and Sohui Kim to create their menus.
There are also tattoo studios, stores selling Vinyl records and an outdoor yoga studio on board.
There are 1,330 cabins onboard Scarlet Lady all modelled on boutique hotels and 78 special Rockstar Suites which have been designed by Tom Dixon and provide cruise guests with their own music rooms complete with guitars and amps.
While cruises are well known for their West End style performances and musicians, Virgin Voyages has put its own spin on the entertainment too offering nightclubs, drag performers and gigs.
The differences continue off ship too as Virgin Voyages hope to offer a selection on unforgettable excursions including a visit to a private club on a beach in the Bahamas, The Bimini Beach Club, for sets from famous DJs including Mark Ronson.
In a post on Twitter by @richardbranson, it was revealed that the Billionaire was staying onboard Scarlet Lady during its time in Dover.
Scarlet Lady will sail from Miami and visit ports in the Caribbean, the USA and Mexico.
Note from the author: Thank you to Dover Sea Safari for the opportunity to have a look at Scarlet Lady up close while she docked in Dover.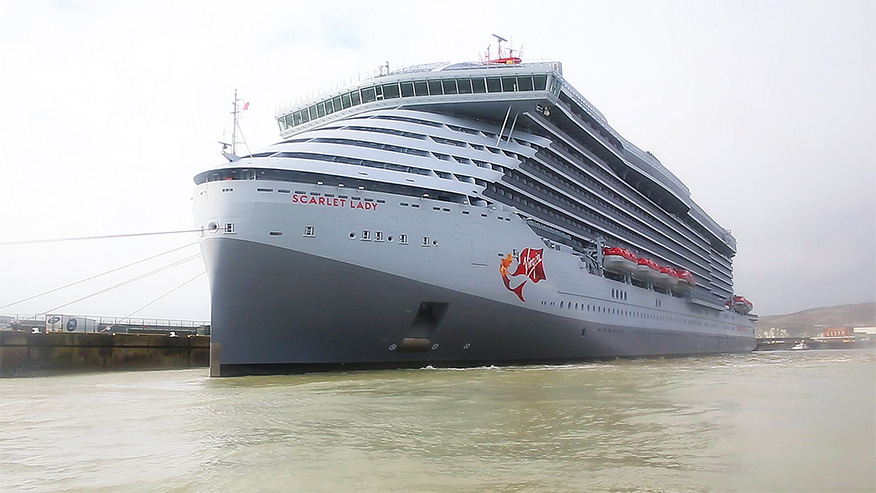 Virgin Voyages' Scarlet Lady Close Up In Dover
What do you think of Scarlet Lady? Let us know in the comments below.