25 Modern Family Facts You Haven't Read Before
Behind the scenes facts about Modern Family on ABC, the long-running American mockumentary sitcom created by Christopher Lloyd and Steven Levitan. It ran on ABC for 11 seasons from September 2009 until April 2020 and has a total of 250 episodes. Modern Family facts include why the adult cast members sued the network, why Ty Burrell nearly didn't star as Phil Dunphy and who came up with the famous broken step gag.

Watch our Modern Family Facts Video on YouTube.
Modern Family is a long-running American mockumentary sitcom created by Christopher Lloyd (The Golden Girls and Frasier) and Steven Levitan (Frasier and Stark Raving Mad). It ran on ABC for 11 seasons from September 2009 until April 2020 and has a total of 250 episodes.
Modern Family follows three individual families all linked to Jay Pritchett. The families are not the nuclear families we are used to seeing on screen but a much more realistic representation of blended families in society today.
Jay (Ed O'Neill) is Father to two grown up children Claire (Julie Bowen) and Mitchell Pritchett (Jesse Tyler Ferguson). Jay is no longer with their Mother but is now re-married to Sofía Vergara's character Gloria. Gloria has a son named Manny (Rico Rodriguez) from a previous relationship and the couple later have a son Joe played by Jerry Maguire.
Claire is married to Phil Dunphy (Ty Burrell) and the pair have three children, Haley (Sarah Hyland), Alex (Ariel Winter) and Luke (Nolan Gould).
Mitchell is married to Cameron Tucker (Eric Stonestreet) and they have an adopted daughter Lily (Aubrey Anderson-Emmons).
Audiences see the Modern Family characters discuss their lives to the camera in first person but also see their scenes played out in third. Modern Family is well known for having an extraordinary cast of child actors who have grown up on screen.
If you're a big fan of Modern Family, you may think you have read everything there is to know about the Pritchetts and the Dunphys however here are 25 Modern Family facts you may never have seen before.


1. Modern Family is ABC's Longest Running Comedy Series
Starting in September 2009, Modern Family ran for a huge 11 seasons and amassed a total of 250 episodes. The series finished in April 2020 making it the longest running comedy series ever on ABC. It won a total of 22 Emmy Awards from 75 nominations throughout it's run as well as the Golden Globe Award for Best Television Series, Musical or Comedy in 2011.
2. The Modern Family Finale has 7.37 Million Viewers
The final episode of Modern Family in Season 11 was watched by 7.37 Million viewers in the USA and the documentary that aired alongside the finale was watched by 6.72 Million.
3. Modern Family Earned US$2.13 Million Per Episode In Syndication
In 2012, Modern Family's syndication deal in the USA across the Fox Television Stations led to it being the tenth highest revenue generating show for 2012 with Forbes reporting it earned a staggering US$2.13 Million per episode.
4. It Was Originally Called "My American Family"
Modern Family's Creators, Christopher Lloyd and Steven Levitan originally wanted to call their mockumentary series "My American Family" and based many of the storylines on their own families and experiences.
5. The Camera Crew Were Meant To Be Part Of The Plot
Modern Family is a mockumentary shot in a fly on the wall style alongside one on one interviews with the characters. Levitan and Lloyd originally wanted to have the documentary crew a focus of the series. A fictitious film-maker Geert Floortje would have travelled from The Netherlands to live with Jay's family as a teenager exchange student friend of Manny's. He is said that he would have had a crush on Claire Dunphy and Mitchell would have thought he was handsome. This was later scrapped from the final script as it was decided to be unnecessary to the plot.
6. Modern Family Was Pitched To All Major TV Networks
Christopher Lloyd and Steven Levitan told news website The Wrap that they pitched Modern Family to CBS, NBC, and ABC. CBS said they weren't ready to make a commitment to a single camera style mockumentary series so rejected it. NBC were already having a lot of success with similarly styled shows such as The Office and Parks and Recreation. ABC chose to greenlight the script.
7. Modern Family Was Mostly Filmed In Los Angeles
Many of the exterior shots used in Modern Family were shot on the City's Westside whereas the Dunphy House is in Cheviot Hills. Palisades Charter High School is the school used for the exterior shots of Luke and Manny's school.
8. Christopher Lloyd and Steven Levitan Ran Modern Family Separately
In The Hollywood Reporter, Steven Levitan discussed how he and Lloyd worked on Modern Family supervising half the episodes each instead of working together as a team. This is because they would often spend a lot of the time debating rather than writing so instead they worked on different episode to avoid the question, "Who has final say?"
9. Five Modern Family Stars Sued 20th Century Fox Over Pay
In Season One of Modern Family, the adult cast members were paid between $30,000 and $90,000 per episode. Ed O'Neill had been earning much more than the rest of the cast due to his television experience. However, Ty Burrell (Phil), Julie Bowen (Claire), Sofía Vergara (Gloria), Jesse Tyler Ferguson (Mitchell) and Eric Stonestreet (Cameron) sued 20th Century Fox in 2012 over wanting higher pay per episode. Ed O'Neill whilst not part of the lawsuit himself joined with his cast members to seek raises of $200,000 per episode. In the Summer of 2012 this lawsuit ended resulting in the 5 cast members moving to a salary of $150,000 - $175,000 per episode and back end profits. Ed O'Neill who had already been earning $200,000 per episode had his salary lowered to match his co-stars. Four out of the five child stars had negotiated increases from $15,000 per episode to $70,000 per episode.
10. Modern Family Was Criticised Over Its Portrayal Of Women
Modern Family received criticism from writers such as Ali Waller from Late Night with Jimmy Fallon over the female characters. She asked on Twitter, "If Modern Family is so 'modern' then why don't any of the women have jobs?" The character Claire Dunphy in later seasons is seen re-entering the job market after parenting her children and becomes a successful director of Jay Prichett's closet company. Gloria later retrains as an Real Estate Agent and works alongside Phil Dunphy. Alex Dunphy also has many successful jobs and is seen making a lot of money in the last few seasons.
11. Modern Family Has Been Recreated For International Audiences
Chile was the first country to adapt Modern Family for a different market calling it Familia Moderna. It premiered on MEGA in December 2015. One of the main differences between this version and the original is that Lily isn't adopted, she is Mitchell's biological child after a drunken encounter. Mitch and Cam do have full custody of her.
In Greece, Modern Family has been named Moderna Oikogeneia and premiered in March 2014.
In Iran, the Islamic Republic of Iran Broadcasting produced a scene by scene remake of Modern Family called Haft Sang in 2014. Unfortunately Mitchell and Cameron's relationship was replaced by a heterosexual one. Haley Dunphy was also changed to a teenage boy and subsequently Dylan is a close friend instead.

12. All Actors Named Themselves Supporting Roles
All of the Modern Family actors made a pact together since season one of the show that when entering any award ceremony they would refer to themselves and each other as supporting roles instead of leading roles.
13. Nolan Gould Is Part Of MENSA
Interestingly the actor Nolan Gould who plays Luke Dunphy on Modern Family is nothing like his simple character. He has been a member of MENSA since he was 4 years old!
14. Jay Forgetting Mitchell Is Gay Was Suggested By Jesse Tyler Ferguson
Actor Jesse Tyler Ferguson told Out Magazine in 2010 that the running gag on modern Family where his father Jay Pritchett forgets that Mitchell is gay stems from his own experiences growing up. He states that his own Father would forget that he was gay and had to come out over and over again across the years until his Father finally believed him.
15. Ariel Winter's Mother Was Banned From The Modern Family Set
According to The Hollywood Reporter, actor Ariel Winter was only 11 years old when she began starring as the middle Dunphy child Alex on Modern Family. Her Mother would accompany her on set and was noticed saying many rude comments about her daughter's weight and performance so much so the Producer's wanted to ban her from set. In 2012, Winter was removed from her family home due to emotional and physical abuse allegations and she has been legally emancipated from her parents since 2016.
16. Ed O'Neill Claims He Knew Modern Family Would Be A Success
The Married With Children star Ed O'Neill claims that he knew how successful Modern Family was going to be when he read the script for the first time. Also stating in the Modern Family documentary in Season 10 that he knew it would last for a decade.
Ed O'Neill is actually the longest sitcom actor in US History having appeared in over 500 sitcom episodes, so maybe he knows what he is talking about!
17. Julie Bowen Was Pregnant In The Pilot
Julie Bowen who plays Claire Dunphy was pregnant with twins when filming the pilot episode of Modern Family.
18. The Broken Step Was An Improvisation
Ty Burrell who plays Phil Dunphy improvised tripping over the step on the Dunphy's staircase in Season One when going up the stairs in an episode. Since then the "gotta fix that step" line and many falls have been included in the Modern Family script.
19. Stella The Dog Passed Away
Jay Pritchett's pride and joy Stella the French Bulldog passed away shortly after the filming of Season 10 wrapped due to complications in surgery. She was named Beatrice in real life.
20. ABC Weren't Keen On Ty Burrell
The network ABC originally had reservations over Ty Burrell playing the character Phil Dunphy. They believed that due to a previous performance in the show Back To You, his performance wouldn't be strong enough for a main character. Nevertheless the Modern Family Creators, Lloyd and Levitan insisted and ended up mocking up a scene in his home alongside Sarah Hyland who plays his eldest daughter Haley. This preview completely convinced the network that Burrell was in fact the right choice.
21. Eric Stonestreet Is Not Homosexual
Actor Eric Stonestreet who plays Cameron Tucker, husband to Mitchell Pritchett and father to Lily Tucker-Pritchett in Modern Family isn't gay in real life. He does say that he is a great supporter of the LGBT community however.
Both Stonestreet and Jesse Tyler Ferguson have remarked in interviews and the Modern Family documentary that they find it so rewarding to hear that their characters Mitch and Cam have made it easier for children to come out to their parents, and for their parents to be understanding and accepting.
22. Sarah Hyland's Boyfriends Have Starred As Boyfriends Of Alex Dunphy
Two of Sarah Hyland's boyfriends have starred in Modern Family as boyfriends of her on screen sister Alex Dunphy instead. Firstly, Hyland dated Matt Prokop who appeared in the third season as Ethan. Secondly, Dominic Sherwood played James in Season Seven.
As for on screen boyfriends, Adam Devine's character Andy was a cast favourite. Apparently the rest of the cast would be excited to see him on set and find out how his and Haley's relationship developed.
23. Sarah Hyland's Fiancé Asked For Her On Screen Parents Blessing
Before proposing to Sarah Hyland (Haley Dunphy) her fiancé asked for the blessing of her on screen parents Julie Bowen and Ty Burrell.
24. Modern Family Has 5 Consecutive Emmy Wins
Modern Family coincidentally ties with Frasier for having the most consecutive Emmy wins, five for Outstanding Comedy Series between 2010 and 2014.
25. All Main Characters Have Celebrated A Birthday On Modern Family
Despite having such a large cast, all twelve main characters have celebrated a birthday in the Modern Family storyline. It may not be the focus of an episode but each person has had the opportunity to act a birthday scene.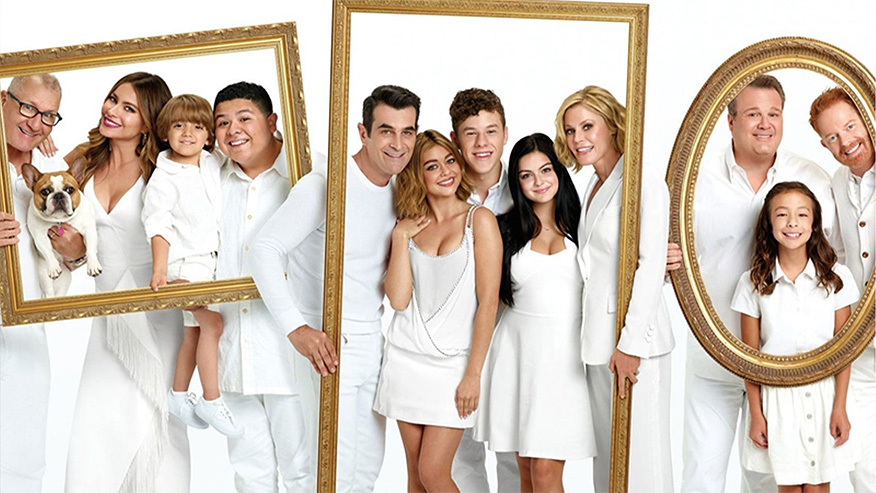 25 Modern Family Facts You Haven't Read Before
What is your favourite moment from Modern Family? Let us know in the comments below.