15 Parks and Recreation Facts That You Haven't Seen Before
Behind the scenes facts and trivia about the US sitcom Parks and Recreation starring Amy Poehler including why the character of Leslie Knope had to be changed after season one, the minor role Nick Offerman nearly played over Ron Swanson and how Parks and Recreation was almost a spin off of The Office.

Watch our Parks and Recreation Facts Video on YouTube.
Parks and Recreation is a political sitcom set in the fictional town of Pawnee, Indiana. It follows a team of local government employees at the Pawnee Parks and Recreation department with Amy Poehler's enthusiastic character Leslie Knope at the centre. Parks and Recreation was written by the prolific writing duo of Greg Daniels (The Simpsons and King of the Hill) and Michael Schur (The Good Place and Brooklyn Nine-Nine). The writer's most notable collaboration was the US remake of Ricky Gervais' The Office starring Ben Stiller and many fans of Parks and Recreation are also big fans of The Office.
Parks and Recreation began in April 2009 and ended in February 2015 with an impressive seven season run and a total of 125 episodes. So if you've been a big Parks and Recreation fan since the beginning you may think that you know everything there is to know about Leslie, Ron and the rest of the Parks gang however, here are 15 little known facts that you may never have seen before.
1. Leslie Knope Was Changed After Season One
After some audience research, a percentage of the viewers fed back to the Parks and Recreation creators that Leslie Knope seemed unintelligent and ditsy during the first season and her position and goals seemed unbelievable. Therefore in upcoming episodes the writers Greg Daniels and Michael Schur took extra care in mirroring real-life political events such as the Pawnee Government being shut down and to include cameos from political figures such as John McCain, Joe Biden (Vice President at the time) and Michelle Obama (First Day of the United States during the show). All in the hope that the Pawnee City Hall employees looked more believable in the eyes of the audience.

Amy Poehler was hired by Daniels and Schur before the concept of Parks and Recreation was established and without having a script for the pilot episode in development. She had left Saturday Night Live, the NBC Sketch Comedy Show after 7 years to join the cast of Parks and Recreation. During the first season of Parks and Recreation, Poehler had reservations that Knope was going to turn into a Michael Scott (Steve Carell in the Office) type character so was fully on board with the character changes.

The initial production of Parks and Recreation was delayed due to Amy Poehler's pregnancy; filming started after she gave birth.
2. Parks and Recreation Was Originally A Spin Off From The Office
Parks and Recreation Producers Greg Daniels and Michael Schur were well-known for producing the hit US remake of The Office with Steve Carrell and initially Parks and Recreation was going to be a spin off from the show. They spent two months trying to devise the planned spin off however they couldn't settle on an idea. They then decided to pursue a storyline surrounding local government where an official tried to reclaim their reputation and build a political career after a fall from grace. This idea didn't end up being used for Leslie Knope but was explored in Adam Scott's character Ben Wyatt who comically ran for Mayor in his hometown of Partridge, Minnesota at 18 and blew their finances on Ice Town, a failed winter sports venue.
There are similarities with The Office and Parks and Recreation, most notably the mockumentary style introducing characters in first person interviews.
3. Parks and Recreation Wasn't The Original Name For The Sitcom
Greg Daniels and Michael Schur wanted to originally name Parks and Recreation, "Public Service" before settling on the iconic and simple title of the department it follows. Public Service was dropped due to potential negative connotations with the NBC television network.
4. Ron Swanson Was Based On A Real Government Official
For research into local government processes, the writers of Parks and Recreation spent time attending Los Angeles City Council meetings where they observed how the employees behaved, the order of events and how the community spoke in public meetings. Similar public forums ended up being a regular feature on Parks and Recreation complete with some brilliant opposition from Pawnee residents - perhaps their research was why these scenes were so memorable!

Michael Schur told the Los Angeles Times in an interview that the inspiration for Ron Swanson's anti-government demeanor was inspired by a real government official that he met in Burbank who claimed to not believe in his job's 'mission'.

Nick Offerman who plays Ron Swanson actually is a big fan of woodworking in real life, so much so that he released an instructional DVD on canoe building.
5. Parks and Recreation Was Filmed With A Single Camera
In keeping with The Office's cinema vérité, fly-on-the-wall, mockumentary style, Parks and Recreation was filmed with a single camera set up without the presence of an audience. The mockumentary style highlighted how differently the characters behave in public and private. Something that fitted well with the local government setting.

The producers ended up filming lots more footage than was necessary for the final edit, much like a real documentary would. The pilot episode of Parks and Recreation was 48 minutes long in its first draft then cut down to the aired 22 minutes.
Parks and Recreation producers have re-released some episodes as 'Extended Producer's Cuts' which are available on streaming services making use of some of the disregarded scenes from the first edit.
There are a total of 16 extended Parks and Recreation episodes and they are as follows:
Season 1: Rock Show
Season 2: The Set Up, The Master Plan, Freddy Spaghetti
Season 3: Harvest Festival, The Fight, Li'l Sebastian
Season 4: End of the World, The Debate, Bus Tour, Win Lose or Draw
Season 5: Halloween Surprise, Emergency Response
Season 6: Second Chunce, Flue Season 2, Moving Up
6. Pawnee Is Really Pasadena
The exterior shots of Pawnee's City Hall in Parks and Recreation were actually filmed at Pasadena City Hall in California as well as several of the corridors. The Parks Department interior and courtyard were filmed on a large studio set.

Eagleton, which is known as Pawnee's rival and a wealthier town without a racoon infestation, was filmed in San Marino, California. The episode Harvest Festival included a large festival scene which was filmed on location in Los Angeles Pierce College. Producer Michael Schur claims the ending drone shot of the festival was the most expensive shots in the entire Parks and Recreation show.

The map of Pawnee is actually the map of Muncie, Indiana flipped over - incidentally Muncie is noted as Garry Gergich's favourite place in the world.
7. The Parks and Recreation Pit Was Real
The Parks and Recreation producers constructed the pit which featured in the first and second seasons. It was dug at an undeveloped property in Van Nuys in the San Fernando Valley, Los Angeles. They went door to door asking residents whether they could dig on their land for the show and once created, the pit was guarded 24/7.
8. The Parks and Recreation Theme Song Was Made In 5 Days
BMI Music Consultants were hired by the Parks and Recreation team to find a theme song for the show just three weeks before it went to air. BMI sent an email out to prospective composers giving them 5 days to submit their ideas and the winner would be paid $7,500 for full rights to NBC.

The other prominent music tracks in the show were sung by Chris Pratt as Andy Dwyer and the fictional band Mouse Rat. The band's songs include Sex Hair, Lil Sebastian, Ann and The Pit. Every Mouse Rat song contains the lyrics 'spread your wings and fly' or 'you deserve to be a champion'. Chris Pratt modelled his singing voice on the Pearl Jam singer Eddie Vedder.
During one of the memorable interview scenes, character Andy Dwyer recounts the long list of band names that he has performed under before finally settling on Mouse Rat, these included:
Scarecrow Boat
Teddy Bear Suicide
God Hates Figs
Two Doors Down
Department of Homeland Obscurity
Three Skin
Just The Tip
Flames For Flames
Muscle Confusion
Nothing Rhymes with Orange
Everything Rhymes with Orange
Andy Dwyer Experience
AD and the DBags
The Andy Andy Andys
RadWagon
Five Skin
Four Skin
Nothing Rhymes with Blorange
Death of a Scam Artist
Razor Dick
Puppy Pendulum
Possum Pendulum
Penis Pendulum
HandRail Sucicide
Angel Snack
Jet Black Pope
Punched Face Champions
Ninja Dick
9. NBC Paid £100 Million To Stream Parks And Recreation
In 2018 Parks and Recreation finished streaming on Netflix and was purchased by NBC for their upcoming streaming service Peacock which is named due to the company's iconic logo and due to be released in October 2020. The deal is said to be worth 9 figures according to Variety.
10. Ron Swanson and Tammy Two Are Really Married
Actor Nick Offerman who plays Ron Swanson in Parks and Recreation is actually married to the actor who plays the promiscuous Pawnee Librarian, Tammy Two, Megan Mullally. Outside of Parks and Recreation, Mullally is best known for playing Karen Walker in Will and Grace since 1998. She has also starred in 30 Rock as Bev and in Bob's Burgers as Gayle.
11. Chris Pratt Was Meant To Be A Guest Star
Chris Pratt's dim yet lovable character Andy Dwyer was only meant to be a guest star in season one as Ann Perkins' layabout boyfriend. However, the cast got on with him so well that the producers, Greg Daniels and Michael Schur, decided to write him into the series as a regular. Chris Pratt was praised for his physical comedy so much that they would frequently include 'Andy does something physical' into the script.

During the memorable scene in which Andy Dwyer turns up to Ann Perkins' (Rashida Jones) house naked, Chris Pratt actually took his clothes off and her reaction was used as the final take. He was formally given a warning by the production company and was urged to take it seriously. He disclosed in an interview that the written warning is now framed and hung on his wall at home.
12. Aubrey Plaza Modelled April On Her Sister
Actor Aubrey Plaza was inspired by her own sister to create April Ludgate's sarcastic, dark and deadpan character. Her on screen sister is named Natalie (Minni Jo Mazzola) which is the same name as her sister in real life.
13. Nick Offerman Initially Auditioned For Mark
You'd be forgiven for not remembering who on earth Mark is; Mark Brendanawicz (Paul Schneider), Pawnee's City Planner and Leslie's former one-time lover who left after the second season. Before auditioning for his perfect role of Ron Swanson, Nick Offerman read for Brendanawicz. Schneider's exit made way for Rob Lowe's character Chris Traegar who became the new Pawnee City Planner.
14. Perd Hapley Is A Real Broadcast Journalist
Jay Jackson who plays the eccentric broadcast journalist and presenter of Ya Heard? With Perd! on Parks and Recreation's Pawnee TV was for many years an actual journalist and news anchor in San Diego and Los Angeles. It was after his retirement that he landed a small role in Dexter as a reporter and since then Jackson has appeared in Scandal, The Closer and The Mentalist as well as Parks and Recreation.
15. The Cones Of Dunshire Really Exists
Mayfair Games were the company contracted to make Ben Wyatt's complicated board game into a real professional, playable game with a full set of rules. Due to its excruciating complexity it was never made for the mass market but was played at a 2014 convention for charity raising money for an Indiana Food Bank. Fans of Parks and Recreation paid $100 each to play in one of the 33 positions and the main scorekeeper position was auctioned totalling $20,000.
Let us know whether you have any more good behind the scenes facts about Parks and Recreation in the comments below!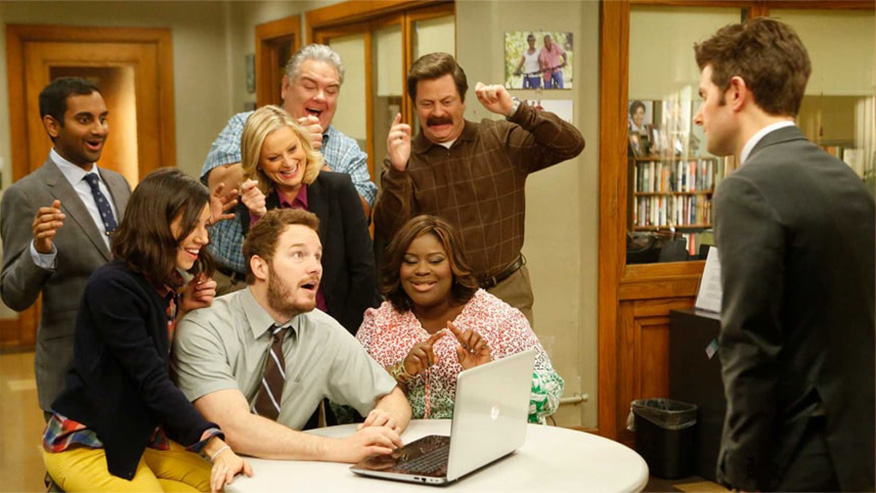 15 Parks and Recreation Facts That You Haven't Seen Before
What is your favourite Parks and Recreation moment? Let us know in the comments below.