20 Derry Girls Facts You Haven't Heard Before
Derry Girls takes a nostalgic look back at growing up in Northern Ireland during The Troubles in the 1990s. Written by Derry born Lisa McGee and shown on Channel 4 in the UK, Derry Girls follows a group of 5 friends as they navigate their teenage years attending an all girls' Catholic school and constantly get into trouble. Derry Girls facts include what will be happening in season 3, Louisa Harland's hilarious story ideas for Orla McCool and how the Derry Girls faired on The Great British Bake Off.
Watch our Derry Girls Facts Video on YouTube.
Derry Girls takes a nostalgic look back at growing up in Northern Ireland during The Troubles in the 1990s. Written by Derry born Lisa McGee and shown on Channel 4 in the UK, Derry Girls follows a group of 5 friends as they navigate their teenage years attending an all girls' Catholic school and constantly get into trouble.

The show has many hilarious moments - everything from the girls trying to hitchhike to Belfast to see Take That to accidentally setting fire to the chip shop owner's flat. However it is also mixed in with the harsher realities of growing up in Northern Ireland at the time - bombings, barricades and the constant conflict between Catholics and Protestants.
The main Derry Girls are Erin Quinn (Saoirse Monica Jackson) and her cousin Orla McCool (Louisa Harland) who both live together in the same house. Nicola Coughlan, who also starred in the Netflix hit Bridgerton as Penelope Featherington, stars as Clare who comes out as a Lesbian in the first season. Michelle Mallon is the group's rebel played by Jamie-Lee O'Donnell. The odd one out is James (Dylan Llewellyn), Michelle's English cousin who is sent to live in Derry while his Mum goes through a divorce in London. Due to his English accent he is sent to the same all girl's Catholic school for his own safety.
At time of writing, Derry Girls has two seasons and a total of 12 episodes. Filming for the third season was postponed in 2020 due to the COVID 19 pandemic.
1. Derry Girls Was Mostly Filmed In Derry Accept The School Scenes
Most of the filming of Derry Girls took place in Northern Ireland in both Derry itself and Belfast. The majority of the exterior scenes were shot on location however the convent school was recreated as a set. The catholic school featured in Derry Girls was based on Lisa McGee's (creator of Derry Girls) old convent school in Belfast, Thornhill Sisters of Mercy.
2. Season 2 Was Green Lit Just After The Pilot Episode
Derry Girls was renewed for a second season almost immediately after the pilot episode had aired on Channel 4. Filming for the second season began on 8th October 2018. A third series was confirmed and commissioned by Channel 4 just as the second series finished airing on TV. In its first week on Channel 4, Derry Girls reached 2.5 million viewers.
3. Erin's Diary Is A Real Book
You may remember in Season 1 of Derry Girls, Orla had taken Erin's private diary into school and was going to do her book report on it. The Derry Girls' team have actually released a book entitled, "Erin's Diary: An Official Derry Girls Book" in November 2020.
4. Irish Comedies Go Well For Channel 4!
Derry Girl's is the most successful comedy to have been aired on Channel 4 since Father Ted, which is also a huge Irish comedy series. Derry Girls Was created by Hat Trick Productions who were also the creators of Father Ted.
Derry Girls is the most watched series in Northern Ireland since records began in 2002. It had a 64.2% share of the audience.
5. There Is A Painted Derry Girls Mural
A mural of the Derry Girls characters has been created by UV Arts on the side of Badger's Bar in Derry. It is a popular tourist attraction and can be found at 18 Orchard Street in Derry. It joins the large collection of political murals across the city.
According to Nicola Coughlan, some local Derry residents were concerned that Dylan Llewellyn's character James aka "the wee English fella" was not going to be included on the mural. He was one of the last characters to be painted.
6. The Troubles In Northern Ireland Originally Weren't To Feature
Lisa McGee has said in interviews that her initial concept for Derry Girls wasn't centred around The Troubles; she just wanted to write about her time at school and how she behaved with her friends. However when writing she said that leaving out The Troubles didn't feel truthful because they were a large part of her experience growing up. She wanted to show a group of teenagers living their ordinary lives slightly unaware of how extraordinary their surroundings and community was.


7. Derry Girls Purposefully Included Northern Irish Humour and Dialect
Lisa McGee has said in interviews that she believes a lot of the stories you hear come from Northern Ireland are very male-centric, so it was important for her to tell the story of her friends. She also wanted to showcase the Northern Irish dark sense of humour in Derry Girls.
With Derry Girls being set in Northern Ireland, Lisa McGee kept the dialogue and tone as authentic as possible and made sure not to exclude expressions that may have confused international or English viewers. For example, "Wee-uns" meaning the children. She felt that they would not be out of the realms of comprehension to anyone that spoke English.
8. Lisa McGee Modelled Erin Quinn On Herself
For McGee, Derry Girls isa love letter to her hometown and there are many similarities between the girls we see on screen and her own friendships as a teenager. Erin wants to be a writer for example. She suggests that each of the characters are all part of her close friendship group that she had around the same age and that Erin's family are also like her own. The Girls are also conscious of their education and are ambitious with their career prospects.
9. Lisa McGee Didn't Realise How Different Northern Ireland Was
In interviews Tommy Tiernan, who plays Erin's Dad Gerry Quinn, has discussed The Troubles In Northern Ireland which international or younger audience members may not be aware of. Tiernan recalled in an interview with The Irish World that it may sound strange 20 years on but there were army checkpoints everywhere around the North [of Ireland] and Soldiers were walking the streets and being shot. He also stated that it is a very Irish thing to use humour to combat trauma and it was one of the ways people manage to get through that time.
Lisa McGee adds in the same interview that it only dawned on her that the circumstances she was growing up in were unusual when she moved to London. As a teenager she claimed she didn't really realise how different it was.
10. Netflix Accidentally Streamed Derry Girls Season 2 Without The Rights
Netflix actually pulled the second season of Derry Girls from its UK streaming service after accidentally releasing it too early without the proper rights in place. Netflix only acquires the rights to Season 2 of the show in the UK when Season Three premieres on Channel 4. They have since apologised informally to fans on social media saying, "It looks like we were a bit early with this one so have had to take Season Two down for now. We'll let you know when it's coming back as soon as we can. In the meantime, it is available now on All 4."
11. Derry Girls Competed In A Special Great British Bake Off Episode
Derry Girls cast members Saoirse Monica Jackson, Jamie Lee O'Donnell, Dylan Llewellyn, Nicola Coughlan and Siobhan McSweeney all took part in a special New Year's Day episode of The Great British Bake Off. The episode, which aired on the 1st of January 2020, saw the team make an Alcoholic trifle for the signature challenge. Jamie Lee O'Donnell mixes up tablespoons and teaspoons. Nicola Coughlan attempts to grill her cake at one point and Dylan Llewellyn's cake was called "nearly inedible".
Viewers can still see clips of the Derry Girls appearance of The Great British Bake Off episode on YouTube.
12. The Derry Girls Are Regulars On Other Channel 4 Shows
The Derry Girls have also gone on to star in the game show The Crystal Maze with Richard Ayoade. Saoirse-Monica Jackson and Jamie-Lee O'Donnell have also taken part in Celebrity Gogglebox.
13. The Cast Wore Badges For Jamie-Lee O'Donnell At The Season 2 Premier
When Jamie-Lee O'Donnell wasn't able to turn up to the Derry Girls Season Two premier, her fellow co-stars and creator of the show Lisa McGee wore badges that read "I <3 JLO".
14. Nicola Coughlan Knew Clare Was Gay Way Before The Rest Of The Cast
Nicola Coughlan knew that her character Clare Devlin would come out as gay months before the rest of the cast members did. She was asked not to share it with the rest of the cast and knew that it wouldn't be revealed to audiences for a while. She was able to use the fact that Clare was hiding a large part of herself to enhance her performance prior to her coming out.
15. The Derry Girls Are All In Their Late 20s
Despite the actors playing high school students, they are much older than their on screen counterparts. In Season One, Erin, Michelle, Clare and James are all meant to be 16 and Orla is 15.
In reality, Saoirse-Monica Jackson was born in 1993 and Jamie-Lee O'Donnell, Dylan Llewellyn and Louisa Harland were born in 1992. This made them 25 and 26 in Season One of Derry Girls.
Nicola Coughlan was born in 1987 so is nearly double the age of her character Clare Devlin. She was 31 when Season One of Derry Girls premiered.
16. Channel 4 Created A Spotify Playlist For Each Derry Girl
As a marketing stunt for Derry Girls, Channel 4 have put together a Spotify Playlist consisting of, what they would choose, as each Derry Girl's musical favourites.
Clare Devlin's Spotify playlist includes, "I Will Survive" by Gloria Gaynor, "9 to 5" by Dolly Parton and "Don't Stop Believin'" by Journey. As well as songs by the Irish band, The Cranberries. Clare's Spotify playlist also pays homage to 90s pop with hits from S Club 7, PJ & Duncan, Billie Piper and Steps.
Orla McCool's Spotify playlist includes "Wuthering Heights" by Kate Bush, "Hand In My Pocket" by Alanis Morissette and "Like A Prayer" by Madonna. It also contains hits by Björk, Take That and No Doubt. Orla's playlist is full of artists who aren't afraid to be a bit different or sound unlike their competitors.
Erin Quinn's Spotify playlist includes "Wannabe" by The Spice Girls, "Uptown Girl'' by Westlife and "There She Goes" by The La's. It also includes hits from Fleetwoood Mac, The Cranberries, and Sinéad O'Connor. It includes some very big 90s pop hits mixed with sad/romantic vibes.
Michelle Mallon's Spotify playlist includes "Better The Devil You Know" by Steps, "Let's Talk About Sex" by Salt-N-Pepa, and "Smells Like Teen Spirit" by Nirvana. It also includes rock tracks from Alice Cooper, Steppenwold, and Iggy Pop.
James Maguire's Spotify playlist includes "Another Brick In The Wall" by Pink Floyd, "Why Does It Always Rain On Me?" by Travis, and "Livin' On A Prayer" by Bon Jovi. As well as hits by Backstreet Boys, Pulp and Dodgy.
Hilariously, the honorary Derry Girl herself Sister Michael gets her own Spotify Playlist too and includes songs such as "Maggie May" by Rod Stewart, "Jolene" by Dolly Parton and "Red Red Wine" by UB40. Mainly older pop hits and the occasionally loosely based religious song name such as "Praise You" by Fatboy Slim.
17. Louisa Harland Has Suggested Many Ideas For Orla's Storyline
Louisa Harland, who plays Orla McCool in Derry Girls has given many suggestions to the show's creator Lisa McGee regarding future storylines for her character. These include Orla shaving her head or that she has actually been a ghost the whole time!
18. The Derry Girls Lived Together While Filming Season One
To create a convincing group dynamic, the actors playing the Derry Girls lived together while filming Season One. This allowed them to really get to know each other and feel incredibly comfortable in the group, something that really came across well on screen and a quality that teenage friend groups have better than any other.
19. A Derry Girls Film Is On The Cards
Lisa McGee, the creator of Derry Girls, has revealed in interviews that initial works and talks have begun on taking the Girls to the big screen with a film. She went on to say that it would be something she would love to do if the story is right but it would only be developed after Season 3.
20. Season Three Of Derry Girls May Be The Last
Audiences are used to American comedies running for 10 seasons with 22 episodes each; however, in the UK many successful comedies only run for 2 or 3 seasons consisting of 6 episodes each. Lisa McGee told Red Carpet News in an interview that in Season 3 there would be many guest stars with a major one in each episode. She also said that the Derry Girls would grow up in the new episodes but will be solid friends for life regardless of their own storylines. The Derry Girls are set to continue their personal and political journeys in Season 3.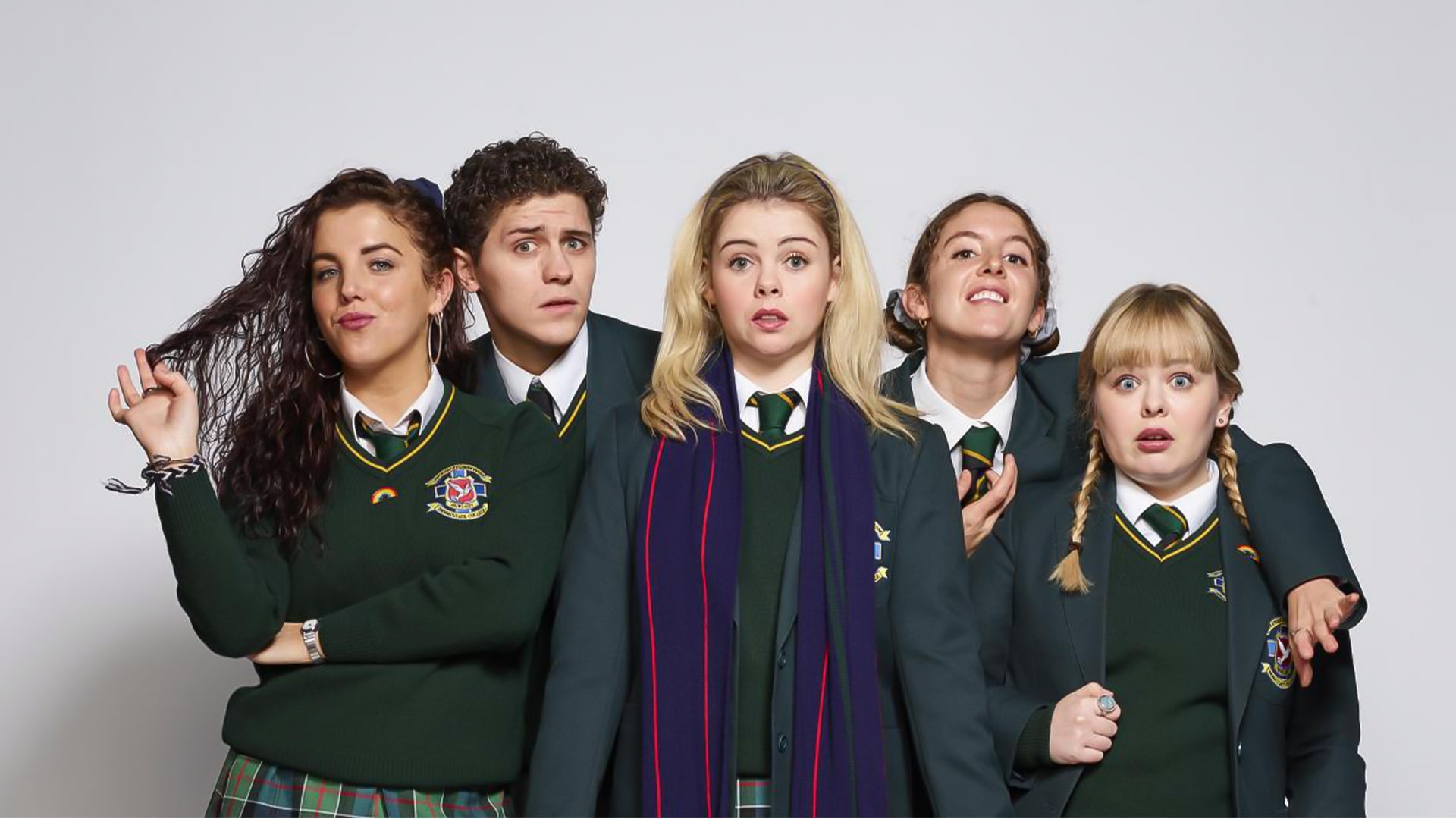 20 Derry Girls Facts You Haven't Heard Before
What is your favourite moment of Derry Girls? Let us know in the comments below.