25 Silicon Valley Facts You Haven't Read Before
Silicon Valley is a six season US comedy series that ran on HBO from 2014 to 2019. It was created by Mike Judge, John Altschuler and Dave Krinsky and focusses on a group of programmers growing their start-up company Pied Piper. Facts include which main cast member actually studied Computer Science at College, what inappropriate 12 page long paper was written because of a joke on the show and what Elon Musk thinks of the series. 

Watch our Silicon Valley Facts Video on YouTube.
Silicon Valley is a six season US comedy series that ran on HBO from 2014 to 2019. It was created by Mike Judge, John Altschuler and Dave Krinsky and focusses on a group of programmers growing their start-up company Pied Piper. The company's CEO is the socially awkward and emotional Richard Hendricks, played by Thomas Middlemitch, who develops a hugely revolutionary data compression algorithm while also working at the fictitious tech giant Hooli. Hooli's Founder and CEO, Gavin Belson (Matt Ross) offers Hendricks US$10 Million which he turns down to run the business himself. For the next 6 years, Richard and his unconventional team combat the competitive atmosphere of Silicon Valley to see if his idea is profitable.
Hendricks and the Pied Piper team live in a "tech development incubator" run by Erlich Bachman (T.J. Miller). The team includes Dinesh Chugtai (Kumail Nanjiani) who is Pied Piper's Java Programmer. He is in constant competition with Bertram Gilfoyle (Martin Starr), the network engineer and stoic Satanist. Zach Woods stars as Donald "Jared" Dunn, an ex-Hooli business advisor and COO of Pied Piper. Jimmy O. Yang is Jian-Yang, another tenant at the incubator but not directly working on Pied Piper. Amanda Crew stars as the only main female character, Monica Hall, who becomes Pied Piper's Chief Financial Officer.
1. Mike Judge Really Worked As A Startup Programmer
The Co-Creator and Executive Producer of Silicon Valley Mike Judge, actually worked in the real Silicon Valley during his early career. He worked at a company named Parallax in 1987 as a programmer. He disliked the company culture and his colleagues so only lasted three months but it gave him a good background into the world of tech entrepreneurs to create a successful sitcom.
2. Silicon Valley Has Been Likened To A Modern 'Office Space'
Mike Judge has created many successful television series across his career including Beavis and Butthead (1993) and King of the Hill (1997). He also directed the films Office Space (1999) and Idiocracy (2006 starring Luke Wilson, Dax Shepherd and Maya Rudolph) and Extract (2009 starring Jason Bateman, Mila Kunis, Kristen Wiig and Ben Affleck). Judge has described Silicon Valley as, "Office Space for modern times".
3. Pied Piper's Decentralised Internet Was Based On A Real Attempt
The idea that Pied Piper would create a decentralised version of the internet was inspired by real attempts from a company called MaidSafe. Many of their team members served as advisors on the Silicon Valley set to make sure this part of the technology and dialogue describing it was correct.
4. Silicon Valley Was Filmed In Palo Alto, California
Silicon Valley was filmed in Palo Alto California and the pilot began filming on the 12th March 2013. HBO gave the green light on Season One in May 2013.
5. The Weissman Score Was Devised For The Silicon Valley Series
The Weissman score used by the entrepreneurs in Silicon Valley to compare their technology's efficiency with each other is actually a fictitious metric for loss compression applications. It was created by Tsachy Weissman, a Professor of Electrical Engineering at Stanford University and Vinith Mishra, a PhD student, sfter the producers of Silicon Valley approached them. The score compares the required time and compression ratio of measured applications with those of a de facto standard according to the data type.
6. Peter Gregory Was Meant To Be A Recurring Character
Christopher Evan Welch, who played the billionaire Peter Gregory on Silicon Valley sadly passed away in December 2013 of Lung Cancer at the age of 48. He had finished filming his scenes for the first five episodes of Silicon Valley so the producers decided not to recast the role stating that Welch's performance was irreplaceable and inspired them while writing the series. At the end of Season One Episode Eight, the credits include a memoriam in his honour.
Christopher Evan Welch was also well known for starring in films such as Marie and Bruce, War of the Worlds and The Stepford Wives. He also appeared in The Sopranos, Law & Order and Elementary.
When Silicon Valley won the Critics' Choice Award for Best Comedy Series, his co-star T.J Miller requested the award be dedicated to Welch.
7. Elon Musk Doesn't Think Silicon Valley Is True To Life
Billionaire Businessman Elon Musk, has said in interviews that Silicon Valley is not true to life as it doesn't even get close to what is really like in the real Silicon Valley. He claims that the first season felt like Hollywood making fun of Hollywood's idea of Silicon Valley. The actor T.J. Miller, who stars as Erlich Bachman on the show, has retorted that the reason Musk doesn't find the show enjoyable is because Billionaires are not comfortable being satirised.
8. Pied Piper Were Always Going To Work In "Deep Tech"
Early on in the development of Silicon Valley, the producers came up with the idea of creating a universal compression algorithm to be the main tech that Pied Piper is working on. They were looking for something that would be called "deep tech" - a piece of technology that at its core could help several different industries. Whatever they chose needed to be understood by audience members but also able to be passed off as a real technological innovation by experts. Jonathan Dotan was hired as a tech advisor on Silicon Valley and he enlisted the help of Stanford Professor, Tsachy Weissman, who he found on Google after searching for an expert in compression. Jonathan Dotan has previously worked on other TV series including Entourage.
9. An Academic Study On The Silicon Valley "Dick Joke" Was Written
A genuine 12 page scientific research paper was created discussing the equation for "pleasuring" a room full of men as discussed in Season 1 Episode 8, "Optimal Tip-to-Tip Efficiency".
In an interview with Esquire, Mike Judge said he wanted to have a moment similar to that in A Beautiful Mind (Howard, 2001) where an epiphany is based on a real life thing but something more silly thus the elaborate "dick joke" equation was born.
A consultant on Silicon Valley, Jonathan Dotan confirmed in the same interview that Professors at Harvard University, and other institutions peer reviewed the paper. The Silicon Valley team then uploaded it to the internet. Dotan claims that it is one of the most well-viewed academic papers ever with over 400,000 views.
10. Gilfoyle Has A Drink In Every Episode
Bertram Gilfoyle drinks a beer in every episode of Silicon Valley.
11. Silicon Valley's Opening Credits Are Continuously Updated
During the opening credits of Silicon Valley, we see many recognisable logos from large tech companies pop up alongside Pied Piper and Hooli. The intro was continually updated with the formation of new successful companies.
• Facebook's logoconsumes both WhatsApp and Occulus during the title sequence to show their merger in real life.
• Napster is shown as a hot air balloon inflating, rising and deflating due to it's real life fate.
• In Season 3 of Silicon Valley, the hot air balloons for Uber and Lyft can be seen bumping into each other.
• In Season 5, the Facebook logo changes to a Cyrillic style to mimic the alleged Russian involvement in the US Presidential Election in 2016.
The theme song that accompanies the animated opening credits is "Stretch Your Face" by Tobacco.
12. The Websites From Silicon Valley Were Really Made
Many websites have been created for Silicon Valley, including:
• Piedpiper.com
• Bachmanity.com
• Hooli.com
• Hooli.xyz
• Raviga.com
• Coderag.com
• Endframesystems.com
• Drinkhomicide.com
Piedpiper.com even includes a blog with entries written by Jared Dunn including a personal goodbye message from him as COO, a run down on Russfest supposedly written by Russ Hanneman, and a travel post from Hawaii by Dinesh Chugtai.
13. WIRED Actually Wrote About Nelson Bighetti / Big Head
An article was published in Wired Magazine about the character Nelson Bighetti (Big Head), who was played by Josh Brener as referenced in one episode.
14. Many Lines In Silicon Valley Were Improvised
Many of the main cast members in Silicon Valley knew each other previously from the stand up comedy circuit. Thomas Middlemitch, T.J. Miller, Kumail Nanjiani and Josh Brener are all established stand up comedians. Due to their comedic backgrounds, many of the actors were encouraged to improvise on set with Zach Woods (Jarred Dunn) improvising many memorable lines such as, "My Uncle used to say, 'you look like someone starved a virgin to death.'"
15. Thomas Middlemitch's Break Came While On A Second City Cruise
Thomas Middlemitch is originally from British Columbia, Canada and was set to attend the George Brown Theatre School in Toronto but never began the course. Instead, he wrote his own material and worked several different jobs to earn a living alongside. He moved to Chicago and took Improvisational Theatre classes before being sponsored to get his work visa. One of the troupes he performed with was the Second City who regularly performed on Norwegian Cruise Lines. It was on one of these Second City Cruises where Middlemitch got the chance to audition for Saturday Night Live. He wasn't cast but his audition landed him a Network Holding Deal and he moved to New York City.
16. T.J. Miller Left Silicon Valley For Hollywood
The actor T.J. Miller who played the egotistical Erlich Bachman in Silicon Valley for Seasons 1 - 4 (38 episodes) left the cast to concentrate on his Hollywood film career. He starred in Transformers: Age of Extinction (Bay, 2014), Big Hero 6 (Hall, Williams, 2014), Deadpool (Miller, 2016) and The Emoji Movie (Leondis, 2017).
17. Josh Brener Is A Harvard Alumni
Nelson Bighetti (Big Head) ends the series Silicon Valley as the most under-qualified President of Stanford University. Big Head seems to get into high up roles by chance despite not having any common sense or business acumen throughout the show. Interestingly, Josh Bremer who plays him is the complete opposite and he attended Harvard University.
18. Josh Brener Also Starred In The Big Bang Theory
You may also recognise Josh Bremer as Dale in The Big Bang Theory. He starred in two episodes, "The Flaming Spitoon Acquisition" (S5 E10) and "The Tangible Affection Proof" (S6 E16).
19. Martin Starr's First TV Role Was In Freaks and Geeks
You may recognise Martin Starr, who plays Bertram Gilfoyle in Silicon Valley, as the "Geek" Bill Haverchuck in Judd Apatow's Freaks and Geeks. This was Starr's first TV acting role where he worked alongside Seth Rogen, James Franco, Jason Segel and Linda Cardellini. Freaks and Geeks was critically acclaimed but didn't do well with audiences so lasted for just one season. It has since gained a large cult following.
20. Kumail Nanjiani Is One Of The 100 Most Influential People In The World
Kumail Nanjiani, who plays the programmer Dinesh Chugtai in Silicon Valley, has been named by Time Magazine in 2018 as one of the most influential people in the world. Nanjiani co-wrote and starred in the film The Big Sick (Showalter, 2017) for which he was nominated for an Academy Award for Best Original Screenplay. He has voiced Prismo in the animated series Adventure Time and has co-hosted the Comedy Central show, The Meltdown of Jonah and Kumail.
Interestingly, Kumail Nanjiani actually studied Computer Science at college.
21. Silicon Valley Was Originally Pitched As A Film
The successful sitcom Silicon Valley was originally going to be produced as a film rather than a TV series.
22. The Cast Are Pitched App Ideas In Real Life
The main cast members of the TV show Silicon Valley have said in interviews that they are often pitched real life app ideas when they are spotted in real life.
23. Three Of The Main Cast Members Appeared In The Office
Zach Woods, who plays Jared Dunn in Silicon Valley also starred as Gabe in The Office (US Version). Thomas Middlemitch (Richard Hendricks) played Jeb in The Office and Chris Diamantopoulous (Russ Hannaman) played Brian. They all starred in Season 9 of The Office but were never on screen at the same time.
Thomas Middlemitch, T.J. Miller, Martin Starr and Zach Woods have all also made guest appearances on The League, a 2009 sitcom about Fantasy Football players.
24. The Server Anton Is Name After A Satanist
The character of Bertram Gilfoyle named his server Anton in homage to the founder of his religion, Anton LaVey; Gilfoyle is part of the LaVey Satanists. There is also a "Son of Anton" AI which is later used in the series. His name also has a religious tone.
25. Richard and Monica Were Meant To Be Romantically Involved
Silicon Valley's Creator, Mike Judge originally meant to include a romance between Richard and Monica after the first season however he abandoned the idea. He said in an interview with Entertainment Weekly that it was something that didn't work out but he liked the way that it was shut down.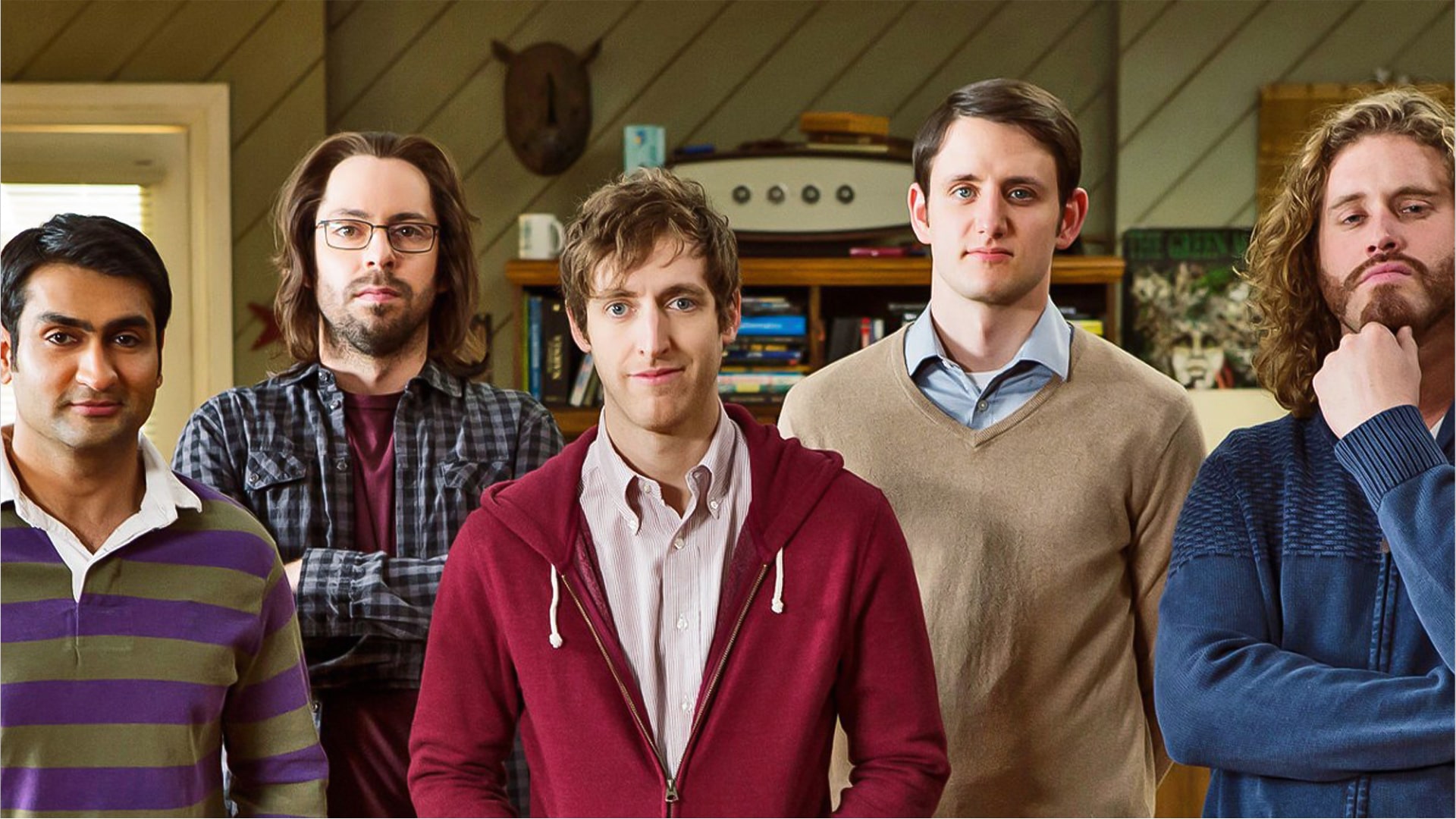 25 Silicon Valley Facts You Haven't Read Before
What is your favourite moment of Silicon Valley? Let us know in the comments below.