14 Peep Show Facts That You Never Knew About Mark and Jez
Think you know Sam Bain and Jesse Armstrong's sitcom Peep Show, think again. Behind the scenes trivia about Peep Show that every David Mitchell and Robert Webb fans should know including how they filmed it in POV, why Olivia Colman's Sophie was meant to have a voiceover and which famous face from the UK auditioned for Super Hans before Matt King.

Watch our Peep Show Facts Video on YouTube.
Peep Show is a long-running Channel 4 sitcom from writers Sam Bain and Jesse Armstrong. It first hit our screens in September 2003 and ended in 2015 with a total of 9 series and 54 episodes. Peep Show follows the mundane lives of Mark Corrigan (David Mitchell) a loan manager living the grey untaxing office lifestyle and Jeremy Usbourne (Robert Webb) his music-making, drug-taking flat mate. Both men are polar opposites, have been friends since University and live incredibly socially awkward, cynical lives. Olivia Colman also stars as Mark's office crush and future grudging wife Sophie Chapman and Matt King stars as Jeremy's always high best friend Super Hans.
So if you know all about Men with Ven, Rental Snakes and the Business Secrets of the Pharoahs then you're probably into your Peep Show trivia, however here are 14 little known Peep Show facts about Mark and Jez that you may not have heard before and ones to impress fellow fans of the El Dude Brothers.
1. Peep Show Is The Longest Running Comedy In Channel 4 History
Peep Show was written by Sam Bain and Jesse Armstrong and aired on Channel 4 from September 2003 until December 2015. There are a total of 54 episodes spanning 9 seasons and it still stands as the longest running comedy show in Channel 4 history. It received constant critical acclaim, has been named the 13th Greatest British Sitcom of all time by The Radio Times.
2. Why Is It Called Peep Show?
One of the most unique things about Peep Show as a long running sitcom is the way it was shot. It uses extreme close up, point of view shots throughout giving a grotesque and personal perspective on the characters thoughts, feelings and even love lives. We also hear an inner monologue of each of the two main characters, Mark Corrigan (played by David Mitchell) and Jeremy Usbourne (played by Robert Webb) through a voiceover.

It has been documented in interviews with the cast and crew that to achieve their iconic point of view style, cameras would sometimes be strapped to the actor's heads or worn on hats. Scenes were also filmed multiple times to get the right angles needed with the cameras held over the actor's shoulders or directly in front of their faces.

Peep Show creators Sam Bain and Jesse Armstrong are credited in saying during an interview on The Culture Show on BBC Two that they were heavily influenced by a Channel 4 documentary called Being Caprice which was all about the model Caprice Bourret. As well as scenes from the 1999 Spike Jonze film Being John Malkovich and Woody Allen's Annie Hall. Otherwise, they say, Peep Show would look similar to UK sitcoms Men Behaving Badly and Spaced.


See how Peep Show was filmed in its point of view style in this video from Channel 4.
3. Peep Show Was Originally Meant To Be Like Gogglebox
During early stages of production, Peep Show was going to be a sitcom similar to Beavis and Butt-head where two main characters sat and watched television. Something UK audiences now associate fully with the factual Channel 4 programme, Gogglebox. However Armstrong and Bain scrapped the idea when they realised the budget wouldn't stretch to paying for Television clips from other shows.
4. Sophie Was Meant To Have A Voiceover
Oliva Colman's character in Peep Show Sophie Chapman, ex-wife of Mark Corrigan and fellow employee of JLB, was originally meant to have a voiceover as well as the two main protagonists. However sadly, this idea was scrapped after filming two pilot episodes - we'd love to have heard it though!


5. Sam Bain Was The Inspiration For Mark Corrigan
One of the two Peep Show writers Sam Bain, drew upon his own life experiences when creating situations for Mark Corrigan. One of the most notable parallels was in season five where we see Mark attempt to stop a burglar by sitting on him. Sam Bain reminisces on BBC Two's The Culture Show that he in fact had a similar experience where he helped apprehend a criminal in a video store before he was told to get off because he was scaring the other customers!

6. Each Series Of Peep Show Took Around 10 Months To Film
Creating a Peep Show series took around 10 months to finish. The writers would work on a script seven to eight months before filming began. It would then be mapped out scene by scene and approved by Channel 4 before rehearsals took place for two weeks. Filming would then take up to 6 or 7 weeks. We haven't even got to the editing yet!


7. The Peep Show Crew Built A Replica Flat From Croydon As A Set
In series one and two the Peep Show crew filmed in a real flat in Croydon's Zodiac Court; it was renamed Apollo House in the show. However when series three came around the flat owners no longer wanted to be involved in the production. The production team then began recreating a replica flat in a carpet warehouse in Neasden with other filming taking place in the West London Film Studios. Exterior shots of Zodiac Court tower block were inserted in between scenes.
8. Peep Show Was Originally Called POV
Due to Peep Show's iconic point of view style, it was originally meant to be named POV. The writers decided to scrap the original name fearing it would sound too gimmicky.


9. Ricky Gervais Is A Huge Peep Show Fan
Comedian and The Office creator Ricky Gervais is a big fan of Peep Show. He remarked during the ceremony for the British Comedy Awards that, "It was the last thing I got genuinely excited about on British Television" as well as saying he thought it was the best sitcom since Father Ted.
10. Peep Show Nearly Ended After Season 4
Peep Show was nearly cancelled on Channel 4 due to insufficient ratings. At the beginning of 2006 the show had just over 1 million viewers however it was commissioned due to the healthy DVD sales of the other three series it produced. The highest ever audience figure per episode for Peep Show was its first episode of the sixth season reaching 1.8 million viewers with a further 208K watching on Channel 4 +1 an hour later.

Sam Bain and Jesse Armstrong have been cited in The Guardian as saying that the reason for Peep Show never becoming a mainstream comedy was its POV style.
11. Peep Show's American Remake Has Two Female Protagonists
In 2019, Sam Bain was working alongside Arrested Development Producer Karey Dornetto on an American remake of Peep Show which stars two women in the lead roles. He is quoted as saying in a BBC interview, "I can't wait to find out what sick and twisted [stuff] goes on inside the minds of a pair of female losers."


12. Russell Brand Auditioned For Super Hans
Jeremy's drug-taking band mate Super Hans is one of Peep Show's memorable characters. Writers Sam Bain and Jesse Armstrong modelled his characteristics on Danny Dyer. Actors Russell Brand and Jake Wood (now known for playing Max Branning in Eastenders) both auditioned for the role before they went for Matt King.


13. Jeremy And Super Hans Never Settle On A Band Name
Throughout Peep Show the name of Jeremy and Super Hans' band changes constantly and they have a huge list of killer names. In 2003 Super Hans names it 'The Hair Blair Bunch' and 'Spunk Bubble' whereas Jeremy calls it 'Momma's Kumquat'. In 2004, they refer to it as another Tony Blair gag, 'Coming Up For Blair' and then later in 2007 it is changed to 'Various Artists' purely to confuse people who own iPods.
In the Peep Show episodes broadcast in 2008 they name it 'Curse These Metal Hands' and in 2010 it is 'Man Feelings'.
When Jeremy leaves the band temporarily to work for Ben's Record Label in season seven Super Hans renames it brilliantly, 'Danny Dyer's Chocolate Homunculus.'
In 2012 both Super Hans and Jeremy decided to break up the band but neither can remember what it was called, but Jeremy guesses it's, '13 Bastards.'


14. Like Jeremy And Mark, Mitchell And Webb Met At University
Peep Show main characters Mark Corrigan and Jeremy Usbourne met each other while studying at the University of Dartmouth and have been friends ever since. Similarly comedy duo David Mitchell and Robert Webb met at the University of Cambridge.
Let us know whether you have any more good behind the scenes facts about Peep Show in the comments below!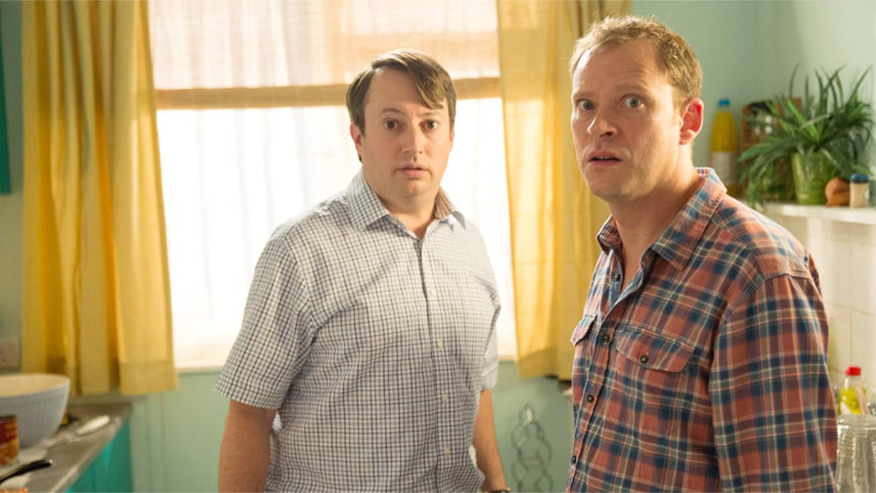 14 Peep Show Facts That You Never Knew About Mark and Jez
What is your favourite Peep Show moment? Let us know in the comments below.