Frasier Facts: 20 Things You Never Knew About Frasier Crane
Behind the scenes facts about Kelsey Grammer's popular sitcom Frasier which lasted for 11 seasons on NBC including which Friends star was meant to play Roz Doyle before Peri Gilpin, who the real callers to Frasier's fictitious radio station KACL are and what on earth Tossed Salads and Scrambled Eggs have to do with anything.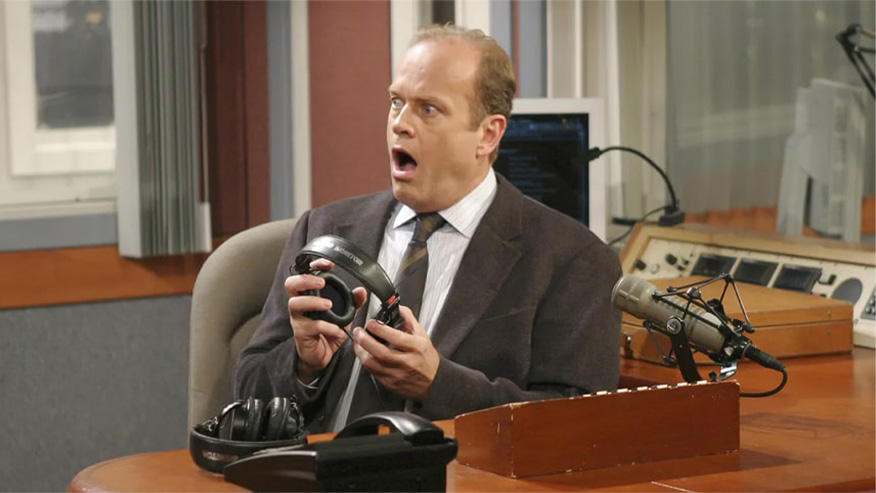 Frasier is the very popular US sitcom written by David Angell, Peter Casey and David Lee for NBC. It began in September 1993 and lasted for 264 episodes in 11 seasons until it's completion in May 2004.
Frasier is a continuation of the Cheers character Frasier Crane played by Kelsey Grammer who returns home to Seattle after his marriage goes wrong. He starts a new life as a radio psychiatrist at the fictitious radio station KACL where he gives advice to troubled callers with the help of his sarcastic and flirtatious producer Roz Doyle (Peri Gilpin). Frasier lives at the Elliot Bay Towers, an upmarket block of penthouse apartments close to Seattle's Space Needle with his father Martin Crane (John Mahoney) and Martin's english physiotherapist Daphne Moon (Jane Leeves). Frasier regularly visits Cafe Nervosa after his radio show where he meets up with his equally ostentatious brother Niles Crane (David Hyde Pierce) who believes he practices real psychiatry rather than celebrity.
Frasier has been distributed across the world and is still regularly shown on television in the US, UK and Europe. So if you've been watching Frasier since his first black coffee at Nervosa you may think that you know everything that there is to know about the Cranes, however here are 20 little known facts about Frasier that you may never have seen before.

1. Why Does Frasier Sing About Tossed Salads And Scambled Eggs?
The ending theme tune to Frasier 'Tossed Salads and Scrambled Eggs' was sung by actor Kelsey Grammer and written by Bruce Miller who had been given strict instructions to omit any references to the show including radio or psychiatry. Sounds like a tough job... Therefore instead Miller used metaphors such as 'I hear the blues are calling' in reference to the callers who would ring into Frasier's radio show. Tossed salads and scrambled eggs were items that were 'mixed up' like his patients and their problems. Frasier doesn't know what to do with those tossed salads and scrambled eggs, they're calling again!
2. Frasier Was The Longest Running Character on US Primetime Television
Kelsey Grammer played the character Frasier Crane for a total of 20 years, on both the show Frasier itself but also for the previous 9 years in Cheers. This means Frasier Crane has appeared in 539 episodes with only The Simpsons characters ahead at the time of writing with 684 appearances. However we'll count Kelsey Grammer in the top spot for on screen performance!
3. Jane Leeves Was The Highest Paid British Actor
At one point during Frasier's 11 seasons the actor Jane Leeves - who plays Martin Crane's eccentric physiotherapist - was the highest paid British woman on television in the United States. Kelsey Grammer was also briefly the highest paid actor on US television earning $1.6 million per episode of Frasier however his position on the top spot was short lived when Ray Romano began earning $1.7 million for each episode of his successful sitcom Everybody Loves Raymond.
4. Lilith Was Only In 12 Episodes Of Frasier
Bebe is the name of Frasier's manipulative agent Bebe Glazer (Harriet Sansom Harris), however Bebe is actually the first name of the actor who plays Lilith Sternin. Bebe Neuwirth starred in a total of 12 episodes of Frasier and won 2 Emmy Awards for her appearances.
Bebe Neuwirth played Lilith on Cheers from 1985 and then in Frasier until 2003. Sternin was originally meant to appear in just one episode in Season 4 but the writers enjoyed writing her deadpan lines so much that they eventually incorporated Lilith into Cheers as a regular character. Lilith was a permanent character in Cheers during season ten in 1991.
5. Frasier, Niles and Martin Crane Were In The Simpsons
Frasier cast members Kelsey Grammer, David Hyde Pierce and John Mahony have all voice-acted in The Simpsons. Grammer is well known for playing Sideshow Bob aka Robert Underdunk Terwilliger Jr., PhD since 1990 but in 1997, Hyde Pierce joined The Simpsons cast to play his brother Cecil Underdunk Terwilliger in an episode nicely named Brother From Another Series.
Then in 2007, John Mahoney was introduced as their father Dr. Robert Terwilliger who was sent to prison for 87 years in his storyline.
6. Frasier Was Already Being Planned During Cheers
During the eighth season of Cheers, Kelsey Grammer made a deal with producers, David Angell, Peter Casey and David Lee that after Cheers had ended they would do a new series together. They began developing their new show during the penultimate season of Cheers in which Grammer expressed a disinterest in playing Frasier Crane again. David Angell, Peter Casey and David Lee began working on a new character for Grammer, this time a paralysed entrepreneur who operates his business from his apartment. The character would live with a nurse who he would regularly clash with. We can see how the character of Daphne Moon evolved in Frasier!
Whilst Grammer liked this new concept, Paramount Television didn't and suggested that a spin off show using Frasier as a character would be the best way to go. The producers agreed but wanted to distance their new sitcom from Cheers as much as possible including physically relocating the character from Boston to Seattle.


7. Frasier Was Originally Set In Denver
When writing the new series together, the producers of Frasier wanted to set the story in a place as far away as possible from Boston so they were free to explore new storylines, characters and themes instead of having guest appearances from the old Cheers gang throughout. They originally chose Denver before settling on Seattle, the city now synonymous with Frasier.
8. In Cheers, Frasier Crane Is An Only Child
In Cheers, Frasier Crane said his Father was a research scientist who had previously died and that he was an only child. This was a continuity error from the producers who weren't working on the show at the time. However when Sam Malone (Ted Danson) -the Boston bar owner from Cheers - makes an appearance in season two of Frasier, the producers decided to write in that Frasier had lied to impress his friends.
9. John Mahoney Was Hired Without An Audition
The channel NBC gave the producers of Frasier a green light to hire actor John Mahoney to play Martin Crane without auditioning him. He had a strong bond with Jane Leeves who plays Daphne Moon due to his family being from Manchester England where Daphne is meant to be from. Jane Leeves was actually born in East Grinstead in West Sussex in the South of England but put on a Mancunian accent in Frasier. Unfortunately her Northern accent is often criticised among British Frasier fans!
10. There Wasn't Meant To Be A Niles Crane
Frasier was originally meant to be an only child in keeping with his backstory from Cheers however the role of Niles was introduced specifically for David Hyde Pierce. Niles was created after a casting director realised Hyde Pierce's striking resemblance to Grammer when he first appeared in Cheers.
At first, David Hyde Pierce was skeptical that Frasier would be a hit because of the similarities between Niles and Frasier's character.
11. Lisa Kudrow Was Originally Set To Play Roz Doyle
Friends veteran Lisa Kudrow was originally chosen for the role of Frasier's flirtatious and sarcastic radio producer Roz Doyle however producers decided during rehearsals that the character needed to appear more assertive. Kudrow's performance obviously didn't align with the desired emphatic nature of Roz's character at KACL so Peri Gilpin was hired.
At the time Kudrow was a well known face from Friends as well as Mad About You.
12. We Were Meant To Meet Maris Crane!
Frasier audiences never actually see Niles' first wife Maris Crane but producers originally intended for her to be introduced after a few episodes. However the wildly improbable excuses for her absence in earlier episodes were enjoyable to write so in the end they continued to keep her off screen. Even in some clever near misses! All of Maris Crane's exaggerated characteristics would make it impossible for any actor to portray her.
13. The View From Frasier's Apartment Isn't Real
Despite almost every visitor saying how much they enjoy the view at Frasier's apartment at his Elliot Bay Towers penthouse, it isn't actually real. The view from Frasier's living room was really a photograph taken from on top of a cliff in Seattle. The producers wanted Seattle's Space Needle to be more prominent on set so decided to manipulate the geography a bit.
4. KACL Kept Up With The Latest Broadcast Technology
The set for Seattle's fictitious radio station KACL was based on a real ABC radio studio in Los Angeles and the broadcast technology such as mixing desks and phones that Frasier uses in his radio show were constantly updated to correspond with new emerging technology in the industry.
15. Only One Frasier Episode Was Filmed In Seattle
Despite Seattle being a huge plot point in Frasier, only one episode was actually filmed on location there. The 1000th Show was broadcast on 11th November 1997 and featured the Space Needle, the Monorail, the Monorail station and Pike Place Market. Niles (David Hyde Pierce) is nearly slapped with a fish when he and Frasier walk through the middle of the market and it's famous fish throwing tradition.
The rest of the Frasier episodes, as well as Cheers were filmed on Stage 25 Paramount Studios.
16. Callers To Frasier's KACL Were Celebrities
The callers to Frasier's KACL radio show were voiced by celebrities and added during post-production meaning crew members would fill in during filming on set. Some of the celebrity callers in to Frasier included Carrie Fisher, Gillian Anderson, Lily Tomlin, Eddie Van Halen, Ron Howard, Halle Berry, and Mel Brooks.
17. The Opening Credits Changed Colour Each Season
The title cards for each Frasier episode depict the Seattle skyline and include the word 'Frasier'. However, for each Frasier season the title text changes to a different colour including blue, red, green, yellow, silver and gold. They also incorporate a different moving element on the skyline each series such as a hot air balloon, the light on top of the Space Needle flashing and an aeroplane.
18. Kelsey Grammer Confirms Frasier Reboot For 2020
There have been many rumours that a Frasier reboot has been planned for air in 2020. In an interview in 2019 Kelsey Grammer has remarked that the latest reincarnation of Frasier Crane will take place somewhere other than Seattle and will in some way, pay tribute to John Mahoney who passed away. While original rumours gave the date of 2020, we imagine movement on the Frasier reboot would have been postponed during the Coronavirus pandemic.
Mathilde DeCagney discusses training Eddie the Jack Russell for the series Frasier.
19. Frasier Is Still Shown Daily Across The World
Despite finishing in May 2004, Frasier remains popular as ever and has been synidcated across the world. It plays daily on Channel 4 in the United Kingdom and daily in Australia while is shown on weekdays in Canada, Turkey, The Netherlands, Mexico, Serbia and Argentina.
20. Eddie Was Played By A Father & Son Team
The real star of Frasier (sorry Kelsey Grammer) was Eddie, Martin Crane's dog. He was a Parsons Jack Russell Terrier and was originally played by Moose before being played later by Moose's son Enzo.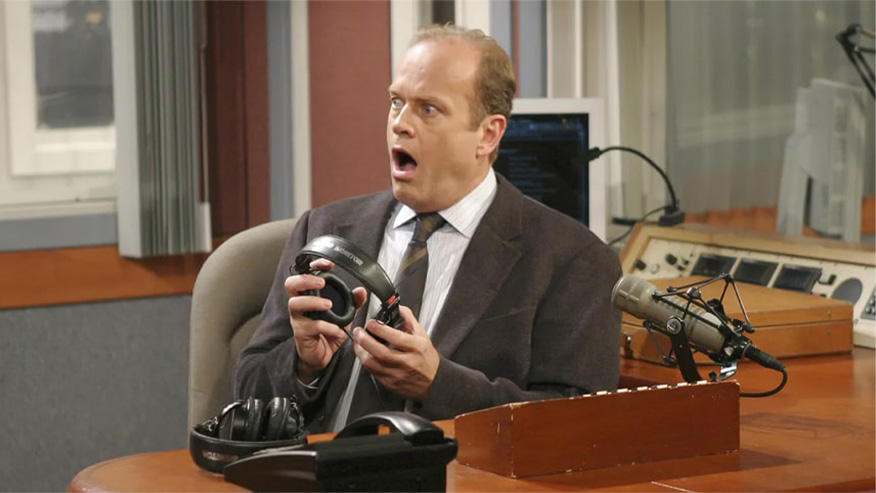 Frasier Facts: 20 Things You Never Knew About Frasier Crane
What is your favourite Frasier moment? Let us know in the comments below.