15 Everybody Loves Raymond Facts That You Haven't Heard Before
Behind the scenes facts about Everybody Loves Raymond including how much of the sitcom was based on Ray Romano's real life, which memorable Everybody Loves Raymond cast member originally said they were too busy to star and which countries have adapted Phil Rosenthal's script to make their own versions of the Barone family. 

Watch our Everybody Loves Raymond Facts Video on YouTube.
Everybody Loves Raymond first began on US television in September 1996 and lasted for a memorable 9 seasons until May 2005. Audiences fell in love with Ray Barone and his family so much that the full 210 are still broadcast daily across the world today. Created by Phil Rosenthal and starring Ray Romano, Everybody Loves Raymond is a true-to-life situational comedy following Ray (Romano) and his wife Debra (Patricia Heaton) as they settle into a domesticated, suburban lifestyle with their daughter and two twin boys. After the birth of their twins, the couple chose to move back to Ray's hometown in Long Island, New York and purchase the house right across the street from his parents Frank (Peter Boyle) and Marie (Doris Roberts). Their close proximity creates an open door policy between the Barone families meaning that Ray cannot go a moment without a visit from his parents and his pessimistic older brother Robert (Brad Garrett),
So if you're a big Romano fan and you've binge-watched the show since the 1990s you may think that you know everything that there is to know about Everybody Loves Raymond. However, here are 15 little known facts about the Barone family that you may not have seen before and ones that you can use to impress fellow Raymond fans.


1. Michael and Geoffrey Barone Weren't The Original Names For The Twins
In real life Ray Romano is father to twin boys and a girl. Geoffrey and Michael, Ray's twin boys in Everybody Loves Raymond were originally called Geoffrey and Matthew in the pilot episode. The twins were played by Sawyer and Sullivan Sweeten who are actually the brothers of Madylin Sweeten, their onscreen sister Ally. Ally is also the real name of Ray Romano's daughter. She appeared on the show herself as Molly, the character Ally's friend. Yes, Peggy's daughter!
Everybody Loves Raymond isn't the only time that Alexandra Romano has starred alongside her Father, the pair worked together again in the film Ice Age: Continental Drift that came out in 2012. Alexandra played Meghan a teen mammoth, whereas Ray Romano is well known for playing main character Manny (also a mammoth) since 2002.
2. Everybody Loves Raymond Was Commissioned After 5 Minutes
During the 1990s, American comics were successfully turning their stand up acts into sitcoms such as Roseanne (Roseanne Barr). When Ray Romano, a stand up comedian for 12 years by this point, did a 5 minute set on The Late Show with David Letterman in 1995, lawyers began working on a sitcom deal behind the scenes before the set had finished.
3. Phil Rosenthal Was Hired From His Frasier Speculative Script
Everybody Loves Raymond's showrunner Phil Rosenthal was considered for the role after sending a speculative script for a Frasier episode into David Letterman's production company Worldwide Pants. It's said that the only involvement Letterman had in the show's production was a meeting to sign Rosenthal's contract where he told him, "Don't Embarrass Us!"
4. Ray Romano Really Has A Brother Called Robert
Ray Romano does indeed have a brother called Robert. In real life however Romano states that he actually modelled Robert Barone's character on another sibling, Richard. Ray's brother Richard Romano is also responsible for coming up with the name 'Everybody Loves Raymond' after saying it when Romano brought home a stand up comedy award.
Phil Rosenthal also incorporated his own family and experiences into Everybody Loves Raymond basing the characters of Marie Barone and Debra Barone off his own Mother and Wife. Monica Horan who plays Robert Barone's on and off again girlfriend Amy McDougall in Everybody Loves Raymond is actually the wife of showrunner Phil Rosenthal. Horan first met Rosenthal when she worked as an Executive Producer on Raymond whilst at University. She first starred as Amy in Season 1 Episode 14 and went on to appear in 66 episodes later marrying into the Barone family itself. How can you forget Robert and Amy's first dance?
5. Robert Barone Was Initially Imagined As Danny DeVito
Now that is something we would love to have seen! Actor Brad Garrett who played Robert Barone has stated that the channel CBS originally wanted his character to be a small, bulldog type man modelled on Danny DeVito. Garrett on the other hand is a much taller man than DeVito and his height ends up becoming a recurring joke between the two onscreen brothers.
Interestingly, Brad Garrett was the only actor to audition without Ray Romano in the room.
6. 100 Actors Auditioned For Marie Barone
One hundred actors auditioned to play Ray's overbearing and meddling Mother, Marie Barone before Doris Roberts was chosen. At the time of her audition, Roberts claimed that she was too busy directing a 23-character play to be involved in a brand new television show. We're very glad she changed her mind!
7. The Barone Houses Are Really Across The Street From Each Other
The exterior shots used for Ray and Debra Barone's house is 135 Margaret Boulevard in Merrick New York, and the house used for the exterior shots for Frank and Marie Barone's home is in reality exactly opposite.
8. Everybody Loves Raymond and The King Of Queens Are Set In The Same 'Universe'
Actor Kevin James originally starred in Everybody Loves Raymond as Kevin, one of Ray Barone's friends who regularly visits to watch the game. However James went on to secure the lead role of Doug Heffernan - an IPS delivery driver - in his own show, The King Of Queens.
The King Of Queens also starred Leah Remini as Doug's wife Carrie Heffernan, a similar character to Debra Barone and her Father, Arthur Spooner who was played by Seinfeld veteran Jerry Stiller.
Due to the character crossover, both shows decided to integrate. In the same evening Ray and Doug would meet on The King Of Queens then later that night, Doug would appear on Everybody Loves Raymond. This happened several more times during the show's run.
9. Everybody Loves Raymond Expanded To Russia
Showrunner Phil Rosenthal was asked to adapt Everybody Loves Raymond into a successful Russian format in 2009. His experience in the country was filmed for a documentary called Exporting Raymond.
Everybody Loves Raymond has also been adapted for other international audiences including Poland under the name "Everybody Loves Roman", Egypt as "Close Doors", India as "Sumit Will Handle Everything", the Czech Republic as "Everybody Loves Rudy" and in The Netherlands it has been rebranded as "Everybody Is Crazy About Jack".

They tried to commission a UK remake called "The Smiths" which was written by and starring comedian and Not Going Out actor Lee Mack. It was written for BBC One audiences, filmed in 2013 in Elstree Studios and also starred Catherine Tate and Tom Davis. It never went any further than the pilot.
10. Everybody Loves Raymond Has A Friends Connection
Maggie Wheeler, who plays Chandler's Girlfriend Janice on Friends originally auditioned for Debra however went on to play Linda, Debra's friend. Jane Sibbett, who played Ross' first wife Carol on Friends, declined the part of Debra.
11. Ray Romano Was Once The Highest Paid Actor On Television
During the run of Everybody Loves Raymond, Ray Romano became the highest paid actor on television securing $1.7 Million per episode, which knocked Kelsey Grammer's $1.6 Million per episode of Frasier off the top spot. Not everyone on the show was paid as well as Romano, the four other lead actors Brad Garret, Patricia Heaton, Doris Roberts and Peter Boyle ended up going on strike over their pay differences stating it was unfair for Ray to be earning such a high amount when their characters were just as important. They later settled on pay rises and fees from Raymond's syndication.
12. There Was Nearly An Everybody Hates Robert
Phil Rosenthal did pitch an Everybody Loves Raymond spin off to the channel CBS all about Robert Barone. The spin off would follow Robert after he moved to Pennsylvania to become a gym teacher. However the channel did not share the same enthusiasm and didn't offer enough remuneration for the idea to be produced.


13. Robert Barone Was Actually Younger Than Ray Barone
Despite Brad Garrett playing the older brother Robert Barone, he is actually three year's younger than Ray Romano. Also, Doris Roberts who plays Marie Barone is 10 years older than her on screen husband Frank. You wouldn't have known!
14. Everybody Loves Raymond Was Nominated For 69 Emmys
During its run Everybody Loves Raymond was nominated for an impressive 69 Emmys. Every main cast member won an Emmy Award except Peter Boyle (Frank Barone) who was nominated numerous times.
15. Ray Romano's Father Starred In Everybody Loves Raymond
To add even more blurred lines to the Everybody Loves Raymond plot, Ray Romano's Father, Albert Romano starred in the sitcom as a friend of Frank Barone's from the lodge.
Let us know whether you have any more good behind the scenes facts about Everybody Loves Raymond in the comments below!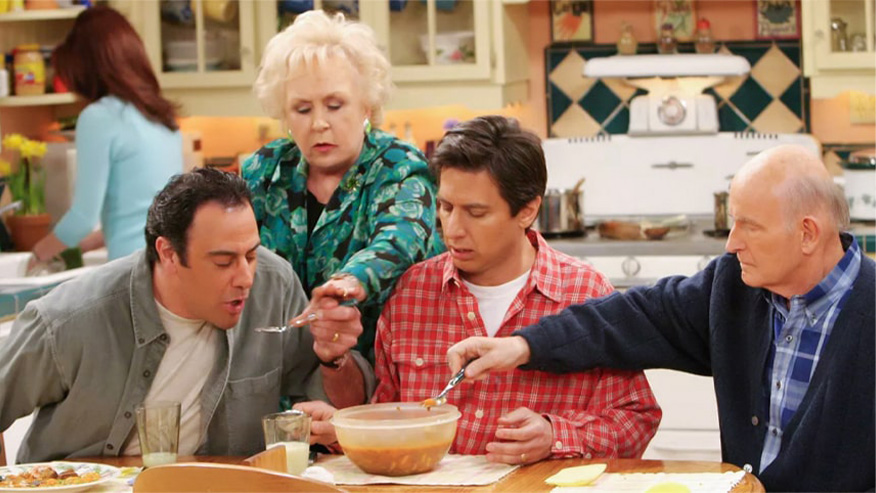 15 Everybody Loves Raymond Facts That You Haven't Heard Before
What is your favourite Everybody Loves Raymond moment? Let us know in the comments below.