40 Glee Facts You Haven't Read Before
Behind the scenes facts about Glee, the hit musical comedy drama from the USA written by Ryan Murphy (American Horror Story), Brad Falchuk and Ian Brennan including which famous performers banned Glee from using their music and which main cast member was hired after a MySpace audition. Glee began in 2009 and follows the students of the William McKinley Glee Club, the New Directions as they compete in show choir competitions. Original cast members include Lea Michele, Naya Rivera and Amber Riley.

Watch our Glee Facts Video on YouTube.
Glee was a huge hit back in 2009 when it aired across the world with its all singing and all dancing teen drama. Created by Ryan Murphy (American Horror Story, The Politician, Hollywood) , Brad Falchuk and Ian Brennan, Glee originally started off with a 12 member cast and had an impressive list of guest stars including Kristen Chenoweth, Gwenyth Paltrow and Neil Patrick Harris. The series ran from 2009 until 2015 with a total of 121 episodes across 6 seasons.
Set in William McKinley High School, William Schuester (Matthew Morrison) takes over the Show Choir/Glee Club after the previous director was exposed for having inappropriate contact with students. He aims to recruit new members to the choir, battling their egos and the club's embarrassing reputation with the other students. Jane Lynch stars as the Glee Club's main enemy, Sue Silvester, a tough and abusive Cheerleading coach who loses a few members of her squad to the club over the years. Other cast members include, Lea Michelle, Amber Riley, Chris Colfer, Naya Rivera, Cory Monteith, Heather Morris, Mark Salling and Kevin McHale.
Glee had a unique way of tackling social issues like no other comedy has previously (or since). Some of the storylines have involved teenage pregnancy, school shootings, LGBT+ relationships and marriage, death and gender identity.
If you're a big Glee fan, you may think that you have read everything there is to know about Glee, however we've put together 40 little known Glee facts for you to boost your knowledge of the New Directions!
1. Quinn Fabray Was Originally Named Liz
In early drafts of the Glee script, Dianna Agron's character Quinn Fabray was actually named Liz Fabray.
2. Bette Midler Was Asked By Ryan Murphy Via Twitter To Star On Glee
During the God's Love We Deliver Golden Heart Awards in New York, Ryan Murphy tweeted saying that he "just asked the incredible Bette Midler to be on Glee in front of 1,000 people. I hope she says yes!" Bette Midler replied suggesting her preferred role, "I have one vote for Rachel's grandmother".
3. Naya Rivera and Amber Riley Auditioned For American Idol
Both Naya Rivera, who played Santana Lopez and Amber Riley, who played Mercedes Jones, auditioned for American Idol in 2002 before going on to star in Glee.
4. Lea Michele and Matthew Morrison Dated
Lea Michele actually dated Matthew Morrison in real life prior to starring in Glee. She refers to their time together in her book, "Brunette Ambition" and describes their short fling as "a Broadway beat". Morrison is 8 years older than Michele. Whilst starring in Glee together, Lea Michele and Cory Monteith also dated until his death in 2013.
5. New Directions Were Meant To Win Regionals In Season One
The choir New Directions was originally meant to win regionals at the end of the first season of Glee. Writer Ryan Murphy didn't think the show was going to be picked up for a second season so wanted it to end on a happy moment. However when he heard a second season had been greenlit, he changed the ending to keep fans coming back for more.
6. Emma Pillsbury Was A Bride 4 Times In Glee
The Glee character Emma Pillsbury (Jayma Mays) is the bride at 4 weddings during the show. In season One, she is set to marry the football coach at William McKinley, Ken Tanaka, but he breaks up with her right before the wedding ceremony.
In Season two, Emma does marry Carl Howell but later gets divorced.
In Season four of Glee, Emma is set to marry Will Shuester but runs away on the day of her wedding. In the final season, Emma and Will finally get married in the choir room.
7. Glee Had 36 Million Single Sales In One Month In 2011
Covers sung by the Glee cast were released via iTunes during the week that episode was broadcast on TV and a collection of Glee albums were also released by Columbia Records. Glee's music had over 36 million single sales and 11 million album sales worldwide in October 2011 alone. The Glee cast even took part in worldwide tours performing the songs from the show.
8. Glee Has Over 700 Musical Performances
In all the 121 episodes of Glee there are over 729 musical performances. Some of the most streamed performances include Matthew Morrisons Rihanna cover "Umbrella" mashed up with "Singing In The Rain", Gwyneth Paltrow's cover of Cee Lo Green's "Forget You" and Darren Criss' cover of Katy Perry's "Teenage Dream".
Interestingly, 70 songs were performed in the first 13 episodes alone.
9. Glee Cast Members Were Mainly Spotted On Broadway
Instead of going through traditional casting routes, the Glee creator Ryan Murphy spent three months watching Broadway shows and making notes on the actors he saw. During this time, he found Matthew Morrison (Will Schuester) performing in Hairspray and Lea Michele (Rachel Berry) in Spring Awakening. Jenna Ushkowitz was performing in the Broadway revival of The King And I and was cast as Tina Cohen-Chang.

10. Kurt Hummel Was Written For Chris Colfer
Not all of the actors who starred in Glee came from a theatrical background. If an actor was auditioning for a role and did not come from theatre, they had to still prove that they could sing and dance.
Actor Chris Colfer, who plays Kurt Hummel, had no professional experience before starring in Glee. Ryan Murphy wrote the character Kurt specifically for him.
11. Glee Contracts Included 3 Feature Length Films
The 12 original Glee cast members were contracted to do three exclusive feature length films created by Fox. Ryan Murphy has displayed disinterest in doing a 'story movie' for Glee but he released two live concerts including 'Glee: The 3D Concert Movie' in 2011 and 'Glee Live! In Concert!' also in 2011.

12. Glee Is Based On Ian Brennan's Own Show Choir Experience
Ian Brennan based Glee on his own experience in show choir at Prospect High School in Illinois. Initially Glee was set to be a film rather than a television series and the first draft was written in August 2005. Brennan is quoted saying that the book 'Screenwriting For Dummies' helped him complete his first draft!
13. Fox Greenlit Glee 15 Hours After Receiving The Script
Ryan Murphy was also a member of show choir when he was in college and alongside his colleague Brad Falchuk from Nip/Tuck, they helped Brennan rework it into a TV show format. Fox picked up the script 15 hours after receiving it. Ryan Murphy believes that Glee was picked up so quickly due to the success of talent shows such as American Idol at the time.
14. There Were Only 3 Writers For Glee's First and Second Season
For the first two seasons of Glee, Ryan Murphy, Brad Falchuk, and Ian Brennan were the only three writers on the show. Later six other writers were hired including Marti Noxon, who was the Executive Producer on Buffy the Vampire Slayer. After the fourth season three other writers from the medical drama House were hired to complete the team.
15. Ryan Murphy Is Responsible For All Glee's Song Choices
Glee creator Ryan Murphy is responsible for selecting all of the songs covered and is quoted in saying that he hoped to keep a balance between new chart hits and traditional show tunes. Each of the songs were specifically chosen to help move the story along.
16. Many Artists Refused To Have Their Songs On Glee
A few well-known artists refused to have the music be involved in Glee this included Bryan Adams, Guns N' Roses and Coldplay. However Coldplay revised their decision in 2010 and allowed the show to use their back catalogue. Artist Billy Joel however offered the use of his songs to Glee for free. Creator Ryan Murphy has been quite outspoken about the artists who refused the team to use their songs saying that it was their opportunity for younger people to explore and discover music from older eras.
17. Each Glee Episode Cost At Least US$3 Million
Each episode of Glee cost at least US$3 million to produce and took up to 10 days to film because of the elaborate choreography. It would take up to 8 weeks before each episode was filmed to choreograph and pre-record the numbers with the cast.
The 12 original cast members discussed on The Oprah Winfrey Show that they started work at 6AM and put in as many as 12 to 14 hours Monday to Friday and rehearsed across some of the weekends.
18. Glee Had A Huge International Following
Glee has been syndicated in many countries across the world including Australia, Canada, The Philippines, South Africa, New Zealand and Singapore.
19. Glee Was Told It Needed To Be Renamed For UK Audiences
In the UK, Glee sparked controversy and became entangled in a lawsuit with The Glee Club, a chain of independent live comedy and music venues. In 2014, a High Court Judge ruled that the show would "tarnish" the reputation of the club chain.

In July of the same year, the High Court ruled that Fox needed to have a different title for the show to broadcast in the UK. Fox appealed this decision but lost in 2016.
20. Glee Generated US$2Million In Advertising Revenue
In 2011, Glee generated US$2 Million every half an hour in advertising revenue.
21. Critics Called Glee "Anti-Christian" In The USA
Glee was branded 'anti-christian' by a Minister in a Time magazine article saying that "nearly all of the Ten Commandments get violated at one point or another".
22. Glee Fans Were Named Gleeks
Fans of Glee were referred to as Gleeks and would often copy the show's advertising campaign by making the L sign with their hands on their foreheads.
23. Glee Held A Competition For Amateur Actors
For Season Two of Glee, open auditions were held for amateurs and professionals aged 16 to 26. In 2010, a reality show named The Glee Project began filming following performers competing for a seven episode guest-starring role in the next Glee season. This was awarded to two contestants with a two episode role given to two other finalists.
24. Lea Michele Was In A Car Accident On The Day Of Her Audition
On the day of her audition for Rachel Berry, actor Lea Michele was in a car accident outside of the studio.
25. Darren Criss Was Hired After A MySpace Audition
Actor Darren Chris who played Blaine Anderson in Glee got the part after a nationwide open audition which asked members of the public to upload a video onto MySpace singing one of two approved songs. Before securing the role of Blaine, Darren Criss originally auditioned for the role of Artie Abrams.
26. Gwyneth Paltrow Was Only Meant To Star In One Glee Episode
Gwyneth Paltrow was only meant to guest star for one episode in season two named, "The Substitute". Audiences and critics loved her character Holly Holiday and she was asked to perform again in two more season two episodes and two in season five. Gwyneth Paltrow ended up winning an Emmy for her role in Glee.
27. Mr Schuester Is Younger Than You Think
Despite playing the Glee teacher Will Schuester, Matthew Morrison is actually just four years older than Cory Monteith (Finn), Mark Salling (Puck), and Harry Shum Jnr (Mike). Harry Shum Jnr is also nearly a decade older than his character Mike Chang.
28. Dianna Agron Was The Last Actor To Be Cast
Dianna Agron was only cast in the role of Quinn Fabray on the night before filming of the first episode began.
29. Lea Michele Told Off The Pianist In Her Audition
During her audition for Rachel Berry in Glee, Lea Michele sang "On My Own" from Les Misérables. However the pianist accompanying her performance cut the second verse without telling her. She stopped singing and asked him to go back and do the verse. The writers in the audition room later said that moment made it clear to them that she definitely had the character of Rachel correct.
30. Chris Colfer Originally Auditioned To Play Artie Abrams
Chris Colfer originally auditioned for the role of Artie. During his audition he mentioned that he once played Kurt Von Trapp in a performance of The Sound Of Music. This may have been a reason that his character was written in as Kurt Hummel.
31. Heather Morris Was Hired As A Choreographer Before Brittany
Actor and dancer Heather Morris was a backup dancer for Beyoncé's tour. She was originally hired by Glee choreographer Zach Woodlee to teach the cast how to do the Single Ladies dance. She was later hired as Brittany and appeared in front of the camera as one of Glee's most loved characters. When Heather Morris became pregnant, Brittany was temporarily written out of Glee.

32. Kevin McHale Appeared In Every Episode Until Season 5
Actor Kevin McHale who played Artie Abrams is the only actor to have appeared in every episode in seasons one to five. McHale alongside Chris Colfer, Jane Lynch, Lea Michele and Matthew Morrison are the only cast members to appear in every season as regulars.
33. There Are Several Continuity Errors Around Celebrities And Characters
The Glee script includes references to famous names such as Neil Patrick Harris, Gwyneth Paltrow, Kate Hudson and Demi Lovato however they appear on the show as characters in guest starring roles rather than themselves.
34. Lea Michele Stars In More Episodes Than Any Other Actor
Lea Michele has appeared in more Glee episodes than any other cast member with only three out of the 121 where she was absent. These are "Dynamic Duets", "The Role You Were Born To Play", and "Shooting Star".
35. Shannen Bieste Was Written Specifically For Dot-Marie Jones
Ryan Murphy created the role of Coach Shannen Bieste specifically for actor Dot-Marie Jones. They previously worked together on a failed pilot called Pretty/Handsome in 2008.


36. Don't Stop Believin' Was Sung 6 Times On Glee
Don't Stop Believin' by Journey is a song that is synonymous with Glee. It has been performed by the cast six times in the show in the following episodes: Pilot, Sectionals, Journey To Regionals, Sweet Dreams, New Directions and 2009.

37. Melissa Benoist Married Blake Jenner In Real Life
Actor Melissa Melissa Benoist who plays Marley Rose in Glee was married to Blake Jenner who plays Ryder Finn. Jenner was the winner of the second season of The Glee Project. The pair are no longer together.
38. Lord Tubbington Is A Star In His Own Right
Brittany Pierce's cat Lord Tubbington is really named Eragon and he lived with another cat called Beezus. Both cats were featured on a 2011 show about misbehaving cats called My Cat From Hell!

39. Ryan Murphy Has Theme With Restaurants
Interestingly the Glee creator Ryan Murphy wrote a high school themed show named Popular back in 1999. It featured a restaurant called Croutons where the students would meet up. In Glee, Murphy finally used his restaurant name idea and called the restaurant where the characters meet up BreadstiX.
40. The Actors Really Got Slushied
Lea Michele, who played Rachel Berry on Glee discussed on Late Night with Jimmy Fallon that the actors would actually have cold slushies thrown in their face for the TV show. She said, "It stains my body and drips down... my entire body is covered in blue! The only way to get it off is to cover yourself in shaving cream."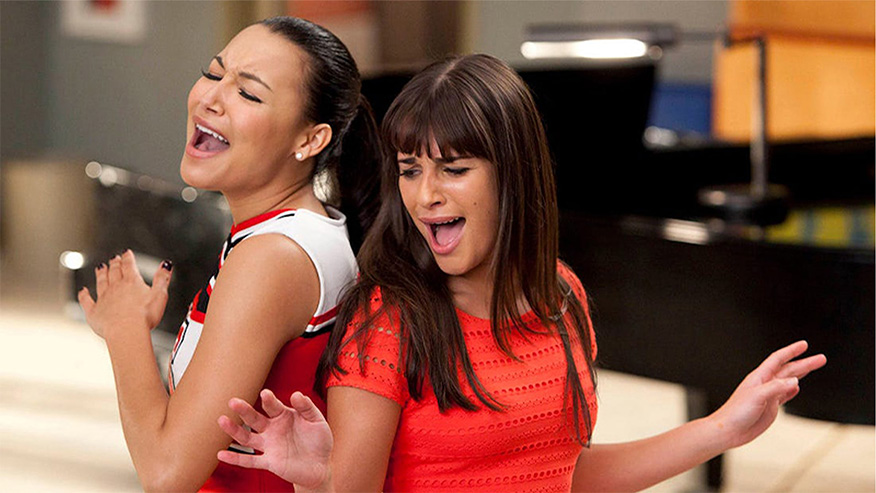 40 Glee Facts You Haven't Read Before
What is your favourite Glee moment? Let us know in the comments below.