55 Ferris Bueller's Day Off (1986) Movie Facts You Haven't Heard Before
Ask anyone to name the best film of the 1980s and it won't be long before the name Ferris Bueller crops up. Ferris Bueller's Day Off is John Hughes' 1986 teen comedy film starring Matthew Broderick, Alan Ruck, Mia Sara who take a day off school that isn't without it's consequences. Ferris Bueller's Day Off movie facts include which famous 80s star was meant to play Cameron before Alan Ruck, which parts of the film were complete improvisations by Matthew Broderick and which odd item was placed in Ed Rooney's pocket to get the Rottweiler to pursue him! 

Watch our Ferris Bueller's Day Off Movie Video on YouTube.
Ask anyone to name the best film of the 1980s and it won't be long before the name Ferris Bueller crops up. Ferris Bueller's Day Off is John Hughes' 1986 teen comedy film starring Matthew Broderick that has captured young audiences ever since. It sees high schooler Ferris fake an illness, get out of school and take the day for himself. His lie is easily eaten up by his parents but his sister Jeanie (Jennifer Grey) sees straight through it. Ferris Bueller's Day Off is often spoke about in terms of its unique style as well as it's nostalgic subject matter. Ferris continuously breaks the fourth wall to give the audience an insight into his mind including his masterplan to take the day off. At the end of the film, the audience is told by Ferris to leave the cinema as the story is over.
With his parents out of sight, Ferris tries to convince his best friend Cameron Frye (Alan Ruck) to join in with his fun. Cameron is a hypochondriac and has already taken the day off due to illness. He then helps Ferris to lure his girlfriend Sloane Peterson (Mia Sara) from classes in the way of fake phone call to Principal Ed Rooney (Jeffrey Jones) claiming that her Grandmother has passed away. Ferris picks up Sloane from school in Cameron's Father's prized 1961 Ferrari 250 GT California Spyder and the trio take a trip to downtown Chicago visiting the Art Institute of Chicago, Sears Tower and a baseball game at Wrigley Field.
Convinced that he has been duped, Mr Rooney visits the Bueller house to try and catch Ferris. The trio make it back to Cameron's home and aim to rewind the odometer in the Ferrari to erase any evidence of their day. All was going well until Cameron angrily kicks the jacked up car and it falls clean through the class wall onto the ground below. Ferris tries to make it back home before his parents and Jeanie to keep up his lie.
1. John Hughes Wrote The Ferris Bueller Screenplay In Less Than A Week
John Hughes was writing Ferris Bueller's Day Off in 1985 and successfully pitched the idea to Paramount Studios. The chief executive, Ned Tanen supposedly liked the idea but was concerned because the Writers Guild of America was close to picketing the studio. John Hughes ended up writing the screenplay in less than a week.
Paul Hirsch, the editor of Ferris Bueller's Day Off, described Hughes devotion to writing as "trance like concentration" and that he often ended up shooting his films using the first or second draft script. Hirsch has also described in interviews the genius of the Ferris Bueller's Day Off script - the fact that all of the action is episodic and it takes place in one day. This meant that all of the characters wear the same clothes so he could have a lot of freedom in the editing room.
In an interview with AMC, John Hughes has said that he wanted to focus on the characters in Ferris Bueller's Day Off rather than the plot stating that he knew how the film was going to begin and how it would end but he didn't know the rest. Hughes said, "It's not the events that are important it's the characters going through the event... I wanted to create a character who could handle everyone and everything."
2. John Hughes Wrote Ferris With Matthew Broderick In Mind
According to an article in the Chicago Sunday Times, John Hughes always had Matthew Broderick in mind for the role of Ferris Bueller when he was writing the screenplay. He claimed that Broderick was the only actor that he knew that could pull off the role as Ferris' charm had to shine through and capture audiences. Hughes didn't want people asking questions about how Ferris could do what he did and who paid for what? Or how did he get away with that? Instead he wanted the charm, charisma and cheekiness of his personality to be the obvious reason for the day off succeeding. Hughes went on to say that the only other actor who could have played Ferris was James Stewart at 15.
3. Alan Ruck Was Originally Offered The Role Of Ferris Bueller
With that being said, Alan Ruck has claimed in interviews that he was offered the role of Ferris Bueller originally and turned it down. Ruck had previously worked with John Hughes on three films and he went on to play the memorable Cameron Frye. Alan Ruck had previously auditioned for the role of Bender in The Breakfast Club, another John Hughes film, before it went to Judd Nelson.
Jim Carrey, John Cusack, Johnny Depp, Tom Cruise and Michael J. Fox were all considered for the role of Ferris Bueller too.
4. Molly Ringwald Hoped To Play Sloane Peterson
Molly Ringwald was a favourite to star in John Hughes films including Sixteen Candles (1984) and The Breakfast Club (1985). She wanted to play the role of Ferris' Girlfriend Sloane Peterson in Ferris Bueller's Day Off however she claimed in an interview that John Hughes didn't offer it to her as it wasn't a big enough part for her to play. Instead Mia Sara was cast as Sloane and she was only 18 at the time.
5. Alan Ruck Was 30 When He Played Cameron Frye
Matthew Broderick played Ferris when he was 24 years old. As mentioned above, Mia Sara was just 18. Jennifer Grey was 26 when she played Jeanie. Alan Ruck however was 30 years old and playing a high school student!
6. Cameron Was Based Off A High School Friend Of John Hughes
The character Cameron Frye was based off a friend that John Hughes knew at high school. In the Ferris Bueller's Day off DVD commentary, Hughes says that the friend was sort of a lost person as his family neglected him. When he was legitimately unwell, he would actually feel good as it was difficult to keep inventing illnesses due to Hypochondria so if he actually had something, he was more relaxed.
7. Emilio Estevez Turned Down The Role of Cameron Frye
The actor Emilio Estevez Turn down the role of Cameron Frye in Ferris Bueller's Day Off. Estevez was well known for working with John Hughes on his other film, The Breakfast Club where he played Andrew Clark "The Athlete".
8. Alan Ruck and Matthew Broderick Were Actually Good Friends
Before working together on Ferris Bueller's Day Off, Alan Ruck and Matthew Broderick had previously worked together in Broadway on a production of Biloxi Blues. The pair of them would spend time together in each other's trailers on set. Cameron's impression of Mr Peterson, Sloane's Father, during the fake phone call to school scene was modelled off the Biloxi Blues director Gene Saks and was an in joke between the two of them.
The Secretary pretending to be Mr Ed Rooney during the call with Cameron was completely improvised.
9. Ferris Bueller Is A Love Letter To Chicago
Most of John Hughes' films are set in Chicago and he claims that Ferris Bueller is a love letter to the city. Chicago residents used to complain about how much he filmed there but he felt the more they complained the more he wanted to film in the city. Filming for Ferris Bueller's Day off began in Chicago on the 9th of September 1985 and production was late to move to Los Angeles in October.
10. Ferris Attended John Hughes' Real High School
Ferris' high school was filmed at Glenbrook North High School in Northbrook, Illinois which is the same school that John Hughes attended. Both Ferris Bueller's Day Off and The Breakfast Club were filmed at Glenbrook North High.
11. Judge Thad Balkman Grew Up In The Ferris Bueller House
Ferris' home was filmed on location in downtown Chicago and Winnetka however the house used for the exterior of the Bueller home is located on 4160 County Club Drive, Long Beach, California. This house is the childhood home of the American politician and Lawyer Thad Balkman.
Cameron Frye's home was filmed at Ben Rose House, Highland Park, Illinois. It was once owned by the American photographer Ben Rose who kept an extensive car collection there.
12. Hughes Paid US$25,000 To Get The Ferrari Out The Window
The architect David Haid designed the Pavilion in 1974 and he worked with Hughes in order to prevent damage being done to it when the car crashes out of the window in the film.
When setting up the car out of the window shot, the Ferris Bueller production team removed each pane of glass out of the windows due to the fact that they were weak and discoloured by age. Instead they installed replacement panels that they could easily smash through.
After the production, Haid claimed that Hughes owed him US$25,000 in damages and he was paid. Hughes has also claimed in interviews that the only reason they were able to use the house was that the producer Ned Tanen knew the owner as they were both ironically collectors of Ferraris.
13. What Is A Von Steuben Parade?
The Von Steuben Day Parade in Ferris Bueller's Day Off was filmed on the 28th September 1985. The parade is a real event held in mid September celebrating Baron Friedrich von Steuben who arrived in the United States as a volunteer offering his services to George Washington during the American Revolutionary War. He is seen as one of the most highly regarded German Americans. The day is usually marked with marching, dances and music in parades with the one in New York City being the largest.
The high school band playing in front of the float in the Von Steuben Day Parade is a real high school band from Lockport Township High School, a small town to the south of Chicago.
14. The Art Institute Of Chicago Scene Was Personal For John Hughes
One of the iconic scene is in Ferris Bueller's Day off is when the trio visit the Art Institute of Chicago. John Hughes has claimed in interviews that it was a self-indulgent seen as he found the museum a place of refuge for him. However in early screen tests, the museum scene didn't go down well until the sequences were switched the music was changed.
The painting that Cameron admires in the Art Institute of Chicago is named "Sunday Afternoon on the Island of La Grande Jatte" by Georges Seurat. It is still on display in the Institute and is also the inspiration for the Broadway Musical, "Sunday In The Park With George".
This film was the first time the museum had been used as a set.
15. John Hughes Played The Beatles Constantly On Set
As director John Hughes was a huge fan of The Beatles and John Lennon, there are many references to them in the Ferris Bueller script - not least the performance of Twist and Shout. While working on the film, Hughes apparently listened to The White Album every single day for 56 days.
Apparently Sir Paul McCartney liked Ferris Bueller's Day Off but disliked the use of brass instruments on Twist and Shout.
Another one of John Hughes' heroes was paid tribute to in Ferris Bueller's Day Off, Gordie Howe, a famous Ice Hockey Player who spent 25 seasons with the Detroit Red Wings. Cameron wears a Detroit Red Wings jersey in the film.
16. Ferris Drives A Replica Ferrari
Mr Frye's prized Ferrari is an extremely rare 1961 Ferrari 250 GT California Spyder. Only 100 of these cars were made! A real model was used to film the close up and insert shots of the Ferrari however the production had a number of replicas made. The replica cars were built with a Ford V8 engine instead of a V 12 like the original.
During the filming the original 250 GT California was worth US$350,000 and it has become one of the most expensive cars ever sold. An original 250 GT California was sold in 2015 for US$16,830,000. One of the replica cars was sold by Bonhams in 2010 in London for £79,600 and another was dols in Scottsdale Barrett-Jackson Collector Car Auction for US$396,000.
For the scene in which Ferris turns on the Ferrari to leave it in the garage with the attendant had to be shot many times because the replica car would not start. The Ferris Bueller Producers received a few angry letters from car enthusiasts who thought the film had destroyed a real 1961 250 GT.
17. There Wasn't Supposed To Be An Economics Lecture
In an interview with CNN, the actor Ben Stein who plays the economics lecturer in Ferris Bueller's Day Off said the lecture itself was not originally in John Hughes' script. He revealed that he was mucking around off-camera making the young student cast members laugh by droning on monotonously as if doing a lecture. Hughes saw this and asked him to improvise a lecture on camera using the same monotonous voice. So Stein started talking about supply-side economics and the Smoot-Hawley Tariff. Stein said all the crew applauded after this scene because he did such a good job at being boring!
18. Matthew Broderick Was Nervous To Do The Parade Scene
One of the most memorable scenes in Ferris Bueller's Day off is when Matthew Broderick interrupts a parade and sings the Beatles song "Twist and Shout". The parade itself took multiple days to film and Matthew Broderick spent a long time practising the choreography. He has said in an interview with Associated Press that he was scared to do the scenes as word had spread that John Hughes would be filming in downtown Chicago.
The parade scene was shot on two Saturdays, with the first during a real parade. Local radio stations invited people to take part in the film and around 10,000 people turned up. Matthew Broderick goes on to say in the same interview that he remembers waving at the crowds and a huge cheer went up. He said the reaction helped him to complete the scene and that he felt like a rockstar.
19. Kenny Ortega Choreographed Ferris Bueller's Day Off
Kenny Ortega, who has directed films such as Hocus Pocus (1993) and High School Musical (2006), choreographed Ferris' dancing scene. Ortega is also responsible for the choreography in films including Pretty In Pink (1986) and Dirty Dancing (1987).
Several of the dancers seen in the Parade including the window cleaner and the construction worker were not part of the production. John Hughes saw them dancing and asked the camera crew to make sure that they captured them too.
20. Matthew Broderick Injured His Knee Running Through The Neighbourhood
During the scene in which Ferris is running back to his home through his neighbourhood, actor Matthew Broderick injured his knee. He had to jump over fences and run across gardens and ended up hurting himself quite badly. This scene was filmed just before the famous Twist and Shout number at the parade so Broderick was quite sore when trying to complete the choreography.
21. Ferris Was Meant To Have Younger Siblings - & Other Deleted Scenes
There were several deleted scenes from the final cut of Ferris Bueller's Day Off. One of the scenes shows three teenagers trying to order food in a French restaurant. They were shocked to discover that Pancreas was an option on the menu. In the finished cut of the film Ferris Bueller says, "We ate pancreas" in reference to this scene. This scene has been featured on the Bueller edition DVD.
Another deleted scene is one continuing on from Jeanie In the locker room and some additional lines of dialogue that were featured in the trailer but not the final film. There were also going to be scenes with Ferris' younger brother and sister however both these characters were removed from the final film.
22. The Trio Nearly Visited A Strip Club On Their Day Off
The Ferris Bueller director John Hughes wanted to include a scene where Ferris, Sloane, and Cameron all visited a strip club on their day off. However executives from Paramount Studios claimed there was not enough time to shoot this scene so it was scrapped.
23. Matthew Broderick Chose To Sing Danke Schoen In The Shower
The song Danke Shoen is sung by Ferris, Ed Rooney and Jeanie during the film. Matthew Broderick claims that it was his idea to sing it in the shower as he was already learning it for the parade scene. He also was responsible for putting his hair in a Mohican while mucking around during the shower scene.
John Hughes said in the Ferris Bueller DVD commentary that he chose Danke Schoen as the song to include because it was "the most awful song of [his] youth."
24. John Hughes Refused To Release A Ferris Bueller Soundtrack
An official soundtrack was not originally released for the film Ferris Bueller's Day Off as director John Hughes felt that the songs would not work together in an album. Hughes did however send 100,000 copies of 7 inch vinyl singles featuring two songs from the film to members on his fan mailing list.
He was convinced that young people did not want to listen to "Danke Schoen" and "Oh Yeah" by Yello on the same album. He also thought many people would already own "Twist and Shout" by The Beatles. He revealed in an interview with Lollipop Magazine that the 7" Vinyl copies were $30 to send out to fans so really it was a labour of love.
25. Ferris Bueller's Day Off Was The 10th Most Popular Film Of 1986
On its opening weekend in June 19 86, Ferris Bueller's Day Off was shown in 1330 cinemas across the United States of America and had a total weekend gross of US$6,275,647. It was the 10th highest grossing film of 1986 with Top Gun (Scott, 1986) at number 1. Ferris Bueller's Day off made a total profit of US$70,136,169 compared to Top Gun's total profit of US$176,781,728.
Since its release it has been ranked as number 26 in the 50 Greatest Comedy Films in the United Kingdom and Entertainment Weekly placed it at 10th in their rankings for the 50 Best High School Movies.
26. We've Been Paying Homage To Ferris Since 1986
Ferris Bueller's Day Off is a very quotable film. The most famous quote that has been used over and over again is, "Life moves pretty fast; if you don't stop and look around once in awhile, you could miss it!" Lady Barbara Bush used this quote in her 1990 commencement address at Wellesley College.
Similarly, Steins monotonous calling out of the register, "Bueller?… Bueller?… Bueller?" has been quoted a lot in popular culture.
Emma Stone recreates the shower scene in the film Easy A (Guck, 2010). Domino's Pizza parodied Ferris Bueller's Day off in an advertising campaign in 2017 which featured the stranger things actor Joe Keery. Zooey Deschanel's character Jessica Day watches Ferris Bueller's Day Off in the show New Girl and sympathises with Rooney as they are both teachers.
27. A Ferris Bueller Sequel?
The idea of a sequel to Ferris Bueller's Day Off has been often discussed over the years however Matthew Broderick has said in interviews that it wasn't in the film's nature. Fans may have called to see Ferris at College or with a job however, Ferris Bueller's Day Off is about that unattainable nostalgia for a time we would all like to go back to but cannot.
28. Charlie Sheen's Character Was Meant To Appear In More Scenes
Charlie Sheen stayed awake for over 48 hours to get the right look for his criminal character at the police station in Ferris Bueller's Day Off. It was then filmed during one of his days off from the film Lucas (1986).
According to the 1986 documentary Inside Story, Sheen's character is named Garth Volbeck and he and his family were meant to be included in the storyline. It was revealed that Ferris Bueller's Mum was showing houses to the Volbeck family on the day Ferris took off. The tow truck that takes away Ed Rooney's car is also from Volbeck's Wrecking Service.
A deleted scene shows Ferris and Garth being friends in the eighth grade. Ferris tries to help Garth get away from his messed up family life but instead Garth dropped out of high school and starts on the wrong path. This is shown as the reason why Ferris is so intent on helping Cameron have a good day as he blames himself for not helping Garth when he was younger.
Charlie Sheen is actually the brother of Emilio Estevez - their Father being Michael Sheen. Estevez was a frequent collaborator of John Hughes appearing in The Breakfast Club as "The Athlete" Andrew Clark. He was also in the running to play Cameron Frye in Ferris Bueller.
29. Charlie Sheen Recreates His Famous Role In The Goldbergs
Charlie Sheen recreates his famous moment at the Police Station in The Goldbergs. The Goldbergs is a sitcom written by Adam F. Goldberg about growing up in the 1980s and it is a love letter to this time. The character of Erica mimics the Jeanie role and she is equally angry with her brothers.
30. Jennifer Grey Recommended Charlie Sheen For His Short Role
Charlie Sheen was recommended for his small part in Ferris Bueller's Day Off by Jennifer Grey who had previously worked with him on Red Dawn (Milius 1984).
31. Matthew Broderick Tickled Mia Sara To Make Her Laugh When Filming
Mia Sara has said in interviews that Matthew Broderick tickled her feet to get her to laugh naturally during the taxi scene.
32. Matthew Broderick and Jennifer Grey Were Engaged
After filming Ferris Bueller's Day Off, Matthew Broderick and Jennifer Grey began secretly dating. Despite the pair playing siblings on screen, the pair got engaged while filming too. They were in a serious relationship during the mid 1980s when both of them were huge Hollywood stars. The secret relationship was kept from the rest of the cast and crew and this allegedly caused a rift between the pair and Mia Sara (Sloane). Mia, who was 19 at the time, had a huge crush on Broderick herself.
33. Matthew Broderick and Jennifer Grey Were In A Devastating Car Accident
In August 1987, Matthew Broderick and Jennifer Grey were on holiday in Northern Ireland where they rented a BMW 316. Broderick crossed over into the wrong lane and collided head-on with a Volvo. The mother and daughter in the Volvo were sadly killed instantly on impact. This car crash lead to the relationship between Matthew Broderick and Jennifer Grey being public. Broderick had fractured his legs and ribs, had a collapsed lung and concussion. Jennifer Grey had severe whiplash which had to be operated on to avoid paralysis.
Jennifer Grey's most well-known film Dirty Dancing was released shortly after the car crash. She was catapulted to a much larger level of fame and in an interview with the San Francisco Chronicle in 2010, Grey stated that she was unable to enjoy the success of the film due to her grief over the car crash.
An interview in the New York Times stated that Matthew Broderick allegedly told Police that he had no recollection of the crash and did not know why he was in the wrong lane. He was charged with causing death by dangerous driving and faced up to 5 years in prison. He ended up being convicted of a lesser charge of careless driving and was fined only £100 or US$175.
34. Jennifer Grey Got The Giggles A Lot On Set
Jennifer Grey considers the film Ferris Bueller's Day Off as the best experience of her life. She revealed this in the book written by Susanna Gora, "You Couldn't Ignore Me If You Tried: The Brat Pack, John Hughes, and Their Impact On A Generation." She went on to describe how because of the chemistry between her and Matthew Broderick, she would corpse and laugh a lot during takes.
One particular giggling incident shutdown production for a while to allow her to recover. It was the scene in which Ferris was running home in order to get back to his bed before his parents caught him. Jeanie helps him escape from Mr Rooney. Producers were telling her to take a walk around the block before they could start again. She claimed it was the energy between her and Matthew Broderick that made her keep laughing.
35. John Hughes Was Originally Not Comfortable Working With New Actors
Before shooting began for Ferris Bueller's Day off, John Hughes was reluctant to continue as he wasn't used to working with the actors chosen for the parts. In the book, "You Couldn't Ignore Me If You Tried: The Brat Pack, John Hughes, and Their Impact On A Generation", Mia Sara said that Hughes was used to working with actors such as Molly Ringwald and they had cultivated a deep relationship. However as time went on Sara claimed that Hughes developed the same type of relationship with the Ferris Bueller stars.
36. Ferris' Mum and Dad Got Married In Real Life
Not only did Matthew Broderick and Jennifer Grey have a secret relationship on the set of Ferris Bueller's Day Off, another pair got together because of the film. The actors playing Ferris Bueller's Mother and Father, Cindy Pickett and fell in love onset and marriage shortly afterwards. The pair have two children together but ended up divorcing each other in 1992 after playing the parents in the Stephen King adaptation Sleepwalkers (Garris 1992).
37. Ferris' Bedroom Is Modelled On John Hughes' In High School
The director John Hughes personally designed Ferris Bueller's bedroom in the film. It is said to mirror his own bedroom when he was in high school. It included a series of pop references in the mise en scène and was very disorganised and cluttered to mimic Ferris' mind.
38. The Restaurant Is The Same One From St Elmo's Fire
The restaurant which Ferris, Cameron and Sloane visit is the same location that is used in St. Elmo's Fire (Schumacher 1985) when Kirby waits for Dale. It is also the same restaurant in which Jake and Elwood terrorise in The Blues Brothers (Landis 1980).
39. The Number Plates Used Are All Abbreviations For John Hughes Films
Most of the number plates used in Ferris Bueller's Day Off are designed to incorporate the names of previous John Hughes films including The Breakfast Club (1985). These include:
• Katie's (Ferris' Mum) Car: VCTN for National Lampoon's Vacation (1983)
• Jeanie's Car: TBC for The Breakfast Club (1985)
• Tom's (Ferris' Dad) Car: MMOM for Mr. Mum (1983)
• Rooney's: 4FBDO for Ferris Bueller's Day Off (1986)
• Cameron's Father's Ferrari is the exception but it spells out NRVOUS i.e. nervous due to Cameron's hypochondria and anxiety.
40. More Of Matthew Broderick's Improvisations Were Kept In
Matthew Broderick improvised many moments in Ferris Bueller's Day Off including the line in the Clarinet scene where Ferris says, "Never had one lesson!" He also is responsible for the coughing keyboard.
41. The School Bus Scene In The Credits Was Cut From The Main Film
The scene with the school bus that takes place during the credits at the end of the film was a deleted scene cut from the film's narrative. It was meant to occur when Jeanie says she is calling the police and Ed Rooney needs to find a place to hide. This could be why the sky isn't dark in that scene!
42. Ferris' Planned Disguise Outfit Can Be Seen In His Bedroom
You can see the outfit that Ferris was going to wear to pick up Sloane from school already planned out and displayed on a mannequin at the start of the film. It is noticeable in Ferris' bedroom, behind his door when his parents are leaving to go to work. It is the hat, sunglasses and trench coat ensemble.
Interestingly, Ferris wears a different outfit in each scene before he and Cameron pick up Sloane.
43. Set Designers Painted Leaves Green To Keep Continuity
Ferris Bueller's Day Off is set in Spring time but it was shot in Autumn. Unbelievably, the final scene in Cameron's home with the car wreck was shot at the beginning of Autumn so to keep continuity, the leaves outside had to all be painted Green before shooting.
44. A Few Scenes In Ferris Bueller's Day Off Were Lengthened In Editing
In post production, a few of the scenes were lengthened or repeated to produce the final moments we know today. This is true for the moment in which Jeanie kicks Ed Rooney three times, it was only filmed once and repeated in post. Then, the kiss between Ferris and Sloane was filmed as a short kiss but was lengthened in post production to the scene we have all watched today.
The first cut of the film had a running time of two hours and forty five minutes.
45. Ferris Bueller And The Breakfast Club Gang Go To The Same High School
Shermer High School in which Ferris Bueller goes to school, is the same school used in other John Hughes films including The Breakfast Club (1985) and Sixteen Candles (1984). Ferris Bueller and The Breakfast Club were filmed concurrently due to ease and budget so you had various crew members working on both films at once on set.
46. There Is A Simple Minds Poster In Ferris' Bedroom
There is a poster for the song "Don't You Forget About Me" by Simple Minds on Ferris' bedroom wall. This song was written and performed for another John Hughes' film The Breakfast Club in 1985.
47. John Hughes Thought The Opening Monologue Wasn't Funny
The beginning scene with Ferris' monologue discussing how his parents bought his pretend illness includes instructional text on the screen. This was added in much later because John Hughes thought it was too flat and unfunny without adding captions.
48. Ed Rooney Had Raw Steak In His Pocket!
Jeffrey Jones reportedly had to have a piece of raw steak hidden in his pocket so the Rottweiler would continually fixate on his character Ed Rooney!
49. There Is A Parallel with The Film WarGames
When Ferris Bueller logs into the school computer to change the number of absences he has had, it mimics another Matthew Broderick film WarGames (Badham 1983) in which his character hacks into the school computer to change his grades.
50. A Space-Shuttle Line Had To Be Edited Out Of The Film
In the Ferris Bueller's Day Off trailer released in cinemas, Ferris says the line, "Come next year I'll be the first kid to ride on a Space Shuttle!" However when the film was actually released into cinemas, this line was cut out due to the Challenger Space Shuttle explosion five months before the film's release. The tragedy killed all seven people on board including a school teacher. The preview was recalled from cinemas in the USA too.
51. John Candy Auditioned For The Role Of Cameron
John Candy auditioned for the role of Cameron Frye however producers turned him down as they were concerned that he may look too old to play a high school student alongside 18 year old Mia Sara and Matthew Broderick.
52. There Is A Band Named "Save Ferris"
There is a ska/pop band named Save Ferris who got their name from the words that appear on the water tower in Ferris Bueller's Day Off. There is also another band named Rooney which was originally named The Ed Rooney Band before shortening it, named after the Principal of Shermer High School.
53. Sloane Is Named After The Head Of Paramount's Daughter
The character of Sloane is named after Sloane Tanen, the daughter of the CEO of Paramount at the time, Ned Tanen. She was named "Tandy" in earlier drafts of the Ferris Bueller's Day Off scripts.
54. "Life Moves Pretty Fast" Wasn't Supposed To End The Film
The most iconic line from Ferris Bueller's Day Off is, "Life moves pretty fast. If you don't stop and look around once in a while, you could miss it." However "Life moves pretty fast" wasn't originally meant to be the final line before the closing credits. Instead it was going to say, "Yeah, life is a carousel. A great big crazy ball of pure living, breathing joy and delight. You gotta get one." Director John Hughes, changed the line on the day of filming the scene.
55. Alan Ruck Thinks Cameron's Dad Would Have Killed Him!
Alan Ruck who plays Cameron has speculated in interviews what would have happened after the end of Ferris Bueller's Day Off. He claims that Cameron's Dad would have come home and actually killed him by throwing him out of the window like the Ferrari! Then Ferris and Sloane would have eventually got married and then later divorced.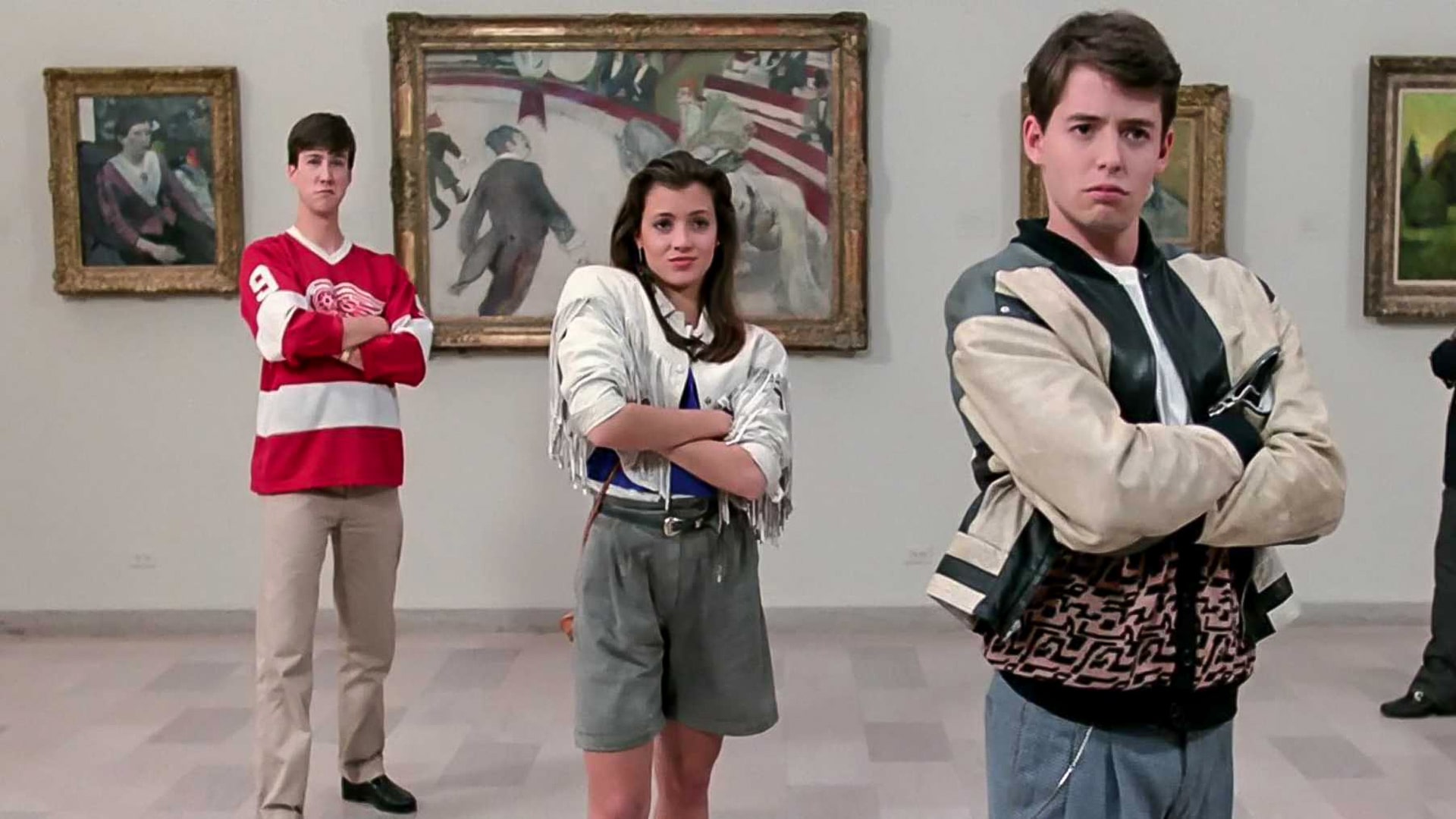 55 Ferris Bueller's Day Off (1986) Movie Facts You Haven't Heard Before
What is your favourite moment from the Ferris Bueller's Day Off (1986) movie? Let us know in the comments below.