35 How I Met Your Mother Facts You Haven't Read Before
How I Met Your Mother (HIMYM) is the popular US sitcom created by Craig Thomas and Carter Bays which ran on CBS from 2005 to 2014. It starts in the year 2030 with Ted Mosby (Josh Radnor) recounting his life as a younger man living with his friends in Manhattan, New York. Our How I Met Your Mother facts include why there are so many guest stars from Buffy The Vampire Slayer, which three cast members have their other halves make cameo appearances in the series and which episode is the most viewed HIMYM episode ever.

Watch our How I Met Your Mother Facts Video on YouTube.
How I Met Your Mother (HIMYM) is the popular US sitcom created by Craig Thomas and Carter Bays which ran on CBS from 2005 to 2014. It starts in the year 2030 with Ted Mosby (Josh Radnor) recounting his life as a younger man living with his friends in Manhattan, New York. Each episode is a flashback that leads audiences through the long and complicated story of how Ted met Tracy (Cristin Milioti) with various girlfriends in between. Ted lives with his college roommate Marshall Eriksen (Jason Segel) and his girlfriend Lily Aldrin (Alyson Hannigan) above an Irish bar named MacLaren's. Here he meets his other best friend and serial womaniser Barney Stinson (Neil Patrick Harris) and his on and off again love interest Robin Scherbatsky (Cobie Smulders). How I Met Your Mother ran for a total of 9 seasons and 208 episodes and was nominated for 30 Emmy Awards throughout it's time on screen.
If you have binge-watched all 9 seasons and want to know a little bit more from behind the scenes about how the characters were created and whether they knew how Ted was going to meet Tracy in the pilot episode, then here are 35 How I Met Your Mother facts that you will definitely enjoy.


1. Future Ted Moby is not Josh Radnor But Bob Saget
Most episodes of How I Met Your Mother begin with the same storytelling scene, Ted Mosby's son and daughter are sitting listening to their Dad reminisce about his youth on the couch. However what you may not know is that this older version of Ted is played/narrated by Bob Saget not the actor who plays Ted Mosby on screen, Josh Radnor. Bob Saget is a renowned American comedian and television host who played Danny Tanner on the sitcom Full House from 1987 to 1995 and is also known for America's Funniest Home Videos. His role is uncredited.
Pamela Fryman, the main How I Met Your Mother director, is responsible for inviting Bob Saget to be the voiceover narrator explaining to him that the show would be like 'The Wonder Years' but "kind of into the future". Saget either went into the television studio and recorded his narration while watching the episode or did so separately and re-recorded if necessary. He normally didn't attend table readings but he did for the last ever episode.
Ted Mosby's future children Luke and Penny are played by David Henrie (Wizards of Waverly Place, 2007) and Lyndsy Fonseca. Lyndsy Fonseca is only 4 years younger than Cobie Smulders who plays her father's love interest Robin.
2. How I Met Your Mother Is Loosely Based On The Creator's Lives
The premise of How I Met Your Mother is loosely inspired by Carter Bays and Craig Thomas' friendship when they both lived in New York City. They both had an idea to write a sitcom about "our friends and the stupid stuff we did in New York". They had previously worked as writers on The Late Show with David Letterman and the pair drew from their friendship when creating the main characters.
Ted Mosby is loosely based on Carter Bays. While Marshall and Lily are loosely based on Craig Thomas and his wife Rebecca. Ted is from Ohio, just like Josh Radnor and Carter Bays. Bays and Ted Mosby also share the same hometown, Shaker Heights.
3. Alyson Hannigan Was Requested By Craig Thomas' Wife
Rebecca Thomas, the wife of How I Met Your Mother co creator Craig Thomas, was initially unsure about having one of the characters based upon her but agreed if they could get Alyson Hannigan (Buffy the Vampire Slayer) to play her. At the time Hannigan was looking to do some more comedy work and was available so the character of Lily was cemented. Both Josh Radnor and Jason Segel were relatively unknown before their roles on How I Met Your Mother, with Segel being known for Freaks and Geeks and Undeclared both written by Judd Apatow.
4. Barney Was Originally Meant To Be A John Belushi Type Character
When the creators of How I Met Your Mother envisioned the type of character Barney Stinson would be, they were originally looking for a John Belushi type character. The show is casting director Megan Branman, invited Neil Patrick Harris in for an audition and he won the role.
5. Jennifer Love Hewitt Nearly Played Robin Schertbatsky
In a 2013 interview with Entertainment Weekly, the creators of How I Met your mother Carter Bays and Craig Thomas said that they originally had a pretty famous actress lined up for the role of Robin. It was later revealed in 2014 that that actress was Jennifer Love Hewitt. They ended up casting the then unknown Cobie Smulders after Love Hewitt turned it down to appear on Ghost Whisperer. The pair explained to Entertainment Weekly how thankful they were for Smulders in the role saying, "When Ted's seeing her for the first time, America's seeing her for the first time — the intrigue of that propelled the show going forward and kept the show alive".
Scott Foley, famous for playing Elliot's partner Sean Kelly in Scrubs, turned down the role of Ted Mosby.
6. Ted And Robin Were Written To Not Be Like Ross and Rachel
Despite there being many parallels between How I Met Your Mother and Friends, the HIMYM creators did not want Ted and Robin to be a "will they, won't they '' relationship like Ross and Rachel. So, they established at the end of the pilot episode that Robin aka Aunt Robin was not The Mother.
7. The HIMYM Characters Have Similar Traits To The Actors Who Play Them
Some of the lead actor's characteristics were introduced into their roles on How I Met Your Mother including Neil Patrick Harris' penchant for Magic, Josh Radnor's intellect and Jason Segel's hobby for writing songs.
8. MacLaren's Pub Is Based On The Writer's 4 Favourite Bars
The How I Met Your Mother bar MacLaren's Pub, set in the middle of New York, is based on the favourite bars of Craig Thomas, Carter Bays and some of the other Late Show writers.
These include:
McGee's, a midtown pub near the Ed Sullivan Theatre where the Late Show is filmed.

McHales, a famous bar in Hell's Kitchen that closed in 2006.

Chumley's, a historic Greenwich Village pub which has now closed.

Fez, another closed establishment on the Upper West Side.
MacLaren's is named after Carter Bay's assistant, Carl MacLaren. Incidentally, the bartender in MacLaren's on How I Met Your Mother is also named Carl.
9. How I Met Your Mother Wasn't Filmed In Front Of A Studio Audience
Each episode was shot over three days in Los Angeles on Soundstage Studio 22. It featured over 50 scenes with quick transitions and flashbacks. A laugh track was added later as Craig Thomas claimed that filming in front of a live audience would have been impossible because of the structure of the show and the numerous flashforwards in each episode. He claimed in an interview that doing so "would blur the line between audience and hostage situation"!
In later seasons, the production team did film in front of an audience on occasion when smaller sets were used. The laugh tracks would be produced by playing the recorded episode in front of an audience and the laughs would be dubbed over later.
10. Each Episode Begins With A Wesleyan University Connection
Episodes from Season One usually started with the opening credits. However, a cold opening has been used since Season Two. Audiences can occasionally see Ted Mosby's children sitting on the couch hearing him talk, however shots of New York City or scenes from previous episodes are shown more regularly with Bob Saget's voiceover used over the top.
The How I Met Your Mother theme song is "Hey Beautiful" by The Solids. The Solid's first performance was actually at Wesleyan University which is the alma-mater of both Bays and Thomas as well as the characters Ted, Marshall, and Lily.
11. Ted Mosby Is An Unreliable Narrator
The How I Met Your Mother co creator Craig Thomas has said that Ted Mosby is an unreliable narrator since he is trying to tell a story that happened to him over 20 years previously. This has been a plot point actually shown in episodes including "The Goat", "Oh Honey", "How I Met Everyone Else", and "The Mermaid Theory".
Craig Thomas has also emphasised that maintaining a consistent and coherent universe in which the show is set is physically impossible and continuity errors are in all other shows.
12. A Scene Disclosing The Mother Was Filmed For The Finale 6 Years Earlier
One of the scenes relating to the identity of The Mother, Tracy McConnell, involving Ted's children was actually filmed in 2006 for the show's series finale in 2012. This was done to ensure that the teenage actors who were playing Ted Mosby's children would not look out of place and more adult by the time the final season was shot six years later.
13. Lifetime Television Paid $725,000 Per Episode Rerun
In 2008, Lifetime Television purchased the rerun rights to How I Met Your Mother at $725,000 per episode. A four year syndication contract stipulated that the studio deliver at least 110 half-hour episodes by 2010 and allowed up to 8 seasons. At the end of the fourth season, only 88 episodes had been created and a further 22 were required ensuring that there would be a fifth season.
14. Alyson Hannigan and Cobie Smulders Were Pregnant On Set
The actor Alyson Hannigan who plays Lily Aldrin in How I Met Your Mother was actually pregnant during production. The creators ended up having to write episodes that did not include Lily to work around her maternity leave. Cobie Smulders was also pregnant at the same time on set.
15. HIMYM Has A Tradition Of Buffy The Vampire Slayer Guest Stars
A tradition in the How I Met Your Mother writersroom was to include various actors from Buffy the Vampire Slayer in guest roles due to Alyson Hannigan being one of the main cast members on the show in the 1990s and early 2000s. These included Alexis Denisof as Sandy Rivers, Danny Strong working with Marshall and Barney and Tom Lenk as a Barista.
16. Jason Segel Didn't Want To Do A 9th Season
By the end of How I Met Your Mother, the actors were in intense negotiations with the studio as they did not want the show to run longer than eight seasons. Jason Segel especially wanted to pursue other ventures after the eighth season. During these negotiations, Bays and Thomas originally approached the eighth season as if it was the show's last one but had an idea to continue it further if it was renewed.
After the producers settled on a ninth season, they secretly implemented The Mother and the role went to Cristin Milioti. She first appeared in the Season 8 finale, "Something New". Carter Bays told Entertainment Weekly that Season 9 would feature "the most non-linear episodes we've ever done."
17. Cobie Smulders' Husband Starred In How I Met Your Mother
Taran Killam and Cobie Smulders married after seven years of dating in September 2012, and have two daughters together. Killam himself is an actor who has appeared in shows including Scrubs, Drake and Josh, and Saturday Night Live. He starred in How I Met Your Mother six times as Gary Blauman, firstly in "Life Among The Gorillas" in 2006 and lastly in 2014 in "The End of the Aisle".
18. Neil Patrick Harris' Husband Starred In How I Met Your Mother
Actor David Burtka Appeared on How I Met Your Mother in seven episodes as Scooter, the former high school boyfriend of main character Lily Aldrin. Six months after his first appearance on the show, allegations arose that the actor had received the role because of a romantic relationship with one of the show's stars, Neil Patrick Harris. The speculation eventually led Harris to acknowledge publicly his sexuality in a cover story in People Weekly magazine. He and Burtka later moved in together and married in 2014. Pamela Fryman the long time director of How I Met Your Mother officiated the ceremony and Elton John played the reception.
19. And, Alyson Hannigan's Husband Appeared In How I Met Your Mother
Alexis Denisof is well known for playing the role of Wesley Wyndham Pryce in Buffy the Vampire Slayer and Angel where he met Alyson Hannigan. The pair married in October 2003 and have two daughters together born during the filming of HIMYM in 2009 and 2005. Denisof played the creepy on screen journalist and professional rival of Robin Scherbatsky, Sandy Rivers.
20. There Have Been Two Proposed How I Met Your Mother Spin Offs
There have been two proposed spin-offs for How I Met Your Mother including "How I Met Your Dad"and "How I Met Your Father". The first one How I Met Your Dad was announced in 2013 and would be a female centered variation of the show produced by Carter Bays, Craig Thomas and Emily Spivey. It was said to have featured a new bar and not tie into the original series. The primary cast was revealed in March 2014 and included Greta Gerwig, Drew Tarver, Nicholas D'Agosto, Andrew Santino and Krysta Rodriguez. Meg Ryan was also announced as the voiceover for Sally, the main character. CBS passed on the pilot in May 2014 and it was ultimately pronounced dead in the July.
How I Met Your Father however, was reported in December 2016 with Bays and Thomas as Executive Producers. It was to be written by Isaac Aptaker and Elizabeth Berger. This did not materialise and in 2021, Hulu ordered the series to be made with Hilary Duff playing Sophie as the lead. Chris Lowell has also joined the cast in a starring role.
21. Josh Radnor Kept The Blue French Horn
After the final episode of How I Met Your Mother aired, Josh Radnor who played Ted Mosby kept the Blue French horn from the pilot episode. Neil Patrick Harris kept The Playbook and the booth from MacLaren's Pub and three yellow umbrellas now belong to Pamela Fryman as well as Carter Bays and Craig Thomas.
22. The Time In The Apartment Was Always 4:20
The clock in Ted and Marshall's apartment is always set to the time 4:20 except in Season 7 Episode 2 where it is set to 2:10.
23. The Pineapple Is The Most Viewed Episode Of How I Met Your Mother
The most viewed episode of How I Met Your Mother is from Season 1, The Pineapple Incident.
24. Ted Mosby Dated Over 29 Women Who Weren't The Mother
One avid viewer of How I Met Your Mother has counted and uploaded to IMDB that Ted Mosby has dated at least 29 women that are not The Mother. Season 5 is the only season where Ted Mosby did not have a girlfriend that lasted more than one episode.
25. Barney Stinson Doesn't Suit Up 18 Times
There are only a total of 18 times in which Barney does not wear a suit during an episode of How I Met Your Mother. Barney also wore the Ducky Tie for a total of 11 episodes.
26. Alyson Hannigan Requested Not To Kiss Jason Segel That Much!
Due to Jason Segel's real life vice, smoking. He and his on screen co-star Alyson Hannigan rarely kissed during the show at Hannigan's request! Lily is the only character who has had an on-screen kiss with all four lead characters of How I Met Your Mother. She regularly fantasises openly about relationships with other women including Robin this could show that Lily herself is bisexual or it is a running joke linking back to Hannigan's famous Lesbian role in Buffy The Vampire Slayer, Willow Rosenberg.
27. Most Of The How I Met Your Mother Websites Really Existed
Most of the websites featured in How I Met Your Mother really existed.
These include:
canadiansexacts (dot) org

stinsonbreastreduction (dot) com

extremetiesquarterly (dot) com

balloonexplorersclub (dot) com
lilyandmarshallselltheirstuff (dot) com was created for charity and items from the show were auctioned off.
28. Each HIMYM Character Has Their Own Musical Number
Each character in How I Met Your Mother has their own musical number except Lily played by Alyson Hannigan. This is because Alyson Hannigan dislikes singing and has refused to sing a solo since her appearance on Buffy the Vampire Slayer's infamous musical episode Once More With Feeling.
Ted/Josh Radnor has his own musical number named "Super Date" in the 2010 episode "Of Course". Barney/Neil Patrick Harris sings his own musical number "Nothing Suits Me Like A Suit" in the 2010 episode "Girls vs. Suits". Robin/Cobie Smulders performs several of her own musical numbers beginning with "Let's Go To The Mall" in the 2006 episode "Slap Bet". Marshall/Jason Segel has his own musical number called "Marshall vs. The Machines".

The song created for Robin Scherbatsky's teen pop star career in Canada, "Let's Go To The Mall" was included on the dancing game, Just Dance 3.

29. Craig Thomas And Carter Bays Made A Cameo Appearance
The How I Met Your Mother creators Carter Bays and Craig Thomas star in cameo roles during the episode in which Barney Stinson tries to pick up a woman by calling an ambulance at McLarens pub. The pair can be seen playing the paramedics.
30. Tim Gunn Was The Crew's Favourite Guest Star
According to IMDb, singer's Britney Spears guest starring as Abby and Katie Perry guest starring as Honey are the most popular celebrity guest stars in the eyes of the audience. However fashion designer Tim Gunn was the most welcomed guest star from the cast and crew, nearly everybody wanted an autograph with him.
31. Punchy Is The Executive Producer
Chris Romano who plays Punchy, Ted's friend from high school is a co-executive producer on How I Met Your Mother.
32. Alicia Silverstone Very Nearly Played Stella
Actor Alicia Silverstone was originally cast as Stella Zinman, the woman who left Ted at the altar. Silverstone dropped out of the role after learning that Britney Spears would be playing her receptionist Abby. Her representatives withdrew her because they did not want her first appearance to be overshadowed by Spears. The role is later taken on by Sarah Chalke who is best known for the role of Elliot Reid in Scrubs.
33. Josh Radnor and Neil Patrick Harris Starred In A Nude Play Together
Josh Radnor and Neil Patrick Harris have previously worked together in a stage production of John Robin Baitz's play "The Paris Letter" (2004) in which they played lovers each walking on to the stage fully nude.
34. Four Freaks and Geeks Stars Appeared In How I Met Your Mother
Aside from Jason Segel, three other actors from Judd Apatow's Freaks and Geeks appeared in How I Met Your Mother. Martin Starr played Kevin in Season 1 Episode 8, "The Dual", Busy Philipps played Rachel in Season 3 Episode 3 "Third Wheel" and Samm Levine played Phil in "Okay Awesome" Season 1 Episode 5. Before it went to Neil Patrick Harris, Samm Levine got far along in the auditions process for the role of Barney Stinson.
35. Barney Stinson's The Playbook Exists
Five books relating to How I Met Your Mother have been published including copies of Barney Stinson's beloved "The Bro Code" and "The Playbook". There are 13 interventions across the series including one about the use of The Playbook.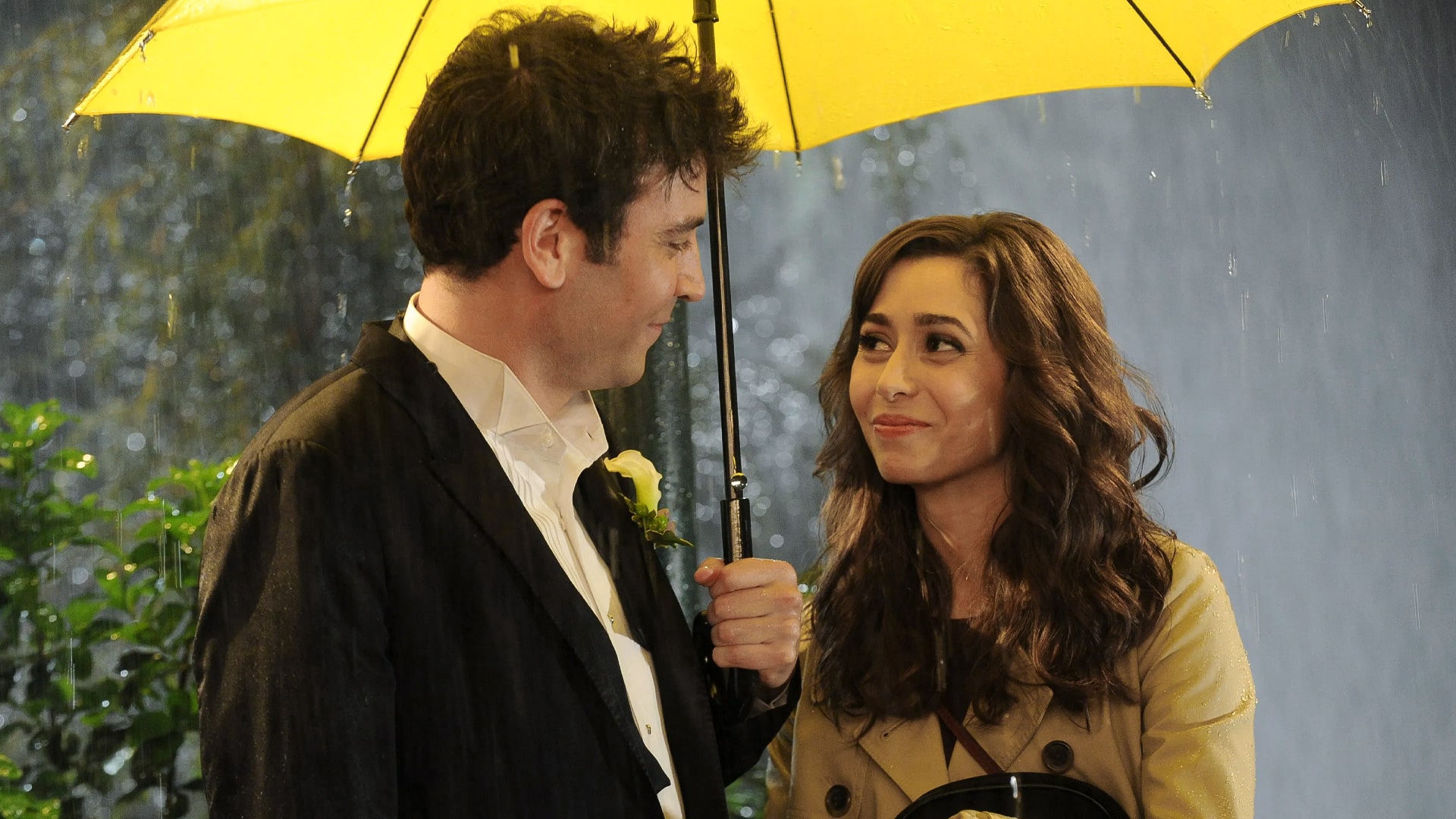 35 How I Met Your Mother Facts You Haven't Read Before
What is your favourite episode of How I Met Your Mother? Let us know in the comments below.