42 Mary Poppins (1964) Movie Facts You Haven't Read Before
One of the standout films in most people's childhoods is Mary Poppins released in 1964 by Walt Disney. It was directed by Robert Stevenson and starred Hollywood legends Julie Andrews, David Tomlinson and Dick Van Dyke. The 1964 film is based on a series of books by P.L. Travers and it combines musical numbers, live action scenes and animation. Our Mary Poppins movie facts include how Dick Van Dyke came to play two characters, the frosty relationship between Walt Disney and P.L. Travers the author of Mary Poppins and which character was nearly played by Cary Grant.
Watch our Mary Poppins Movie Video on YouTube.
One of the standout films in most people's childhoods is Mary Poppins released in 1964 by Walt Disney. It was directed by Robert Stevenson and starred Hollywood legends Julie Andrews, David Tomlinson and Dick Van Dyke. The 1964 film is based on a series of books by P.L. Travers and it combines musical numbers, live action scenes and animation. The film follows a dysfunctional family in London who aren't spending enough quality time together. Mr Banks is working hard for a bank, Mrs Banks is part of the suffragette movement and the two children, Jane and Michael are always getting lost or are up to no good.
Our Mary Poppins movie facts include how Dick Van Dyke came to play two characters, the frosty relationship between Walt Disney and P.L. Travers the author of Mary Poppins and which character was nearly played by Cary Grant.

1. Mary Poppins Was Julie Andrews' First Feature Film
Julie Andrews had huge success in the West End and Broadway prior to her transition into film and future stardom. In 1963, Julie Andrews began working in the titular role of Mary Poppins. Walt Disney himself had seen her performance on stage in Camelot and subsequently offered her the role.
Julie Andrews originally declined playing Mary Poppins because she was pregnant and returning to London to give birth but Disney said they would wait for her to start filming. She also hoped Jack L. Warner would ask her to star as Eliza Doolittle in My Fair Lady (1964) but instead that role went to Audrey Hepburn.
Disney rented a house for Andrews and her family in Toluca Lake, Los Angeles during the production. Andrews referred to the production of Mary Poppins as unrelenting and physically exerting but said that it was the best introduction she could've had to the film industry.

The author of the Mary Poppins books, P.L. Travers approved of the casting of Julie Andrews after hearing speak over the telephone. Andrews granted the interview from her bed after the delivery of her daughter, Emma Walton Hamilton.

2. Mary Poppins Was Filmed Entirely At The Walt Disney Studios
Despite the entire film being set in London, Mary Poppins was filmed at the Walt Disney Studios in Burbank, California and used painted set design in the background to make it look like the English capital. Over 100 glass and matte paintings were used to create the London skyline of 1910.
3. Mary Poppins Was The Highest Grossing Film Of 1964
The film was released on the 27th of August 1964 and had both critical and commercial success. At the time of its release it was Disney's highest grossing film ever and was the highest grossing film of 1964. It had a total of 13 Academy award nominations including Best Picture which was a record for any film released by the Walt Disney Studios at that time.
4. There Are A Few Key Differences Between P.L. Traver's Book And The Film
There are some differences between the characters in P.L. Travers' book Mary Poppins and the Walt Disney film.
Mary Poppins herself was originally written as strict and pompous in the books but Disney made her kind and gentle as well as keen on discipline.

Mrs Banks is depicted as a member of Emmeline Pankhurst Votes For Women suffrage movement. She was originally named Cynthia but was then changed to a more English sounding name Winifred.
In the book, Mrs Banks is the one to interview Mary Poppins for the nanny position rather than Mr Banks.
There are also only two children featured in the Walt Disney version of the film instead of four. The other two were twins John and Barbara.
5. Bert Is A Mixture Of Several P.L. Travers Characters
The character of Bert is actually a mix of several of Mary Poppins' friends from the original books. Among them is the minor character of a chimney sweep. It was a drawing of the sweep by one of the animators that inspired the film's song "Chim Chim Cheree".
P.L. Travers demanded any suggestion of a romantic connection between Mary Poppins and Burt be scrapped as their relationship was purely a platonic friendship.
6. Navckid Keyd Is Dick Van Dyke
Actor Dick Van Dyke notably plays Bert, the chimney sweep and Mary Poppins' closest friend. Their interactions suggest that they have been friends for a long time and that this sort of story has repeated itself in the past. You probably already know that Dick Van Dyke also plays Mr Dawes Snr but you may not have seen in the credits of the film that Mr Dawes Snr is listed as played by "Navckid Keyd", which is an anagram of Dick Van Dyke.
7. David Tomlinson Was Nervous About Playing George Banks
David Tomlinson was allegedly nervous about not being good enough for the part of Mr. George Banks, as he had never sung professionally before.
The character of George Banks was based on P.L. Travers' own Father, Travers Robert Goff.
George Banks works at Dawes Tomes Mousley Grubbs Fidelity Fiduciary Bank. What a name!
8. Mary Poppins Has A Sequel
In December 2018, Walt Disney Pictures released a sequel to Mary Poppins under the title Mary Poppins Returns. The film takes place 25 years after the original and features a standalone plot based on the seven remaining books in the series by P.L. Travers. It was directed by Rob Marshall and stars Emily Blunt as Mary Poppins and Lin Manuel Miranda as a Bert style supporting role. Dick Van Dyke returned to portray Mr. Dawes Jr. and Karen Dotrice also appeared in a cameo role.
9. Walt Disney Tried To Secure The Rights To Mary Poppins For 20 Years
The film Mary Poppins was based upon the first novel in P.L. Travers' Mary Poppins series. It was because Walt Disney's daughters loved the book so much that their Father promised to make a film based upon it.
Disney attempted first to purchase the rights to the series in 1938 but the author refused as she did not believe a film would do justice to her work. At that time, Disney was well known for producing cartoons but hadn't made any live-action works.
For over 20 years Walt Disney tried to convince P.L. Travers and he finally succeeded in 1961 with Travers asking to keep the rights to script approval. Filming took place between May and September in 1963 with post production and animation taking a further 11 months.
10. The Sherman Brothers Changed The Setting To The Edwardian Era
The Sherman Brothers composed the score to the film Mary Poppins but they were also involved in the development of the film and its storyline. They were the ones who suggested that the setting be changed to the Edwardian era from the 1930s when the book was set.
Pre-production of Mary Poppins and song composition took around two years to complete. The Sherman Brothers (Robert B. Sherman and Richard M. Sherman) came up with the idea of Mrs. Winnifred Banks (Glynis Johns) being involved in the suffragette cause to explain why she should be so neglectful of her children.

11. P.L. Travers Disapproved Of Almost Everything In The Film
P.L. Travers ended up being an advisor/film consultant on Walt Disney's version of Mary Poppins. She was allegedly disapproving of all Walt Disney's changes to Mary Poppins character as she wished to keep the harsh aspects of Poppin's personality. She famously didn't enjoy the music written for the film and she hated the use of animation so much that she would not allow Walt Disney to make any films around her later novels.
Travers wished that instead of the composed soundtrack, an Edwardian style score would be written however Disney overruled her stating that her contract allowed him to have final say. The relationship between Walt Disney and P.L. Travers was also dramatised into a film in 2013 called Saving Mr Banks.

12. Cary Grant Was Walt Disney's Favourite To Play Bert
Julie Harris, Angela Lansbury and Bette Davis were overall considered for the role of Mary Poppins. Lawrence Harvey, Anthony Newley and Cary Grant were all choices for Bert before Dick Van Dyke. With Carrie Grant being Walt Disney's favourite choice. P.L. Travers suggested actors like Richard Burton, Alec Guinness, Richard Harris, Rex Harrison, Ron Moody, Laurence Olivier, Peter O'Toole, and Peter Sellers for the role, in keeping with the British nature of her books
In March 1961 Disney announced that they may cast Hayley Mills and Mary Martin in Mary Poppins.
Actor Stanley Holloway was considered for the role of Admiral Boom but instead he went on to star in the film My Fair Lady instead.
13. Andrews And Tomlinson Also Voiced Some Animated Scenes
Both Julie Andrews and David Tomlinson provided voices for other sections of Mary Poppins away from their characters to help boost the musical numbers. Julie Andrews provided the Whistling Robin in "A Spoonful Of Sugar" and was one of the singers in "Supercalifragilisticexpialidocious".
David Tomlinson provided the voice of Mary's talking umbrella and the voice of Admiral Boom's First Mate. One of the song writers, Richard Sherman, voiced a penguin as well as one of the Pearly Kings. Robert Sherman dubbed the voice of Jane Darvel because hers was too weak to be heard on the soundtrack. His voice is also heard saying her only line "Feed the birds, tuppence a bag."
14. Mary Poppins Was The Final Movie Of Jane Darwell
Mary Poppins was the final theatrical movie of Jane Darwell who was born in 1879 and passed away in 1967. She was living at the Motion Picture Country Home in Woodland Hills, California, when she was approached by Walt Disney Pictures to play the St Paul's Cathedral Bird Lady. At first she refused but Walt Disney set on having her that he personally visited her home and persuaded her to take part. He sent a limo to pick her up and take her home during her one day of shooting.
15. Dick Van Dyke Asked Walt Disney To Play Mr Dawes Snr
Dick Van Dyke was cast in the main supporting role in Mary Poppins after Disney saw his work on The Dick Van Dyke Show. After securing the part, he asked to be playIng the role of Mr Dawes Snr but Disney felt that he was too young to pull it off. Van Dyke didn't let go and eventually convinced Disney after providing a screen test.
The scene where Mr. Dawes, Sr. has trouble with the step in the bank room was not originally in the script. While viewing a make-up test for Van Dyke in the projection room, Walt Disney saw him entertaining the crew between takes with some comic routines. Including the "stepping-down routine" of an old man trying to step off the curb. Walt Disney specifically requested that the Mary Poppins crew members build a six-inch riser on the bank room set so that Van Dyke could do the stepping-down routine.
16. Dick Van Dyke Is Aware Audiences Hate His Cockney Accent
Although Dick Van Dyke is a much loved actor including for his role in Mary Poppins, it is widely accepted that his attempted Cockney accent is one of the worst accents in film history! His accent has been since mentioned by many actors doing a British accent as something they wish to avoid. In 2003, Empire Magazine did a poll of the worst accents of all time and Dick Van Dyke in Mary Poppins came in second.
While receiving an award for television excellence from BAFTA, the British Academy of Film and Television Arts, Van Dyke said "I appreciate this opportunity to apologise to the members of BAFTA for inflicting on them the most atrocious cockney accent in the history of cinema."

17. P.L. Travers Was Not Invited To The Mary Poppins Premiere
Despite consulting on the entire film, P.L. Travers was not given an invitation to the Mary Poppins premiere on the 27th of August 1964 at Grauman's Chinese Theatre in Los Angeles. She instead obtained an invitation from an executive at the Walt Disney Company and was still discussing changes that she wished to be made to the film at the after party. Walt Disney famously responded to her comments with, "Pamela, the ship has sailed."
18. Matthew Garber Was Paid To Overcome His Fear Of Heights On Set
Matthew Garber, who played Michael Banks, was paid 10 cents for each take in the tea party scene. He was afraid of heights, so a crew member offered to pay him a "bonus" of 10 cents for every take.
Another sky high secret in the production of Mary Poppins, is that the wires holding up Julie Andrews were darkened with shoe polish to reduce reflection from the studio lights.

19. Mary Poppins' Profit Paid For The Walt Disney World Construction
Mary Poppins was such a profitable film for Disney. It was made on the budget of US$4.4 million – US$6 million and it had a net profit of US$28.5 million. Huge amounts of the profit made from Mary Poppins allowed Walt Disney to purchase land in central Florida and finance the construction of Walt Disney World. Profits are also used to fund the Disney World Monorail system. A MAPO safety system is included on all Disney monorails which is supposedly named so because of MA-ry PO-ppins. This can also be seen on all Walt Disney World Railroad Steam Locomotives.
20. Mary Poppins Holds The Record For The Longest Disney Film In Print
Mary Poppins is the Disney film hat holds the record of having the longest in-print status on video. It was released on VHS in 1981, and has been re-released several times since, so much so it has managed to stay in stores since then. Not once has Mary Poppins been out-of-print on video/DVD.
21. There Really Is A Man With A Wooden Leg Named Smith
In Walt Disney World, in the lost and found in Frontierland, there is a wooden leg with the word "Smith" written on it. This is a reference to the Mary Poppins Tea Party joke about "a man with a wooden leg named Smith" which is repeated by several characters.
22. P.L. Travers Forbid Anyone Other Than English Writers To Work With Her After Disney
P.L. Travers was so enraged by her time working with the Walt Disney Company that when producer Cameron Mackintosh approached her about producing a stage musical of Mary Poppins in the 1990s, she only agreed under the condition that only English born writers would be used. She also stipulated that no one from the film production be directly involved.
23. There Is A Whole Episode Of The Simpsons Dedicated To Mary Poppins
The film inspired the eighth season episode of The Simpsons entitled "Simpsoncalifragilisticexpiala(Annoyed Grunt)cious", featuring a parody of Mary Poppins called "Shary Bobbins" who helps out the Simpson family when Marge loses her hair due to stress. It also includes spoof songs, "The Perfect Nanny", "A Spoonful of Sugar", "Feed the Birds" and "The Life I Lead".
24. The Mary Poppins Snow Globe Was Found In The Janitors Office
When the Founder and Chief Archivist at the Walt Disney Archives, Dave Smith, went on a search for the Snow Globe from this Mary Poppins, which includes birds flying around St Paul's Cathedral, he found it on a shelf in a janitor's office. The janitor explained that he saw the Snow Globe sitting ready to be thrown away, but liked it so much he kept it for himself.
25. Many Of Mary Poppins' Competitors Were Men
Many of the nannies stood in the large queue of applicants outside the Banks' house at the start of the film were actually male actors in drag.
26. Karen Dotrice and Matthew Garber Have Genuine Reactions In Some Scenes
The Mary Poppins Producers didn't inform Karen Dotrice (Jane Banks) or Matthew Garber (Michael Banks) about some elements that were going to happen. Jane Banks' expression when Mary Poppins takes out many items from her carpet bag is genuine. Along with the scream when Mary Poppins gave the children medicines of different colors.
The children also weren't told who was going to be starring as Mr. Dawes, Sr. and allegedly were worried that a scary old man was going to fall over at any moment.
27. Julie Andrews' Favourite Song Was "Stay Awake"
One of Julie Andrews' favorite songs in Mary Poppins was "Stay Awake." When she heard that there were plans to cut it, she wrote a letter of concern to P.L. Travers who instantly insisted that the song remain in the film.
A song about Admiral Boom was written but didn't appear in the film. You can hear the music composed for it in the score.

28. Walt Disney's Favourite Song Was "Feed The Birds"
"Feed the Birds" was Walt Disney's favorite song in Mary Poppins and insisted that anytime he visited the Sherman brothers during the rest of his life, he would say, "Play it", and they knew he wanted to hear "Feed the Birds".
Hilariously feeding the birds at St. Paul's Cathedral became illegal in the 21st Century due to an excessive defecation and an ever expanding avian population.

29. The Kite Is A Symbol Of The Banks Family Coming Together
The song "Let's Go Fly a Kite" was inspired by the Sherman Brothers' own Father, Al Sherman, who made kites for local children in his neighbourhood as a hobby. The broken kite in Mary Poppins represents the broken family and when Mr Banks tapes the four pieces back together, the four members of the family are also reunited.
30. The Lady With The Tall Daughters Is In The Rest Of The Book Series
The short old lady in the park at in the beginning of Mary Poppins with her two tall daughters is named Mrs. Corry. In the original book, she ran the sweet shop in the park and in the Broadway show they buy the letters to make the word "Supercalifragilisticexpialidocious" from her.
31. Julie Andrews' Stand In Gets A Scene
Larri Thomas plays the woman in the carriage who blows a kiss at Bert during the "Chim Chim Cheree" performance. She was also Julie Andrews' stand-in.
32. Rubbing Hands With A Chimney Sweep Is A Tradition
The tradition of good luck rubbing off when shaking hands with a chimney sweep is actual quite sad. Due to the amount of coal dust being inhaled, the life of a chimney sweep tended to be shorter than average and many would end up being unable to work spending their final days in poverty. As a chimney sweep had bad luck, their handshakes were seen as passing on luck that they couldn't have for themselves but it could be transferred to others.
33. The Princess Diaries Was Filmed On The Same Stage As Mary Poppins
When filming The Princess Diaries in 2001, Julie Andrews discovered that Director Garry Marshall was living in the same house that she did when she was making Mary Poppins. Some of The Princess Diaries was also filmed on the same soundstage as Mary Poppins. Andrews knew this to be true because there is a plaque on the soundstage commemorating Poppins.
34. Supercalifragilisticexpialidocious Existed Before Mary Poppins
The word "supercalifragilisticexpialidocious" was not created for Mary Poppins. A variation was first used in a 1949 song by Gloria Parker and Barney Young. They did sue Disney for plagiarism, but lost after the lawyers showed that a similar word had been used by Helen Herman in the "Syracuse Daily Orange", a college newspaper, on March 10, 1931. Herman wrote: "Several years ago, I concocted an expression which, to me, includes all words in the category of something wonderful...I believe that I am the sole originator of it, or at least, I have my own interpretation of its pronunciation… it implies all that is grand, great, glorious, splendid, superb, wonderful."
35. The Cherry Tree Lane Houses Got Smaller In Size To Create Perspective
The houses on Cherry Tree Lane where the Banks house is were built on a diminishing scale, so getting smaller as the lane got further away. The Cherry Tree Blossoms in Cherry Tree Lane were made of plastic and imported from France and Portugal - each leaf and bloom had to be hand-mounted.
36. Mary Poppin's Carousel Horse Is On Display In Orlando, Florida
The horse that Julie Andrews rides upon while on the carousel in the Jolly Holiday scene is still on display in Orlando, Florida. The carousel horse can be seen by those who are waiting in line at the Chinese Theatre for The Great Movie Ride at Hollywood Studios. This ride has since closed.
37. Uncle Albert Was Meant To Be Viennese
Uncle Albert played by Ed Wynn was originally written in the script as having a Viennese accent. Ed Wynn, however did not attempt the accent. He kept his own while ad-libbing many of the lines and laughing on the ceiling.
38. Step In Time Was Inspired By Knees Up Mother Brown
The Sherman Brothers were originally just going to use the song "Chim-Chim-Cheree" for all of the music in the rooftop finale. However, the Special Effects Supervisor, Peter Ellenshaw introduced them to the English pub song "Knees Up Mother Brown" so they decided to make their own variation coming up with "Step In Time".
39. Mary Poppins Quotes Poet John Keats
Mary Poppins quotes John Keats' "Endymion" when she says, "A thing of beauty is a joy forever", as she pulls a plant pot out of her carpet bag. This is the same Keats line used by Gene Wilder in Willy Wonka & the Chocolate Factory made in 1971.
40. The Nursery Toys Were Originally Meant To Come Alive
During the room tidying scene, there was originally a moment when all of the toys came to life. It proved to be too scary for children so it was cut out of the final script. However, the idea was re-used in the Broadway musical of Mary Poppins.
41. Julie Andrews Also Plays A Nanny In The Sound Of Music
In Julie Andrews' next film, The Sound of Music released in 1965, she also plays a Nanny who helps the Father of the children she's looking after have a better relationship with them.
42. Dick Van Dyke Used To Prank Tourists In Disneyland In His Costume
In an interview for the anniversary of Mary Poppins, Dick Van Dyke divulged that while on breaks when filming scenes dressed as Mr Banks Snr, he would regularly prank the tourists on the Disneyland backlot tour by flagging down the bus and then running past them at full speed!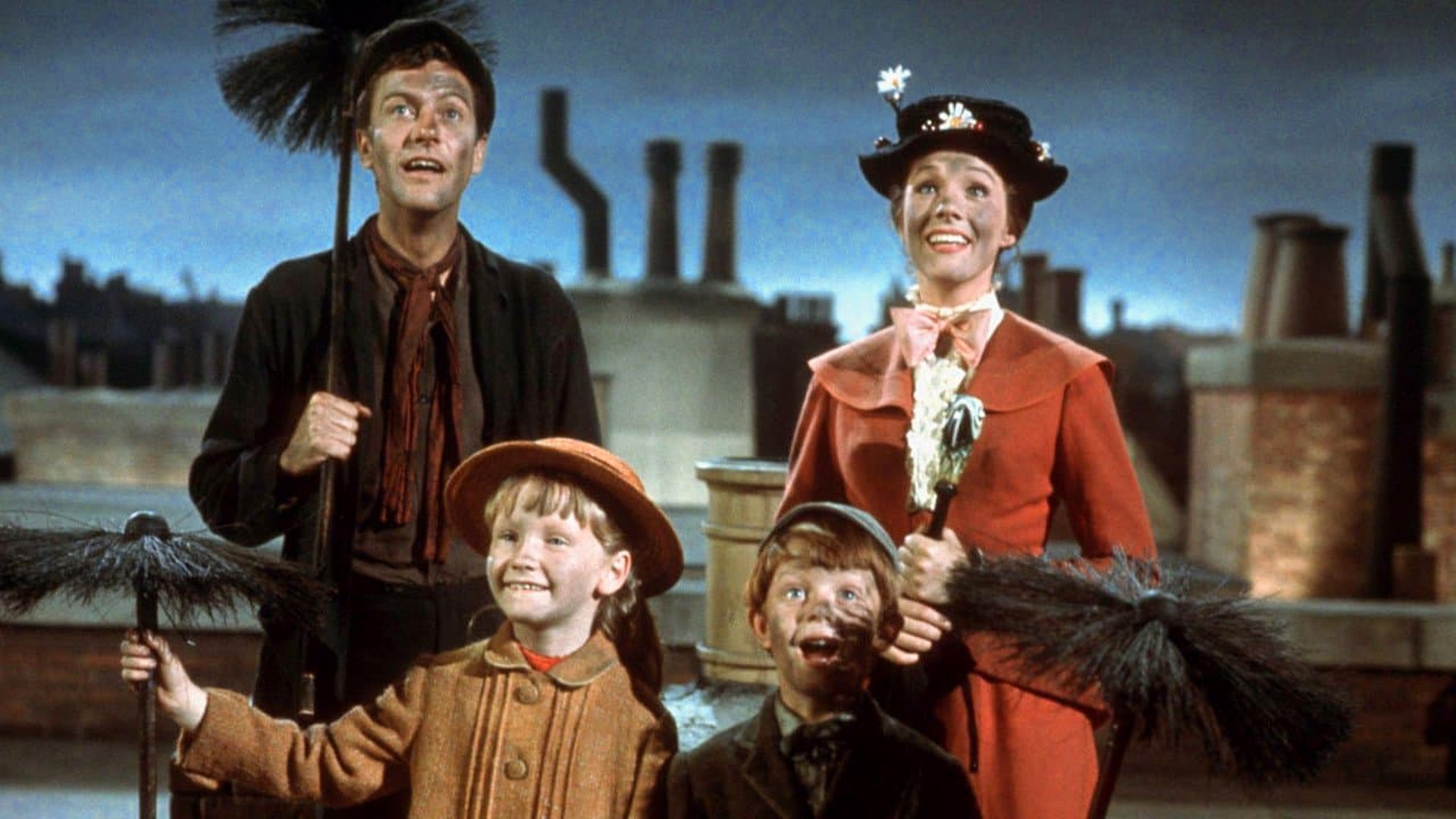 42 Mary Poppins (1964) Movie Facts You Haven't Read Before
What is your favourite moment from Mary Poppins (1964) movie? Let us know in the comments below.