23 Mean Girls (2004) Movie Facts You Haven't Read Before
Mean Girls is the ultimate noughties teen comedy film written by comedian Tina Fey and directed by Mark Waters. The film stars Lindsay Lohan as Cady Heron who recently moved from Africa to the USA and has to enter the competitive world of high school for the first time. Our Mean Girls movie facts include which character Lindsay Lohan was nearly cast as before Cady Heron, how many cities the crew visited in order to find an actor for Damian and how Amy Poehler trained the George's chihuahua in her scenes.

Watch our Mean Girls Movie Video on YouTube.
Mean Girls is the ultimate noughties teen comedy film written by comedian Tina Fey and directed by Mark Waters. The film stars Lindsay Lohan as Cady Heron who recently moved from Africa to the USA and has to enter the competitive world of high school for the first time. Rachel McAdams, Lacey Chabert and Amanda Seyfried also star as The Plastics, North Shore High School's three most popular girls who try to take Cady under their wings to help her survive high school. Cady loses her real friends Janice Ian (Lizzy Caplan) and Damian Leigh (Daniel Franzese) in the process. Mean Girls was based in part on Rosalind Wiseman's 2002 non-fiction self-help book "Queen Bees and the Wannabes" which describes female high school cliques and the damaging effects that they can have on girls as they grow up. Mean Girls was released on the 30th of April 2004 and grossed US$130 Million worldwide and has since gained a cult following.
Our Mean Girls movie facts include which character Lindsay Lohan was nearly cast as before Cady Heron, how many cities the crew visited in order to find an actor for Damian and how Amy Poehler trained the George's chihuahua in her scenes.

1. Mean Girls Was Amanda Seyfried's Debut Film Role
Amanda Seyfried began modelling at 11 years old and ventured into acting at age 15 with recurring roles in the CBS Soap Opera As The World Turns from 1999 to 2001 and on All My Children on ABC in 2003.
She originally auditioned for the role of Regina George in Mean Girls with the role eventually going to Rachel McAdams. She was also initially considered to play the lead role of Cady Heron played by Lindsay Lohan, so the Producers decided that she should play Karen Smith, the dim witted member of The Plastics instead.
2. Mean Girls Was Based On A Non Fiction Self Help Book
After Tina Fey read Rosalind Wiseman's "Queen Bees and the Wannabes", she called the Saturday Night Live and 30 Rock Executive Producer Lorne Michaels to suggest it as a film idea. He contacted Paramount Pictures who purchased the rights to the book. As the book is nonfiction Tina Fey wrote the whole plot from scratch both drawing on stories from her own time at high school and the impressions that she got from the Evanston Township High School upon which the fictional North Shore High School is based.


3. Glenn Coco Is Tina Fey's Brother's Real Name
Many characters in Mean Girls are the real life friends of Tina Fey. She told Entertainment Weekly in 2014 that she used real names in writing because it was easier. Cady Heron is named after Tina Fey's college roommate Cady Garey. Damian was named after her high school friend Damian Holbrook who went on to be a writer at TV Guide. Glen Coco is actually named after her older brother who works as a film editor in Los Angeles. Janice Ian was named after a singer of the same name who guest stars on the first Saturday Night Live episode. Incidentally her song "At Seventeen" can be heard playing in the background when the Mean Girls are fighting at Regina George's house.
4. Lindsay Lohan First Read For Regina George
Actor Lindsay Lohan first read for the part of Head Plastic Regina George but the team felt that she was closer to what they were looking for in terms of the main character Cady. Lohan also feared that the main Mean Girl role would not be good for her reputation so she agreed to play the lead instead.
Rachel McAdams was cast as Regina because Tina Fey felt that her real life polite nature made her perfect for such an evil character. Lacey Chabert (Gretchen Weiners) and Daniel Franzese (Damian) were cast last for their roles. Lacey Chabert was the only person ever considered for the role of Gretchen. The casting team searched four cities before they found Daniel Franzese to play Damian.

5. The Character Of Janis Ian Was Modelled Off Kelly Osbourne
The Mean Girls director Mark Waters, hoped the role of Janis would go to someone who had a Kelly Osbourne vibe and initially considered Lizzy Caplan too conventionally attractive for the role. However, she played the part with such raw emotion that he changed his mind.
6. Four Saturday Night Live Veterans Were Cast In Mean Girls
Writer Tina Fey herself is well known for starring in Saturday Night Live and played Ms Sharon Norberry in Mean Girls, the school Calculus teacher and Head of the Mathletes. Ms Norberry is named after Fey's own German teacher from her time at Upper Darby High School.
Tina Fey wrote the part of June George, Regina's Mother for Amy Poehler but was convinced the Producers would think that she was too young to have a teenage daughter, nevertheless she was given the role. She is only seven years older than her on-screen daughter Rachel McAdams.

Tim Meadows played Principal Ron Duvall in Mean Girls and lastly, Ana Gasteyer plays Betsy Heron, Cady's Zoologist Mother.

7. Blake Lively Did Final Tests For The Role Of Karen Smith
Blake Lively got so far along in the casting process that she was doing final tests for the role of Karen Smith before the part went to Amanda Seyfried instead. Ashley Tisdale was originally considered for the role of Gretchen Wieners. Jonathan Bennett was a last minute replacement for Aaron Samuels after the original actor was fired. James Franco had also previously been considered for the role of Aaron Samuels too. Bennett was chosen by Tina Fey for the role due to his resemblance to Jimmy Fallon, another SNL co-star of hers.
8. Mean Girls Was Mostly Shot In Toronto, Canada
While Mean Girls is set in Evanston, Illinois most of the film was shot in Toronto, Canada at Etobicoke Collegiate Institute and Malvern Collegiate Institute. The film includes famous Toronto landmarks including the University of Toronto's Convocation Hall, and Sherway Gardens. Filming began on the 27th September 2003 and finished on the 25th of November the same year. Montclair High School in Montclair New Jersey was also used.
9. Mean Girl's Day Happens Every Year
Mean Girls is such a cultural hit that the 3rd of October has been dubbed the annual 'Mean Girls Day' on social media sites in reference to a line Lindsay Lohan's character says in class. People also celebrate the day by wearing pink after another instantly recognisable quote from the film, "On Wednesdays we wear pink!"
10. Mean Girls Has Been Quoted On The International Stage
Mean Girls has had such a cultural impact across the USA and internationally. Fans have made many gifs and memes of the film across social media sites including Tumblr. It is considered one of the most quotable films of all time with Tina Fey noting, "Young people watch it like a reality show. It's much too close to their real experiences."
Mariah Carey has said on several occasions that she has a huge fan of the film using quotes in numerous TV appearances including on American Idol. Her single 'Obsessed', released in 2009, includes the Mean Girls line, "Why are you so obsessed with me?". Ariana Grande also parodied Mean Girls in her 2018 music video for the song "Thank U Next", with the film's actors Jonathan Bennett and Stefanie Drummond appearing alongside her.
In 2013, the White House tweeted a photo of then President Obama's dog Bo holding a tennis ball with the caption, "Bo, stop trying to make fetch happen". In 2019, Hillary Clinton tweeted a gif of the same quote, "Why are you so obsessed with me?" in reply to Donald Trump.
In 2018 the official Twitter account of the Israeli Embassy in the USA tweeted an Iranian leader with the same gif. Finally, in June 2020, the Prime Minister of Ireland quoted Cady Heron's line, "the limit does not exist" during a COVID-19 pandemic briefing.
11. Mean Girls Was Turned Into A Mobile Game
In 2010 a Mean Girls video game developed by Crush Digital Media was announced for the Nintendo DS Games Console but was cancelled before release. In 2015, an iOS game based on the film was released. Since then Pocket Gem's mobile app Episode also released Mean Girls interactive stories which followed the characters from the film.
12. There Is A Mean Girl's Musical On Broadway
Tina Fey confirmed in 2013 that a musical adaptation of Mean Girls was being worked on. She wrote the book of the show and the composer for 30 Rock and Tina Fey's husband Jeff Richmond worked on the music with Casey Nicholaw directing. The Mean Girls musical premiered at the National Theatre in Washington DC on Halloween 2017. Mean Girls opened on Broadway at the August Wilson Theatre In 2018.
In 2020 Tina Fey announced that a film adaptation of the Mean Girls musical was in active development stating, "I am very excited to bring Mean Girls back to the big screen". Tina Fey has referred to the Mean Girls characters as her Marvel Universe.
13. Mean Girls 2 Exists As A Made For Television Film
Mean Girls 2 premiered on ABC family in January 2011 as a made for television sequel. The plot takes place after the first movie but has an entirely different cast with the exception of Tim Meadows who reprises his role as Principal Ron Duvall of North Shore High School.
14. Jennifer Aniston Could Still Be Involved In A Mean Girls Sequel
In 2014, Warner Bros Pictures and New Line Cinema planned to release a spin-off starring Jennifer Aniston as the lead named 'Mean Mums'. This was adapted from another book by Rosalind Wiseman however it did not make its proposed release date and the film has been put on hold ever since.
15. Mean Girls Was Nearly R Rated
The Mean Girls script had to be altered to give the film its PG-13 rating. For example, the scene in which Cady is asked, "Is your muffin buttered?" was originally going to be, "Is your cherry popped?" Also, "made out with a hotdog" was going to be a lot more intimate!
Similarly the scene in which Cady walks in on Jason and Gretchen kissing at the party was originally meant to be of Gretchen performing a sex act.
16. Rajiv Surendra Was Taught How To Rap For Mean Girls
Rajiv Surendra who played Kevin Gnapoor was taught how to rap by Tina Fey and Amy Poehler for his role as the North Shore High School Mathlete's Captain.
17. Mr Duvall Actually Broke His Hand
The actor Tim Meadows actually broke his hand before shooting so the cast that his character Mr Duvall wears on screen is completely real and necessary. It is explained away as Carpal Tunnel Syndrome in theMean Girls plot.
18. The Talent Show Isn't All As It Seems
When Daniel Franzese aka Damian performs at the school talent show - he sings a cover of Beautiful by Christina Aguilera - off camera the only person in the audience is the actor's real life Mother.
The Plastics in Mean Girls became literally plastic during the unforgettable Christmas performance of Jingle Bell Rock when the costume designer decided to make the girl's skirts out of plastic. Interestingly Regina George, Gretchen Wieners and Karen Smith never once call themselves "The Plastics".
19. Amy Poehler Used A Sausage To Get The Chihuahua To Meet It's Cues
During the scenes at Regina George's house when we first meet her Mum June George, George's Chihuahua ends up biting her on the nipple. Actor Amy Poehler pinned a small piece of cocktail sausage into her costume to encourage the Chihuahua to meet its cue.
20. There Is A Large Age Gap Between Rachel McAdams and Lindsay Lohan
Lindsay Lohan and Rachel McAdams play characters who attend the same high school and are in the same year group however in reality, Lindsay Lohan is younger than Rachel McAdams by eight years. Rachel McAdams was 25 at the time of filming.
21. "Fetch" Was Made Up By Tina Fey
The word Fetch was actually invented by Tina Fey purely for the movie. She did not want to use an expression that teenagers actually use as the film would have become outdated very quickly. With Fetch being made up, this scene seems seem oddly timeless.
22. Mean Girls And The Wild Thornberrys Have A Weird Connection
At the beginning of Mean Girls Lindsay Lohan's character Cady Heron has moved from Africa after spending most of her life away from America while her parents worked as Zoologists. This plot point is very similar to the 1998 children's TV show The Wild Thornberry's in which Lacey Chabert voices the main character Eliza. Chabert plays Gretchen Wieners in Mean Girls.

Although it is never mentioned in the film itself, Cady's Parents are named Chip and Betsy Heron.
23. Mean Girls Foreshadows The Bus Accident Early On
The film foreshadows that someone will be hit by a bus on two occasions before it happens. The first is when it's Cady's first day and she doesn't check the road. The second time is when Cady uses the simile, while talking about the crush she has on Aaron Samuels in a voiceover, "...this one hit me like a big yellow school bus."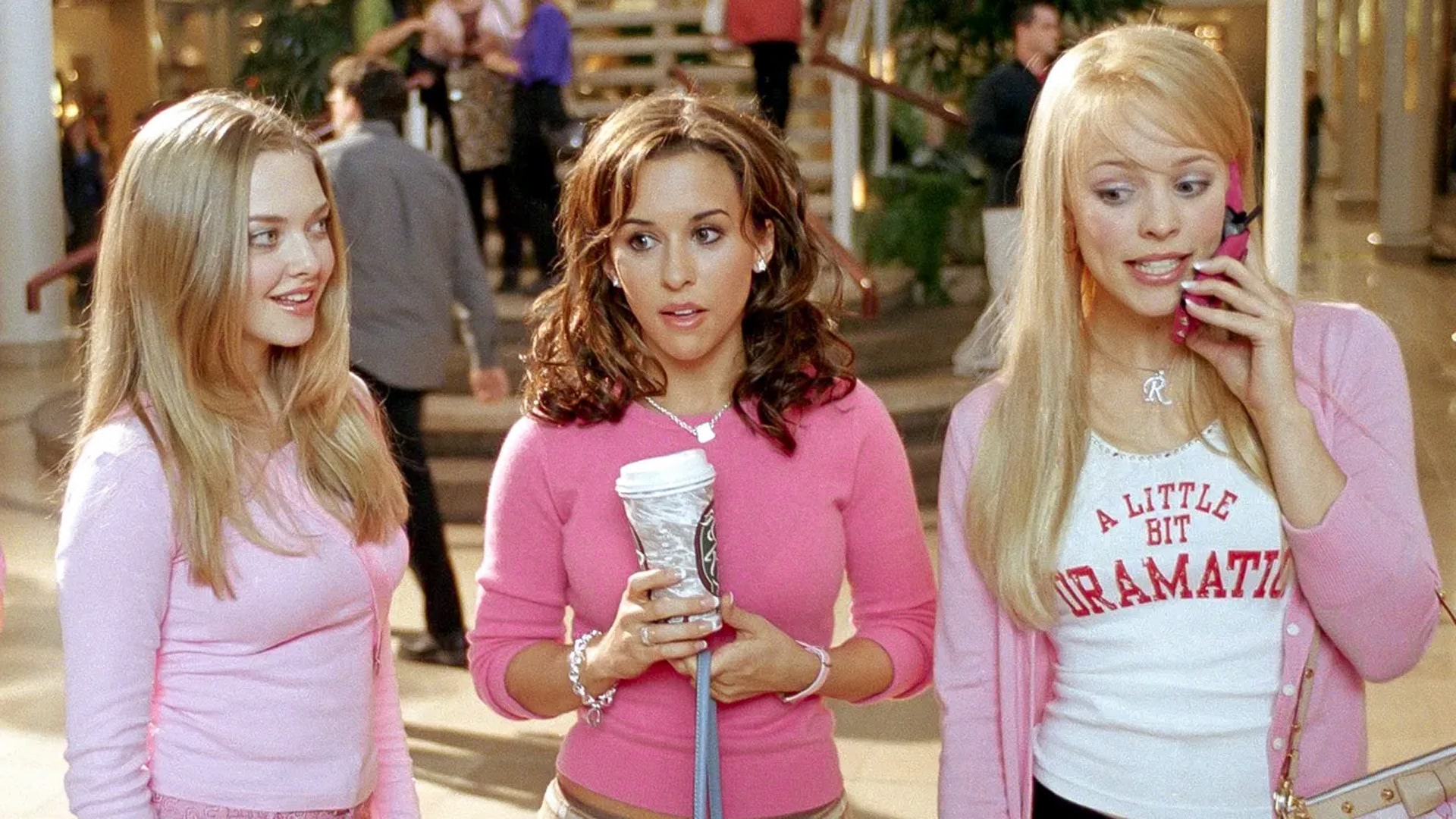 23 Mean Girls (2004) Movie Facts You Haven't Read Before
What was your favourite moment from the Mean Girls (2004) movie? Let us know in the comments below.