Vicar of Dibley: Inside Out - Behind The Scenes Secrets From The Vicar Of Dibley Cast
Insights into the production of The Vicar Of Dibley written by Richard Curtis and starring Dawn French from the documentary Vicar Of Dibley: Inside Out released in March 2021 on GOLD. The 1994 sitcom became an unlikely hit focusing on a female member of the clergy who is placed in the small, traditional English village of Dibley. Cast members James Fleet and Mel Gedroiyc also feature.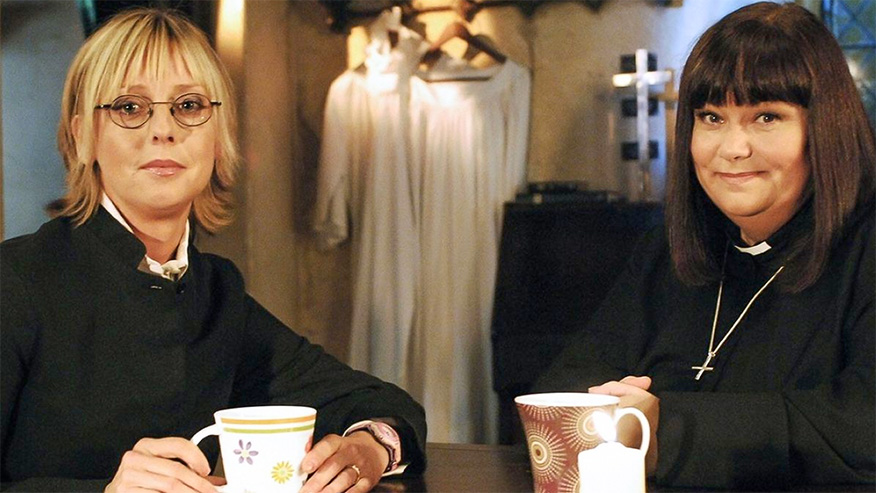 In the documentary Vicar Of Dibley: Inside Out released in March 2021 on GOLD, writer Richard Curtis (Four Weddings and a Funeral 1994) and Dawn French (Geraldine Granger) discuss the making of The Vicar of Dibley. The 1994 sitcom became an unlikely hit focusing on a female member of the clergy who is placed in the small, traditional English village of Dibley which is full of eccentric characters. Cast members James Fleet (Hugo Horton) and Mel Gedroiyc (Mary Tinker) also feature and discuss how the beloved characters were created, talk through the memorable storylines including that very deep puddle and pay tribute to the Dibley greats who have sadly passed away.
"A show about goodness… [and] people looking after each other, this is about a family" – Dawn French.
While there are many similarities to real English villages, many international fans are surprised to learn that Dibley was made up specifically for the show. All location shots in the sitcom are filmed in the village of Turville in Buckinghamshire which is a popular area for Film and TV crews due to its Chocolate Box feel. Turville is also the location of the Windmill in Chitty Chitty Bang Bang (1968). It was the Chiltern Hills around Turville that inspired the composer Howard Goodall to write his version of Psalm 23 'The Lord Is My Shepherd' for The Vicar of Dibley theme tune.
Despite having many conventions of a successful British comedy, the actual premise of The Vicar of Dibley is an unlikely one. It was created by Richard Curtis who by this point was well known for introducing audiences to Hugh Grant (thank you) in the film Four Weddings and a Funeral. Curtis described in the documentary that he went to a civic wedding where a woman was invigilating and he became "100% convinced of the cause of female Vicars" - relating it to the fact that he saw his Mother be much more invested in love and relationships than his Father.
The New Vicar was the name of the draft script Curtis had written to begin with before it turned into The Vicar of Dibley. He vocalised the idea when the Church of England Synod were going to let Women be ordained and he enlisted the help of BBC Comedy writer and script editor Paul Mayhew Archer to help boost the lines in the script. The pair worked back and forth on rewrites, Mayhew Archer claimed they "literally never [sat] down together" but the premise grew into the wonderful world of Dibley that we know and love today.
The Vicar of Dibley plot is not inherently controversial, Curtis jokes that it was maybe "a bit ruder and edgier" in some points than the premise would suggest, "it was programmed after 9PM [due to the] Bestiality!"
Yet David Horton's cold and misogynist reception of Geraldine mirrors the view of many men in the Church of England at that time. In 1992, The General Synod of the Church of England allowed the first 32 women to be ordained in Bristol Cathedral. One of the most baffling pieces of archive footage used in the documentary includes a male Vicar calling these newly ordained women, "a New Order of Transvestites".
Dawn French claimed that Richard Curtis had written the lead part with her in mind but despite 'The Funny Vicar' being a staple in UK comedy for decades, she was originally reserved about playing a priest. She feared that playing an ultimately nice character wouldn't get enough laughs, "I didn't want to be playing a lead role that was a fulcrum for everyone else's gags". French may have been skeptical of the first iterations of Geraldine Granger but as fellow comedian and contributor to Vicar of Dibley: Inside Out Joanna Lumley says, "If Dawn is near anything it begins to shine differently".
Dawn French said she got "hate mail" from viewers who held similar sexist and extreme views to the aforementioned Church of England priests, "they were furious". She also describes the use of Provincial Episcopal Visitors by the Church of England, more commonly known as Flying Bishops who went between parishes to provide pastoral care to those opposed to female clergy! Heaven forbid.
French's reservations in playing a "sweet person with no faults" that was "too nice to be funny" were dissolved when the production team consulted with one of the first 32 original female Vicars. Joy Caroll Wallis shattered all preconceptions Curtis and French had about the clergy; She swore, talked about boyfriends and had a large number of empties outside of her front door. This time spent with Joy Caroll Wallis gave them both the confidence to "fool around a lot" once they were comfortable that a Vicar could lead a Church and was also allowed to have sex and eat chocolate. Reverend Kate Botley known as one of the armchair critics on Gogglebox claims that "Dibley is a documentary!"
With Dawn French on board, The Vicar of Dibley cast was taking shape and Richard Curtis claims that he knew the sitcom was going to be a success when they hired another name from British comedy royalty, Roger Lloyd Pack. Curtis was "amazed" when Pack accepted the role of Owen Newitt, a member of the rural farming community who loved his animals just a bit too much. Co-creator Paul Mayhew Archer was equally jubilant at the casting of Roger Lloyd Pack as he was the only person he knew who had two roles in two "Christmas Night Sitcoms".
The Vicar of Dibley's cast expanded and introduced TV audiences to veteran actors including John Bluthal (Frank Pickle) who had a 60 year career with Spike Milligan, the National Theatre and had roles in The Beatles' films A Hard Day's Night (1964) and Help! (1965).
One stand out cast member was James Fleet who played the "charmingly idiotic" Hugo Horton. Curtis started writing Hugo for Fleet who he had previously worked with in Four Weddings and a Funeral claiming that "he'd be marvellous". The only dispute that Dibley's Producer Jon Plowman had was that it would mean David had fathered Hugo when he was "about 10 years old" as there is only a 7 year age difference between Fleet and his co-star Gary Waldhorn! Fleet jokes that before his appearances for Richard Curtis he was offered a wider range of parts and that Hugo "single handedly blighted his whole career".
Fleet would also pitch his own storylines for Hugo - including an episode where Hugo's Mother comes back - and claims, with a smirk, that Curtis ignored them! Fleet said he hoped his Mother would have been "Joanna Lumley in huge satin robes and evening gloves."
It may have been because of these suggestions that Richard Curtis originally wanted to kill off Hugo one Easter - he must enjoy writing funeral scenes. However he went on to write out Mrs Cropley, the "Dibley Poisoner" who is responsible for such culinary delights as Marmite Birthday Cakes and Chocolate Spread and Taramasalata Sandwiches. Liz Smith only appeared as Letitia Cropley in Series One and the Easter special but audiences still remember her fondly as much as the other characters. Mrs Cropley's funeral was the first emotional scene The Vicar of Dibley creators had to do.
"Thank God For Emma Chambers" – Dawn French.
The documentary took an emotional turn itself when the contributors began talking about Emma Chambers, the brilliant actor who brought Alice Tinker the simple Dibley Verger to life. Dawn French and Richard Curtis marvel at how seriously Chambers took the role and remarked of her dedication and perfectionism behind the scenes. French says beautifully that Chambers "wanted to invent a world of Alice that we [were] invited into".
James Fleet remembers that he and Chambers had fun running lines together as she could switch to different accents seamlessly. It was because of her comic delivery that Curtis ended up seeing how far he could push Alice's character, giving her hilarious monologues about mundanity such as the I Can't Believe It's Not Butter scene. James Fleet recalls telling her, "you're going to be SO famous like Baldrick (Blackadder)!"
Emma Chambers sadly passed away at the age of 53 in 2018.

"It was a Sex romp in rural England, we should all be in prison" - James Fleet.
Despite The Vicar of Dibley getting a lot of its laughs from the clashing of stuffy rural England with modernity and the unbelievable characteristics of its residents, the show is really about finding happiness and love in Friendship. Gerry Granger is no stranger to romance, having many love interests across the episodes. One that stands out the most is Simon Horton, a widower, a rogue and David's younger brother.
Clive Mantell who plays Simon claims that, "It's not difficult to flirt with Dawn''. He was already a well known face on the drama Holby City and his filming schedule meant that Simon and Geraldine's relationship could only be explored during one episode instead of the planned three. Nevertheless, Simon Horton is the reason that we have one of the most memorable scenes in British sitcom history. Move over Del Boy falling through the bar, we have Geraldine Granger jumping into a puddle. Dawn French remembers seeing the puddle stunt in the script; she'd have to jump up to her neck into a large muddy puddle in the middle of November! Curtis claims that her Comic Strip days with Jennifer Saunders allowed French to be great at physical comedy and really she "relished" in it. After that stunt Dawn has never been able to shake off the puddle scene, "the amount of time I have been asked whether I'd like to jump into a puddle for charity!"
Dawn French wanted Geraldine to have a happy ending. She had played cupid for Alice and Hugo, said no to advances from both Owen and David and got the wrong end of the stick when Tristan from Songs of Praise asked her to marry him. Bring in Harry Kennedy, played by the very handsome Richard Armitage. Hilariously Armitage claims that he had heard on set that the production team wanted a Ray Winstone type character for Geraldine but because Richard Curtis had modelled Harry on himself, they ended up with a skinny, bookish Accountant instead!
Paul Mayhew Archer explains the fantasy element of Harry's arrival as "a bit dreamlike and wish fulfilment". He is unlike anyone else in the village and Geraldine finally meets her intellectual and romantic equivalent.

"It was a kind of show that could earn [a fantasy moment]" – Dawn French.
Dawn French believes that Harry was the right one, as most importantly Harry is romantic. While filming these romantic scenes with Armitage, French admits that she was constantly apologising saying, "I'm so sorry that you've got to kiss an old lady" but he replied with "who doesn't want to kiss Dawn French!"
According to Richard Curtis, Geraldine having a husband takes the format of The Vicar Of Dibley away so it was right that the show would end there. He does however joke in the documentary that they could have had a "tragic accident with a combine harvester" to get rid of Richard Armitage if necessary!
Armitage wasn't the only good looking celebrity to turn up in The Vicar of Dibley. Sean Bean starred in a dream sequence after Dawn French claimed that "Geraldine wouldn't be with someone like David Horton". Kylie Minogue ends up opening the village fete, something that made Richard Curtis go "from being very much in control...writing this script… and [then he] turned into a stupid pre-pubescent silly boy, he wasn't making sense!"
One of the funniest moments from Vicar of Dibley: Inside Out was Curtis admitting that he had written the part of the loud Bishop with the strange shouting tick for Rowan Atkinson. Atkinson watched an episode of the show and said to Curtis, "Fuck that, sorry Dicky but it really is awful" so the crew got Richard Griffiths to play the role instead instead.
During its run, The Vicar Of Dibley amassed around 14 million viewers per episode and is still a family favourite in households up and down the UK.
Vicar of Dibley: Inside Out is available to watch on GOLD HD and online.
Bravo Mrs God!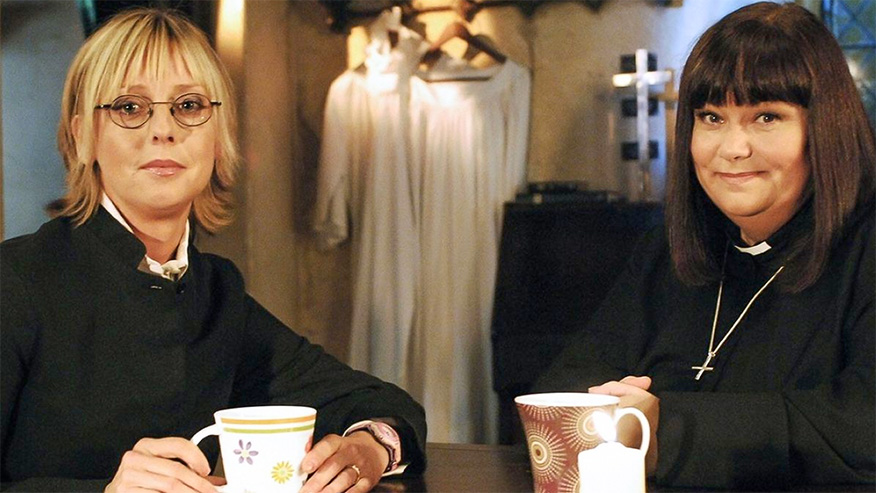 Vicar of Dibley: Inside Out - Behind The Scenes Secrets From The Vicar Of Dibley Cast
What is your favourite moment from The Vicar of Dibley? Let us know in the comments below.