30 Mrs Doubtfire (1993) Movie Facts You Haven't Read Before
Mrs Doubtfire is the hilarious 1993 US comedy film starring Robin Williams in the titular role. It was directed by Chris Columbus and was written by Randi Mayem Singer and Leslie Dixon and based on the 1987 novel "Alias Madame Doubtfire" by Anne Fine. Our Mrs Doubtfire movie facts include what surprising thing Robin Williams did when dressed as Mrs Doubtfire, why the film was banned for children under 12 in UK Cinemas and how long it took to apply Mrs Doubtfire's make up.

Watch our Mrs Doubtfire Movie Video on YouTube.
Mrs Doubtfire is the hilarious 1993 US comedy film starring Robin Williams in the titular role. It was directed by Chris Columbus and was written by Randi Mayem Singer and Leslie Dixon and based on the 1987 novel "Alias Madame Doubtfire" by Anne Fine.
It follows divorced Dad of three Daniel Hillard (Robin Williams) fight a losing battle for custody so instead makes his way back into his children's lives by dressing up as an elderly housekeeper named Mrs Doubtfire. This elaborate con allows him to still see his children grow up regularly, provides many hilarious moments and a startling reveal at the end. Sally Field and Pierce Brosnan also star.
Our Mrs Doubtfire movie facts include what surprising thing Robin Williams did when dressed as Mrs Doubtfire, why the film was banned for children under 12 in UK Cinemas and how long it took to apply Mrs Doubtfire's make up.

1. Mrs Doubtfire Was The Second Highest Grossing Film Of 1993 Worldwide
Mrs Doubtfire has won many awards since it's release including the Academy Award for Best Make Up and the Golden Globe Award for Best Motion Picture – Musical or Comedy. Robin Williams was awarded the Golden Globe Award for Best Actor in a Motion Picture – Musical or Comedy.
Mrs Doubtfire has been ranked 40th on Bravo's 100 Funniest Movies Of All Time. Mrs Doubtfire grossed US$441.3 million on a US$25 million budget. It became the second highest grossing film of 1993 worldwide, beaten only by Jurassic Park (Steven Spielberg).

Interestingly, Mrs Doubtfire was number one at the box office in Australia and Japan for nine consecutive weeks.

2. The Hillard House Became A Tourist Hotspot In San Francisco
The majority of Mrs Doubtfire was filmed on location in San Francisco with street signs for the intersection near the "Painted Lady" home, Steiner and Broadway visible on screen. The exact address of the Hillard house is 2640 Steiner Street and it became a staple tourist attraction for sometime after the film was released. After Robin Williams tragically passed away in 2014, the house became an impromptu memorial with fans leaving tributes outside.
All the interior filming for the home took place in a Bay Area Warehouse converted for soundstage usage and Daniel Hillard's apartment was upstairs from Danilo Bakery at 516 Green Street. The restaurant used for the final reveal scene was Bridges Restaurant and Bar in Danville, California.

Part of Mrs Doubtfire were also filmed at the studios of the real television station KTVU in Oakland, California.

3. Mrs Doubtfire's Make Up Took 4 ½ Hours To Apply
Director Chris Columbus claimed that he looked through hundreds of photographs until he found a 1940s English Woman on whom to base Mrs Doubtfire's look. The film itself took over 70 days to shoot with 40 of those needing Robin William's makeup transformation which took over 4 1/2 hours to implement each day - starting at 5AM so that he was ready to start filming at 9AM.
Robin Williams described in an interview that Mrs Doubtfire's bodysuit was "made out of, like, spandex and beans. It's like a walking beanbag chair."
The prosthetic face mask shown as Mrs Doubtfire's face in scenes in Daniel Hillard's apartment was actually just a prop. In reality Mrs Doubtfire's make-up came in eight separate pieces.Hilariously, Robin Williams' own son did not recognise him in his Mrs Doubtfire costume until he started speaking!
4. Robin Williams Walked Through San Francisco Dressed As Mrs Doubtfire
Actor Robin Williams recounted after the film's release how he walked around San Francisco in full make-up and costume as Mrs.Doubtfire to see what reaction the public would give to her. This went even further when he admitted to visiting an adult store and purchasing a large amount of sex toys in character!
To promote the film, Robin Williams would dress up as Mrs Doubtfire for promotional interviews too and do them as his alter ego. He would sometimes also play the interviewer. Williams and Columbus would muck around between takes where Mrs Doubtfire would introduce the director as her own son.

Marsha Williams, Robin Williams' wife at the time of filming, claimed that he would become a completely different person when he was in the Mrs Doubtfire costume. She stated that "he becomes this woman. I really feel like I'm not talking to him anymore." Both Marsha and Robin Williams were producers on Mrs Doubtfire.

5. Children Were Not Allowed To See Mrs Doubtfire In Cinemas In The UK
When Mrs Doubtfire was released it was classified as a PG-13 in the United States. However in January 1994, when it was released in the United Kingdom, the film received a certificate of 12 which completely refused access to children under the age of 12 into cinemas. The 12A certificate did not exist until 2002. This meant that the primary audience of Mrs Doubtfire couldn't watch it upon release so cinemas requested their local authorities to override the decision of the British Board of Film Classification (BBFC) after having to turn down many disappointed families turning up to watch the film. The Independent newspaper reported in February 1994 that censors refused to give the film a U or PG Certificate as 20th Century Fox refused to remove three controversial lines.
These lines included:
"Well, I hope you're up for a little competition. She's got a power tool in the bedroom, dear. It's her own personal jackhammer. She could break a sidewalk with that thing. She uses it and the lights dim, it's like a prison movie. Amazed she hasn't chipped her teeth." This was spoken in a scene where Mrs Doubtfire tries to stop Miranda's new boyfriend, Stu, from entering into a relationship with her. She describes her alleged use of sex toys, desire for oral sex and the idea that she may have a sexual transmitted infection.
The BBFC came to a compromise and the film was re-rated PG in the United Kingdom with just one of the proposed cuts implemented removing 13 seconds of sexual innuendo and was re-released into cinemas in May 1994. The cut version was also used in subsequent VHS and DVD releases. In November 2012 the distributors resubmitted the uncut version to the BBFC and it was given certificate 12 for home viewing on DVD.
6. Over 30 Minutes Of Deleted Scenes Were Cut From Mrs Doubtfire
Due to Robin Williams' Talent for improvisation, over 30 minutes of scenes were removed from the final cut of Mrs Doubtfire. Some of them were featured in the 2008 DVD release named Mrs Doubtfire "Behind The Seams Edition". If the scenes had been included in the original cut the film would have run for 157 minutes.
The scenes include an entire subplot featuring Daniel Hillard's conflict with a nosy neighbour Gloria Chaney, played by Polly Holiday. Mrs Doubtfire fools Gloria into killing her flowers by spraying dog urine over them. A confrontation then takes place between Gloria and Daniel while he is in half of Mrs Doubtfire's costume without his face mask.
There is also an extended scene from the reveal at Bridge's Restaurant where Daniel and Miranda have a longer confrontation and he end up coming home to the family.
There is also a deleted scene in which Daniel and Miranda fight at Lydia's Spelling Bee competition. A scene in which Lydia, Chris and Natalie come home from school and Mrs Doubtfire speaks to them in French and gives the milk and cookies was also deleted from the final film. In 2016, three of these scenes from the 2008 DVD release gained media attention and praise from fans.
7. Mrs Doubtfire Received Criticism For Being Similar To 'Some Like It Hot'
At the time of release, many prominent film reviewers criticised Mrs Doubtfire for being too similar to the 1959 American romantic comedy 'Some Like It Hot' starring Marilyn Monroe, Tony Curtis and Jack Lemmon. While other critics confusingly viewed the film favourably due to its similarity with Dustin Hoffman's 1982 release, Tootsie.
8. Mrs Doubtfire 2 Has Been Rumoured Since 2001
Rumours that a sequel to Mrs Doubtfire have been flying around since 2001 when Bonnie Hunt began to develop Mrs Doubtfire 2. The author Anne Fine had not written a follow-up to 'Alias Madame Doubtfire' and the writing of the sequel did not begin until 2003. Robin Williams was set to return as the titular character but he was originally unhappy with the new script and idea for the plot. The sequel ended up being scrapped in December 2006. In an interview with Newsday in 2006 Robin Williams stated that "the sequel story involve Williams as Mrs Doubtfire moving close to Lydia's College to keep an eye on her."
In subsequent interviews in 2011 Robin Williams stated that a sequel of Mrs Doubtfire could never be written because at the end of the first film they revealed who Mrs Doubtfire was.
Any future plans for a sequel to Mrs Doubtfire were finally scrapped in 2014 following Robin Williams' tragic death.
9. Mrs Doubtfire Inspired Many Popular Asian Films With A Similar Premise
Avvai Shanmughi is a 1996 Tamil language film inspired heavily by Mrs Doubtfire made in India. Kamal Haasan was in the lead role and it became a huge box office hit. Avvai Shanmughi was remade in Hindi and named Chachi 420 in 1997. Mrs Doubtfire also inspired the 2000 Sri Lankan comedy Kauda Bole Alice starring Bandu Samarasinghe and Dilhani Ekanayake in the lead roles.
10. Mrs Doubtfire's Fask Mask Wasn't Meant To Fall Into The Tea
When Mrs Sellner comes to check up on Daniel Hillard at his apartment and he has to switch between being himself and Mrs Doubtfire in quick succession, the studio lights were so bright that they unintentionally melted her cake icing facemask. So the part where the icing dropped into Mrs Sellner's cup of tea was entirely unintentional and then improvised around. Another moment where something happened on set and was then used in the final cut of the film was when Sally Field got a moustache from her Cappuccino.
11. There Are PG, PG-13, R, and NC-17 Cuts Of Mrs Doubtfire
The Mrs Doubtfire director Chris Columbus would use three cameras at a time when shooting Robin Williams onset. He was uncertain of what gems Williams would improvise and wanted to make sure that he captured all that the actor came up with. He ended up viewing each scene as if he was making a documentary.
Many scenes were shot around 15 to 22 times because Robin Williams wasn't satisfied until he had the scene worked out of his system. According to Chris Columbus, Robin Williams improvised so much that there are PG, PG-13, R, and NC-17 Cuts of the film available. However, they always intended it to be released as a PG-13.

12. Harvey Fierstein Taught Robin Williams Barbara Streisand
During the scene in which Uncle Frank and Aunt Jack turn Daniel into Mrs Doubtfire at the salon, Robin Williams has to sing Barbra Streisand's "Don't Rain On My Parade". He allegedly didn't know the full lyrics to the song and Harvey Fierstein, who played Frank, and Scott Capurro, who played Jack, had to teach it to him.
13. The False Teeth In The Glass Was Improvised
During the scene set at Bridges Restaurant where Mrs Doubtfire gets drunker and drunker due to being on two separate tables at once, Robin Williams impulsively dropped her false teeth into the wine glass. The reactions we see of the other cast members are genuine shock mirroring that of the crew on the other side of the camera!
14. Robin Williams Had Previously Performed An Iteration Of Mrs Doubtfire
An iteration of the character Mrs Doubtfire was first performed by Robin Williams during a show at Carnegie Hall with Andy Kaufman. Williams was pretending to be Kaufman's Grandmother on stage.
15. Sometimes Robin William's Improvisations Needed Legal Clearance
The Mrs Doubtfire director Chris Columbus allowed Robin Williams to take his performance to higher levels of improvisation. First he would play each scene as scripted a few times and then was allowed to improvise because the crew realised that is where most of the film's funniest material came from. However Williams' spontaneity sometimes got the production into legal troubles including in a scene where Daniel says that Miranda's clothes are of a "lovely Dancing With Wolves motif". This line required legal clearance from the studio to put it in the film.
16. Robin Williams' Brother Makes A Cameo Appearance In Mrs Doubtfire
One of the most quoted lines of Mrs Doubtfire, "it was a run – by fruiting!" was improvised on set by Robin Williams. In this scene, Mrs Doubtfire is given a drink at the pool bar by a bartender who is played by Robert Todd Williams. He is the half brother of Robin Williams.
17. Mrs Doubtfire's Character Is Based Off Robin Williams' Own Childhood Nanny
Robin Williams took inspiration from his own childhood Nanny when coming up with the characteristics for Mrs Doubtfire. When the British tabloids heard about this they went looking for his former Nanny and found her in a nursing home in Michigan. Lolly, as she was called, was flocked by reporters and photographers trying to get an interview with her. She downplayed her role in Robin Williams' life and reporters found out that she had also looked after other Hollywood celebrities including Lyle Waggoner.
18. Robin Williams Took Inspiration From Bill Forsyth For Mrs Doubtfire's Voice
When coming up with Mrs Doubtfire's accent, Robin Williams took inspiration from Bill Forsyth, the Scottish director that Williams had previously worked with on the film Being Human (1994), Margaret Thatcher and Julia Child. Mrs Doubtfire says the word "Dear" a total of 101 times throughout the film.
19. Stu Was Originally Meant To Be Mean
Pierce Brosnan's character in Mrs Doubtfire, Stuart Denmeyer, was originally meant to come across as arrogant and a villain however the director Chris Columbus felt that it hurt the relationship with Mrs Doubtfire. So Stu was rewritten to come across as the potential perfect Stepfather for the Hillard children. The only line kept in from Stu's original dialogue was when he called Daniel a "loser" near the pool
The divorce storyline was originally also going to be much darker in terms of how it affected the three children but, in order to keep the film as family friendly, this darker side was taken out.
20. Mrs Doubtfire Was Originally Set In Chicago
According to the Mrs Doubtfire Director Chris Columbus, the film was initially going to be set not in San Francisco but Chicago. They decided this after checking out San Francisco as a potential city. Columbus wanted a change of scenery from New York City where he had been living for years and wanted to raise his family elsewhere. His family had been so taken with San Francisco while filming Mrs Doubtfire that they ended up settling in the city after the film was complete.
21. Chris Columbus Also Wrote The Goonies and Directed Harry Potter
You may recognise the Mrs Doubtfire director's name Chris Columbus from another successful franchise, Harry Potter. He directed the first two Harry Potter films, Harry Potter and the Philosopher's Stone and Harry Potter and the Chamber of Secrets. Chris Columbus, at the beginning of his career, sold scripts to Steven Spielberg that became the famous Gremlins (1984) and The Goonies (1985). His directorial career took off when he directed the beloved Christmas film Home Alone in 1990 with Macaulay Culkin.
22. Mrs Doubtfire Crew Members Played The Other Potential Nannies
When Miranda and her children are looking for a replacement after Mrs Doubtfire is revealed to be Daniel, the potential candidates are actually members of the production crew. These include the Production Assistant Erik Ross, Department Coordinator Kristen Ross, Production Coordinator Jacqueline A. Shea and Associate Producer Paula DuPré Pesmen.
23. Tim Allen Was Offered The Roles Of Mrs Doubtfire And Stu
The author Anne Fine, who wrote the book 'Alias Madame Doubtfire', which the film is based upon, originally wanted to see Warren Beatty in the main role. Beatty had a reputation as a great womaniser and thought it would be hysterical to see him dress up and pretend to be a woman instead.
Tim Allen was offered both the roles of Mrs Doubtfire/Daniel Hillyard and Stuart Denmeyer but rejected them both due to scheduling conflicts with the sitcom Home Improvement. He later debuted on film in The Santa Clause (1994).
24. Robin Williams' Burned Himself During The Kitchen Fire Scene
During the scene in which Mrs Doubtfire accidentally set herself on fire in the kitchen preparing dinner for the family, the boiling water pot originally had a metal spoon in it. In one of the takes Robin Williams picked up the spoon and tried to put out the fire using it. However it was so hot, he ended up burning himself quite badly. So the scene was re-shot without the metal spoon and instead Mrs Doubtfire picks up a pot with potatoes in and drops it on the kitchen floor.
25. Blake Lively Was Set To Play Natalie Hillard
Blake Lively was originally a contender to play the youngest of the three Hillard children, Natalie. Lively and Mara Wilson went head-to-head and Wilson succeeded in getting the role in the final round. Natalie's Princess line in Mrs Doubtfire was improvised by Mara Wilson. Mrs Doubtfire is Mara Wilson's film debut; she went onto star in Danny DeVito's version of Matilda which also received great acclaim.
Lisa Jackub, Matthew Lawrence and Mara Wilson were chosen to play the three Hillard siblings due to their believable physical resemblance to both Robin Williams and Sally Field.
26. Originally It Was Daniel Who Was Meant To Have A New Partner
In original drafts of the Mrs Doubtfire script, it was originally Daniel Hillard who was going to find a new partner. However the writers realised that a girlfriend would get in the way of Daniel going undercover as Mrs Doubtfire trying to spend more time with his children. Instead the script was re-written to include Miranda having a new lover after the divorce.
27. The Animals Used In The Party Scene Had Auditions
The Animals that took over the Hillard household at the beginning of Mrs Doubtfire had to be auditioned to make sure that they would behave whilse being filmed onset.
28. There Are A Few Key Differences Between The Book And The Film
There are a few key differences between the book 'Alias Madame Doubtfire' written by Anne Fine and the onscreen version, Mrs Doubtfire.
• In the book, Daniel is an actor but in the film he is specifically a voice actor.
• Miranda, in the book, is a successful business woman and in the film she is an interior designer.
• In the book, all of the main characters apart from Natalie tend to act selfishly and expect a large amount of credit whenever they differ from this, however that does not happen in the film.
• In the book, Daniel and Miranda are separated before the story begins; however in the film we see them actually calling time on their marriage.
• In the book, Daniel becomes angry at Miranda's early arrival at the dinner scene.
• In the film, Daniel swears in the dinner scene unlike the book.
• Most surprisingly, in the book Lydia and Chris know right away that Mrs Doubtfire is their father.
29. Everyone Under The Sun Was Considered For The Role Of Mrs Doubtfire
Bryan Cranston, Mel Gibson, Harrison Ford, Tom Hanks, Rick Moranis, Bill Murray, Michael Keaton, Alec Baldwin, Steve Martin, Kevin Kline, Bill Paxton, Martin Short, John Candy, John Goodman, Jeff Bridges, Kurt Russell, Arnold Schwarzenegger, Chevy Chase, Michael J. Fox, Kevin Bacon, Jerry Seinfeld, Jason Alexander, Daniel Stern, Billy Crystal, Charles Grodin, Dennis Quaid, John Travolta, David Hasselhoff, Bill Pullman, John Ritter, Richard Gere, Robert De Niro, Jeff Daniels, Dan Aykroyd, Bruce Willis, Rowan Atkinson, Jim Carrey, Tom Cruise, George Clooney, Kevin Costner and Sean Penn were all considered to play Daniel Hillard/Mrs. Doubtfire.
30. Everyone Under The Sun Was Considered For The Role Of Miranda Hillard
Sigourney Weaver, Kim Cattrall, Lorraine Bracco, Michelle Pfeiffer, Melanie Griffith, Madonna, Sharon Stone, Kelly Preston, Bridget Fonda, Theresa Russell, Wendy Crewson, Jamie Lee Curtis, Jennifer Jason Leigh, Goldie Hawn, Jennifer Grey, Susan Sarandon, Demi Moore, Marg Helgenberger, Mary Steenburgen, Geena Davis, Kim Basinger, Lea Thompson, Maureen McCormick, Barbara Hershey, Gates McFadden, Sela Ward, Shannon Tweed, Laura Dern, Jennifer Tilly, Helen Hunt, Pamela Reed, Bonnie Bedelia, Lauren Holly, Elizabeth Perkins, Fran Drescher, Rebecca De Mornay, Heather Locklear, Meg Ryan, Ally Walker, Beverly D'Angelo, Ally Sheedy, Tatum O'Neal, Morgan Fairchild and Reba McEntire were considered for the role of Miranda Hillard.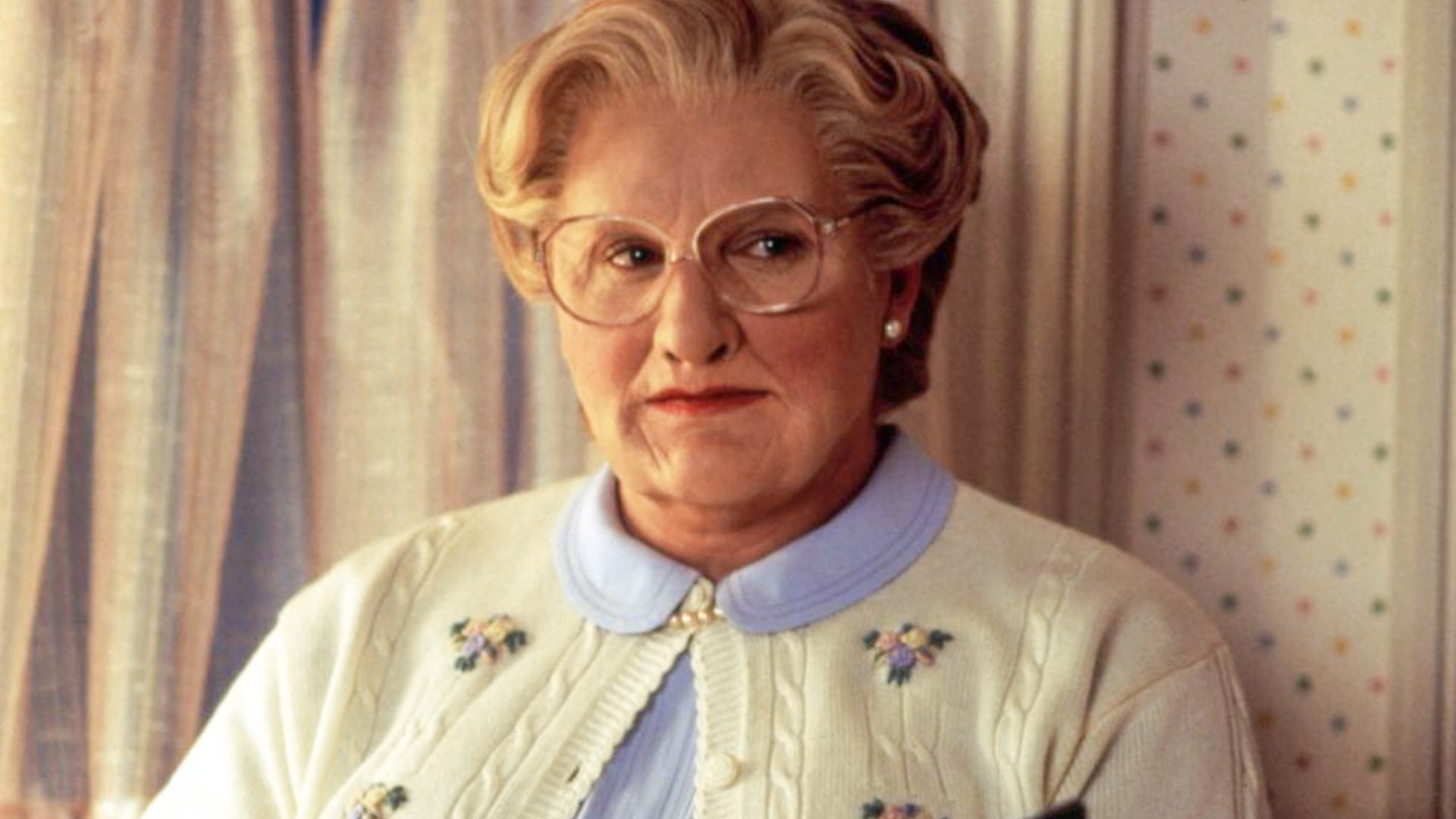 30 Mrs Doubtfire (1993) Movie Facts You Haven't Read Before
What is your favourite moment in Mrs Doubtfire (1993) movie? Let us know in the comments below.