26 Kim's Convenience Facts You Haven't Read Before
Kim's Convenience is the Canadian hit TV show that ran from 2016 - 2021 following Appa, Umma, Janet and Jung who own a popular Korean Convenience Store in Toronto. Kim's Convenience facts include which two cast members originally starred in the play version of the show, why the spin off "Strays" has been heavily criticised and what Kimchee's real name is!

Watch our Kim's Convenience Facts Video on YouTube.
Kim's Convenience is the Canadian hit TV show from CBC Television that focusses on a Korean run convenience store in the Moss Park neighbourhood in Toronto. Appa (Paul Sun-Hyung Lee) and Umma (Jean Yoon) run their popular store alongside their 20 year old daughter Janet (Andrea Bang) who is also a a photography student. They have an estranged son Jung (Simu Liu) who works at a car rental with his best friend Kimchee (Andrew Phung) and his manager Shannon (Nicole Power).
Appa hopes Janet will take over the store when he retires. Umma hopes that Jung will reintegrate into the family and mend his relationship with Appa.
There are a total of 5 seasons of Kim's Convenience. The first was released in 2016 and the fifth concluded in 2022.
1. Kim's Convenience Was Originally A Play
Kim's Convenience, the TV show, was based on a play by Ins Choi which depicts a family-run Korean-owned convenience store in Toronto's Regent Park.
It secured a slot at the Toronto Fringe Festival after winning the festival's new play contest in July 2011. It sold out a 7 show run a the Bathurst Street Theatre. Both Paul Sun-Hyung Lee and Jean Yoon starred in their now celebrated roles Appa and Umma. Ester Jun played Janet and the writer Ins Choi played Jung in the production.
After it's festival success, Kim's Convenience was remounted by Soulpepper Theatre and Weyni Mengesha and it became the most commercially successful play in the company's history and received many awards. It also toured Canada from 2013 to 2016.
2. Kim's Convenience Was The First Canadian TV Show With Asian Lead Actors
CBC Television announced that Kim's Convenience was going to be turned into a TV Show in March 2015. It was billed as the first ever Canadian TV show to feature an Asian cast of lead actors.
3. Ins Choi's Family Owned A Convenience Store In Toronto
In the 1960s, many Korean families emigrated to Canada and Toronto in particular to provide a more prosperous future for their families. Many families opened convenience stores in their new towns as a way to make money and engage with the community. That was exactly what happened to the family of Kim's Convenience creator Ins Choi. Choi's family settled in Scarborough, Toronto and his Father worked at the family convenience store named Kim's Grocer. Ins Choi also worked at a convenience store after school.
4. The Korean Church Contributed $3,000 To Ins Choi's Play
While a member of Fu-GEN Asian Canadian Theatre Company, Ins Choi discussed the idea for Kim's Convenience with a friend and started writing it partially based on the memories he had as a child. Kim's Convenience explores the cultural differences between the parents and children of Korean natives in Toronto as well as religion and family businesses. The Korean Church actually helped fund Ins Choi's writing by contributing $3,000 to the production of Kim's Convenience.
5. Kim's Convenience Is A Love Letter To His Parents
In a 2013 interview with The Grand Theatre, Ins Choi said his main motivation for writing Kim's Convenience was to make audiences understand and respect the Korean-owned, family operated convenience stores. He later named it his "love letter to [his] parents and to all first generation immigrants who call Canada their home."
6. Umma and Appa Were Played By The Same Actors In The Play And TV Show
The first season of Kim's Convenience was filmed in June, July and August of 2016 at Showline Studios in Toronto. As it was produced in conjunction with Soulpepper Theatre Company, Paul Sun-Hyung Lee and Jean Yoon reprised their roles of Umma and Appa.
7. Kim's Convenience Was Co-Created By A Corner Gas Writer
The Kim's Convenience TV show scripts were written by Ins Choi and Kevin White, who was known for writing on the Canadian sitcom Corner Gas.
8. There Was Meant To Be A Kim's Convenience Season 6
The second season premiered in September 2017 and in 2018, the series became widely available outside Canada when it debuted internationally on Netflix. The third season came out in January 2019 and forth in January 2020. In March 2020, it was initially announce that Kim's Convenience had been renewed for two further seasons but a year later it was announced that production would stop at 5 seasons. The announcement was posted to Instagram saying that "Authenticity of storytelling is at the centre of the success of Kim's Convenience. At the end of production on Season 5, our two co-creators confirmed they were moving on to other projects."
The cast and crew of Kim's Convenience attempted to persuade Ins Choi to remain for the planned sixth and final season, but he had decided to already leave.

9. The Kim's Convenience Crew Were Heavily Criticised By Cast
After the last season of Kim's Convenience aired, several actors have discussed issues with the production including a lack of diversity among the behind the scenes staff. The Calgary Herald reported in March 2021 that Kim's Convenience "died from within" and quoted Paul Sun-Hyung Lee with saying: "No matter how good it can be, if you don't deal with issues from within and try to gloss it over because everything on the surface looks fantastic and idealistic, then you are just asking for trouble."
Simu Liu and Jean Yoon spoke to The Hollywood Reporter about the show's lack of diversity behind the scenes as well as overtly racist storylines. He also spoke about how the cast were not allowed to offer their creative input and that the cast were poorly paid. Liu also stated he would not reprise his role in the Kim's Convenience spin off Strays due to it focussing on the show's only white character Shannon.
10. Jean Yoon Said Working On Kim's Convenience Was "Painful"
On June 6th 2021, Jean Yoon wrote on social media that her experience of filming on the show was "painful". She said: "As an Asian Canadian woman, a Korean-Canadian woman w [sic] more experience and knowledge of the world of my characters, the lack of Asian female, especially Korean writers in the writers' room of Kim's [Convenience] made my life very difficult and the experience of working on the show painful."
11. There Is A Kim's Convenience Spin Off Series
After the cancellation of Kim's Convenience, production began on a new spin off series in February 2021 named Strays. It was due to start in 2020 however was pushed back for a year during the COVID19 Pandemic. It follows Kim's Convenience character Shannon Ross (played by Nicole Power) As she starts a new career in Hamilton, Ontario as the executive director of an animal shelter.
12. Kim's Convenience Spin Off Features Show's Only White Character
Strays initially faced criticism due to the fact that Shannon, the only White character in the core cast of Kim's Convenience, was getting her own spin off show over any of the Asian characters. John Doyle from The Globe and Mail further discussed these allegations explaining that Shannon was the only character who had been newly created for the TV version of Kim's convenience. The other Asian characters were drawn from the original theatrical play. This meant that Shannon was the only character who was the intellectual property of the TV show's producers and subsequently was the only one that could be used in a spin off without Ins Choi's participation.
13. Mr Kim's Real Name Is Kim Sang-il
While Mr Kim is almost always referred to as Appa (Dad) in the show, his real name is Kim Sang-il. There is an amusing scene in which Mr Mehta cannot remember his name! He had previously studied to be a teacher in Korea before moving to Canada and opening his store in the Moss Park neighbourhood of Toronto. He is meant to be 56 at the start of the series.
14. Mrs Kim's Real Name Is Kim Yong-mi
Mrs Kim is predominantly named Umma (Mum) in Kim's Convenience but her real character name is Kim Yong-mi. She is meant to be 54 years old at the start of Season 1.
15. Janet Studies At OCAD University
At the start of Kim's Convenience, Janet Kim (Andrea Bang) is 20 years old and studying at Ontario College of Art & Design University. Jung is played by Simu Liu and he is meant to be 24 years old at the start of the series.
16. The Interior Scenes Were Filmed In Studio City Toronto
The interior scenes filmed at the convenience store, Handy Car Rental and the Kim's home were shot at Studio City in Toronto at 915 Lake Shore Boulevard East.
17. Kim's Convenience Was Modelled On Mimi Variety
The well-known Mimi Variety store at 252 Queen Street East was the location used for the exterior shots of Kim's Convenience. It was also used as the model for the interior set built in the studio. The signs were adjusted to read "Kim's Convenience" however they were kept in the original green and red design. The owners of Mimi Variety have kept all of the signage for "Kim's Convenience" even though the store has officially not changed it's name.
18. Kim's Convenience Crew Painted A Mural On Mimi Variety
The Kim's Convenience crew also painted a mural on the exterior wall of Mimi Variety which can be seen in the credit sequence, promotional materials and transitions.
19. Simu Liu Only Filmed His Scenes At The End Of Season 5
Season 5 of Kim's Convenience was delayed due to the COVID19 pandemic and had to be filmed under strict protocols. Simu Liu was only available for the last part of filming Season 5 due to overlapping projects; he was starring in Shang-Chi and the Legend of the Ten Rings in Australia.
20. Kim's Convenience Averaged Nearly 1M Viewers Per Episode
According to the Canadian audience measurement organisation Numeris, Kim's Convenience gained an audience of around 933,00 per episode with 39% of viewers between 25 and 54.
21. Kim's Convenience Was Nominated For 11 Screen Awards In First Series
At the 5th Canadian Screen Awards in 2017, Kim's Convenience received 11 nominations including Best Comedy Series, Best Actor in a Comedy Series (Paul Sun-Hyung Lee), Best Actress in a Comedy Series (Jean Yoon and Andrea Bang), and Best Supporting Actor in a Comedy Series (Andrew Phung). Phung won for his portrayal of Kimchee and Lee won for his role of Appa. Kim's Convenience has also won a further 12 Canadian Screen Awards as well as ACTRA Awards and a Seoul International Drama Award.
22. Paul Sun-Hyung Lee Is 10 Years Younger Than Jean Yoon
Paul Sun-Hyung Lee, who plays Appa is actually 10 years younger than Jean Yoon who plays his wife Mrs Kim. The characters have a two year age difference in the show with Mr Kim being 56 in season 1.
Andrea Bang, who plays Janet Kim, is meant to be 4 years younger than Simu Liu's character Jung. In reality, she is just 2 weeks younger than Liu.
23. James Yi Has Also Played Mr Kim Before
James Yi, who plays Jimmy Young in Kim's Convenience, actually played the role of Mr Kim in the theatre's touring production in 2020.
24. Kim's Convenience Has An Orphan Black Connection
Simu Liu, who plays Jung in Kim's Convenience, starred in Orphan Black as Mr. Mitchell. Jean Yoon, who plays Umma in Kim's Convenience, also starred in Orphan Black as Janis Beckwith. The pair starred in different episodes.
25. The Kim's Convenience Cast Have Worked Together Before
Paul Sun-Hyung Lee, who plays Appa in Kim's Convenience and Jean Yoon, who plays Umma have also worked together in Dark Matter (2015) as Dr Borsin and Dr Hajeck. They also starred in Shoot The Messenger (2016) as Marty Chen and Georgia.
Jean Yoon and Simu Liu, who plays Jung in Kim's Convenience, have previously starred together in The Expanse in 2016 as Captain Theresa Yao and Lieutenant Paolo Mayer.
26. Kimchee's Real Name Is Arnold
Andrew Phung's character Kimchee has been named that since childhood however his real name is Arnold Han. He is meant to be 25 at the start of season one.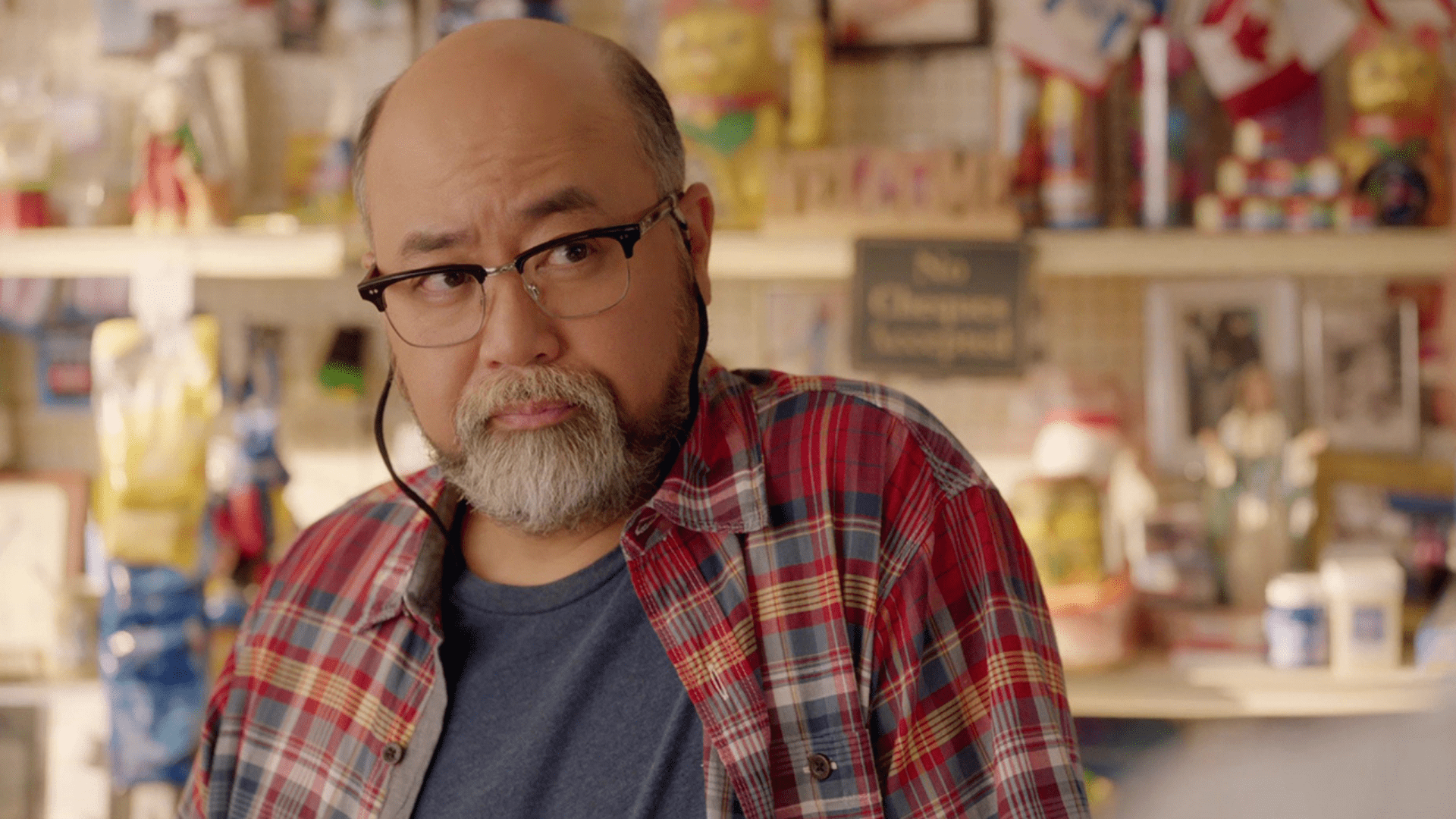 26 Kim's Convenience Facts You Haven't Read Before
What is your favourite moment from Kim's Convenience? Let us know in the comments below.