10 Small Businesses Offering Food Delivery in Deal Kent
During this time of Coronavirus lockdown, local businesses, food producers, restaurants and cafes have been forced to close their doors. However, many businesses in Deal and around the country are diversifying their offering and providing delivery and other services. Here are 10 small businesses offering food delivery in Deal Kent for you to browse and support.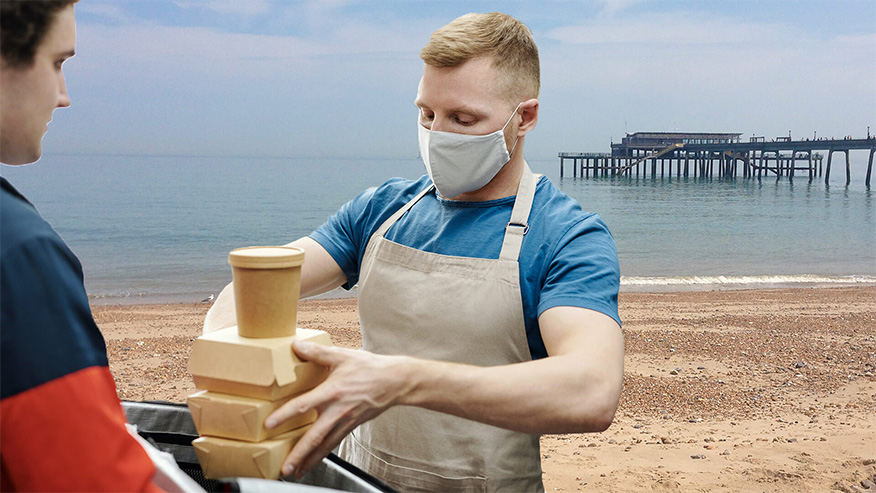 Food Delivery in Deal, Kent
During this time of COVID 19 lockdown, local businesses, food producers, restaurants and cafes have all been forced to close their doors. However, many businesses in Deal and around the country are diversifying and going above and beyond to provide services to those unable to get out of the house.

So with the aim of supporting small businesses who are continuing to run in less than ideal circumstances, We have put together a list of 10 who are offering food delivery in Deal Kent that you may wish to support.

There are so many excellent food businesses in Deal. If there is one you want to recommend and add to our list, let us know in the comments below or via social media.
---
1. Dough Dough Wood Fired Pizza
Delivery: Various, Deal CT14.  
Pre-orders to be delivered on Friday and Saturday from 4PM.
Free with £20 minimum order.
Pizza Delivery in Deal From Dough Dough
In more normal times, Dough Dough Wood Fired Pizza serves delicious pizzas to the people of South East Kent from their van at private parties, functions and public events.

However, to keep Deal delivering throughout this period of COVID 19 lockdown, Dough Dough have started offering delivery in Deal, Walmer and Kingsdown. You can order your choice of pizza from their Facebook Page under 'see menu and order' and pre-order for Fridays and Saturdays from 4PM. The minimum order of £20 is needed to qualify for free delivery.

They offer Roma Style 10 inch thin pizzas with a tomato base and Mozzarella. They do offer vegetarian and vegan options. You can choose from a range of toppings including the classic pepperoni, the spicy combination of chorizo, romano peppers, and manchego cheese or try their season special a sweet chilli chicken with pineapple Pico de Gallo.

If you're looking for Pizza Delivery in Deal, then Dough Dough Wood Fired Pizza also offer The Big Night In Meal Deal which comes with three pizzas with dips, a pot of homemade slaw and two cans of cold drinks. Alcoholic drinks and cocktails are also available for delivery from their partnership with Pretty Bubbles Horesebox bar, which are charged and delivered seperately from the bar, yet they will aim to get your drinks to you before your pizza order arrives.

See more on the Dough Dough website here
---
2. The Lane Bakery
 22 Queen Street, Deal, Kent, CT14 6ET.  
On sale Tuesdays from 6PM and delivered Wednesdays.
 £18.00 in Deal and surrounding areas. £20 in Dover.
Brownies Delivery In Deal From The Lane Bakery
The Lane Bakery on Queen Street in Deal is a small shop making a big noise on social media and for good reason! Their indulgent creations usually span from personalised cheesecakes, traybakes, brownies and blondies, cupcakes and celebration cakes to order. However during the COVID 19 lockdown, Anna and Chris at The Lane Bakery have streamlined their offering and launched Brownie Selection Boxes for home delivery, and they sell out fast!

Non Contact delivery is available in Deal, Walmer, Kingsdown, Sandwich and Dover. There is also an option for non-contact collection from the bakery itself. You'll need to keep an eye on The Lane Bakery's social media accounts to find out when the lastest Brownie boxes are on sale and how to order. Orders are taken at 6PM Tuesday evenings and it is on a first come first serve basis. Deliveries then begin on Wednesday.

Each week they are offering 6 different Brownie Flavours; previous Brownies have included Toffee Crisp, Red Velvet, Kinder and Nutella, Oreo Rocky Road, and Peanut Butter and Jelly. The Lane Bakery's popular 6 Brownie Selection Boxes are priced at £18.00 and, £20 for delivery in Dover.

See more on the The Lane Bakery website here
---
3. Cocktail In A Bottle
Golf Road, Deal, Kent, CT14 6RG.  
Order now with deliveries made within 3-5 days.
Free Delivery for CT14 postcodes. Subsidised delivery in East Kent and, £5 UK wide.
Cocktail and Alcohol Deliver In Deal From Cocktail In A Bottle
Cocktail In A Bottle offer 20 vintage, classic and contemporary 'bar quality' cocktails that are pre-mixed and handmade in Deal ready for you to drink at home. With the aim of making cocktails available for everyone, Karl offers a huge range of delicious drinks that are available usually to trade partners but now during COVID 19 lockdown consumers can purchase their favourites to keep the party going at at home. They are also made fresh to order.

You can order classics such as a Cosmopolitan, Dark 'N Stormy, Espresso Martini, and Long Island Iced Tea. As well as discover some new and irresistible flavours including a Chocolate Orange Negroni, Cigarettes and Coffee, Cinque Ports Smugglers Punch and a Rhubarb and Custard Fizz Cocktail.

Cocktails come in two sizes: Firstly, a 350ml bottle of undiluted spirit forward blended cocktails that require shaking with ice and the addition of lemon, lime, soda water or fruit juice. Secondly, a 500ml bottle of diluted cocktails which require shaking or pouring over ice before serving.

Many of the spirits used in the cocktails are Kentish and can easily be made in under a minute. Follow Cocktail In A Bottle on social media where Karl gives you tips and cocktail making demonstrations on video so you can successfully recreate yours at home.

Cocktails can be delivered UK wide for £5 with subsidised local delivery in East Kent. Deal residents and those with a CT14 postcode will get Free Delivery.

See more on the Cocktail In A Bottle website here
---
4. Little Harriettes Of Deal Tea Rooms
7 Broad Street, Deal, Kent, CT14 6ER.  
Various, keep an eye on social media or call below.
£10 both Savoury and Sweet Options and £15 for Vegan and Gluten Free
Afternoon Tea Delivery In Deal From Little Harriettes
Little Harriettes of Deal is a popular tea room on Broad Street next to Deal Library that offers unforgettable Afternoon Teas. Recently during the COVID 19 lockdown, Little Harriettes of Deal have launched Afternoon Tea packages and are delivering them to homes across the town. Their Afternoon Tea Special for VE Day had some great reviews on social media.

Afternoon Tea home delivery from Little Harriettes of Deal needs to be made over the phone and orders are being taken for both sweet and savoury options. There are also a Gluten Free and Vegan Afternoon Tea available for £15 with 48 hours notice. The Savoury Tea on offer includes a Mixed Sandwich selection, freshly baked Cheese and Chive Scones, Cream Cheese and Fruit Chutney and a homemade Sausage Roll all for £10. The Little Harriettes of Deal Afternoon Tea includes a mixed sandwich selection, a homemade Sausage Roll, freshly baked Fruit scone with Jam and Clotted Cream and a selection of homemade mini Cakes also for £10.

If you want to make your afternoon tea even more special you can add a mini 200ml bottle of Prosecco for £5.

See more on the Little Harriettes Facebook Page
Know another great business? Tell us about them via email here. Email us here.
---
5. Eat And Mess
Deal Town Farmers Market, Union Street Car Park, Deal.  
Order before 6PM Wednesday for Saturday delivery.
Free delivery in Deal. £2.50 within 5 miles and, £5 for 10 miles.
Cake Delivery In Deal From Eat And Mess
Eat And Mess are a regular at Deal Town Farmers' Market on a Saturday in Union Street Car Park selling a brilliant selection of baked goods as well as offering baking classes and parties overlooking Deal seafront. However during COVID 19 lockdown, Kate is offering home delivery and your chance to get a slice of Eat and Mess at home instead.

Eat and Mess offer home deliveries in Deal and the surrounding areas with the latest time to order 6PM on Wednesaday for delivery on Saturday. Collection is also available in Deal.

As always, Kate uses seasonally inspired produce and orders are baked fresh with sourced and foraged local ingredients making Eat and Mess' range of flavours truly unique and enticing. You can choose from Vanilla and Strawberry, Lemon and Elderflower, Brown Butter Cardamom and Blackberry and, Lime Coconut. All available as a 7 inch round frosted sandwich cake priced at £15.00 with Vegan and Gluten Free orders available on request.

As well as whole cakes, Eat and Mess offer a mini cake selection - four cakes decorated with Swiss meringue, fresh flowers and fruit for £12, Brownie Trays for £10.00 in classic chocolate, raspberry, blondies or a mixture.

See more on the Eat And Mess website here
---
6. The Town Kitchen
17 The Grove, Deal, Kent, CT14 9TL  
Enquire by phone.
Homemade Meal Delivery In Deal From The Town Kitchen
The Town Kitchen is Deal's First Home Cooked Takeaway from Jill Martin, Kent Come Dine With Me winner and regular at Deal Town Farmers' Market on a Saturday in Union Street Car Park. She is well-known for her 'Kentish Knockers' Artisan Pasties available in four delicious flavours that pay tribute to Kent's coal mining heritage; Betteshanger Big Breakfast, The Chislet Chive, Snowdown Hot Tuna and the Tilmanstone Topper.

However during the COVID 19 lockdown, Jill has opened her kitchen up and is providing hot, home-cooked dishes from around the world as takeaway and delivers them to Deal residents. Most Dishes are Gluten Free, Sugar Free, Low Salt and Low Fat but big on flavour.

Keep an eye on The Town Kitchen on Facebook for takeaway updates including weekly menus. Some of the tempting dishes that have been on offer so far are, Kashmiri Lamb Rogan Josh, Mojo Chicken with Picon Sauce, and Coconut King Prawn Curry.

The Town Kitchen in Deal asks for cash and collection only if you are able and you must place your order via phone. If you are collecting head to 17 The Grove which is opposite Deal's London Road Garage, drive in to the right and The Town Kitchen is on your left.

See more on the The Town Kitchen website here
---
7. Lollipop Ladies
Mill Road, Deal, Kent, CT14 9BQ.  
Deliveries every afternoon, you will be messaged in the morning.
£5 Regular or £10 Extra Large.
Confectionary Delivery In Deal From Lollipop Ladies
If you've got a sweet tooth you cannot go wrong with a Pick 'n' Mix box from Lollipop Ladies. Usually offering Sweet Cart hire, Doughnut Walls for events and making anything out of sweets that you can imagine, Lollipop Ladies is run by Charlotte who is now offering delivery of all your family favourites during the COVID 19 lockdown.

Lollipop Ladies deliver to Deal area only, offer a contactless doorstep delivery and ask for a contactless payment via Pay Pal or Bank Transfer. Order your sweet boxes and send your delivery enquiries via the Lollipop Ladies Facebook page below.

For £5 you can get one of their in demand Pick 'n' Mix boxes which include Refreshers bars, Flying Saucers, Lollipops and Jelly Snakes. You can also choose Sweet Popcorn Boxes and Candy Floss Tubs also priced at £5, or Extra Large Pick 'n' Mix boxes for £10.
Like Lollipop Ladies on Facebook
Posted by Lollipop Ladies on Tuesday, 22 September 2020
---
8. Solley's Ice Cream Parlour
The Dairy, Ripple, Deal, CT14 8JL  
Monday to Friday 10:00AM - 17:00PM
750ml Tubs £4.99, 120ml cups £15.30 for 12
Ice Cream Delivery In Deal From Solley's Farm
Solley's Kentish Ice Cream is well known throughout the county and is the largest independent ice cream maker in the South East of England supplying farm shops, restaurants and attractions from their farm and Ice Cream Parlour in Ripple, Deal.

Usually this family run business opens the farm doors and makes 4,500 litres of ice-cream per day on site but the during COVID 19 lockdown, Solley's Ice Cream Parlour have launched a new service ice-cream home delivery directly to consumers.

You can choose one of their 15 tempting flavours priced at £4.99 per tub including, Wild Strawberry and Cream, Mint Chocolate Chip, Lemon Meringue Pie, Honeycomb Crunch, Ferrero Rocher, Banana and Black Forest. Solley's Ice Cream Parlour also have 120ml cups available for £15.30 per box of 12 of the same flavour.

Orders may be placed via email only orders@solleysicecream.co.uk and you are asked to include name, address, a mobile number and your order. The minimum order is 2x750ml tubs or 1xbox of 120ml cups to qualify for free delivery. You must order by 5PM the day before your delivery. Solley's Ice Cream Parlour do daily deliveries to Dover, Deal and Sandwich and within 10 miles of CT15 8JL as well as having designated days for deliveries to Canterbury, Folkestone, Thanet and Ashford.

If you want to have an extra-special ice cream experience during lockdown, Solley's Ice Cream Parlour are also offering Scooping Kits which include a Napoli (35+ scoops), 10 Waffle Cones and 10 Flakes and Rainbow Sprinkes.

See more on the Solley's Farm here
---
9. Jenkins & Son Fishmongers
118 High Street, Deal, Kent, CT14 6BB.  
Deliveries made Wednesday - Saturday.
Minimum order of £25 in Deal for free delivery.
Fish And Seafood Delivery In Deal From Jenkins & Son
The popular 4th generation run fishmonger Jenkins & Son is situated on Deal High Street near the North end and offer a range of sustainable produce caught and sold across the Kent coast. During the COVID19 lockdown, Jenkins & Son are still open in town from 7AM - 2PM Tuesday to Saturday but now offer weekly menus of fresh fish, frozen fish and ready-made options available for home delivery.

Each menu is updated weekly to include the freshest selection. The Fresh Fish menu includes Cod Fillets for £2.50, Monkfish Tails and Fresh King Prawns at £19.99 per kg,Scallops for £3.99 per kg, and Lemon Sole at £5.99 each. Their Frozen Fish menu includes Shell on Prawns (£9.00 for 90 - 120, 1kg), Peeled Scampi (£8.99 for 1kg bag), Fish Cakes (50p each), Whitebait (£2.80) and Kippers (£2.99 for a pack of two).

Jenkins & Son offers a ready to eat selection too which has a high demand on their social media especially their brand new Crab Sandwiches which are £4.50, created to mark British Sandwich Week, and are a mix of fresh, local, crab meat mixed with mascarpone and lemon. You get a choice of white or brown meat. Highlights of their ready-made menu also include Scallop and Bacon Soup, Smoked Salmon Pâte, Monkfish Curry and Fresh Dill Sauce.

All orders must be placed over the telephone and delivery is free to Deal, Dover, and Sandwich with a minimum order of £25.00 and to Folkestone, Canterbury and Thanet with a minimum order of £50.00.

See more on the Jenkins & Son website here
---
10. Peckish
14A King Street, Deal, Kent, CT14 6HX.  
Daily from 12:00PM - 20:00PM
Sunday Roast £9.75 - £35.00
Roast Chicken Delivery In Deal From Peckish
Peckish opened in 2017 in King Street and offers Rotisserie Roast Chicken in many delicious forms including handmade pies, wraps and more. The Peckish team aim to take all the hard work out of your Roasts and offer succulent British Chicken cooked daily with side dishes, sauces and breads also made fresh in store.

During Covid 19 lockdown, Peckish have been working hard to provide their chicken to families across the Deal area with home delivery including a full Sunday Roast Dinner! Sunday Roast deliveries in Deal include their signature Roast Chicken, Yorkshire Puddings, Meat Stuffing, Chipolata, Roast Potatoes, Parsnips, Cauliflower Cheese, Carrots, Peas and Gravy costing £9.75 for one portion, £19.99 for two and a meal for four is £35.00.

Peckish offer a range of tasty chicken meals including a Peri-Peri chicken meal with spicy slaw, fries and sweetcorn for anyone missing a trip out to Nandos.

See more on the Peckish website here
---
11. Deal Area Foodbank
While you are ordering your food, here's how you can help someone else in Deal enjoy a good meal.
The Deal Area Foodbank is part of a nationwide network of foodbanks supported by The Trussell Trust who work to stop hunger across the UK. It opened in 2012 by a group of locals who recognised that the area needed help with food provision and now during COVID 19 the Foodbank is providing many meals to adults and children in the area.
Since March 2020, the Deal Area Foodbank team have had increased demands for food, cash donations and volunteers so, if this is something you can help with, contact them on their website below.

Where can I drop off food donations to Deal Area Foodbank?
These listed drop off points are the main in-store food collection points for Deal Area Food Bank. There are also collection points at Deal Town Hall and at over 40 Churches, Schools and Community Centres in the Deal area.
Sainsbury's Deal, CT14 6AH

Open Monday to Saturday from 7:00AM to 22:00PM and on Sunday 10:00AM to 16:00PM.

Tesco Extra, Broadstairs, CT10 2QJ
Co-op Food, Mill Hill Deal, CT14 9EZ

Open Monday to Saturday 6:00AM to 22:00PM.

Gold Road Centre, Deal, CT14 6PY

Open Monday 9:00AM to 18:00PM and then Saturday 9:00AM to 12:00PM.

Trinity Church, West Street Deal, CT14 6EA

Open Wednesdays 10:00AM to 12:00PM, Fridays 10:00AM to 12:00PM, Sundays 10:00AM to 12:00PM.

Community Church, Victoria Road, Deal, CT14 7BJ

Open Tuesdays to Thursdays 10:00AM to 13:00PM, Saturdays 16:00PM to 18:00PM, and Wednesdays 16:30PM to 18:00PM.
All information listed in this article was correct as of 02/04/20. Businesses are listed in no particular order. This article is not a paid promotion.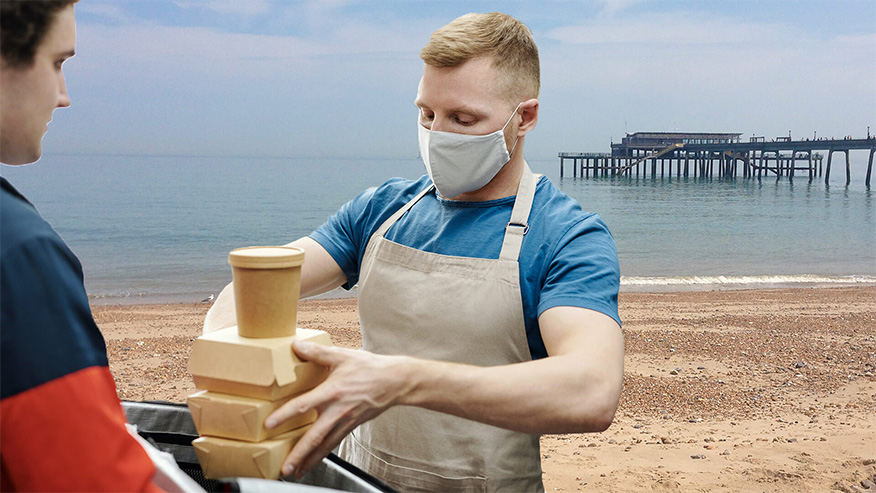 10 Small Businesses Offering Food Delivery in Deal Kent
Where else would you recommend for food delivery in Deal? Let us know in the comments below.