10 Small Businesses Offering Food Delivery in Guildford
During this time of Coronavirus lockdown, local businesses, food producers, restaurants and cafés have been forced to close their doors. However, many businesses in Guildford and around the country are diversifying their offering and providing delivery and other services. Here are 10 small businesses offering food delivery in Guildford, Surrey for you to browse and support.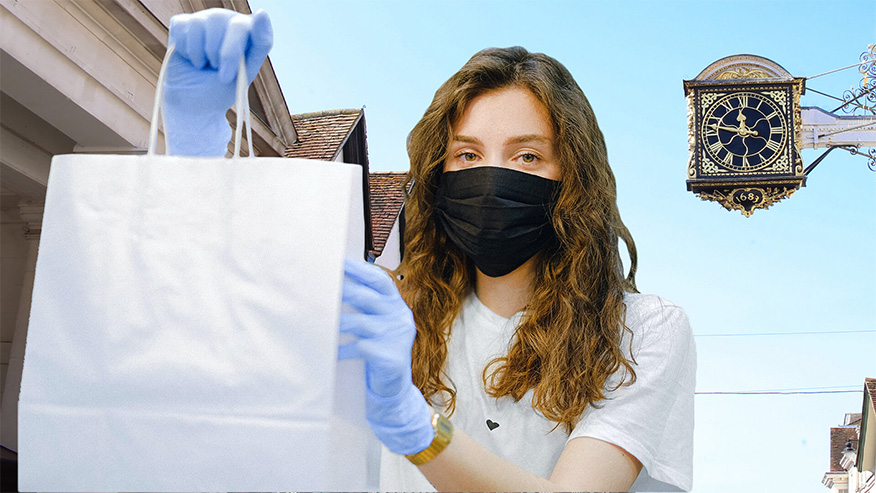 Food Delivery in Guildford, Surrey
During this time of COVID 19 lockdown, local businesses, food producers, restaurants and cafes are closing their doors yet many businesses in Guildford and around the country are going above and beyond to provide services to those unable to get out of the house.

So with the aim of supporting small businesses who are continuing to run in less than ideal circumstances, we have put together a list of 10 who are offering food delivery in Guildford that you may wish to support. There are so many excellent food businesses in Guildford so if there is one that you want to recommend and add to our list, let us know in the comments below or via social media.
---
1. The Tipsy Pigs
Full meal box delivery  
Orders must be sent to foodorders (at) thetipsypigs.co.uk
Delivery included 15 miles from GU2 7UP
Meal Box Delivery In Guildford From The Tipsy Pigs
The Tipsy Pigs launched in 2014 when three school friends joined together to buy a VW Campervan and started offering fresh, wholesome and high quality catering.
Now you can get your own Tipsy Pigs meal delivered straight to your door in lockdown with their Tipsy Home Dining Packs. All meals are delivered chilled on Friday or Saturday and come with easy to follow instructions on how to serve over the weekend. You can choose between meals for 2, 4 or 6 people and add extra portions and drinks if needed. Delivery is included in the price and is available for customers within a 15 mile radius of GU2 7UP, outside of that an extra delivery charge will be added to your order. The Tipsy Pigs Head Chef devises a new menu each month and you can choose to order a box as a one off or subscribe monthly. Previous Tipsy Home Dining Packs have included: 
Mexican Street Food "Build Your Own Tacos" with Chipotle Chilli BBQ rubbed Pork Belly strips and homemade Salsa
Moroccan Banquet with Harissa and Yoghurt Chicken Thighs and Lebanese Flatbreads
Bonfire Dinner Box "Build Your Own Pizzas" with BBQ Pulled Pork, Nachos and Giant Marshmallows with a Chocolate Dipping Sauce
Monthly subscriptions can be selected via their website below and one off orders must be sent to foodorders (at) thetipsypigs.co.uk

See more on the The Tipsy Pigs website here
---
2. Plough Produce
Surrey's First Online Farmer's Market
Local Guildford Delivery on Tuesdays and Fridays
Free Delivery when you spend over £50
Local Produce Delivery In Guildford From Plough Produce
Plough Produce is a family run business set up in 2020 to assist Surrey residents and food producers during the COVID 19 pandemic. Based out of Guildford, Plough Produce is Surrey's First Online Farmer's Market and offers independent businesses a new route to customers after markets, restaurants and shops closed during lockdown. Customers can order from a range of established artisan food producers in their online Food Hall. Some of the items that caught our eye are...
Pappardelle with Beef and Red Wine Ragu - The Date Night Meal Kit for 2 from The Little Pasta Company, Woking 
The Breakfast Box from Pickadeli Food Company, Farnham containing Cheese and Ham Croissants, Banana, Raspberry and Muesli Loaf
Scotch Bonnet Chilli Jam from Jam Packed Preserves, Sutton
12 Luxury Handcrafted Chocolates from T&M Artisan Chocolates, Petersfield including Salted Caramel Milk Chocolate, Chilli and Smoked Paprika Ganache Dark Chocolate and Lemon Fondant White Chocolate.
While initially only available to Surrey residents, Plough Produce are now trialing UK wide delivery. Order from Friday to Monday 12:00PM for guaranteed Tuesday delivery or order from 12:00PM Monday up until 12:00PM Thursday for Friday delivery. There are no deliveries on Sundays. 
A click and collect service is also available at Plough Produce. Just enter your desired time and date in the notes section at checkout and once notified you will be able to collect your order from 6 Market Street, Guildford, Surrey, GU1 4LB.

See more on the Plough Produce website here
---
3. Mandira's Kitchen
Delivered in insulated boxes which keep meals frozen for 29 hours
Local Click and Collect from GU5 9BW
Free UK Standard Delivery for orders over £60
Indian Food Delivery In Guildford From Mandira's Kitchen
Mandira's Kitchen prides themselves on not being "yet another curry business" but one that aims to bring Bollywood sparkle into your home and create the "best Indian food you ever [tasted]". MK expanded in 2019 and is now located at the beautiful Silent Pool for you to collect your freezer meals or take part in a cookery lesson, spice tours, or sip on a takeaway Chai. 
Owner Mandira and her team create all of the Mandira's Kitchen dishes from a personal story, family connection or a treasured memory so each meal is prepared with a lot of love and attention. Diners can choose from an updated menu with a mix of Meat, Vegetarian and Vegan dishes such as:
Chicken Xacuti, a tender Goan style Chicken dish with roasted Coconut and Red Chilli
Meen Moilee, a Southern Indian Fish Curry with Mustard Seeds and Curry Leaves
Enchorer Dalna, Green Jackfruit cooked with Tomatoes, Ginger and MK's Garam Masala
Pizza Samosas, crisp pastry with Sweetcorn, Peppers and Cheese
The Silent Pool Gin and Orange Chutney is also a must-try. 
Mandira's Kitchen is open 7 days-a-week during lockdown and also offers a Weekend Thali Club complete with three specially curated courses. Previous dishes have included: Gondhoraj Prawns, Lamb Yakhi Pulao, and, Shorshe Maach (cooked to Mandira's Mum's special recipe.) Thalis are available via collection on Fridays 12:30PM to 16:00PM and Saturday 10:30AM to 16:30PM. Free delivery with a minimum order of two Thalis within a 5 mile radius of GU5 9BW.
A click and collect option is available for local to Guildford customers from their kitchen at Silent Pool, Shere Road, Albury, Guildford, GU5 9BW.

See more on the Mandira's Kitchen website here
---
4. The Elegant Whisk
Free Delivery in Guildford  
Contactless Collections from GU4
Weekly boxes of 6,8 and 12 available
Cupcake Delivery In Guildford From The Elegant Whisk
The Elegant Whisk is run by Kirsty, a fully registered home baker in Guildford who specialises in mouthwatering sweet treats including Brownies, Blondies, Cupcakes and Traybakes.
During the COVID 19 lockdown, The Elegant Whisk is offering weekly Mix and Match Cupcake boxes. There are boxes of 6, 8 and 12 available for £12, £16 and £24 respectively. All orders should be made on Wednesdays so contactless collections from GU4 and free deliveries in Guildford can take place on Fridays.
There are a huge range of Cupcake flavours available in The Elegant Whisk's Cupcake Boxes including, Chocolate Orange, Rolo, Jammie Dodger, S'mores and Ferrero Rocher.
See more on The Elegant Whisk Facebook Page
Know another great business? Tell us about them via email. Email us here.
---
5. Kinghams Restaurant, Shere
Pre-order Tuesdays 12:30PM - 20:00PM  
£20 for 3 Courses, £15 for 2 Courses
To place an order call 01483 202168
Restaurant Takeaways In Guildford From Kinghams Restaurant
Kinghams Restaurant is a friendly restaurant in the highly sought after village of Shere and is located in a beautiful 17th century building. Chef Paul Baker created Kinghams back in 1993 and has made the restaurant a must visit location for over 25 years. Despite the challenges of COVID 19, Paul and the Kinghams team have still been feeding their customers with delicious food via a takeaway service. Three Courses are £20 and 2 Courses are £15 per person with wine offered from £10. 
To place an order you need to call the restaurant ahead of time on Tuesdays between 12:30PM and 20:00PM and don't forget to ask about their wine of the day. All dishes are served refrigerated and come with reheating instructions. The menu will change regularly throughout the lockdown period. Some of the delicious courses that have been on the Kinghams takeaway menu so far have been:
Butternut Squash and Sage Confit with Parmesan Shortbread and Ricotta Cheese
Vanilla Rice Pudding with caramalised and spiced Pineapple
Glazed Duck Breast Salad with Duck Rillette, Beetroot Chutney and Pomegranate Molasses
Cornish Monkfish, Mussel and Prawn Provencal Casserole
The Restaurant offers a collection service on Thursdays and Fridays between 15:30PM and 18:30PM.
See more on the Kinghams website here
---
6. Partisan Cheesemonger and Deli
Collection from 14A GU1 4DP
Contactless delivery available
Order online for collection
Cheese Delivery In Guildford From Partisan Cheesemonger
Partisan Cheesemonger and Deli is an independently run store on Chapel Street in Guildford Town Centre which offers fresh, artisan produce sourced from selected local producers. During COVID 19, Partisan has still been connecting its customers with Cheese, Charcuterie and Breads via their online shop which offers everything from Rillettes and Pâté to freshly baked Sourdough and Chocolate Brownies. As you would have expected, Partisan's cheese selection excels and these particularly caught our eye:
Weywood from Cheese On The Wey
Richard III Wensleydale
Sparkenhoe Red Leicester
We also want to try out the Crown & Queue Burnt Black Pepper Pork Belly from the Charcuterie!
Partisan Cheesemonger and Deli are open on Wednesdays to Sundays between 10:00AM and 17:00PM and hope many of their customers take advantage of their click and collect and contactless delivery services.
See more on the Partisan Cheesemonger and Deli website here
---
7. Truly Scrumptious Delights
Free Delivery in Godalming and Shere
Click and Collect available
Sweets and Chocolate Delivery In Guildford From Shere Delights
Truly Scrumptious Delights is the owner of Shere Delights which opened in 2013 next to the Tillingbourne River and almost always has a queue outside on a Summer's day. Shere Delights is well known for selling chocolate, retro sweets and artisan ice-creams to visitors of the village. Their second store Godalming Delights on Church Street opened in 2018.
Despite customers not being able to get to their stores during lockdown, Truly Scrumptious Delights are offering a selection of confectionary gifts, retro sweets and ice creams in their online shop to enjoy at home. Some of their ice cream flavours that we liked the look of are:
Dulche de Leche Granizado
Garden Mint Choc Chip
Honeycomb
Vegan Coconut Choc Chip
Truly Scrumptious Delights are offering home delivery in Godalming within GU7 and GU8 as well as free collection from their Church Street store. Shere residents can get free home delivery and are able to collect from Middle street too.
See more on the Truly Scrumptious Delights here
---
8. Surrey Hills Coffee
Weekday shipping usually dispatched within 24hrs
Free delivery on coffee orders
Takeaway available at KOJA, 12 GU1 4AP
Coffee Delivery In Guildford From Surrey Hills Coffee
After working with coffee for many years, Chris and Monika of Surrey Hills Coffee began roasting their own blends in 2014. Based in Abinger Hanger, they roast specialty grade coffee which is available for customers via their webshop and the KOJA coffee shop, wholesale purchase and workplaces.
The Surrey Hills Coffee Roastery is staying open during lockdown for customers purchasing wholesale and via their webshop. They are offering free delivery on Coffee and usually dispatch your items within 24 hours via Royal Mail or themselves if ordered locally. 
Choose from their locally named batches including a Premium Espresso Holmbury Hill, a medium strength Espresso Box Hill and their strongest Espresso Pitch Hill. For a limited period of time Surrey Hills Coffee are also releasing a traditional Christmas blend Yuletide, which contains Brazil Mantiqueira de Minas creating a chocolatey, nutty flavour.
KOJA by Surrey Hills Coffee at 12 Jeffries Passage in Guildford Town Centre, will continue to serve a variety of takeaway coffees from £2.20 and tasty treats from other local food producers.
See more on the Surrey Hills Coffee website here
---
9. Pasta Out
15% Off food menu from 5/11/20  
Minimum £20 spend
Delivery and Pick Up Available
Pasta Delivery In Guildford From Pasta Out
Pasta Out is the pasta laboratory from the team that brought authentic Sardinian cuisine to Guildford. It is the same high quality, fresh, homemade pasta served at their two restaurants Blue Sardinia in Sydenham Road and Shardana in Bakers Yard on the High Street. You can easily choose and order your favourite pasta dishes via their website under Click, Collect & Delivery. Some that we can't wait to try are:
Penne Salmone & Vodka
Gnocchetti Sardi Tuscan Sausage
Black Squid Ink Mezzelune & King Prawns
Girasoli con Caprino & Peperone
They also offer risottos, salads, pizzas and packs of their delicious fresh pasta ready for you to cook at home.
You could choose to have your Pasta Out order delivered straight to your door at a distance. Your driver will call once they arrive and place your meal in an agreed location while keeping to a 2m distance. Or, they provide a Click and Collect service. There is a minimum £20 spend on orders and it is 15% off the entire food menu with the promotional code PASTAOUT15 from 5/11/20 until 2/12/20, full terms and conditions are on their website.
See more on the Pasta Out website here
---
10. The North Guildford Food Bank
While you are ordering your food, here's how you can help someone else in Guildford enjoy a good meal.
The North Guildford Foodbank receives donations of non-perishable food from local schools, supermarkets, businesses and churches in the Guildford area. These are then packaged up into food parcels and are given to members of the community in need in exchange for food vouchers.
The foodbank in Guildford has four locations St Clare's, Park Barn, the New Hope Centre Bellfields and Merrow at the Bushy Hill Community Centre. Food parcels are allocated during COVID 19 by a pre-ordering system and are delivered where necessary.
See more on the North Guildford Foodbank website here
Where can I drop off food donations to North Guildford Foodbank? 
The North Guildford Foodbank accepts cash donations via a Just Giving page, Cheque and Bank Transfer. As well as physical donations of food, household cleaning items and toiletries. You can email northguildfordfoodbank (at) gmail.com for a list of items they are currently in need of. Your items can then be dropped off at Sainsburys in Burpham or Sainsbury's Local Worplesdon Road, Stoughton.
Sainsbury's Burpham, GU4 7JU

Open Monday to Friday from 7:00AM to 10PM, Saturdays 7:00AM to 9PM and Sundays 10:00AM to 4PM.

Sainsbury's Local Worplesdon Road, GU2 9RT

Open Monday to Sunday from 7:00AM to 23:00PM.
All information listed in this article was correct as of 9/11/20. Listed in no particular order. This article is not a paid promotion.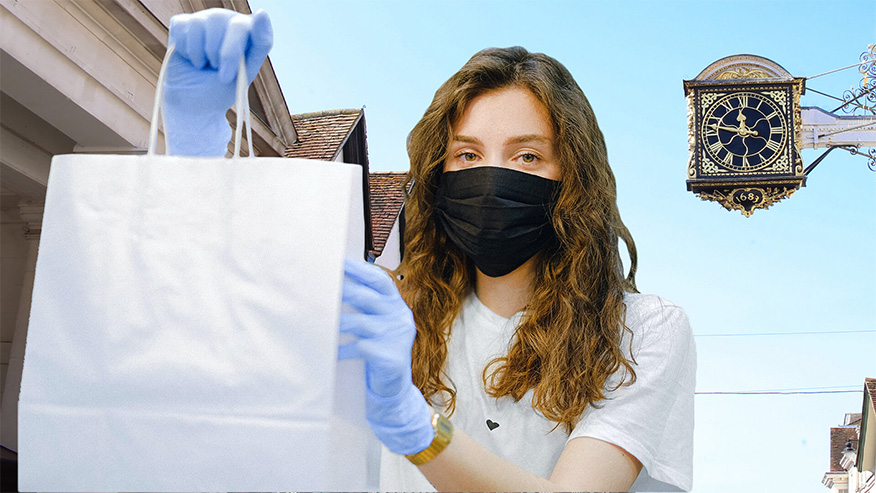 10 Small Businesses Offering Food Delivery in Guildford
Where else would you recommend for food delivery in Guildford? Let us know in the comments below.