25 Grace and Frankie Facts You Haven't Read Before
Grace and Frankie is the successful Netflix original comedy starring 9 to 5 alumni Jane Fonda and Lily Tomlin. Our Grace and Frankie facts include Frankie Bergstein's real name, where to find some The West Wing Easter eggs and why fans started a petition to increase Fonda and Tomlin's pay.

Watch our Grace and Frankie Facts Video on YouTube.
Grace and Frankie is the successful Netflix original comedy starring 9 to 5 (Higgins 1980) alumni Jane Fonda and Lily Tomlin. It was created by Marta Kauffman, who is well known for being a co-creator on Friends, and Howard J. Morris. Grace and Frankie ran for 7 hilarious seasons.
The series started on the 8th May 2015 and the seventh and final season was split into two halves; the first part being released on 13th August 2021 and the second came out on the 29th April 2022.
It has often been praised for eradicating stereotypes and portraying older members of society as still full of life, especially when it comes to sex, relationships and dating.
If you're a huge Grace and Frankie fan like us, then you may think that you know everything there is to know about the sitcom; however, here are 25 Grace and Frankie facts that even we were surprised to find out!
1. Grace and Frankie's First Season Had Mixed Reviews
The first season of Grace and Frankie had mixed reviews. It caused a stir because of the reuniting of Jane Fonda and Lily Tomlin but some critics found it too cliché. Media reviewing website Rotten Tomatoes critical consensus reads, "its sloppy dialogue and clichéd sitcom setup will still leave most viewers wanting."
From the second season of Grace and Frankie onwards, it was warmly received and cemented itself as one of the top Netflix Original shows. It has won 5 Primetime Emmy Awards including Outstanding Lead Actress in a Comedy Series.
2. Grace and Frankie Was Written By Friends Writer Marta Kauffman
The series was written by Friends alumnus Marta Kauffman and Howard J. Morris and it was announced in March 2014 when Netflix finalised a deal for 13 episodes straight-to-series. Jane Fonda and Lily Tomlin were attached as lead roles for the series and it premiered just over a year later on May 8th 2015.
3. COVID 19 Halted The Final Season Of Grace and Frankie
The production of the final season of Grace and Frankie was halted in March 2020 due to the COVID-19 pandemic. Production resumed again in June 2021 with the episodes available on Netflix only a few months later in August 2021.
4. Martin Sheen Was The First Of The Supporting Cast To Be Announced
Jane Fonda and Lily Tomlin were named the lead stars of Grace and Frankie when Netflix signed its deal to secure the show. Next to be cast was Martin Sheen in the role of Robert Hanson, Grace's husband. Sam Waterston, who plays Frankie's husband Sol, joined the cast the following month. The next to be cast were June Diane Raphael and Baron Vaughn as Brianna and Nwabudike (Bud) respectively. Ethan Embry and Brooklyn Decker, who played Coyote and Mallory, were the last to be cast.
Other big name stars joined the production across the series including Sam Elliot, Lisa Kudrow, RuPaul and Dolly Parton.
5. Grace And Frankie Has A 9 To 5 Reunion!
In the final episode ever of Grace and Frankie, the pair unbelievably get electrocuted, enter a dream state and end up in Heaven's Waiting Room. Their "case worker" is Dolly Parton who appeared in a guest role and completed a full 9 to 5 film reunion! Her character allowed Grace and Frankie to resume their lives on Earth together - thankfully!
6. Fans Petitioned For Jane Fonda and Lily Tomlin To Be Paid More
After the debut season of Grace and Frankie, Indie Wire reported that Lily Tomlin and Jane Fonda were not happy that their salaries were just as equal to Sam Waterston and Martin Sheen's salaries with Tomlin saying in the publication that "the show is not 'Sol and Robert', it's 'Grace and Frankie'".
Shortly after this public outcry by the two lead actors, Sam Waterston and Martin Sheen both went on the record supporting Fonda and Tomlin. Fans of the show gathered around 200,000 signatures on the petition protesting the actor's pay which led Jane Fonda and Lily Tomlin to publicly back away from their previous criticism. They clarified in media interviews that they had never been displeased with their salaries to begin with and a joke made in an interview piece had been taken out of context.
7. Jane Fonda And Martin Sheen Have Been Arrested Multiple Times
Both Jane Fonda and Martin Sheen have been known for their activism over the years. Fonda was a strong voice in protesting the war in Vietnam in the 1970s.According to Distractify, she was arrested alongside Sam Waterston in 2019 protesting climate change policy in cooperation with Greenpeace.
According to the Daily Mail, Martin Sheen is the celebrity who has been arrested the most times (66 up to January 2020). He has been a political activist and stood up to causes such as Nuclear Power, Weapons, abuse of farm workers, and world peace.
8. Each Season Of Grace and Frankie Begins And Ends On The Beach
Each season of Grace and Frankie begins and ends with a scene on the beach. For example, the moment in which Grace tells Frankie she married Nick and the moment the beach house displayed a sold sign.
9. Grace Hanson Is Jane Fonda's First Lead Role On Television
Grace and Frankie is actually Jane Fonda's first time as a lead actor on a Television show. According to IMDb, she took acting lessons when preparing for the role of Grace Hanson as she was having a difficult time playing a character so "sustained in time". She had previously appeared in a recurring role on The Newsroom in 2012.
10. Marta Kauffman's Daughter Came Up With The First Episode
It was actually Martin Kauffman's daughter who came up with the idea to have the whole show Grace and Frankie begin with Robert and Sol leaving Grace and Frankie.
11. The Main Cast of Grace And Frankie Are In Their Mid 70s
Grace and Frankie is quite rare in the fact that the four main cast members were in their mid to late 70s when the show started. The characters themselves are all supposed to be 70 years old but at the time of recording the first season, Jane Fonda was 78, Lily Tomlin was 76, Sam Waterston and Martin Sheen were both 75.
12. The Grace And Frankie Producers Had To Conceal A Pregnancy
Like many long running sitcoms, Grace and Frankie had a pregnancy to hide on screen! June Diane Raphael (Brianna Hanson) was pregnant with her second child in season one. Brooklyn Decker (who plays Mallory Hanson) was pregnant with her second child in Season 2 and the pregnancy was written in the show as a storyline.
13. Grace And Frankie Had So Many Directors!
Interestingly, almost every episode of Grace and Frankie has a different director. In season one and two there were 22 unique directors.
14. Lois Smith Is Only 10 Years Older than Martin Sheen
Lois Smith plays the egregious Mother of Robert Hanson in Grace and Frankie who has no maternal bond with her son. She is only 10 years older than Martin Sheen who plays her on screen son Robert.
15. Lily Tomlin Was Nominated For A Lead Actress Emmy Award
In 2018 Lily Tomlin was nominated for the Emmy award for Lead Actress in a Comedy Series category for her role as Frankie Bergstein. However she lost out to Rachel Brosnahan, the lead in The Marvellous Mrs Maisel written by Amy Sherman Palladino on Amazon Prime Video.
16. Each Grace And Frankie Episode Starts With "The"
Each episode of Grace and Frankie has the prefix "The". This could possibly be the doing of series creator Marta Kauffman who also created Friends and famously named each episode "The One With The…".
17. Martin Sheen Is Well Known For Playing Presidents - Not Just In 1776!
During season three of Grace and Frankie, Martin Sheen's character Robert gets the lead role in a community theatre production of 1776 where he plays John Adams. Martin Sheen has often played real or fictional presidents and politicians in his career. This includes John F. Kennedy in 1983, Robert F. Kennedy in 1974 and John Dean in 1979, who was the White House council in the Nixon administration. Fictional Presidents played by Martin Sheen include President Josiah Bartlett on the show The West Wing, Greg Stillson in The Dead Zone in 1983 and lastly an unnamed president in Medusa's Child in 1997.
18. Grace And Frankie Has A Parks And Recreation Connection
June Diane Raphael, who plays Brianna in Grace and Frankie, also played Tynnyfer in Parks and Recreation. Sam Elliot, who plays Phil Milstein in Grace and Frankie also starred in Parks and Recreation as the second Ron. Both Tynnyfer and Ron 2.0 were former members of the Eagleton Parks and Recreation Department who merged with the Pawnee one later in the show's run.
19. Dolly Parton Did Not Sing The Grace and Frankie Theme Tune
It was speculated during the first season of Grace and Frankie that Dolly Parton may have sung the theme tune. This is because it would have been a nice tie-in with the fact that Jane Fonda and Lily Tomlin are in the lead roles and they starred alongside Dolly Parton in the 1980 film 9 to 5. Instead the country-style cover of 'Stuck In The Middle With You' was performed by Grace Potter who is known the rock band Grace Potter & The Nocturnals.
20. "The Spelling Bee" Contestants Have A Few Easter Eggs
During episode seven of season one "The Spelling Bee", a contestant named Josiah is asked to spell the word 'Fartlek'. Some avid TV fans may have noticed that this sounds very much like the name of Martin Sheen's character in The West Wing Josiah Bartlett.
In the same episode, another contestant is asked to spell "Subpoena" which is a call back to the fact that Sam Waterson played a District Attorney on Law & Order for 16 years.
21. Jane Fonda Has Previously Played A Frankie-esque Hippy Named Grace
In the film Peace, Love & Misunderstanding in 2011, Jane Fonda played a free-spirited ex-hippy much like Frankie. Funnily enough, her character in this film was also called Grace.
22. Many Of The Grace and Frankie Actors Have Starred Together Before
• Jane Fonda and Sam Waterston have previously starred together on The Newsroom in 2012.
• Martin Sheen and Lily Tomlin starred together on The West Wing which began in 1999.
• Baron Vaughn and Ethan Embry worked together on Fairly Legal in 2011.
• Lily Tomlin and Sam Elliott both starred in Grandma in 2015.
• Martin Sheen and Sam Waterston worked together in Eagle's Wing in 1979.
• Martin Sheen also appeared alongside Sam Elliott in Gettysburg in 1993.
• Sam Waterston and Michael Gross (who played Jeff) have both worked on Law & Order: Special Victims Unit.
23. Frankie Is Really Frances
Frankie Bergstein's full name is actually Frances Bergstein. Interestingly Jane Fonda's Mother was named Frances!
24. Marsha Mason Has Played Two Arlenes
Marsha Mason plays the loveable and forgetful Arlene in Grace and Frankie. Coincidentally, Mason also played a character named Arlene in the film Blume in Love in 1973.
25. Grace and Frankie Has A Clueless Connection
The Off License/Liquor Store where Grace's Car is stolen in the episode "The Bender" in Season 2 is - hilariously - the same store in which Cher is robbed in the film Clueless!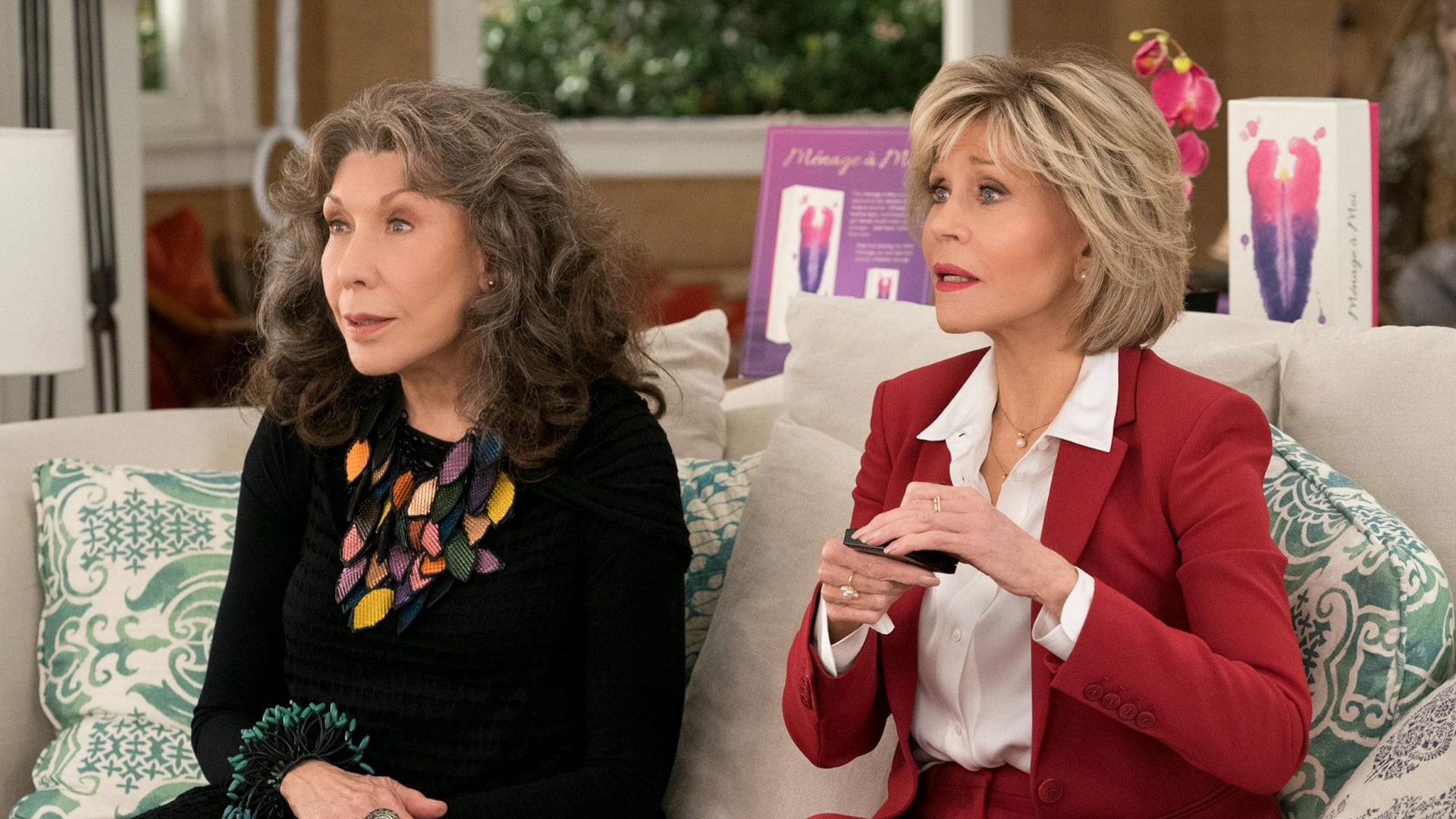 25 Grace and Frankie Facts You Haven't Read Before
What is your favourite moment from Grace and Frankie? Let us know in the comments below.