100 Stranger Things Facts You Haven't Read Before
Stranger Things is the popular science-fiction horror drama written by the Duffer Brothers on Netflix. Our 100 Stranger Things facts include which cast member was chosen immediately after one watch of their audition tape, how the Duffer Brothers achieved the perfect 1908s look and what the show was originally going to be called.

Watch our Stranger Things Facts Video on YouTube.
Stranger Things is the popular science-fiction horror drama written by the Duffer Brothers on Netflix. Matt and Ross Duffer serve as the Executive Producers and showrunners of Stranger Things alongside Shawn Levy and Dan Cohen. The first season of Stranger Things was released on the 15th of July 2016 and it immediately drew in audiences with its 1980s nostalgia and combination of classic coming of age stories such as E.T. and Stand By Me with the horror genre.
Stranger Things is set in the 1980s in the fictional town of Hawkins, Indiana. It has an ensemble cast, mainly of young child actors including Millie Bobby Brown, Gaten Matarazzo, Finn Wolfhard, Noah Schnapp and Caleb McLaughlin. It also stars Winona Ryder as Joyce Byers, the Mother of Will Byers (Schnapp) who gets abducted by a monstrous humanoid creature and taken to an alternate reality that reflects the real world named "The Upside Down".
1. The Duffer Brothers Were Inspired By Stephen King And Stephen Spielberg
Stranger Things has been praised for its mix of genres especially due to their juxtaposing nature - Investigative Supernatural Horror doesn't usually fit with the Nostalgic High School flick. The show really is a love letter to growing up as a 'nerd' as it is littered with pop culture references of the 1980s, not just in the dialogue but in the style as well. The Duffer Brothers have cited Stephen Spielberg, David Lynch, Stephen King and John Carpenter as influences. The duo also took inspiration from experiments conducted during the Cold War at that time and conspiracy theories which involve secret government experiments.
2. Netflix's Future Is Uncertain Once Stranger Things Season 5 Ends
Stranger Things is often heralded as Netflix's flagship series. It has a dedicated fan base and has launched the career of all of the child stars who have appeared in it. Many Netflix users and critics have questioned how successful the platform will become once Stranger Things finishes after Season Five.
3. There Will Be A Jump In Time From Stranger Things Season 4 To 5
The first season of Stranger Things is set in November 1983 and the subsequent seasons are set a year apart. Season Four, which was released in June 2022 is set in March 1986. It is expected that a more significant jump in time will happen for Season Five due to the fact the actors have grown up so much and look a lot older than the characters they are playing.
4. The Duffer Brothers Were Mentored By M. Night Shyamalan
In 2015 the Duffer Brothers had completed writing and producing their film Hidden, in which they mimicked the style of M. Night Shyamalan. Warner Brothers did not distribute the film widley so the pair were unsure of their career trajectory after its release. However they were approached by TV producer Donald De Line To work alongside M. Night Shyamalan on episodes of Wayward Pines. During this time, the brothers worked closely with Shyamalan who became a mentor figure.
5. A 20-Page Pitch Book Was Made To Sell Stranger Things
After their work with Shyamalan, the Duffer Brothers began working on Stranger Things by preparing a script that would go on to be similar to the actual pilot episode of the show and a 20 page pitch book to help showcase the series to a network.
The pitch book included and illustrated front cover displaying #1 and 'Montauk' (the original name for Stranger Things) in large red capital letters on a black background with a red square containing a drawing of a deserted dirt road with an abandoned red bicycle on the side.
6. Cable Networks Told The Duffers To Make It A Children's Show
Stranger Things was pitched to around 15 cable networks, all of whom rejected the idea on the basis that the plot centred around children as leading characters. Many of the cable networks suggested that they make the series into a children's programme instead or drop the children all together to focus on Hopper investigating the paranormal.
In early 2015 Dan Coen, the vice president of 21 laps entertainment invited the Duffer Brothers To his office and purchased the rights to the series with the Brothers retaining full authorship. Netflix purchased the whole first season and it was announced in April 2015 to have a summer 2016 release.
7. The Duffer Brothers Chose Netflix Due To The Success Of House Of Cards
The Duffer Brothers claimed at the time of pitching that they decided to go to Netflix as the company had already achieved success with shows such as House of Cards and Orange Is The New Black and they were starting to give opportunities to up and coming producers.
8. Stranger Things Was Originally Called Montauk
Stranger Things was originally called Montauk. It was going to be set in Montauk, New York and around Long Island. The Duffer Brothers chose Montauk as it's linked with Stephen Spielberg and the film Jaws where it was actually used for the fictional setting of Amity Island. In original pitches to networks, Montauk was described as "an eight hours sci-fi horror epic. Set in Long Island in 1980 and inspired by the supernatural classics of that era, we explore the crossroads where the ordinary meet the extraordinary… Emotional, cinematic and rooted in character, Montauk is a love letter to the golden age of Stephen Spielberg and Stephen King - a marriage of human drama and supernatural fear."
9. The Fictional Town Gave The Duffer Brothers More Room For Story
Once the Duffer Brothers decided to change where the series took place, they were able to do much more with the setting. For example, they could put Hawkins under quarantine which they felt they could not achieve by using a real location as it would not be as plausible to audiences.
10. The Name Stranger Things Was Inspired By Stephen King
Ted Sarandos from Netflix helped the Duffer Brothers come up with a brand-new title for the show to improve marketing the concept to the general public. Matt Duffer has said in interviews that the reason they chose Stranger Things as the title was because it sounded similar to Stephen King's novel 'Needful Things'.
11. The Duffer Brothers Played Classic 1980s Movie Clips In Pitches
In order to pitch Stranger Things to cable networks and streaming services, the Duffer Brothers also included images and footage from classic 1970s and 1980s films including E.T. The Extra Terrestrial, Close Encounters of the Third Kind, Hellraiser and A Nightmare on Elm Street. This was to establish the tone of the series and to excite potential investors.
12. Prisoners (2013) Inspired Stranger Things
When writing Stranger Things, the Duffer Brothers wanted to expand the concept of the film Prisoners (2013) which showcases the moral struggles a parent goes through when their child is kidnapped. However with Stranger Things, they wanted to expand this idea over eight hours of serialised television.
13. The Monsters In Stranger Things Were Purposely Not Spirits
The Duffer Brothers, when researching for Stranger Things, decided to make the monster be the result of a bizarre experiment rather than come from something spiritual. They read a lot about the Cold War and the experiments which took place and it helped them to pinpoint the time period specifically that their show was going to be set in. 1983 was a year before the film Red Dawn came out, which focused on Cold War paranoia.
14. Japanese Anime And Video Games Inspired The Feel Of Stranger Things
As well as their main influences of Stephen King and Stephen Spielberg, the Duffer Brothers were influenced by Japanese Anime such as Akira and video games like The Last Of Us. Many Stranger Things fans across the Internet have compiled lists of films, music, video games etc that they feel show up as influences in Stranger Things. This has prompted the Duffer Brothers to say in interviews that perhaps they have included many of the 1980s themes subconsciously into their work due to it being the decade that they grew up in.
15. It Was Important That Stranger Things Season One Was 8 Episodes Not 22
The streaming service Netflix allowed the Duffer Brothers to approach Stranger Things in a way that is different from other TV shows. On cable television, many TV shows are restricted to a typical 22 episode format but Stranger Things opted for an eight episode approach. The brothers were concerned that a traditional 22 episode season may inhibit their ambitions to tell a cinematic story with that many episodes. They felt like eight gave them enough space to explore both narrative and characterisation and less time would mean removing some of the vital characterisation in favour of getting to the horror story faster. Stranger Things all the way through has seemed like one large film rather than serialised episodes. This was definitely prevalent in Season Four in which episodes were over an hour long and the finale was over two hours long.
16. Joyce Byers Was Modelled On A Richard Dreyfuss Character
Winona Ryder's character Joyce was modelled after Roy Neary in Close Encounters of the Third Kind, who is played by Richard Dreyfuss. Joyce looks strange to everyone else around her while she is determined to find Will.
17. Winona Ryder Was Chosen For Joyce Due To Her Popularity In The 1980s
Stranger Things casting director Carmen Cuba suggested Winona Ryder for the role of Joyce as she was a well-known star of 1980s films. The character of Joyce was quite a difficult role to perform as on the one hand, she was an emotional mother trying to find her son and on the other, she was really quite clever and the only one actually onto the truth.
18. David Harbour Was Chosen As The Duffer's Felt He Was Overlooked
The Duffer Brothers chose to hire David Harbour in the initially unnamed chief of police role which became Jim Hopper. The pair felt that Harbour had been waiting too long for the opportunity to play a lead role as he had previously been playing small roles as villains.
19. The Children Read Lines From Stand By Me To Audition
During auditions for the child characters, the Duffer Brothers asked the children to read lines from the film Stand By Me. In an interview with Beyond Stranger Things, the brothers said that they probably went through over 1,000 different child actors for the roles. One of the reasons that they hired Finn Wolfhard for the role of Mike was that he was a bit of a 1980s movie buff.
20. Gaten Matarazzo Was The First To Be Cast
The reason they hired Gaten Matarazzo was because of his authenticity. They hired Matarazzo first out of all of the other actors after only viewing his audition tape once!
21. The Child Stars Were Cast With Just The First Script Completed
The casting for Will and his friends was only finalised after the first script was completed and subsequent scripts included aspects from the actors' personalities who were now in the roles.
22. Matthew Modine Helped Develop The Character of Dr. Brenner
Matthew Modine helped the Duffer Brothers iron out details of the character Dr. Brenner as he was hired before the first season scripts were finalised. The Duffer Brothers have said in interviews that Brenner was the hardest character to write for given his limited screen time but Modine assisted with fleshing the part out.
23. Stranger Things Was Going To Be Filmed On Long Island
The Duffer Brothers had hoped to film the series around the Long Island area in homage to their original Montauk concept however as filming was due to take place in November 2015, Long Island would be too cold so locations were found in Atlanta, Georgia instead. The Duffer Brothers chose Atlanta, Georgia as the filming location for Stranger Things in the end due to the fact that some of the areas reminded them of their own upbringing in North Carolina.
24. Instead, Stranger Things Was Filmed At Locations In Georgia
Filming for the first season of Stranger Things began in November 2015. Jackson ended up being the basis for the fictional town of Hawkins. Georgia Mental Health Institute was used as the Hawkins National Laboratory Site and Patrick Henry High School in Stockbridge, Georgia was used for the middle and high school scenes. Other areas across Georgia used for filming Stranger Things include Georgia International Horse Park, Eastpoint First Baptist Church and Stone Mountain Park. Work on set was done at Screen Gem studios in Atlanta. The filming for the first season concluded in early 2016.
25. The Star Court Mall Was Nearly Left As A Permanent Attraction
One of the most prominent locations in the third season of Stranger Things was the Star Court Mall. The Producers toyed with the idea of keeping the Star Court Mall as a permanent attraction for fans to visit but ultimately decided against it and instead toured international cities with the Scoops Ahoy Ice Cream brand for publicity instead.
In March 2020, production on Season Four of Stranger Things was halted due to the COVID-19 pandemic but it was resumed in September 2020.
26. Film Grain Was Added To Footage To Secure The 1980s Look
To give Stranger Things a really nostalgic 1980s feel, the production team included a film grain effect over the top of the footage which was captured by scanning 1980s film stock.
27. The Duffer Brothers Were Inspired By Amblin Entertainment
The Duffer Brothers really wanted Stranger Things to be a horror, but not in the sense of violence or gore. Instead they wanted to mimic the 1980s Amblin Entertainment films (which created the PG-13 movie rating) and create tension through mood and atmosphere instead.
28. The Demogorgon In Season One Was Played By A Real Actor
Initially the Duffer Brothers wanted to stay clear of any computer generated effects for the monsters and rely on practical effects instead. So for the first season the Demogorgon is actually played by a real actor, Mark Steger! As the costume and make up for the Demogorgon took so long to apply and there was very little time left when filming, the team opted for the middleground of using constructive props and digital effects. The postproduction for the first season of Stranger Things was completed just a week before it was released on Netflix!
29. Altered States Inspired The Stranger Things Title
The studio Imaginary Forces was tasked with creating the Stranger Things logo and title sequence. The Duffer Brothers explained to them their vision of 1980s nostalgia and they sent across the Pilot script, their chosen background music for the titles and book covers from Stephen King. The studio took inspiration from other works including Altered States and the Dead Zone. Original concept for the title sequence included having various letters disappear reflecting the disappearance of Will in the series.
30. The Electronic Band 'Survive' Composed The Soundtrack
The original Stranger Things soundtrack was composed by the electronic band Survive comprised of Michael Stein and Kyle Dixon. Its prolific use of synthesisers was also in homage to the 1980s.
The Duffer Brothers were fans of Survive after they found their music in the 2014 film The Guest. They even use the song Dirge in a mock trailer put together to help pitch the series to Netflix. After the series was green lit, the Brothers got in touch with the band asking if they were still doing music and whether they would be interested in reworking some of their old music for the series while developing new character motifs. Interestingly these motifs created by Survive were played over the top of the actors' audition tapes in order to help with the casting process.
31. Kate Bush Went To Number 1 Because Of Stranger Things Season 4
As well as its original score, Stranger Things uses music from the 1980s time period including The Clash, New Order, The Bangles, Toto and Joy Division. Notable song choices have been Should I Stay Or Should I Go by The Clash which was chosen to play in pivotal moments in Season One especially where Will is trying to communicate with Joyce from The Upside Down. Perhaps Stranger Things' most famous use of music to date is in Season Four where Sadie Sink's character Max Mayfield needs her favourite song played to bring her home from The Upside Down and her friends pick Running Up That Hill by Kate Bush. The song went to number one immediately after Stranger Things Season Four had been released on Netflix and it prompted Kate Bush to make a rare public statement acknowledging and thanking fans for their new support. In 1985 when the song was initially released, it did not go above number 30 in the US Billboard Chart.
32. 14.07 Million People Watched Stranger Things Season 1 In Its First Month
Netflix are famously quiet with their view of figures and did not initially reveal the number of viewers or hours viewed for Stranger Things. Symphony Technology Group did compile data for the first season based on people using software on their phones that detect a programme sound. Symphony detected that within the first 35 days of release around 14.07 million adults between the ages of 18 and 49 in the United States had watched Stranger Things. This made it the third most watched season of Netflix Original programming in the United States, with Full House Season One and Oranges The New Black Season Four just ahead. Netflix later released the statistic that 70% of viewers who watched the second episode of Stranger Things Season One went on to complete the entire first season.
33. 40.7 Million People Watched Stranger Things Season 3 In Its First 4 Days
Netflix released viewing figures for Season Three of Stranger Things stating that the show had broken all records with 40.7 million households having watched the show in its first four days of release and 18.2 million households had already watched the entire series within the same timeframe. Stranger Things Season Three set the record for the most watched original Netflix series with 64 million households watching the show in its first month.
34. Stranger Things Has A 97% Approval Rating On Rotten Tomatoes
Upon its release critics raved about Stranger Things with the New York Times comparing it to Rob Reiner's Stand By Me and calling it "tantalising". The movie review aggregator site Rotten Tomatoes gave the first season an approval rating of 97%. Season Four was given an approval rating of 90% on Rotten Tomatoes with the critical consensus reading, "darker and denser than its predecessors, Stranger Things is fourth chapter sets the stage for the shows final season in typically binge were the fashion".
35. Fans Wanted Justice For Barb!
Shannon Purser, who played the short lived character Barb, was nominated for a prime-time Emmy award for outstanding guest actress in a drama series. Barb was only in the first season of Stranger Things for a short time and fell victim to the monster earlier on in the season. Many fans felt sorry for her character and ended up creating the social media #JusticeForBarb and #I'mWithBarb to support her. Despite this outpouring of love from fans, Barb never returned to Stranger Things but the Duffer Brothers did use her real life influence as inspiration for the second season where Nancy claims "that no one ever cares about Barb".
36. Eggo Waffles Went Up In Sales After Stranger Things Season 1 Aired
Hilariously another impact in real life of the show Stranger Things is the increased demand for Eggo waffles. Millie Bobby Brown's character Eleven is obsessed with Eggo waffles and is shown eating them ferociously across the first season. The Kellogg Company, who manufactures Eggo, had not previously been part of the production but they have recognised the impact that the series made to their sales. The Kellogg Company did provide a vintage 1980s Eggo television advert for Netflix to use as its Super Bowl LI commercial.
37. Coca-Cola Released A Limited Batch Of New Coke For Stranger Things Season 3
To coincide with the third season of Stranger Things, Coca-Cola ran a limited release of New Coke which was initially released in 1985. It was renamed Coke II in 1990 and discontinued in July 2002. New Coke was developed to combat the popularity of rival drink Pepsi but the American public did not get on board with the new product and it is considered a major failure.
38. A Lawsuit Was Fired Against The Duffer Brothers Over The Plot
In April 2018 a filmmaker named Charlie Kessler came forward and filed a lawsuit against the Duffer Brothers claiming that they stole his idea for a short film, coincidentally named Montauk. The plot also included a missing boy and a nearby military base doing supernatural experiments as well as a monster from another dimension. Kessler debuted the film at the 2012 Hamptons International Film Festival and during the 2014 Tribeca Film Festival, he pitched his film to the Duffer Brothers.
Charlie Kessler contended that the Brothers had used his ideas for the premise of Stranger Things and sought a third of the income that they had made from the series! The Brothers lawyer stated that the pair had never seen Charlie Kessler film and hadn't spoken to him about it. The judge denied summary judgement for the brothers in April 2019 which allowed Kessler's lawsuit to proceed to trial. However, before the trial was due to start in May 2019, Kessler withdrew the lawsuit after hearing the depositions and seeing the documents from as early as 2010 which showed that the Duffer Brothers had been independently working on the concept of Stranger Things since that time.
39. Netflix Sent Amusing Cease And Desist Letters To A Themed Bar
The media published articles claiming that Netflix had sent a cease and desist letter from their in-house attorney to an operator of a Stranger Things themed bar in Chicago. The articles published in September 2017 included excerpts from the letter which was surprisingly humorous referencing "unless I'm living in The Upside Down… We are not going to go full Dr. Brenner on you… The demogorgon is not always as forgiving". The letter did not ask for its immediate closure but instead asked it to not remain open without Netflix's permission after its initial scheduled run.
40. Beyond Stranger Things Was Introduced As An Aftershow
Netflix released Beyond Stranger Things, an after show series hosted by Jim Rash focusing on the second season of the series. Guests from the cast and crew included the Duffer Brothers themselves and the young stars of the show including Joe Keery, Caleb McLaughlin and Millie Bobby Brown. Similar shows such as Talking Dead and Talking Bad, after shows of The Walking Dead and Breaking Bad respectively, needed to be watched straight after each episode. However, Beyond Stranger Things was meant to be viewed after the entire second season. Beyond Stranger Things did not continue after season two.
41. Many Stranger Things Books Have Been Released
Due to Stranger Things extreme popularity among fans, there have been many books and merchandise created to tie in with the series. In late 2018, Penguin Random House partnered with Netflix to release a series of books related to Stranger Things including How To Survive In A Stranger Things World and Hawkins Middle School Yearbook/Hawkins High School Yearbook. There has also been an Official Sticker Album released in June 2021 as well as an Official Colouring Book released in June 2022.
42. A Stranger Things Tarot Deck Was Released In 2022
Insight Editions released a Stranger Things Tarot Card Deck and Guidebook in August 2022.
43. Dark Horse Comics Have Released Stranger Things Comics
Dark Horse Comics, known for creating the Buffy the Vampire Slayer comics, published a first issue of a Stranger Things miniseries written by Jody Houser in September 2018. The second issue was released in May 2019 and focused on one of the experiments preceding Eleven on a girl named Francine who possesses the power of Precognition. The third in the miniseries was released in January 2020. At time of writing, there have also been three Stranger Things graphic novels released including Stranger Things: Erica the Great!
44. A Dungeons & Dragons Set Inspired By Stranger Things Was Launched In 2019
As Will and his friends play Dungeons & Dragons religiously in the show, Hasbro has published a licenced version of a Stranger Things Dungeons & Dragons starter kit in May 2019. The kit includes instruction books, character sheets, dice and a campaign called "The Hunt For The Thessalhydra''. It is written as if it has come from Will himself and mini figures of the demogorgon are also included. Magic: The Gathering has also included a series of Stranger Things crossover cards as part of its special Secret Lair series in 2021.
45. There Are Stranger Things Video Games
Stranger Things has been the basis for video games as well as tabletop games with Bonus XP releasing a mobile game tie-in for Stranger Things in October 2017. The game uses the same retro pixel style similar to the Super Nintendo entertainment system. It is loosely based on the Stranger Things story after Season One and the player begins the game as Jim Hopper looking for the missing boys. The game has been made in a similar style to The Legend Of Zelda. Interestingly, the map of Hawkins, Indiana in the game was actually based on the Google Street view map of Jackson, Georgia where the series was filmed. The game was downloaded 3 million times in the first week making it a top download across Android and iPhone. A second mobile game was released after Stranger Things 3 in 2019 where players select characters including Joyce, Hopper, Max and Eleven. The second game was released across Mobile, PC, Nintendo Switch, PlayStation 4 and, Xbox One.
46. There Was A Stranger Things Attraction At Universal Studios
In 2018 and 2019, Universal Parks and Resorts included a Stranger Things maze at their Halloween Horror Night in Universal Studios Hollywood and Orlando Resort. Universal Studios Singapore also received a Stranger Things attraction in 2018.
47. Joyce Byers Home Has Been Made Out Of Lego
In 2019 Lego released a replica version of Joyce Byers home and The Upside Down. This Lego set was awarded Toy Of The Year and also Speciality Toy Of The Year in 2020 by The Toy Association.
48. The Trump Administration Was Referred To As The Upside Down
Unbelievably Stranger Things has made its way into politics. The United States representative David Cicilline compared the political landscape during the Presidency of Donald Trump to The Upside Down in Stranger Things during a speech made to Congress in February 2017. He used to sign displaying "Trump Things" in the same format as the title card of the show and stated that, "like the main characters in Stranger Things, we are now stuck in The Upside Down. "
49. Sesame Street Had A Stranger Things Themed Episode
Stranger Things has also made its way into further popular culture including on the children's show Sesame Street which created an audience appropriate show called Sharing Things in 2017. The Cookie Monster was known as the Cookiegorgon, Grover as Lucas, Ernie as Dustin and it reflected the narrative of the second season.
50. Lucas's Army Belt In Season One Once Belonged To A Real Lucas
Malgosia Turzanska, the Stranger Things costume designer, was looking for a vintage Army belt for Lucas to wear as part of his costume in Season One. According to IMDb she found the perfect belt in an antique shop in Utah locked in a cabinet. When it was opened she discovered the name of the original owner sharpied on the back, he was also called Lucas.
51. Finn Wolfhard Shot His Audition Tape When He Was Ill
Fans of Stranger Things can see on the after show Beyond Stranger Things that Finn Wolfhard shot his audition tape from his bed as he was ill. Nevertheless he still got the part!
52. Mille Bobby Brown Has Been Praised For Her Professionalism As A Child Actor
On many occasions Matt and Ross Duffer have spoken highly about Millie Bobby Brown stating that she is an incredibly gifted actor with the ability to adjust her performance to technical specification in ways that most child actors are unsure how to do.
53. Millie Bobby Brown Once Delayed A Shoot By 45 Minutes Due To Glitter
In an interview with NPR, Ross Duffer reminisced about the time that Millie Bobby Brown turned up to the Stranger Things set one day completely covered in glitter claiming that she had no idea where it came from. He discussed this and singled it out as being one of the times in which he realised that, despite her professionalism she was still a child actor. He laughs saying, "David Harbour is not coming in covered in glitter!" Removing the glitter apparently delayed the shooting schedule by 45 minutes that day.
54. Eleven's Pink Dress And Blonde Wig Is An E.T. Reference
Some 1980s movie fans may have realised that the dress Millie Bobby Brown wears which is pink dress with a blonde wig is similar to E.T.'s disguise in the 1982 film E.T. The Extra Terrestrial.
55. The Actors Who Play Nancy Wheeler and Jonathan Byers Are Dating
Natalia Dyer, who plays Nancy Wheeler and Charlie Heaton, who plays Jonathan Byers, are actually dating in real life and have been together since July 2019.
56. Spotify Animates The Stranger Things Album Cover When Played
At the time of its release, the Stranger Things theme song album cover page turns into The Upside Down once played with a progress bar turning into a torchlight pointing towards the cover.
57. Jim Hopper's Trailer Only Cost $1
Jim Hopper's trailer has been reported in press interviews to have only cost the Art Department US$1 to buy.
58. Three Stranger Things Actors Previously Worked On Broadway At The Same Time
Before working together on Stranger Things, Gaten Matarazzo (Dustin Henderson), Sadie Sink (Max Mayfield) and Caleb McLaughlin (Lucas Sinclair) have worked together on different productions on Broadway at the same time. Matarazzo starred in Les Miserables, Sink was in Annie and McLaughlin starred in the Lion King.
59. Dacre Montogomery Had To Tone Down His Six Pack To Play Billy
To prepare for his role of Billy in Stranger Things, Dacre Montgomery lost some weight from his six pack abs as he thought his previous look for the 2017 film Powerangers would not suit his 1980s character. In interviews he said "guys in the 80s weren't super shredded, so I just did a lot of boxing and my diet was not as good, which made for a more realistic body."
60. Nancy's Costume Changes As Her Character Develops In Season 1
Nancy's costume goes through an interesting transition from the beginning of Season One to the end of Season One. She starts off in very feminine attire with light colours and flowing dresses and skirts. She also always has her hair down. By the end of Season One, she is wearing jeans and dark colours and her hair is almost always tied up.
61. Gaten Matarazzo's Voice Changed So Much They Could No Longer Use Him For Reshoots
One of the perils of having such a young cast, especially boys, is that their voices change rapidly. Gaten Matarazzo was not able to be used by the sound team for additional dialogue after a certain time due to him sounding dramatically different.
62. The Password To Castle Byers Is A Lord Of The Rings Reference
The password to enter Castle Byers is "Radagast" which is the name of a Wizard featured in The Hobbit films by Peter Jackson and in The Lord Of The Rings.
63. Winona Ryder Is Involved In Missing People Research In Real Life
Winona Ryder plays Joyce Byers whose son goes missing in Stranger Things. She dedicated the film Little Women in 1994 to Polly Hannah Klaas who was a young missing girl from her hometown of Petaluma, California. She went missing and was later found to have been kidnapped and brutally murdered. Ryder offered $200,000 as a reward to anyone with information on the subject and she still was involved with the Polly Klaas Foundation for Prevention of Child Abduction in 2016 when Stranger Things was released.
64. Stranger Things Has Many References To Phoebe Cates In Fast Times
In Season Three of Stranger Things, the song Moving In Stereo By The Cars plays as Billy enters the outdoor pool area. This is the same song that plays during the scene in which Phoebe Cates emerges from the pool in Fast Times at Ridgemont High 1982. She plays the character Linda Barrett. Dustin later mentions in the episode that his new girlfriend Suzie is hotter than Phoebe Cates.
65. Millie Bobby Brown and David Harbour Have Been Nominated For Emmys
David Harbour is another cast member of Stranger Things that was nominated for a prime-time Emmy award, this time in 2018 for Supporting Actor In A Drama Series. However he lost out to Peter Dinklage from Game of Thrones.
Millie Bobby Brown was nominated in the same year for Best Supporting Actress In A Drama Series for her role as Eleven but she lost out to Thandiwe Newton in West World.
65. Steve Is Named "King Steve" In Reference To Stephen King
Steve Harrington, who is played by Joe Keery, is referred to throughout Stranger Things as "King Steve" due to his popularity at the Hawkins High School. This is obviously a nod to one of the Duffer Brothers biggest influences, Stephen king.
66. The Twins Who Play Holly Wheeler Also Played Judith In The Walking Dead
There are two young actors who play Holly Wheeler. The twins Tinsley Price and Anniston Price are also the same twins who played the original baby Judith in The Walking Dead.
67. Hawkins Police Have The Same Look As Amity Island Police
The vehicles and uniforms used for the Hawkins police department in Stranger Things are identical to those used in both Jaws and Jaws 2. David Harbour's tan uniform, triangle patch and beige SUV are all a nod to Roy Scheider's character. The blue uniforms and hats worn by the patrol man also or similar to the Amity Island Police uniforms used in Jaws.
68. The Wheeler's House Is Also Used In Scream
The house used for the Wheeler's home in Stranger Things is the same house used in the 2015 TV series Scream as Maggie DuVal's childhood home.
69. The Stranger Things Poster Was Inspired By Drew Struzan
The Stranger Things poster design was created by Kyle Lambert. He was inspired by the poster artwork of Drew Struzan who created the official posters for Star Wars in 1977, Back To The Future in 1985, E.T. The Extra Terrestrial in 1982 and Indiana Jones and the Temple of Doom in 1984.
70. Billy's Number Plate Is A Reference To Big Trouble In Little China
Billy's number plate is PCE235 which is a reference to Jack Burton's truck in Big Trouble In Little China.
71. The Duffer Brothers Wanted To Remake It
The Duffer Brothers had previously wanted to direct a remake of the Stephen King novel It but they were turned down. In 2017 Finn Wolfhard was in line to play Richie in the It remake however he was unable to participate due to production delays which pushed the film back a year.
72. Steve Harrington's Character Was Mellowed When The Producers Met Joe Keery
Steve Harrington originally started out as a real violent narcissistic bully of a character and in the pilot script it was written that he would sexually assault Nancy Wheeler. However, when Joe Keery was cast In the role, the Duffer Brothers made him more of a traditional high school popular Prom King character instead. They later re-visited the "hard as nails" bully character when they introduced Billy Hargrove.
73. Millie Bobby Brown Filmed Her Head Shave
Millie Bobby Brown actually shaved her head for the role of Eleven in Stranger Things and got her Mum to film the cutting session and upload it to YouTube. Her father, on the other hand, found this event quite traumatic and actually cried. In Season 4, Millie Bobby Brown wears a short wig in the scenes in which her head looks shaved.
74. Noah Schnapp Wasn't Featured In The Season 1 Opening Credits
Interestingly, despite every episode of the first season of Stranger Things revolving around Will Byers disappearance, the actor Noah Schnapp wasn't featured in the opening credits of the show until the second season. Perhaps this was incidental as he had disappeared in the plot.
75. "Tubular" Is A Hocus Pocus Reference
In episode two of Season Two of Stranger Things "Trick Or Treat, Freak", the characters Dustin and Lucas are talking to Max about how she has moved from California to Hawkins and the fact she likes skateboards claiming it was "tubular". This joke also appeared in the 1993 film Hocus Pocus when bullies are messing with a character also called Max who has recently moved from California.
76. Sean Astin Was Worried Audiences Would See Him As Mikey From The Goonies
Sean Astin stars in Season Two of Stranger Things as Bob, Joyce's new boyfriend. In episode five, Bob surmises that the X on Will's map must mark a spot of treasure. According to IMDb, Sean Astin was concerned that viewers may see this just as a reference to his role as Mikey in The Goonies in 1985 rather than realise it was Bob who confidently solved Will's puzzle.
77. Each Season Takes Place During A Holiday Season
Each season of Stranger Things takes place during the holiday season. Season One happens around Christmas 1983, Season Two is on Halloween 1984, Season Three happens during the 4th of July 1985 and Season Four is all about Spring Break in 1986.
78. Winona Ryder And Maya Hawke Have Both Played Jo March
Both Winona Ryder, who plays Joyce Byers in Stranger Things and Maya Hawke, who plays Robin, have also played the character of Jo March in Little Women. Winona Ryder starred in the 1994 production of Little Women and Maya Hawke was in the BBC production in 2017.
79. Hopper Is A Reference To Predator
The police chief Jim Hopper, played by David Harbour, is actually named after the character that Arnold Schwarzenegger first goes looking for in the 1987 film Predator. The first character that was killed on screen in Predator was named Hawkins and Stranger Things is set in the fictional town of Hawkins, Indiana.
80. Stranger Things Has Been Criticised For Its Portrayal Of LGBT+ Characters
Stranger Things has come under some criticism for its representation of LGBT+ characters. Robin discloses that she is a lesbian in Season Three of Stranger Things after Steve Harrington tries to get her to go out with him. The portrayal of Will Byers and his sexuality has been criticised by many fans for not being made concrete enough. Noah Schnapp has said in interviews after the release of Season Four that it is open to interpretation as to what Will's sexuality is and that is one of the reasons that he himself enjoys working on Stranger Things. However in a society which celebrates LGBT+ individuals, many fans feel that it is not enough to just hint at someone's sexuality but instead it should be celebrated and addressed.
81. Season 4 Has Many Freddy Krueger References
During Season Four of Stranger Things there are several references to A Nightmare on Elm Street from 1984 and its villain Freddie Krueger. Dustin references the character several times when talking about Vecna targeting his victims. Robert Englund, who is known for playing Freddie Krueger, appears as potential suspect Victor Creel in Season Four.
82. The Cast Found Out The Same Time As The Public When Stranger Things Would End
It was announced in March 2022 that Season Five of Stranger Things would be the last. This news shocked the cast members as they found out at the same time members of the public did in the press.
83. Gaten Matarazzo's Rare Genetic Disorder Was Written In For Dustin
During the pilot episode of Stranger Things, Dustin explains that he actually has Cleidocranial Dysplasia which is a rare genetic disorder. Gaten Matarazzo actually has this himself and it was worked into this role.
84. Eleven's Nosebleeds Are An Alien Reference
Film fans may have noticed that when Eleven gets nosebleeds from using her powers, it is a nod to Ripley in the film Alien.
85. There's A Reason D'Artagnan Eats Three Musketeers Bars
Dustin feeds his 'pet' from The Upside Down D'Artagnan bits of Three Musketeers candy bars. D'Artagnan is actually the name of the main character from the film The Three Musketeers in 1948.
86. Stranger Things Was Responsible For Netflix's Cigarette Ban
In 2019, a group committed to banning tobacco claimed that Stranger Things was one of television's worst offenders when it came to showing smoking on screen. In response, Netflix recognised that smoking is harmful especially when portrayed positively on screen as it can have an adverse affect on young people and influence them. They also stated that going forward the only projects that they will commission with the ratings of TV-14 or below for TV shows or PG-13 or below for films will be free from smoking Cigarettes and E cigarettes unless it is historically or factually accurate.
87. Eleven Only Spoke 42 Times In Season One
According to Millie Bobby Brown, her character Eleven only had 42 lines of dialogue in season one.
88. The Byers Home Looks Like The Evil Dead
Horror fans may have noticed that the shots of the Byers family home has a porch swing at the front which is a reference to The Evil Dead from 1981. Jonathan Byers, played by Charlie Heaton, has a poster for The Evil Dead in his bedroom.
89. The Season 3 Trailer Announced All The Episode Titles
In the trailer for Season Three of Stranger Things, all of the episode titles for the season were announced. These included "Suzie, Do You Copy? ", "The Mole Rats", "The Sauna Test", and, "The Bite".
90. Harbour And Ryder Have Both Worked With Maya Hawke's Dad
Both David Harbour and Winona Ryder have worked alongside my Hawks father Ethan Hawke. Rider and Ethan Hawke have appeared in the film reality bites in 1994 and David Harbour has starred alongside him in the play coast of utopia.
91. Keery And Schnapp Only Became Regular Characters In Season 2
Joe Keery, who plays Steve Harrington and Noah Schnapp, who plays Will Byers, were only promoted from recurring characters to regular characters in Season Two. This is particularly strange in Schnapp's case as Will was the focus of Season One.
92. Winona Ryder Was Born At The Same Time As The Child Characters In Stranger Things
The adult actors in Stranger Things Winona Ryder, Cara Buono (Karen Wheeler) and Sean Astin (Bob Newby) were all born in 1971. Season One of Stranger Things takes place in 1983 and Season Two actually begins the day before Winona Ryder's 13th birthday. It is interesting to note that all three of these characters were roughly the same age in real life as all of the main young child actors when the series takes place.
93. Sean Astin's Bob Was Meant To Die Earlier
Sean Astin, while being brilliant in the role of Bob in Stranger Things, was hired due to his recognisable connection with the 1980s. As previously mentioned, he plays Mikey in the coming-of-age treasure hunt movie The Goonies but he also is well known for playing Samwise in The Lord Of The Rings Trilogy. According to the Duffer Brothers, Bob was actually supposed to die a lot earlier in Season Two than he did. However they decided to expand on his character further giving him more of a storyline in regards to this romantic relationship with Joyce.
94. Nancy And Barb Are Named After USA First Ladies
Nancy Wheeler and Barb, who are best friends in Stranger Things Season One, share the same names as US First Ladies from the 1980s Nancy Reagan and Barbara Bush.
95. Ryder And Modine Have Worked Together In A Music Video
Winona Ryder and Matthew Modine (Dr. Brenner) have previously worked together once before in the music video for the song "I Love So Beautiful" by Roy Orbison.
96. Have You Noticed These 1980s Name Parallels?
Several of the main characters in Stranger Things were named after famous actors and directors who achieved great levels of success in the 1980s. This includes Hopper after Dennis Hopper, Steve after Steven Spielberg, Lucas after George Lucas and Dustin after Dustin Hoffman.
97. Steve Harrington Gets Beaten Up In Each Season!
From Season One to Season Four of Stranger Things, Steve Harrington gets beaten up every time. In Season One, Jonathan fights with him. In Season Two it is Billy and in Season Three he's beaten up by Russians trying to get information out of him. In Season Four he is attacked by "demobats" as he enters The Upside Down.
98. Noah Schnapp Is The Only Actor Not To Swear On Screen
At time of writing, Noah Schnapp is the only actor in the series not to swear throughout the entire show.
99. Sadie Sink Didn't Know She Had A Kissing Scene
It was discovered on the after show Beyond Stranger Things that for the Season Two finale in which Mike and Eleven kiss at the Snow Ball, Finn Wolfhard uses the phrase "I'm coming in" before kissing Millie Bobby Brown. Millie Bobby Brown had been teasing Sadie Sink that she too would have to kiss someone in the finale but it wasn't written into the script. However when filming came around on that day, the Duffer Brothers told Sink that she and Caleb McLaughlin would also share a kiss at the Ball.
100. In Every Season A Character Whose Name Begins With B Dies
In each season of Stranger Things so far a character with the name beginning with B has died. In Season One it was Barb. In Season Two it was Bob and in Season Three it was Billy. This has led to many fans speculating who could potentially die in the second part of Season Four with many guessing "Brenner".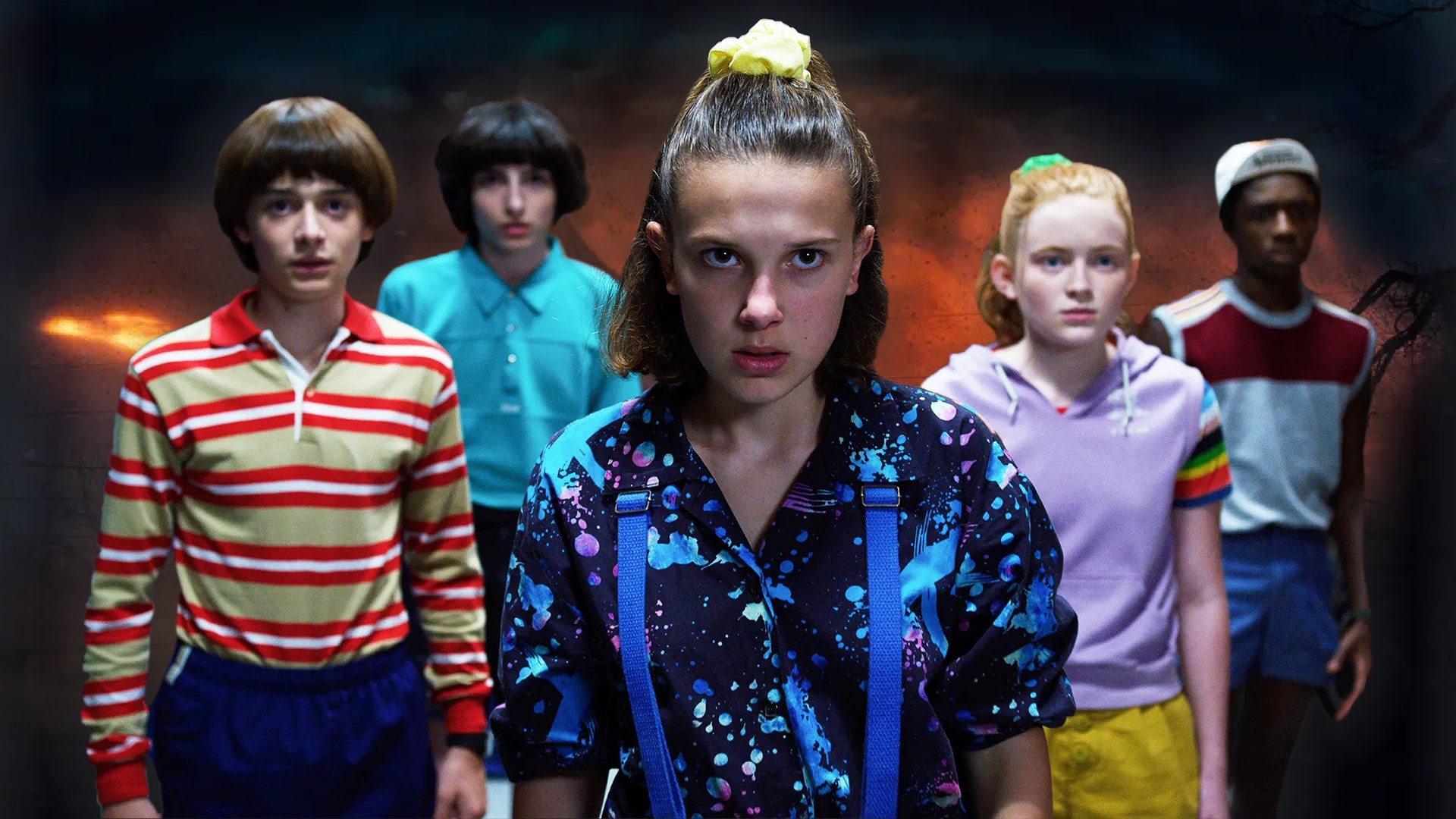 100 Stranger Things Facts You Haven't Read Before
What is your favourite moment in Stranger Things? Let us know in the comments below.