35 Must Read The Big Bang Theory Facts
Behind the scenes facts from Chuck Lorre and Bill Prady's sitcom The Big Bang Theory which lasted for 12 successful seasons from 2007 until 2009. Facts include how much the 3 main stars Johnny Galecki, Kaley Cuoco and Jim Parsons earned per episode, which sets on The Big Bang Theory were actually exactly the same and, why the pilot episode starred two more female characters that audiences never met again.

Watch our The Big Bang Theory Facts Video on YouTube.
The Big Bang Theory is one of the most successful American comedy series of the 2010s with a total of 279 episodes spanning 12 seasons. Written by Chuck Lorre and Bill Prady, The Big Bang Theory is set in Pasadena, California and follows the lives of room mates Dr Sheldon Cooper (Jim Parsons) and, Dr Leonard Hofstadter who are both physicists at Caltech. They live across the hall from wannabe actress Penny, played by Kaley Cuoco, who Leonard instantly has a crush on. Audiences watch as their two opposing worlds mix and make them become better versions of themselves.
We also meet Raj Koothrappali (Kunal Nayyar), an Astrophysicist who is unable to talk to women without drinking alcohol and the socially-awkward Aerospace Engineer who still lives with his Mother, Howard Wolowitz (Simon Helberg).
If you're a big fan of The Big Bang Theory, we've put together a list of must read facts that you can use to impress fellow fans!
1. Jim Parsons Won 4 Emmy Awards For Sheldon Cooper
Jim Parsons won the Emmy award for Outstanding Lead Actor in a Comedy Series four times for his performance as Dr Sheldon Cooper in The Big Bang Theory.
2. The Big Bang Theory Has A Successful Spin Off
The Big Bang Theory is one of the USA's most successful sitcoms so much so that it also has a popular spin-off named Young Sheldon. Young Sheldon follows the childhood of lead character Sheldon Cooper as he grew up with his family in Texas. Viewers are treated to many crossovers and Easter Eggs that relate to plot points from The Big Bang Theory.
3. Sheldon Cooper's Mother Is Played By A Mother and Daughter
Laurie Metcalf plays Sheldon Cooper's religious, Texan Mother on The Big Bang Theory. In the spin-off show and prequel Young Sheldon. Zoe Perry plays a young Mary Cooper. Interestingly Zoe Perry is Laurie Metcalf's real-life daughter.
4. Sheldon And Leonard Are Named After Sheldon Leonard
Sheldon Cooper and Leonard Hofstadter are named after Sheldon Leonard, a famous TV producer, director and actor in the USA.
5. There Are Two Pilots Of The Big Bang Theory
The Big Bang Theory actually had two pilots made. The first pilot was produced for the 2006 to 2007 television season but it never went to air. The second premiered on September 24 2007.

In the original un-aired pilot, the show's structure was very different from what we are used to seeing on The Big Bang Theory today. Characters Leonard Hofstadter ( played by Johnny Galecki) and Sheldon Cooper (Jim Parsons) are the only two to appear in both the un-aired pilot and the series.
Before the first episode of The Big Bang Theory appeared on CBS, the pilot episode was available on iTunes for free.
6. Vernee Watson Johnson Is In The Big Bang Theory Pilot
In the pilot episode, a character named Althea is present played by Vernee Watson Johnson. You may remember her as Vy Smith on The Fresh Prince of Bel Air.
7. There Were Originally Two Other Female Characters
The pilot episode of The Big Bang Theory included two female characters. The first being Katie who was played by Amanda Walsh. She had a tough and unforgiving personality with a sensitive side. The second was Gilda who was played by Iris Bahr and would be a Science colleague and friend to the male characters.
Sheldon and Leonard meet Katie after she breaks up with a boyfriend and they invite her to share their apartment. Gilda is then threatened by Katie's presence.
8. The Big Bang Theory Theme Song Was Originally By Thomas Dolby
The theme song for The Big Bang Theory, before it was the catchy tune written by Barenaked Ladies, was the song, "She Blinded Me With Science" by Thomas Dolby.
9. Only 17 Out Of 22 Episodes Were Produced For Season One
After The Big Bang Theory premiered in 2007, it was picked up for a full 22 episode season and filmed in front of a live audience. Production of Season One was halted in November of 2007 due to the Writers Guild of America Strike and three months later it was temporarily replaced before returning in March 2008. This ultimately led to only 17 out of the 22 episodes being produced for Season One.
10. Four Big Bang Actors Worked On Roseanne
Many of the actors who worked on The Big Bang Theory have previously worked together on another sitcom. Johnny Galecki, Sara Gilbert, Laurie Metcalf, and Meagen Fay all appeared on Roseanne.
11. There Were Science Consultants On The Big Bang Theory Set
As you may have already guessed, The Big Bang Theory had science consultants. The creators Chuck Laurie and Bill Prady consulted with David Salzburg, a Professor of Physics and Astronomy at the University of California, Los Angeles.
Salzburg checked their scripts, re-wrote the dialogue, helped out with diagrams and mathematical equations which were often used as props.
The Big Bang Theory creator Bill Prady wanted to make the science side of the storyline as authentic as possible, to the point that he would insist on Sheldon's whiteboards being updated each episode in order to show his progress in solving a scientific problem.
12. Actor Mayim Bialik Has A PhD In Neuroscience
Mayim Bialik who plays Sheldon Cooper's girlfriend Amy Farrah Fowler on The Big Bang Theory actually holds a PhD in Neuroscience. Mayim studied neurobiology and would often contribute to making sure the science was accurate in the scripts.
13. The Main Three Cast Members Negotiated US$1Million Per Episode
In the seventh season of The Big Bang Theory, cast members Johnny Galecki (Leonard), Jim Parsons (Sheldon), and Kaley Cuoco (Penny) earned a huge $350,000 per episode.
In the first three seasons of The Big Bang Theory, the main trio received $60,000 per episode before their salaries increased for the fourth season where they were paid $200,000 per episode. By the time season eight came around, the three main actors in The Big Bang Theory signed a contract giving them an estimated $1 million per episode for three years as well as signing bonuses, production deals and advances towards the back end.
Later fellow actors Simon Helberg and Kunal Nayyar had also negotiated a contract to be earning $1 million per episode in season eight and beyond.
14. The Big Bang Theory Had Many Scientist Guest Appearances
The Big Bang Theory is known for a large list of guest appearances from the Science community including George Smoot, Brian Green and Neil Degrasse Tyson. Professor Stephen Hawking made a guest appearance in the fifth season and eighth season as well as appearing in the 200th episode. Audiences are also treated to cameo appearances from NASA astronaut Michael J. Massimino alongside Howard's Character and Bill Nye The Science Guy.
15. They Also Had Many Guest Stars From Popular Culture
As well as a number of scientist guest appearances in The Big Bang Theory, there are also many Popular Culture references and Comic Con Cameos from Star Trek's William Shatner, George Takei, Leonard Nimoy and LaVar Burton. Will Wheaton recurs as a fictionalised version of himself.
16. Leonard Broke The Elevator In The Apartment Building
One of the longest standing jokes on The Big Bang Theory is that the apartment building elevator is broken. A lot of the dialogue and scenes take part in the stairway, foyer and hall in between Leonard's apartment and Penny's apartment. It is revealed in a Season Three Episode Nine "The Staircase Implementation" that the elevator was broken by Leonard after experimenting with rocket fuel.
17. There Is A Lego Set Of Leonard And Sheldon's Living Room
In 2014 a The Big Bang Theory Lego set was produced by Lego Ideas depicting Leonard and Sheldon's living room with the main cast as mini-figures. It went on sale at the San Diego Comic Con International.
18. There Were No Lenses In Leonard's Glasses
Actor Johnny Galecki who plays Leonard Hofstadter in The Big Bang Theory does not wear glasses himself. In the majority of scenes, Leonard's glasses do not have any lenses in them.
19. Raj's Selective Muteness Was Based On A Real Person
Raj Koothrappali is unable to talk to women in The Big Bang Theory unless he's been drinking alcohol. Executive Producer Bill Prady is responsible for this character trait as it is based upon an ex-coworker he used to know while working at a computer company.
20. The Big Bang Characters Discuss Mayim Bialik Before She Joins The Cast
During the first season Raj, Leonard, and Howard are attempting to find a fourth member (that isn't Sheldon) for the Physics Bowling Team. Raj suggests that a perfect member would be, "the girl who played TV's Blossom. She's got a PhD in Neuroscience or something." The actor that he is referring to is actually Mayim Bialik who would coincidentally go on to star as Sheldon's girlfriend Dr Amy Farrah Fowler.
21. Kaley Cuoco And Johnny Galecki Dated For Two Years
During the filming of The Big Bang Theory, Kaley Cuoco and Johnny Galecki who play both Penny and Leonard were actually dating and were together for two years.
22. Jim Parsons Can Really Play The Theremin
In The Big Bang Theory, Sheldon Cooper is seen playing the Theremin which is highly regarded as one of the hardest instruments to grasp. Jim Parsons actually knows how to play it so it is really him performing in the scene.
23. Sheldon Does Not Have Aspergers
Many critics and fans have speculated as to whether Sheldon Cooper may be Autistic or have Aspergers. The Big Bang Theory Producers have strongly denied throughout the show that this is the case however, actor Jim Parsons says he believes that Sheldon does actually have Aspergers and portrayed him as such.
24. Penny Only Has One Handbag
One avid The Big Bang Theory fan spotted that Penny has been using the same handbag/purse since Season One Episode Two.
25. There Is A Bazinga Butterfly
In 2013 a group of Biologists in Brazil named a newly discovered species of orchid bee, Euglossa Bazinga in order to honour The Big Bang Theory and Sheldon's catchphrase Bazinga. The new species was deliberately named Bazinga due to its common confusion with another bee amongst Biologists.
26. Johnny Galecki Was Originally Going To Play Sheldon Cooper
Johnny Galecki was originally approached to play the role of Sheldon Cooper but he felt he would be a better fit to play Leonard Hofstadter.
27. In 2015 Parsons And Cuoco Were The Highest Paid Actors On TV
In the year 2015, Jim Parsons who plays Sheldon Cooper and Kaley Cuoco who plays Penny were both the world's highest paid television actors with earnings of $29 million each.
28. Soft Kitty Really Exists
Soft Kitty is actually a real song. The Big Bang Theory's Executive Producer Bill Prady heard it at his daughter's preschool and was told it was an Australian children's song featured on the television show Playschool in the 1960s.
29. Kevin Sussman Really Worked At A Comic Book Store
Before becoming an actor Kevin Sussman, who plays Stuart Bloom, actually used to work in a comic book store.
30. There Is Only One Staircase/Hall Set
During the shots where The Big Bang Theory characters are walking up the stairs of Leonard and Penny's apartment building, they are actually walking around the same set just dressed differently to mimic the idea that they are going up different floors.
31. Jim Parsons' Favourite Scene Is The Leonard Nimoy Napkin
Jim Parsons, who plays Sheldon Cooper in The Big Bang Theory discussed his three favourite scenes to film while appearing on Inside The Actors Studio. These were Sheldon receiving the gift of a signed napkin from Penny, Sheldon presenting Amy with the relationship agreement and Sheldon drinking a Long Island Ice Tea for the first time.
32. These Are The Big Bang Theory Characters Full Names
The full names of each The Big Bang Theory character are as follows:
Dr. Leonard Leakey Hofstader, Ph.D. Experimental Physicist
Dr. Sheldon Lee Cooper, B.S., M.S., M.A., Ph.D. Sc.D. Theoretical Physicist
Howard Joel Wolowitz, M.Eng, Aerospace Engineer
Dr. Rajesh Ramayan Koothrappali, Ph.D. Astrophysics
Dr. Bernadette Mary Ann Rostenkowski Wolowitz, Ph.D. Microbiology
Dr. Amy Farrah Fowler, Ph.D. Neurobiology
Penny's (Kaley Cuoco) last name was never revealed.
33. Actor Sara Gilbert Has Played Galecki's Girlfriend Twice
The actor Sara Gilbert that plays Leslie, Leonard's former girlfriend, also plays Johnny Galecki's girlfriend on the sitcom Roseanne.
34. Howard And Raj's Apartments Are The Same Set
Howard and Bernadette's apartment is exactly the same set as Raj's apartment on The Big Bang Theory. They are just completely redecorated to change the scene therefore it is quite rare to see both apartments in the same episode.
35. Bernadette Didn't Always Have A High Pitched Voice
The character of Bernadette in The Big Bang Theory wasn't originally meant to have such a high-pitched voice. Melissa Rauch grew into a more shrill tone after a few episodes as her character developed saying she based it off her Mother's voice without the Jersey accent.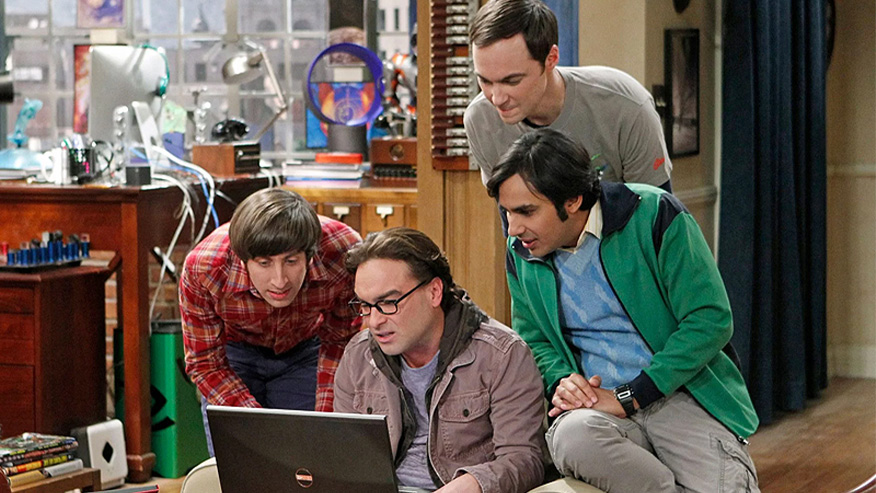 35 Must Read The Big Bang Theory Facts
What is your favourite moment in The Big Bang Theory? Let us know in the comments below.