57 Behind The Scenes Facts About Disney's Encanto (2021)
Encanto is the hit 2021 musical animation produced by Walt Disney Animation studios featuring music from Lin-Manuel Miranda and the voice of Stephanie Beatriz. If you love the film as much as us, here are 57 Encanto facts you may not know including which unlikely film made Encanto happen, who was the inspiration for Mirabel and what Bruno was originally going to be called.

Watch our Encanto Facts Video on YouTube.
Encanto is the 2021 musical animation produced by Walt Disney Animation studios. It depicts the magical Madrigal family who are all blessed with superhuman abilities including superstrength, the ability to communicate with animals and healing. The only member of the Madrigal family who does not have a superhuman gift is Mirabel, Encanto's main character. The Madrigals are headed up by Alma, who has been so focused on protecting her family for many years, that she has ignored the toll these magical gifts have taken. Mirabel works to make sure her family are happy and that they are using their gifts in the way they are intended.

If you love the film as much as us, here are 57 Encanto facts you may not have heard before. (We do need to talk about Bruno though!)

1. Encanto Is Walt Disney Animation's 60th Film
Encanto is the 60th film made by Walt Disney Animation Studios. The first was Snow White and the Seven Dwarfs released on the 21st December 1937. Other films include Lilo & Stitch in 2002, Tangled in 2010 and The Lion King in 1994.
Encanto received three Golden Globe Award nominations and won Best Animated Feature Film.
2. Encanto Only Ran In Theatres For 30 Days
Encanto premiered at the El Capitan Theatre in Los Angeles on 3rd November 2021 and went on a 30 day run in cinemas in response to the COVID 19 Pandemic. It underperformed in cinemas however the film grossed US$228 Million worldwide due to its inclusion on Disney+. Encanto became the second highest grossing animated film of 2021 after "Sing".
3. Transgenerational Trauma Is Encanto's Central Theme
Encanto has received high praise from critics who cite it's emotion, characterisation and cultural significance. Writer Jared Bush discusses in Disney's Twenty Three magazine that despite the characters and storylines continuously changing over the production process, "the core of the whole film" had always been the relationship between Mirabel and Alma. He said that Encanto is "about how you see the other people in your family and how you are seen".
4. "We Don't Talk About Bruno" Was Number 1 In The UK
Encanto's soundtrack has gone viral since the film's release with the song "We Don't Talk About Bruno" hitting the No.1 position in the UK charts and No.2 in the US Billboard Hot 100 chart. It is the highest charting Disney song of the 21st-century in the USA.
5. Encanto Was Being Planned During The Moana Publicity Tour
Lin-Manuel Miranda revealed that he was working on the early stages of a new animated project headed up by John Lasseter during the 2016 publicity tour for Moana.
6. Encanto Was About A Large Family Due To The Writers' Own Families
Writers Jared Bush and Byron Howard worked together on Zootopia (2016) and wanted to create a musical as their next project. This later turned into a Latin American musical after Lin-Manuel Miranda came on board to write the songs. The pair, who have previously worked on buddy films, wanted to do something completely different. They shared their experience of having a large extended family so decided to make a musical that had many main characters.
7. Encanto Wouldn't Have Been Made Without Zootopia
Juan Rendon and Natalie Osma had worked alongside Howard and Bush on the making-of documentary, "Imagining Zootopia" (2016). Both Rendon and Osma are Colombian and they spoke with the writers about their culture which influenced Howard, Bush and Miranda to focus their project on the country.
8. Encanto Is Responsible For Forming The "Columbian Cultural Trust"
Juan Rendon and Natalie Osma became two of many Cultural Experts hired by Disney Animation as consultants on Encanto. They collectively formed what Disney calls the "Columbian Cultural Trust".
In 2018 the Encanto production team visited Columbia on a research trip for two weeks. They immersed themselves in Colombian culture and met with many people including architects and chefs in Bogotá and Cartagena but also drew inspiration from smaller towns such as Salento and Barichara.
9. Alejandra Espinosa Uribe Was The Inspiration For Mirabel
Diana Uribe is a Columbian historian who worked with Disney on Encanto along with her daughter Alejandra Espinosa Uribe. Alejandra Espinosa Uribe was the inspiration for several aspects of the main character Mirabel's look. This includes her curly black hair, large green-rimmed glasses and some of her mannerisms.
Mirabel's skirt was inspired by the traditional skirts made in the Velez area in North Eastern Columbia.
In the Disney publication Disney Twenty Three, Jared Bush comments that every town that the team visited in Columbia had a very specific personality due to the fact that the terrain divided and isolated communities. This isolation became important when creating the Madrigal's house and remote location. He describes an "Encanto" as a place where magic and reality merge together.
10. Encanto Is Set In The 20th Century
While it is never explicitly discussed in Encanto, critics believe that the film is set in the early 20th century. The beginning of the film where Alma and Pedro are fleeing from danger could be seen as a parallel to Columbia's Thousand Days War Which resulted in whole communities fleeing to save themselves.
11. The Family Madrigal Was Written To Convince Disney Animation
While working on Moana, Lin-Manuel Miranda had seen the original extra characters of Moana's eight brothers removed from the cast to streamline production. Miranda had expected a similar reaction to Encanto regarding the many main characters. According to the Washington Post, Miranda wrote the song "The Family Madrigal" to prove to Disney Animation that it was physically possible to introduce many complex characters at one time. As well as efficiently describing their internal dynamics within the family.
12. Encanto Is The First Disney Animation To Have Full Time Choreographers
During the production's research trips to Columbia, the team learnt just how important music, dance and rhythm are to everyday life in the country. As a result Encanto was the first Disney animation film to ever have Choreographers involved in the whole development process from beginning to end. They worked alongside the production team to develop characters, songs and the story itself.
Many older films introduced choreographers but they were only hired to consult on specific scenes. Jamal Sims (RuPaul's Drag Race and When The Beat Drops 2018) was hired alongside Kai Martinez as the film's animation reference consultant. They worked with a team of dancers to prepare the choreography for each scene referencing the footage and then gave feedback to the animators.
13. Each Encanto Character Has Their Own Dance Style
Each character in Encanto has a specific dance style. Jamal Sims and Kai Martinez worked together to consciously create different dance styles for each of the individual characters. This was to reflect their personalities differently on screen. Luisa for example has a Reggaeton style whereas Mirabel is more Cali Salsa. Interestingly, in scenes in which Mirabel dances on her own, we see her dancing to her own beat. But when she is in a scene dancing with another family member, she recreates their dance style and matches their rhythms. This is a really subtle way of representing Mirabel's role in the family and her empathy.
14. COVID 19 Cancelled Disney's Second Research Trip To Columbia
To move Encanto from development to production, Disney Animation were looking to send many of its animators to Columbia in March 2020. This research trip had to be cancelled due to the COVID-19 pandemic so the studio's animators ended up having to work remotely with the Colombian Cultural Trust. An El Tiempo article discusses how Alejandra Espinosa Uribe gave the Disney animators a virtual tour of Columbia on her phone to aid with the film's production.
15. The Press Wrongly Revealed Encanto Would Be Set In Brazil
In June 2020, the title Encanto was revealed to the public however it was wrongly stated that the film will be set in Brazil. However Lin-Manuel Miranda confirmed to Deadline Hollywood later that month that it would actually be setting Columbia.
16. Coco's Composer Wrote The Score For Encanto
Also in June 2020, Lin-Manuel Miranda confirmed to the public that he had begun writing the film's music and the eight original songs included in the soundtrack both in Spanish and English. Gemaine Franco, who was the co-composer for the songs used on Disney's Coco (2017) began to score Encanto. Encanto is the first Disney soundtrack since Frozen 2, which was released in 2019, to top the US Billboard 100 chart.
17. There Are Encanto Funko POP!s
Disney has announced that they will be creating a new line of Funko POP!s relating to Encanto including a Mirabel, complete with her large green glasses, flowing skirt and yellow butterfly. There is also going to be a Isabela and a Luisa. The POP!s retail at £9.99 and are available for pre-order in January 2022.
18. Critics Believed Encanto Would Be Mistaken For Coco
During its opening weekend, Disney spent US$14 million on TV advertising to promote Encanto generating1.26 billion impressions as reported by Deadline Hollywood. However the same article discussed how the marketing "failed to distinguish" Encanto from other Disney films, especially Coco.
19. Stephanie Beatriz Was Originally Going To Play Luisa
Stephanie Beatriz was originally going to be offered the role of Luisa in Encanto. However when the production team met with her, they realised that she's really not at all like her signature role of the tough Rosa Diaz in Brooklyn Nine-Nine (2013 - 2021). Instead they offered her the part of lead character Mirabel.
Stephanie Beatriz auditioned for her part by singing "You're Welcome", a song from Moana.
20. The Madrigal Family Gifts Are Represented On Their Clothes
The Madrigal Family all have symbols on their costumes to represent their magical gifts.
Juileta, for example, has images of plants on her apron and then hands holding plants in her pockets to represent how she heals through cooking.

Pepa has images of the sun on her dress and she wears sun-shaped earrings to symbolise her weather changing gift.

Bruno has images of hour glasses on his poncho relating to "the sands of time" and his premonition abilities.

Isabela's dress is covered with flowers relating to her ability of growing whichever plants and flowers she wishes.

Luisa's skirt has weights on the bottom symbolising her super-strength.

Dolores has images of soundwaves over her clothes relating to her super-hearing abilities.

Antonio's top has animals sewn onto it relating to his ability to communicate with the animals.

Mirabel has a pink butterfly sewn onto her shoulder which is a symbol of both the house and family Madrigal.
21. Bruno Was Originally Called Oscar
Unbelievably the character of Bruno Encanto was originally named Oscar. However his name was changed to Bruno to better fit song lyrics. Otherwise we would never have had, "We don't talk about Bruno, no, no, no, no"!
22. The Producers Fought To Make Luisa Muscular
Character Designer Dylan Ekren has said on social media that it was difficult to convince Disney Animation that the character of Luisa should be seen with a muscular build. Ekren wrote on his Twitter account that the team "just wanted to do it in a way that worked well with the style and really made sense for the character" adding that he was "really proud of the way she turned out". Female characters in Disney pictures are usually represented with petite and slim builds so to see Luisa's body represent her strength instead is a breath of fresh air.
23. Encanto Means Enchantment In Spanish
The word Encanto directly comes from Spanish and means charm, enchantment or spell. It is used both to describe a magical incantation but also as an adjective for "sweetheart".
24. Encanto's Multi-Coloured River Really Exists
At the end of Encanto we see Mirabel and Abuela have a conversation in a magical-looking multicoloured river. A multicoloured river actually exists in Columbia and it's called "Caño Cristales". It is located in the Department of Meta inside of a remote National Park where visitors need a special permit to visit.
25. Butterflies Are A Gabriel García Márquez Reference In Encanto
There are many references in the film Encanto to the Colombian writer Gabriel García Márquez. His work inspired the phrase "magical realism" and we see many moments of this being used in Encanto including yellow butterflies replacing the fairy dust sparks on the Disney logo. Yellow butterflies are a recurring theme in "One Hundred Years of Solitude" by Gabriel García Márquez (1967) and are used to represent love and hope.
There are butterflies everywhere in Encanto including butterfly shaped holes in the kitchen as Mirabel talks to her mum after Antonia's gifting ceremony. There are butterflies on Mirabel's dress and a pink butterfly on her shoulder. Mirabel can also be seen with a butterfly landing on her in Bruno's vision.
26. Alan Tudyk Voice's Antonio's Tucan
Alan Tudyk, who voices Hei Hei in Moana, is the voice of Antonio's Tucan in Encanto.
27. Mirabel Deliberately Doesn't Have A Sidekick
It was a deliberate choice for Mirabel to not have a comical sidekick like most other Disney films.
28. Lin-Manuel Miranda's First Film In Which He Composes But Doesn't Sing
Encanto it's the first musical film that has been composed by Lin-Manuel Miranda in which he does not perform any of the music. This is either as an on-screen performer or as an offscreen voiceover artist. He does both in his films In The Heights (2021) and in Moana (2016).
29. Two Sets Of Characters Are The Same Age
Isabela and Dolores are both 21 years old but Dolores is younger and known as "Isa's Shadow". Both Mirabel and Camilo are 15 years old but Camilo is slightly older as he went through his gift giving ceremony before Mirabel and is able to shapeshift.
30. Encanto's Accompanying Short Is Also About Family Trauma
As many Disney and Pixar fans know, there is a long tradition of feature films being accompanied by a short animated film. Encanto's short film is "Far From The Tree" which is set in the Pacific Northwest on an idyllic beach.
Marie, a young raccoon, is the main character who is excited and curious but her parents are angry and overprotective. Marie becomes very distant from her parents because of this. We later see Marie grow up to be an adult with her own children on the same beach. She becomes similarly protective of her young but catches herself making the same mistakes and instead calmly educates her children. It is interesting to note that both Encanto and Far From The Tree discuss the relationship between parents/grandparents and later generations especially in terms of transgenerational trauma and trauma responses.
31. Each Part Of The Madrigal Family Has A Colour
Colour is another visual cue for audiences to be able to easily differentiate the large ensemble cast. Pepa's family tend to be wearing primarily warm colours such as yellow, orange, and red. In contrast, Julieta's family wear cooler colours of blue, green and purple to signify who belongs to whom.
32. Encanto Spoofs A Scene In The Titanic
In the popular song Surface Pressure, Luisa sings about having to be the strong one in the family and being overloaded with everybody else's emotions and problems. She sings a line about a "ship that doesn't swerve" and we see donkeys playing violins in the background. This is a spoof scene from James Cameron's Titanic released in 1997. The scene in Titanic is based on real events where the musicians gathered on the front deck to play in an effort to calm passengers while the crew desperately tried to load them into lifeboats. Sadly they continued playing as the Titanic sank offering peace to others until their very last moments.
33. Camilo Was Originally Called Carlos
Camilo was originally going to be named Carlos. In early production notes he was described as funny and a great singer but used to tell on Mirabel a lot. He was going to be an "arch nemesis" figure for Mirabel. However, the Encanto creators changed his name to Camilo parodying "chameleon" to fit with his shapeshifting gift. Chameleons do show up on his clothes, door and on Mirabel's dress.
Camillo is also named after Camilo Gracia Escobar, who was one of the guides looking after the Encanto team on their trip to Columbia.
34. Where's Bruno? Bruno Is Hidden In Encanto's Marketing Materials
The second trailer for Encanto features Bruno Madrigal however in most of the marketing materials Bruno is either omitted or hidden. You can see Bruno in many of the posters as a smaller figure hidden away from the rest of the family and finding him in various scenes has become similar to the game "Where's Wally/Waldo?" with fans on social media.
35. Encanto And Moana May Be Set In The Same Universe
It is reported that Lin-Manuel Miranda wanted to make Encanto set in the same universe as Moana. However there hasn't been any official confirmation to say that Encanto is. There are a few subtle hints however in terms of the animation. The first being during the song "Surface pressure", Luisa surfs on a wave to a tropical island which has plants resembling those on Motuni. Secondly fans have spotted a drawing taped over Mirabel's sewing table of a butterfly floating over an active volcano.
36. Encanto Has A Bigger Brooklyn Nine-Nine Connection Than You Realised
Stephanie Beatriz and Olga Merediz play both Mirabel and the singing voice of Abuela in Encanto. The pair of them have previously starred alongside each other in Lin-Manuel Miranda's musical In The Heights (2021). They also play both Mother and Daughter in Brooklyn Nine-Nine. Lin-Manuel Miranda has also guest starred once on the sitcom.
37. Pepa Originally Had A Different Gift
In the original draft of the Encanto script, Pepa's gift was meant to be "indestructibility". However the production team decided that it was too similar to Luisa's strength so instead it was changed to having her emotions affect the weather.
38. Bruno Is Very Superstitious
Bruno's special gift is that he can see the future. Nevertheless he is shown performing several superstitious actions in order to keep bad luck away. This includes knocking on wood, throwing salt over his shoulder and avoiding stepping on cracks. This could be a trauma response to the fact that his family members have consistently told him that his premonitions have brought bad luck.
39. Madrigal Has A Musical Meaning
The word "Madrigal" in musical terms means a song in which several people sing melodies overlapping. This is something that the cast actually do when performing the song "We Don't Talk About Bruno". Madrigal also means "Mother" so called from Late Latin "Matricale", an adjective derivative of 'womb'.
40. Despite Mirabel's Joke, Columbian Children Do Drink Coffee
One of the early jokes in the film during the "The Family Madrigal" number is that Mirabel takes away a cup of coffee from one of the children stating, "and that's why coffee is for grown-ups!" However in Columbia, coffee with milk is traditional for children to drink in the morning. This is true in many South American and European cultures.
41. Félix Is Older Than Pepa
According to Encantos writer Jared Bush, Félix is a bit older than Pepa and her siblings. Bush has stated that Félix was able to charm Abuela when he was younger earning the immediate approval of marriage.
42. Bruno, Julieta and Pepa Are Around 50 Years Old
Abuela Alma states that the miracle was given to the family 50 years prior to the events in the film. This makes Bruno, Julieta and Pepa around 50 years old in Encanto.
43. Stephanie Beatriz Is A Huge Disney Fan
Stephanie Beatriz is actually a huge Disney fan. She hosted her bachelorette party in Disneyland!
44. Encanto Helped To Break Records At Disney
Encanto and "Raya and the Last Dragon" were both released in the same year, 2021. This is the first time in Disney history that two human female protagonists from two different Disney animated films have been introduced in the same year.
Encanto also marks the 7th time after 1940 that two Disney animated films were released in the same year. The seven other years and features have been:
Pinocchio and Fantasia (1940)

The Many Adventures of Winnie the Pooh and The Rescuers (1977)

Tarzan and Fantasia 2000 (1999)

Dinosaur and The Emperor's New Groove (2000)

Lilo and Stitch and Treasure Planet (2002)

Zootopia and Moana (2016)
45. The Madrigal's Casita Is Like The TARDIS Inside
The rooms in the Madrigal's Casita have an effect of being "bigger on the inside" something Antonio explicitly says in the film. This is the same line used by many characters in Doctor Who as they enter the famous TARDIS for the first time.
46. Sebastián Yatra Said Yes To Encanto Before Knowing Anything About It
Sebastián Yatra reportedly joined the production of Encanto before he knew what it was going to be about. He was incredibly excited to take part in a Disney film. He recorded both "Dos Oruguitas" in Spanish and "Two Oruguitas" in English for the Encanto Soundtrack. It was one of 15 songs to officially make the nomination shortlist for the 2022 Oscars.
According to an interview with Broadway World, Yatra said that working with Disney had "Always been a dream of [his]… And it really hits the heart when it's a Disney movie about [his] Country and showing the best of what [they] have to offer, which is love and family and miracles."
47. Abuela's Standards Really Are Impossible
One of the early indications in Encanto of Abuela Alma's impossible standards for the family is when she gives the children one hour to clean their rooms. She says "I don't care how big they are!" which seems like a normal line for a Mother or Grandmother to say however we then see inside of the children's rooms and realise it's an impossible task. Antonio's room is literally a massive rainforest, Bruno's is full of sand and Isabela's room is a large floral garden. Mirabel still lives in her childhood nursery which is probably the only room in the house that could have been cleaned in that time frame.
48. Hidden Mickeys In Encanto
The Disney team hide many Mickey Mouse heads across their productions and at their theme parks. During the scene in which Isabela confesses her true feelings about her upcoming engagement, her gift creates a cactus that looks exactly like a Mickey.
49. Mirabel Is The 13th Member Of The Madrigal Family
When Mirabel points to the Madrigal family tree at the beginning of the film, she is clearly shown as the number 13. Thirteen is usually seen as the number of bad luck and the one relating to the traitor of a group in Christian mythology. Mirabel does turn out to be a bit of a black sheep of the family but only by being a good influence on it.
50. The Actor Who Plays Mirabel's Father Is 3 Years Older Than Stephanie Beatriz
Wilmer Valderrama, who plays Agustín Madrigal, is only 3 years older than his onscreen daughter Stephanie Beatriz. Stephanie Beatriz plays the youngest of three siblings but she is actually the oldest of the 3 actors who play them. Diane Guerrero plays Isabela the eldest and is actually 5 years younger than Beatriz. Angie Cepeda, who plays Mirabel's Mother Julieta, is actually 7 years older and Carolina Gaitan who plays Pepa is 3 years younger. Maria Cecilia Botero who plays Abuela is 26 years older than Stephanie Beatriz.
51. Non-Madrigal Men Take The Name Madrigal When Married
All of the characters married into the Madrigal family actually take on the family name. Both Félix, who is married to Pepa and Agustín who is married to Julieta both have the surname Madrigal.
52. There Have Been 3 Disney Films Released On The 24th November
Encanto is the third Disney animated film to be released on the 24th of November. Toy Story 2 was released on the 24th of November 1999 and Tangled was released on the 24th of November 2010.
53. Dolores Knew Bruno Was Living In The Walls The Whole Time
Dolores sings during "We Don't Talk About Bruno" that she "can always hear him sort of muttering in mumbling". At first audiences believe that she is hearing Bruno in her mind as he had predicted her future. However, we realise that this is foreshadowing the moment we learn that Bruno has been living in the walls of the Casita for the entire time. Dolores would have been able to hear him with her superior hearing gift.
54. Opening Your Eyes Is A Central Theme In Encanto
A running theme in Encanto is that of having your eyes opened. Bruno and Dolores are the only family members whose doors depict them having their eyes open. Both of the characters speak openly regardless of whether what they have to say is good or bad. Other Madrigals including Pepa refuse to open their eyes to acknowledge anything serious.
Abuela has her eyes shut when it comes to how much her standards are affecting the rest of her family. It is Mirabel's job to open the eyes of her family members especially Abuela and show them that it is okay to be their true selves and feel their real feelings. It is also interesting to note that Mirabel's eyes and large green glasses are such a prominent part of her character and costume.
55. Only Mirabel And Alma Directly Address The Casita
While Casita interacts with everyone, Mirabel and Alma are the only two characters we see directly addressing the house. Abuela uses Casita to keep her family in order whereas Mirabel interacts with the house by waving and expressing her appreciation. We see the Casita responding to Mirabel's calls to save itself when it crumbles yet it rejects everyone else.
56. Alma Means Soul In Spanish
Abuela's first name "Alma" means "Soul" in Spanish which reflects her integral role as the heart and soul of the family.
57. There Is A Let It Go/Frozen Reference In Encanto
Towards the end of Encanto, Bruno sings the line "let it out, let it in, let it go!" and stretches his arms out in front of him. This is similar to Elsa in Frozen (2013). You can also hear the notes from the piano introduction to the song Let It Go from Frozen when this line is sung.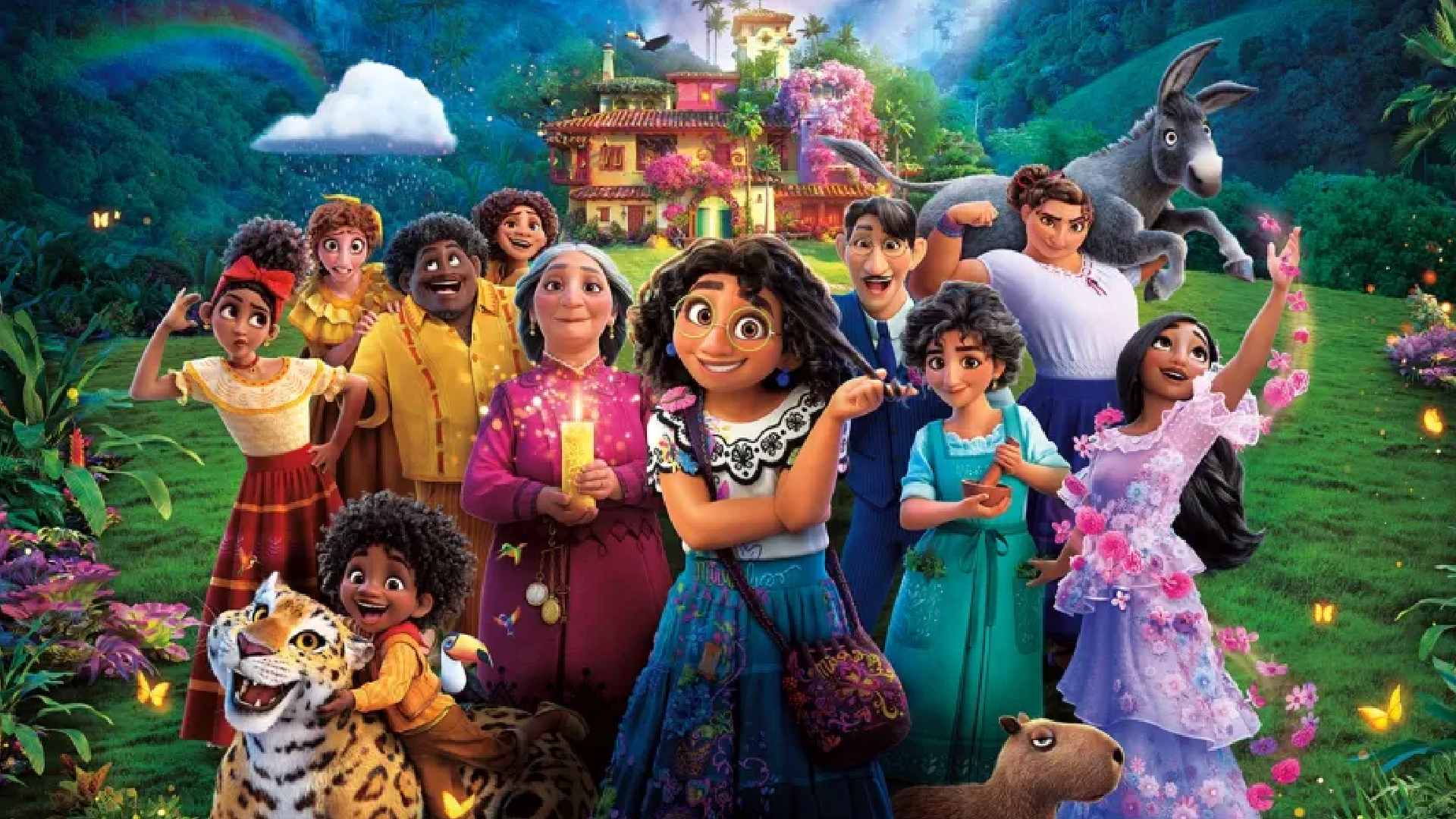 57 Behind The Scenes Facts About Disney's Encanto (2021)
Who was your favourite character in Encanto? Let us know in the comments below.