26 School Of Rock (2004) Movie Facts You Haven't Read Before
School Of Rock is the unforgettable musical comedy film directed by Richard Linklater in 2004. It stars Jack Black as Dewey Finn, a failing guitarist who pretends to be a substitute teacher for extra cash at a well respected preparatory school run Rosalie Mullins (Joan Cusack). Our School of Rock movie facts include where Jack Black got the idea for the failed stage dive, which School Of Rock band member learnt to play their instruments just for the film and how Jack Black convinced Led Zeppelin to be a part of the soundtrack.
Watch our School Of Rock Movie Video on YouTube.
School Of Rock is the unforgettable musical comedy film directed by Richard Linklater in 2004. It stars Jack Black as Dewey Finn, a failing guitarist who pretends to be a substitute teacher for extra cash at a well respected preparatory school run Rosalie Mullins (Joan Cusack). Our School of Rock movie facts include where Jack Black got the idea for the failed stage dive, which School Of Rock band member learnt to play their instruments just for the film and how Jack Black convinced Led Zeppelin to be a part of the soundtrack. Once he realises that his class have a talent for classical music, he switches up lessons and gets them ready to compete in a Battle of the Bands competition for an even bigger cash prize.
School of Rock was a hit in cinemas grossing US$131 Million worldwide on a US$35 Million budget. It received positive reviews from critics, especially praise for Jack Black's performance.
1. School Of Rock Spans Film, TV and Stage
School of Rock was the highest grossing musical themed comedy of all time for 13 years until in 2015 when it was overtaken by Pitch Perfect 2. Due to its popularity, School of Rock has also been adapted into a stage musical which opened on Broadway in December 2015 and it has been remade into a TV comedy for Nickelodeon that premiered in March 2016.
The School Of Rock stage musical was created by the renowned composer Andrew Lloyd Webber and premiered at the Winter Garden Theatre on the 6th of December 2015. It is directed by Laurence Connor and features an original score by Andrew Lloyd Webber with the lyrics by Glenn Slater and sound design by Mick Potter in addition to music from the original feature film. School of Rock became Andrew Lloyd Webber's first show opening on Broadway before London's West End since Jesus Christ Superstar in 1971. The musical closed on the 20th of January 2019 having grossed US$160 million across 1309 performances.
2. The Langley Schools Music Project Inspired The Film
Mike White, the screenwriter of School Of Rock, was inspired by the Langley Schools Music Project when coming up with a concept for the film. It is a collection of children's choirs from 4 different elementary schools in British Columbia singing hits from The Beach Boys, Paul McCartney, David Bowie and more. The recordings were originally compiled in 1976 but were only found and released 25 years later in 2001 becoming a cultural hit.
3. The Cult Inspired Dewey Finn's Stage Dive
In an interview with Indie London, Jack Black said that performing the two stage dives in School of Rock was "a little bit of a dream fulfilment". He went on to say that he has never done a stage dive in any of his real performances as he worried that "it would be like throwing a bowling ball out there" due to his heavy stature. On the set of School of Rock there were trained professionals in the crowd to catch him after the second stage dive at Battle of the Bands. The first stage dive where Dewey fell straight onto the floor in the bar was loosely based on an actual event, the reunion of The Cult in Los Angeles. Jack Black says that he saw Ian Astbury, the lead singer, take a stage dive at the Viper Room, nobody caught him and he fell straight to the ground. Black thought the incident was hilarious so put it into the script of School Of Rock.
4. Horace Green Preparatory School Was Filmed On Staten Island
Most of the scenes in School Of Rock were filmed around the New York City area and the school used for Horace Green Preparatory School is Main Hall at Wagner College in Staten Island, New York. Wagner College has been used as a filming location in many productions including The Sopranos (it was used for the Hudson Military Institute Campus), the Judd Apatow film The King of Staten Island (2020), and The Rewrite starring Hugh Grant in 2014. It is also revealed in the DVD commentary that all of the hallway scenes were filmed in just one hallway.
Horace Green Preparatory School was named after the prestigious Private School in the Bronx, Horace Mann School.

5. Jack Black Says "Never Say Never" To A Sequel
In 2008 there were rumours that Jack Black was being considered for a sequel to School Of Rock and that both the director Richard Linklater and producer Scott Rudin would return. The screenwriter Mike white had titled the School Of Rock sequel as School of Rock 2: America Rocks and would focus on Dewey Finn leading a group of students attending a summer school across the country to delve into the history of rock 'n' roll. However in 2012 Jack Black stated that it was unlikely that a sequel would happen due to it being really hard to put all of the pieces together. He also said that he wouldn't want to do another film without the original writer and director but later added "never say never".
6. The School Of Rock Cast Meets Regularly For Reunions
In the summer of 2013 a celebratory screening of School of Rock was held at the Paramount Theatre in Austin, Texas for the 10th anniversary of its release. Director Richard Linklater, Jack Black, Mike White, and Miranda Cosgrove all attended along with the rest of the young cast members. It included a red carpet, a full cast and crew Q&A after the screening and a VIP party that included a performance from the original band members of songs such as "The Legend of the Rent", "Step Off", and "It's A Long Way To The Top (If You Wanna Rock 'n' Roll)".
7. Kevin Clark Who Played Freddy Jones Sadly Passed Away In 2021
Actor Kevin Clark, who played Freddy Jones in School Of Rock, sadly passed away in 2021. After the film's success Clark pursued his drumming career instead of professional acting and has performed with many bands in Chicago. Kevin Clark passed away at the age of 32 after being involved in an accident while cycling home in Chicago. His School Of Rock co-stars all paid tribute to Kevin on social media at the time.
8. Robert Tsai Was Originally Too Nervous To Play Lawrence
The young actor who played the School Of Rock's Keyboard genius, Robert Tsai originally asked the director Richard Linklater to not be included in the film as he felt he wasn't right for the part. Linklater responded by saying that his nervousness and insecurity was exactly right for the part as Lawrence has a very similar conversation with Dewey Finn in the script where he feels he is not right for his part in the band.
9. Jack Black Came Up With The Children's Nicknames
One of the most memorable scenes in School Of Rock is where Dewey Finn aka Mr S gives all of the students hilarious nicknames relating to their positions in the band. These included Tinkerbell for Miranda Cosgrove's Summer, Posh Spice for bassist Katie, Turkey Sub for Tamika, and Fancy Pants for Billy. Jack Black was actually responsible for coming up with all of these nicknames.
10. School Of Rock Was Written Because Of Jack Black
The School Of Rock screenwriter Mike White moved into an apartment next to Jack Black. The idea for Black's eccentric character in the film was based purely on his behaviour that White saw living near him including running naked through the halls and blasting many of the songs featured in the soundtrack at full volume. Mike White himself is not actually a fan of Classic Rock but the basis of a School Of Rock was so Jack Black could perform his own favourite music.
11. Jack Black Recorded A Plea To Led Zeppelin To Use Their Songs
The seminal classic rock band Led Zeppelin are notoriously hesitant at allowing their music to be used and licensed for commercial purposes across film and TV. The School Of Rock director Richard Linklater knew this so filmed a plea from Jack Black in front of 1,000 screaming fans asking the band whether it would be possible to let the production team use their track Immigrant Song in the film.
This video worked and it is actually included as an extra on the School Of Rock DVD. Incidentally, Jack Black introduced Led Zeppelin's three surviving band members Robert Plant, Jimmy Page, and John Paul Jones when they received the Kennedy Centre Honor in front of Barack and Michelle Obama.

12. Miranda Cosgrove Took Lessons To Make Her Voice Worse For The Film
The actor Miranda Cosgrove who plays Summer Hathaway, the School Of Rock Band Manager, can actually sing. She took a short singing lesson during the production to help make her voice sound worse so she could film the scene trying out to be a backing singer with the song "memory ".
13. Richard Linklater Makes A Short Appearance In The Film
The School Of Rock director Richard Linklater makes a 'blink and you'll miss it' appearance in the film. He is the other person in the photograph that Dewey Finn holds up to Ned and Pattie in the flat showing their old band in full costume.
Interestingly, Stephen Frears was lined up to direct School Of Rock but when Richard Linklater was asked instead, he said that he would only direct the film if the children could play their own instruments.
He also taught Miranda Cosgrove how to do the "screwed up" facial expression when she confronts Mr. S about her role as a Groupie.
14. The School Of Rock Children Were Between 10 and 15 Years Old
While in the storyline the School Of Rock children were all meant to be the same age and in the same class at school, they actually range from 10 years old to 15 years old. The eldest of the group was Kevin Alexander Clark (Freddy Jones). He was born in December 1988 and was nearly 15 by the time of the film's release. The youngest cast member was actually Miranda Cosgrove who played Summer Hathaway. She had just turned 10 when the film was released, being born in May 1993.
15. Jack Black Switches His Parting When He Is Playing Mr S
One small detail of Jack Black's costume that you may not have noticed in School Of Rock is that he parts his hair on opposite sides to correspond with when he is playing Dewey Finn and when he is pretending to be Ned Schneebley.
16. Jack Black Spontaneously Throws The Chair
You may remember the scene in which the School Of Rock band try out for Battle of the Bands but end up being too late to audition. Dewey Finn gets so irate that he throws a chair across the room. According to the DVD commentary, this wasn't in the script so Miranda Cosgrove had no idea that Jack Black was about to throw a chair next to her. Her reaction is genuine fear and her jumping at the chair being shown.
17. Dewey Finn Was Originally Meant To Run Over The Absent Teacher
One of the original plot points that never made it to the final script was that Dewey Finn was meant to have run over the absent class teacher in his van. This would lead to Ned Schneebly getting the call to be the substitute teacher and Dewey coincidentally turning up instead. However this was changed before shooting began and the teacher was said to have fallen over in the shower and broken her leg.
Another great moment removed from the final script of School Of Rock was where Kevin Alexander Clark aka Freddy Jones would forget his drumsticks in class and Mr S would say, "Would Keith Moon forget his sticks? No! He might get drunk and pass out on the floor, but he would never forget his sticks!"
18. Rolling Stone Magazine Are Credited For The School Of Rock Font
In the design of the School of Rock marketing materials including posters and DVD dust jackets, the film's title is written in the recognisable font used by Rolling Stone Magazine. If you look closely at your copy of the film, you will see that the magazine is credited in small print as the copyright holder of the font.
19. The School of Rock Band Are Based On AC/DC
Mr S's ideas for the band's style and stage presence are heavily influenced by AC/DC and Angus Young. The "power stance" that Mr S teaches Zack Mooneyham is famously taken from Angus Young in his performances. The band also imitated AC/DC's famous school uniform costumes during the Battle of the Bands performance.
20. Dewey Finn's Bass Guitar Has No Strings
During the rock 'n' roll teaching montage in School Of Rock, Mr S is teaching Katie how to play bass guitar. However, if you look closely during this Ramones montage, you can see that the guitar that Jack Black is holding actually doesn't have any strings!
Dewey's guitar throughout the film is a Gibson SG Standard.
21. It Is Actually Just "School Of Rock"
The original screenplay for the film was named "The School Of Rock" but it was later shortened to just "School Of Rock". However the opening credits include a large neon sign designed for the production that displays the title as "The School Of Rock" again. The director Richard Linklater decided not to digitally remove the extra word during the opening credits as it had already been partially shown in cinemas.
22. Dewey Was Meant To Start A Fire When Ned Found Out About Horace Green
In the original draft of the School Of Rock screenplay Dewey Finn is meant to set fire to a piece of paper during the scene in which Ned Schneebly finds out that he has been committing fraud and pretending to be him at Horace Green. Sarah Silverman's character Pattie was also in this scene running around trying to put out the fire and calls 911 after grabbing the phone off Ned. This ended up being replaced with the scene that we know today of just Dewey and Ned having a heart to heart instead.
23. Dewey Finn's Room Was Modelled On A Real Musician's Apartment
The School Of Rock set designers took inspiration for Dewey Finn's room from real struggling artists in New York City. They took photos of Mike Jacob's apartment, who was the lead singer of a band named Evil Jake, and partially modelled the set on it. This included the large posters of the Sex Pistols and The Who.
24. What's In A Name?
Dewey Finn and Ned's Schneebly's old band was named Maggotdeath in reference to the real band Megadeath.
Freddy Jones' name is the same as the character from Scooby Doo. In the Musical version of School Of Rock, Freddie Jones is renamed to Freddie Hamilton.
25. Rivkah Reyes Has Spoken Out About Harassment After The Film's Release
The former child star Rivkah Reyes, who plays Katie in School of Rock, has spoken of their disgust online regarding the harassment and abuse they received as a teenager after the film came out. Reyes says that they felt "unsafe existing" due to obsessive fans and feeling sexualised as a very young teen citing disgusting behaviour from men online that would photograph them and post explicit comments on message boards.
Reyes has said that this led to them becoming a "raging addict" from the ages of 14 - 24 hoping to land a larger part in the industry so fans would stop calling them Katie. Reyes used alcohol, drugs and self harm at this time to cope. Reyes now goes by gender neutral pronouns and has changed her name from Rebecca Brown which she is credited as in School of Rock. Their School of Rock co-star Zachary Infante who played Gordon has recently also discussed being non-binary.
Interestingly, Rivkah Reyes actually learnt to play both Cello and Bass Guitar for her performance in School of Rock!
26. Dewey Finn and Rosalie Mullins Nearly Had A Romantic Storyline
In original drafts of the School Of Rock script, Jack Black's character Dewey Finn and Joan Cusack's character Rosalie Mullins were meant to have a romantic storyline. This would have led on from their friendship blossoming at the bar where they sing Stevie Nicks together.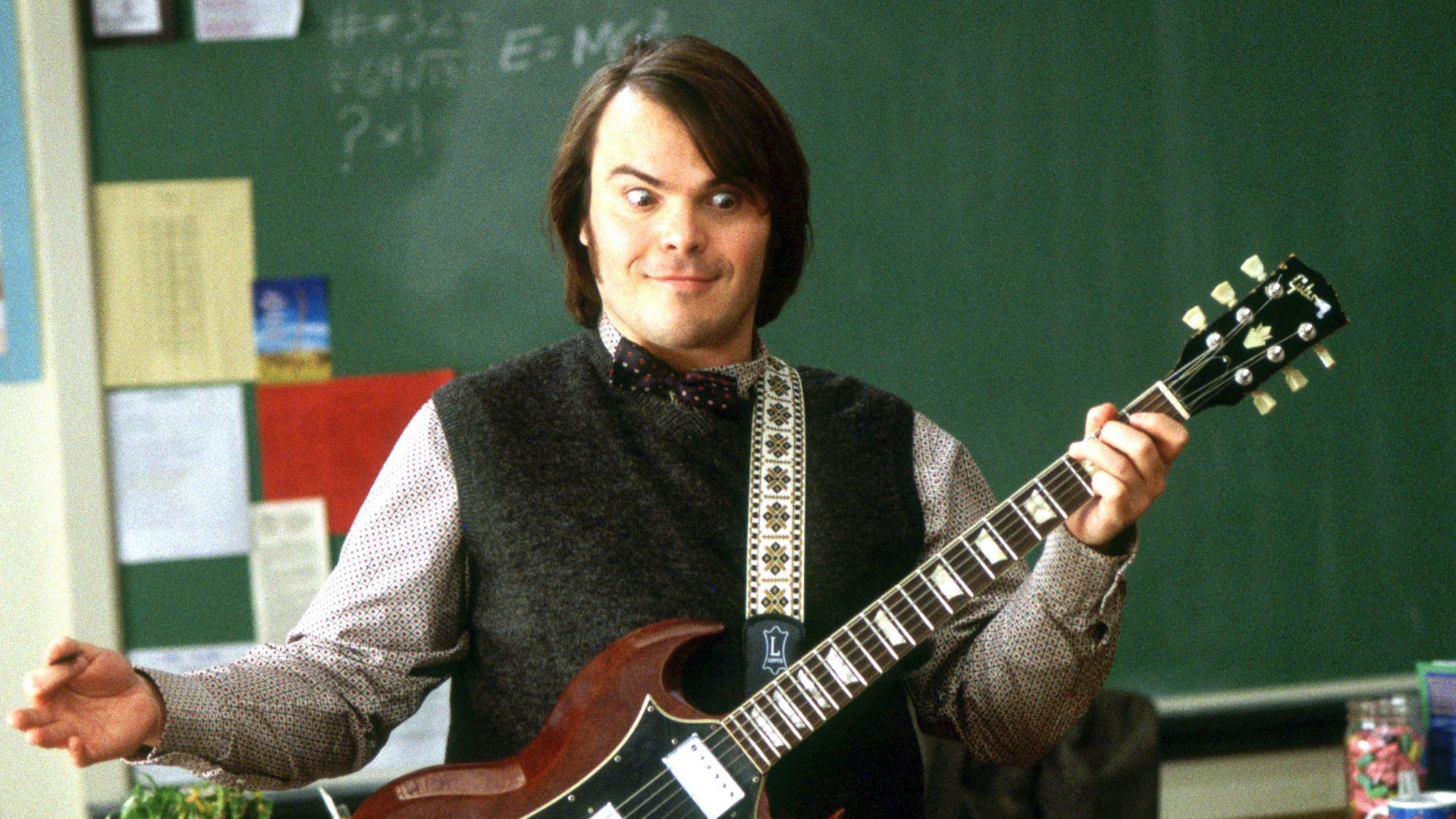 26 School Of Rock (2004) Movie Facts You Haven't Read Before
What is your favourite moment in The School of Rock (2004) movie? Let us know in the comments below.