28 Only Fools and Horses Facts That You Haven't Seen Before
Behind the scenes facts and trivia about Britain's most loved sitcom, Only Fools and Horses including who John Sullivan nearly cast as Del Boy before David Jason, why Nicholas Lyndhurst's character Rodney nearly had his own spin off show and the rare Only Fools episodes that you may have never seen before.

Watch our Only Fools and Horses Facts Video on YouTube.
Only Fools and Horses is commonly voted as Britain's best loved sitcom and has been a firm family favourite across the UK since it first aired in September 1981. It was written by John Sullivan and lasted for 7 successful seasons and memorable Christmas Specials.
David Jason and Nicholas Lyndhurst star as the Trotter brothers, Del and Rodney who wheel and deal their way from council flat to Millionaires... and then back again. Del Boy (Jason) has been in charge of looking after his 'dippy younger brother' Rodney (Lyndhurst) since the age of 16 when their Mother passed away and their Father left them. The pair are market traders in Peckham, South London selling defective goods from a suitcase always coming close to a good business deal.
The pair live with their Grandad played by Lennard Pearce up until his death in season three and then later Uncle Albert (Buster Merryfield) an old seafarer who is well known for sinking his ships! UK sitcom favourite Roger Lloyd Pack also stars as the dim-witted road sweeper Trigger and John Challis appears as the snobbish second hand car dealer Boycie.
As the Trotters are a staple in most UK households you may think that you know everything that there is to know about their dodgy deals however here are 28 little known facts about Only Fools and Horses that you may never have heard before.
1. Only Fools and Horses Holds The Record For Highest UK Audience
The memorable Only Fools and Horses episode entitled, Time On Our Hands, which finally sees Del Boy and Rodney Trotter achieve their dreams and become millionaires was originally broadcast at Christmas in 1996 on Boxing Day (26th December). Time On Our Hands was billed as the last ever episode of Only Fools and Horses despite being followed by several other special episodes afterwards and it attracted a staggering 24.3 Million viewers; that was live on TV back in 1996!
The record for the highest UK audience of a sitcom episode is one of the many accolades won by the cast and crew of Only Fools and Horses throughout its run, including BAFTA awards, National Television Awards and awards from the Royal Television Society.
2. David Beckham Once Starred In Only Fools and Horses
For a special Only Fools and Horses episode written and filmed for BBC's Sport Relief (an annual charity broadcast on BBC One) broadcast on 21st March 2014, David Beckham starred alongside David Jason, and Nicholas Lyndhurst. The episode was written by Jim Sullivan and Dan Sullivan, sons of the original Only Fools and Horses writer John Sullivan and it featured unused material he had previously written for the show. David Beckham is shown to be helping the Trotters sell 'Golden Balls Underpants' which are said to be endorsed and signed by Beckham himself. Rodney is obviously used as a reluctant underwear model and is taught some signature poses by Beckham.
3. There Are A Total Of 64 Only Fools and Horses Episodes
All 7 seasons of Only Fools and Horses were broadcast on BBC One from September 1981 to 25th December 2003 and they were all written by John Sullivan. As well as the show's original run, and subsequent spin offs The Green Green Grass (following Boycie and Marlene) and Rock and Chips (a prequel about Del Boy's youth) there were several small and charity sketches written starring Del and Rodney.
Rare Only Fools and Horses episodes include:
In 1982 a sketch named Christmas Trees appeared on The Funny Side Of Christmas hosted by Frank Muir attracting an audience of 7.2 Million
In 1984, David Jason starred in an advert for the bank Abbey National where he sold Abbey National Insurance.
Del Trotter was investigated by a Consumer Expert in a spoof documentary shown on Breakfast Time in December 1985 in a sketch called White Mice.
License To Drill was an educational episode starring Del, Rodney and Grandad discussing oil drilling and was only shown in schools. This is widely believed to be Lennard Pearce's last appearance as Grandad.
In 1990, Del, Rodney and Albert recorded a 5-minute special message for British troops serving in the 1990-1991 Persian Gulf War. A tape of this message exists in the Imperial War Museum in London.
In 1997 Del, Rodney and Albert featured in a Comic Relief Special on the BBC asking for donations.
Lastly, the aforementioned David Beckham episode released for BBC's Sport Relief campaign was broadcast in March 2014.
4. David Jason Helped Create Del Trotter's Iconic Look
Only Fools and Horses writer John Sullivan modelled Del's character on unlicensed traders who sold goods from suitcases in markets. When David Jason was chosen for the role, he aided Sullivan's character design by drawing from the people he met whilst working previously as an electrician and added the iconic camel-hair coat and cheap, oversized, gold jewellery.


5. Jim Broadbent Was Originally Considered For Del Boy
David Jason was cast quite late on in the pre-production of Only Fools and Horses. Originally Jim Broadbent was in the running for Del Boy but he later goes on to play the most-hated man in Peckham and old School Friend from the Dockside Secondary Modern, DCI Roy Slater. Jim Broadbent turned down the part due to being already involved in a West End play at the time.

Enn Reitel was also an original favourite for Del Boy too but he was unable to take up the role due to prior commitments and a busy schedule. Reitel went on to star in the comedy series The Optimist which ran for two series in 1983.
6. John Sullivan Based Rodney On His Own Brother
Rodney Trotter's day-dreaming and idealistic character was actually based on John Sullivan's much older sibling who was said to have many of the same traits. Nicholas Lyndhurst was cast as Rodney Trotter early on in the pre-production of Only Fools and Horses. Much like his own family, John Sullivan wanted the two brothers to have a large age gap in the final scripts.
7. Grandad Was Modelled On Albert Steptoe
During the casting for the role of Grandad, Only Fools and Horses writer John Sullivan wanted to find an actor that resembled Wilfred Brambell's performance as Albert Steptoe in the popular 1960s sitcom from Ray Galton and Alan Simpson, Steptoe and Son. Instead of choosing Brambell, who was heavily recognisable from Steptoe and Son, Sullivan wanted to find someone capable of portraying his daft, scruffy yet witty character for Grandad. After seeing Lennard Pearce's audition, Sullivan chose him immediately.
8. Lennard Pearce Passed Away In Season Three
In December 1984 and at the age of 69, actor Lennard Pearce who played Only Fools and Horses' beloved Grandad passed away. He starred in three seasons and because John Sullivan wanted to keep the main characters as a trio he introduced Grandad's Brother Albert after his passing. Sullivan wrote the character of Grandad passing away in Only Fools and Horses too and we see the characters attend his funeral. It is here where we meet the old sailor and new third protagonist, Uncle Albert played by Buster Merryfield.

Buster Merryfield only took up acting after retirement and was previously a boxer and a Bank Manager at Natwest!
9. Raquel Was Only Meant To Appear Once
Up until the Christmas Special named Dates, Only Fools and Horses had been significantly lacking in female characters. Sullivan wrote an episode in which Del signs up to a Dating Agency under the pseudonym Derek Duvel, and is set up on a date with actress Raquel Turner played by Tessa Peake-Jones. Originally, the part of Raquel was only meant to be played in this one episode but Sullivan wrote her in again a year later in the episode The Jolly Boy's Outing. She later became a main cast member, moving in with Del and having a son with him named Damien.
10. Roger Lloyd Pack Was Never Meant To Star In Only Fools and Horses
Ray Butt, the producer of Only Fools and Horses discovered Roger Lloyd Pack whilst sitting in the audience for a play to observe actor Billy Murray as a potential choice for Del Boy. Instead, he saw Roger Lloyd Pack perform and hired him to play Trigger, Del's simple minded school friend.
11.Denzil's Wife Corrine Was Meant To Star In More Episodes
We first meet Del's school friend Denzil played by Paul Barber and his wife Corrine (Eva Mottley) in the Only Fools and Horses episode Who's A Pretty Boy Then? In which Del has Rodney and Grandad redecorating their living room. Mottley played a distrusting Corrine who knew Del was always up to something and Sullivan wanted to include her in more episodes throughout the series probably as a voice of reason! Sadly Eva Mottley died in 1985 at aged 31 after suffering with alcohol and substance abuse.

Interestingly, Mottley had a two-year long relationship with the iconic musician, David Bowie, and her cousin Mia Mottley was elected Prime Minister of Barbados in 2018.
12. Only Fools and Horses Had Some Notable Names As Guest Stars
During its run Only Fools and Horses included a few actors in minor roles that went on to become stars in their own right. You may remember Joan Sims from the Carry On films pop up as Trigger's Auntie Reenie Turpin and David Thewlis played alongside Rodney in his band A Bunch Of Wallies in the episode It's Only Rock and Roll. Eastenders star John Bardon (Jim Branning) played the security guard in The Longest Night and Walter Sparrow went on to appear in many Hollywood films including The Secret Garden and Robin Hood: Prince Of Thieves, after his role as Dirty Barry in the episode Danger UXD.
13. John Sullivan Nearly Wrote A Sitcom About Football Instead
When his first successful sitcom at the BBC Citizen Smith (starring Robert Lindsay) came to an end in 1980, Sullivan wanted to pitch another. Firstly he devised an idea about a comedy set in the world of football but it was rejected by the BBC. It was his second idea all about a cockney market trader in 1980s London that won through… thankfully giving us the legendary Only Fools and Horses!
14. It Was Originally Going To Be Called Readies
John Sullivan, the Only Fools and Horses writer, had originally given the show the title Readies meaning cash in hand ready to spend. However, he decided on Only Fools and Horses instead, a little known phrase referencing "only fools and horses work for a living" and fitting with the Trotter's tax-evading lifestyle. He had also used the phrase as an episode title in his previous sitcom Citizen Smith.
15. Rodney Nearly Had His Own Spin Off
Whilst filming Season 5 of Only Fools and Horses, David Jason discussed leaving the show to pursue other career opportunities. This caused John Sullivan to write the episode 'Who Wants To Be A Millionaire?' a whole episode based around Del moving to Australia with an old school friend to start a new car business. Due to this proposed departure, Sullivan began writing a spin off series all about Rodney making his way on his own with help from Mickey Pearce which was going to be titled, 'Hot Rod'! Can you imagine if that got the green light... we're imagining Nicholas Lyndhurst in his date with Nervous Nerys get up!
16. Series 6 Increased The Budget By 40%
John Sullivan requested a longer time slot for Only Fools and Horses' Series 6 and it was extended to 50 minutes. This meant the budget had to be increased by 40% and it coincided with it finally becoming one of the BBC's most popular programmes ever. A good thing he asked!
17. Del Trotter's Signature Ring Cost 50p
According to an excerpt of the book Only Fools and Horses Story by Steve Clark, the costumer designer Robin Stubbs used to purchase Del's jewellery each series because it was so cheap. We imagine because it kept breaking or fading. This included buying Del's iconic D signet ring for a whole 50 pence each time!
18. John Sullivan Sang The Opening Credits
Whilst many people mishear the Only Fools and Horses opening credits as Nicholas Lyndhurst, they were in fact sung by the show's writer John Sullivan. When deciding on the theme music, Sullivan had written it to explain the show's title and envisaged Cockney duo Chas and Dave singing it but was later persuaded to give it a go himself by producer Ray Butt.

Chas and Dave did make a memorable contribution to the music of Only Fools and Horses in a later episode when they wrote a song for the closing credits of The Jolly Boy's Outing to Margate in East Kent, called "Down to Margate". It includes the great line, "Behave yourself Grandad, or you won't be going!"
The official video for Chas and Dave's 'Margate' released as a single in the summer of 1982.
19. Season 1 Of Only Fools and Horses Had Different Theme Music
The first season of Only Fools and Horses does not have either the iconic opener, "Stick a pony in my pocket… " or the closing credits "Hooky Street". It instead has a saxophone theme produced by Ronnie Hazlehurst which was recorded in 1981 at Lime Grove Studios.
20. The OFAH Opening Credits Were Changed 3 Times
According to the book A-Z of Only Fools and Horses by John Sullivan and Richard Webber, the graphics designed for the opening titles were only updated three times throughout its run. The well-known peeling labels were designed by Graphic Designer Peter Clayton and animated by Brian Stephens who both aimed to mimic the Trotter's lifestyle of money quickly going in one hand and then out of the other.
The second iteration to the Only Fools and Horses opening titles came for season one Christmas special, Christmas Crackers where they were updated to add a festive theme to them.
Later the third time they changed was when buster Merryfield's Uncle Albert was introduced to the cast and replaced the image of Lennard Pearce's Grandad in the sequence.
21. Nicholas Lyndhurst Starred In An Only Fools and Horses Prequel
In January 2010 Nicholas Lyndhurst who played Rodney Trotter starred in John Sullivan's prequel to Only Fools and Horses named Rock and Chips as his biological Father and criminal, Freddie Robdal. Viewers saw how Joan Mavis Trotter and Freddie Robdal's affair began and Rodney's subsequent birth. As well as Del Boy's school days being played out by The Inbetweeners star, James Buckley.

It was originally going to be called Sex, Drugs and Rock and Chips but was later changed by the BBC.
22. In 2019 The Only Fools and Horses Musical Hit The West End
Jim Sullivan, John Sullivan's son completed a script for an Only Fools and Horses musical alongside Paul Whitehouse which would go on to run at the Theatre Royal Haymarket in London's West End in February 2019. In the first iteration of the cast Tom Bennett (Rocketman and David Brent: Life On The Road) plays Del Boy, Ryan Hutton makes his professional debut as Rodney and Paul Whitehouse is Grandad.
23. Boxer Ricky Hatton Owns The Trotter's Reliant Regal
Ricky Hatton, a British Professional Boxer, bought one of the yellow Reliant Regals used on the set of Only Fools and Horses. Another one of the iconic yellow vans used for Trotters Independent Traders sold at auction for £44,000 in February 2007. A third is currently displayed in the National Motor Museum in Beaulieu, in their exhibition Cars of The Stars alongside Doc Brown's Delorean from Back To The Future.

It has been noted that over 12 Reliant Regals were used during the run of Only Fools and Horses.
24. Peckham Spring Really Did Happen!
The Coca Cola bottled water, Dasani which was launched in 1999 was discovered by The Independent newspaper to be purified tap water from Sidcup! This sparked a huge comical backlash comparing Dasani to Peckham Spring Water from Only Fools and Horses, a product created by Del in the episode Mother Nature's Son in which he sold tap water from his flat in branded bottles.
25. Only Fools And Horses Starred In The 2012 London Olympics
As part of Danny Boyle's Closing Ceremony for the 2012 Olympic Games, a yellow Reliant Regal van and two characters dressed as Batman and Robin appeared on the stage in reference to the memorable Only Fools and Horses episode Heroes and Villains. The iconic episode was released on Christmas Day in 1996 and was the thirteenth Only Fools and Horses Christmas Special saw Del and Rodney dress up as the superheroes and run through Peckham after their van broke down.
The show's inclusion in the international Olympic games just proves how much of a cultural icon it has become over the years in British culture.
26. Only Fools and Horses Has Been Remade All Over The World
The script for Only Fools and Horses has been sold to many countries including Israel, Malta, Pakistan, New Zealand and Greece. In Serbia, the show is named Mućke translated as "Shady Deals", in The Netherlands it is named What Is It Worth? and has the Trotters renamed as Aarsmans - Del being renamed Stef and Rodney as Robbie.

The USA have attempted to remake the show on several occasions, one with Grandad as the lead character and another called This Time Next Year with the family being renamed the Flannagans. In 2010, Steve Carell who is well known for starring in the US version of the Ricky Gervais and Stephen Merchant sitcom The Office expressed an interest in starring as Del Boy. ABC commissioned a pilot in 2012 for an Only Fools and Horses remake entitled King of Van Nuys, which was written by the same duo who created Scrubs. It also starred Christopher Lloyd, yes Doc Brown from Back To The Future as Grandad!
27. Nelson Mandela House Is Actually In Bristol
The Only Fools and Horses budget wouldn't stretch to the insurance needed to film in Peckham, so they filmed the outside scenes of Nelson Mandela House at Whitemead House, Duckmoor Road in Bristol from 1988. They previously used Harlech Tower, Park Road East in Acton, London.
28. Trigger's Real Name is Colin Ball
There are a few characters we only know by nicknames in Only Fools and Horses and the first of those we meet in Big Brother episode one of series one is Trigger. Despite Rodney worrying it was given to him because he carried a gun, Del corrects his fear and says it was given to him because he looks like a horse! Trigger's real name is in fact Colin Ball.

Trigger is also the only other character alongside Del and Rodney to appear in both the first and the last episode of the show.

We later find out that Boycie, the second hand car dealer and husband of Marlene (all the lads remember Marlene) is really named Herman Terrance Aubery Boyce and Grandad is Edward Kitchener Trotter.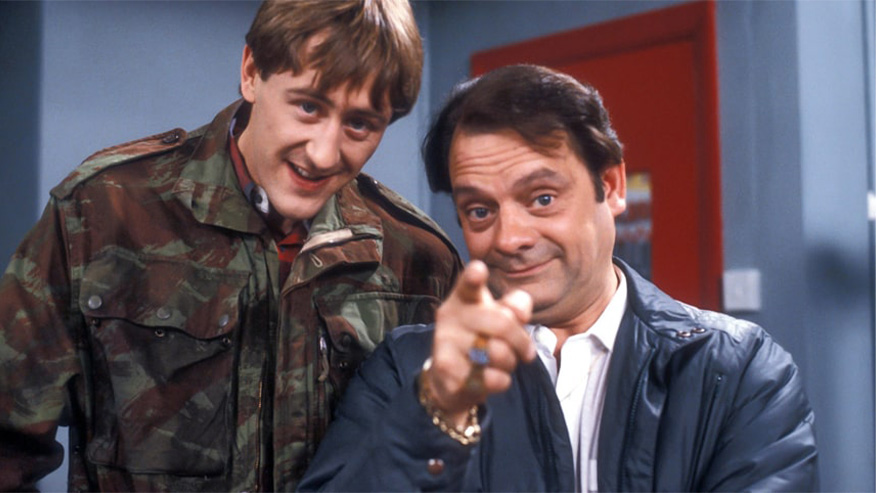 28 Only Fools and Horses Facts That You Haven't Seen Before
What is your favourite Only Fools and Horses moment? Let us know in the comments below.