20 Must-See Films To Watch In February 2022
If you're looking for what to watch, here are our picks for the best films to see in February 2022 including The Tinder Swindler, Marry Me and Death On The Nile.

Watch our Films February 2022 Video on YouTube.
The Tinder Swindler
The Tinder Swindler is a new Netflix documentary about the conman Shimon Hayut, who was jailed in 2019 for scamming his dates out of hundreds of thousands of dollars by posing as a rich playboy womaniser on the dating app Tinder. Cecilie Fjellhoy met Shimon Hayut on the dating service and sought revenge after being tricked by him. Cecilie connects with his other victims and when they band together to bring his operation down, they are no longer victims but integral to his arrest.
Shimon Hayut, an Israeli man, travelled around Europe posing as the son of Russian-Israeli diamond magnate Lev Leviev. He posed as Simon Leviev on the dating app Tinder and duped women into lending him money, which he never repaid. He would entice women with extravagant gifts and fly them to dinners on private planes with money he had stolen from other women he had defrauded. Later, he would pretend that he was being pursued by his "enemies," sending the same messages and photographs to each woman, claiming that he had been attacked with a knife and that his bodyguard had protected him but was injured.

He then urged his victims to support him with money after an alleged breach of 'security,' which reportedly prevented him from using his credit cards and bank accounts. The women in which he dated would frequently take out bank loans and new credit cards to support him. He'd then use their money to entice new victims and profit from each deception. He would pretend to reimburse his victims by sending forged documents with fake bank transfers on them before completely cutting off communication with them.
---
Ronnie's
Ronnie's follows saxophonist Ronnie Scott's journey from a poor family in London's East End to the owner of the famed nightclub Ronnie's. Dizzy Gillespie, Sarah Vaughan, Ella Fitzgerald, Miles Davis, Rahsaan Roland Kirk, Nina Simone, Van Morrison, Chet Baker, and Jimi Hendrix, who played there the night before he died, were among the musical greats that performed at Ronnie's. The documentary brings this iconic jazz club and its charming but troubled owner to life.
---
Death On The Nile
Kenneth Branagh directs Death on the Nile, the newest version of Agatha Christie's 1937 novel of the same name. Kenneth Branagh also reprises his role as the renowned investigator Hercule Poirot in this follow-up to the 2017 adaptation of "Murder on the Orient Express." Poirot is charged with solving a mystery while on holiday in Egypt, and was previously adapted into a 1978 film starring Peter Ustinov as Poirot.
Poirot is drawn into a murder case while trying to enjoy a holiday in Egypt. Linnet, a socialite, approaches him, requesting that he stop her friend Jacqueline from harassing her after she marries Jacqueline's fiancé, a request that the detective respectfully declines.

When Linnet is shot to death while on a boat sailing along the Nile (Poirot is also a passenger), it is up to the detective to catch the killer. Despite the fact that Jacqueline is the most obvious culprit, no one on the boat is safe from Poirot's examination.

---
Uncharted
Experienced treasure hunter Victor "Sully" Sullivan (Mark Wahlberg) recruits Nathan Drake to help recover a fortune acquired by Ferdinand Magellan which was lost 500 years ago by the House of Moncada. What begins as a simple heist for the pair, it quickly turns into a race around the world to reach the treasure before the ferocious Santiago Moncada (Antonio Banderas) reaches it. He believes that he and his family are the legitimate heirs to the fortune. Nate and Sully have a chance to unearth $5 billion and possibly even Nate's long-lost brother if they can decipher the clues and unravel one of the oldest known mysteries. They must also learn how to work together.

---
Moonfall
A strange force forces the Moon out of its orbit around Earth, sending it hurtling into a collision with Earth and life as we know it. With only weeks until contact and the planet on the verge of extinction, NASA executive and ex astronaut Jo Fowler believes she holds the answer to saving humanity - but only one fellow astronaut, Brian Harper, and the conspiracy theorist K.C. Houseman believes her. These unlikely heroes will embark on a daring last chance trip into space only to discover that they had planned for the wrong venture.

---
The Unmaking Of A College
The Unmaking of a College looks into the 2019 crises at Hampshire College, where students staged a 75-day sit-in inside the chancellery to prevent control of the college from being given away. It is a film about a young people on a rescue operation for a school and an experimental system of education. The sit in was the longest in American college history. Students began taping events straight away in order to hold the administration accountable.
The students began documenting events straight away in order to hold the administration accountable. At a time where many liberal arts universities are struggling, this documentary is to democracy at work, summoning the courage needed to stand up to the establishment. This documentary tells the experience of young people who were inspired to take action and details how their actions impacted their lives permanently. It features many interviews with students, lecturers, whistle-blowers, and alumni, including the filmmaker Ken Burns.

---
Marry Me
Kat Valdez and Bastian are the most famous couple on the planet. Kat and Bastian are about to marry in front of an audience of their fans in a wedding that will be streamed across many platforms while their unstoppable hit song, Marry Me, rises up the charts. Charlie Gilbert, a divorced high school maths teacher, has been dragged to the event by his daughter Lou and his best friend Parker. Kat's life takes a left turn when she discovers that Bastian has cheated on her with her assistant moments before the ceremony. Kat spots Charlie in the audience holding Parker's homemade "Marry Me" sign, which she takes as an opportunity to do something completely unexpected. She decides to marry him, much to Charlie's and the world's surprise. Charlie ends up marrying Kat in front of the entire planet!
But will a romance blossom with her new and unexpected husband or will she get back together with the famous Bastian?
---
My Best Friend Anne Frank
My Best Friend Anne Frank is the first Dutch film adaptation of Anne Frank's life. This story is based on the recollections and memoir of Anne Frank's friend Hannah Goslar and told from her point of view. In 1940, Nazi Germany was close to taking complete control of Amsterdam. We see the heart-breaking story of two Jewish best friends whose destinies have already been chosen for them. One is captured by the Nazis and the other miraculously lives free.
"My Best Friend Anne Frank" is a moving portrayal of daily life in Amsterdam during World War II. It became unsafe to step outside so they lived in constant fear of being found and taken to a concentration camp.

---
Studio 666
"Studio 666" is a horror and comedy film written and directed by Dave Grohl and the first film to feature the Foo Fighters that is not a documentary. The film was shot in the very same Encino mansion where the Foo Fighters produced their tenth studio album, "Medicine at Midnight." Once the band move into the house, the Foo's frontman Dave Grohl is confronted and possessed by supernatural forces that threaten the completion of their album and the lives of the band.
It was inspired by the band films that were popular in the 1970s and 1980s. Dave Grohl cites films such as "A Hard Day's Night," "KISS Meets the Phantom of the Park," "Rock 'n' Roll High School," and even the Spice Girls' film "Spice World".

---
The Sky Is Everywhere
The Sky Is Everywhere is a coming-of-age romantic drama film directed by Josephine Decker and written by Jandy Nelson, based on her novel of the same name. Lennie tries to cope with her grief by placing notes and poems around town, most of which contain conversations between the sisters prior to Bailey's death. After Lennie begins an unexpected relationship with Toby, Bailey's fiancé, centred on their mutual grief over Bailey's passing. Lennie encounters a new boy in town, Joe Fontaine, a handsome and upbeat guy who shares her love of music and helps her almost escape her sister's death in the early stages of their relationship. Each one provides Lennie with something she urgently requires.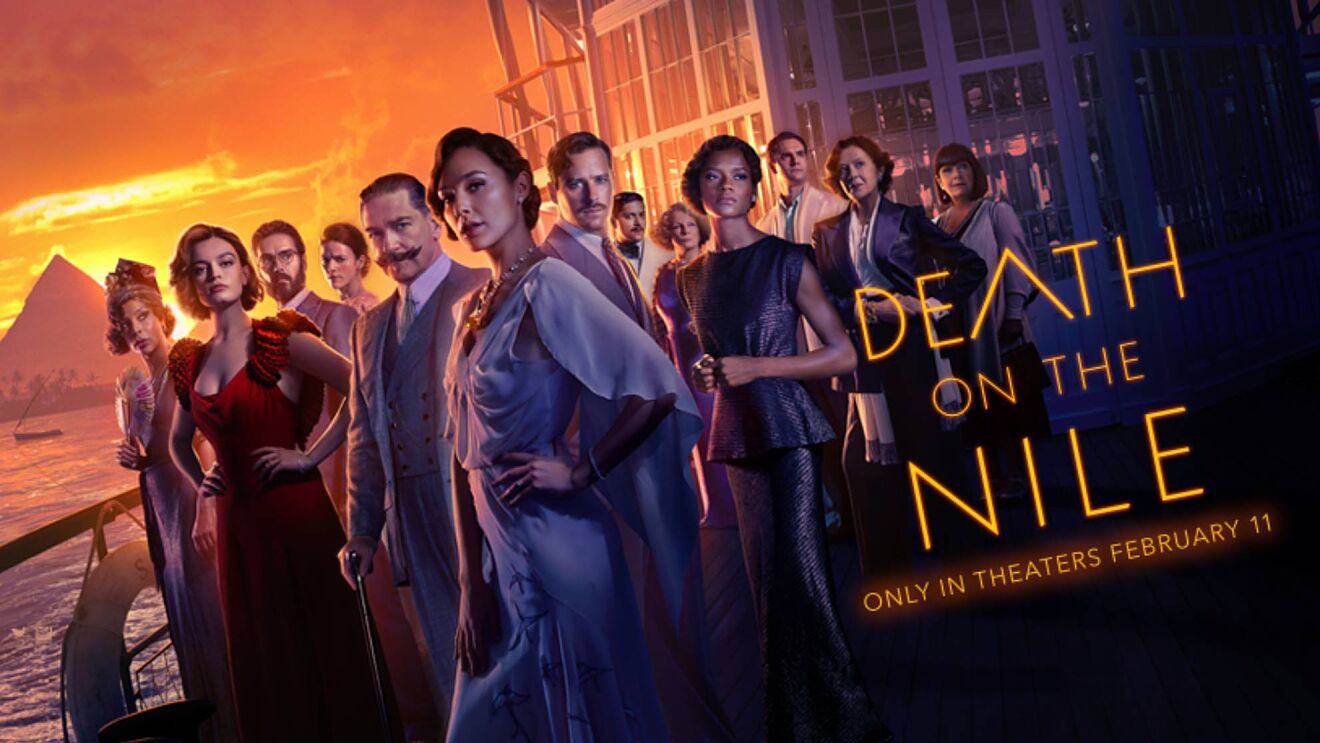 20 Must-See Films To Watch In February 2022
What was your favourite Film you saw from February 2022? Let us know in the comments below.